How Long Do Raisins Last? How To Store Raisins?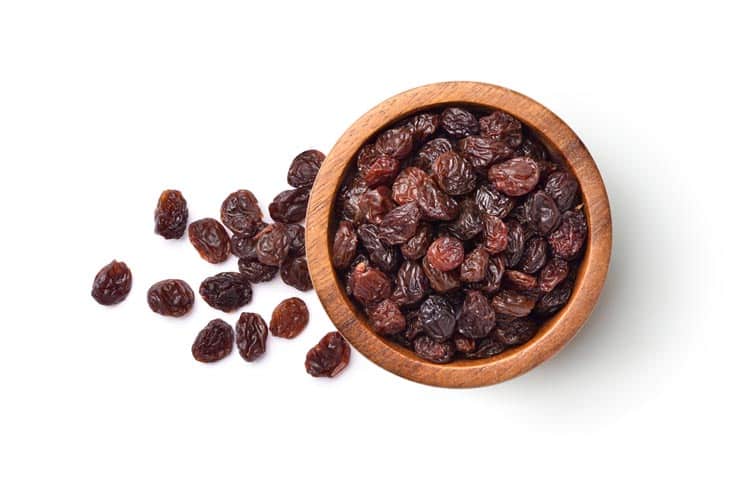 Raisins are a healthy snack for many people. It is also a common ingredient in cakes, pasta, salads, toast, cookies, and even meatloaf.
With a sweet softcore and chewy skin, the unique flavor of raisins is undeniable.
That said, many people have difficulty preserving and detecting spoiled raisins. So how long do raisins last, and how to store them? Let's dig in and discover.
How Long Do Raisins Last?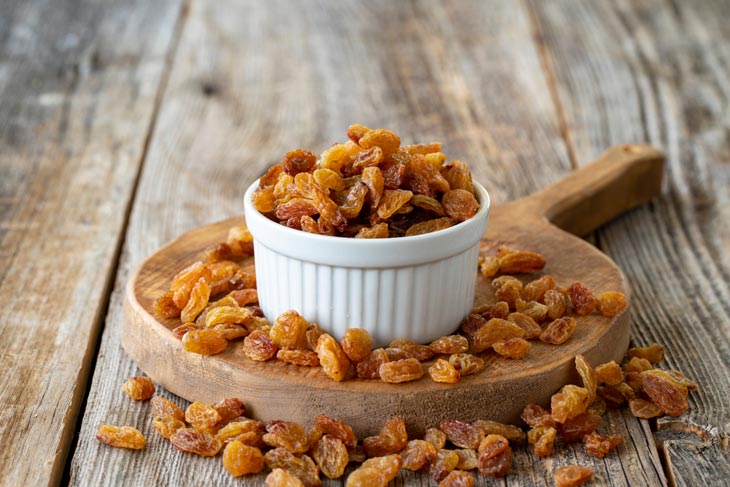 Raisins, if placed at room temperature, can last from three to six months. In the fridge, opened packets are good to eat for 6-12 months, and unopened ones have a shelf life of 1-2 years.
Oddly enough, when frozen, sealed raisins last indefinitely.
Outside
Normally, a pack of raisins that have been peeled and stored outside has a shelf life of three to six months. Shelf life raisins at room temperature or in the pantry are relatively short.
When a package of raisins is opened, it is exposed to moisture and outside air, causing them to become damp and expire.
Exposure to outside heat will also put raisins at risk of exposure to fungi, damaging the whole package.
Unopened raisins in a closet or outside have a storage life of six to twelve months. The raisins are not contaminated by air or humidity because the packaging is sealed.
In The Fridge
By keeping raisins in the refrigerator, you may increase their shelf life. In this specific circumstance, the drying process influences the shelf-life.
The expiry date of raisins in an unsealed packet will be 6 to 12 months following the 'sold by' time.Although the raisins contain moisture, the low temperature will preserve the raisins unspoiled and fresh.
The life span of raisins in well-closed packaging is about 1-2 years. The raisins are kept dry by the airtight container.
Because raisins include low moisture, refrigerating them does not significantly extend their storage life as compared to merely preserving them in your cupboard.
The advantage of preserving raisins in the refrigerator stems from the inherent control of temperature available in particular cooling systems seen in commercial establishments.
A fridge can function as a small manageable storage zone since moisture must be kept steady at a specified level to minimize the growth of bacteria and damage to the fruit's freshness.
In The Freezer
When you store raisins in the freezer, their shelf life is extended because they are kept cold, fresh, and dry. Raisins may lose nutrients if they are frozen for an extended time.
For open packets, they can preserve their optimum quality for almost a year and a half.
An unsealed container of raisins keeps mold at bay and controls moisture levels. Because of the extra packaging benefit, their life span is unlimited.
To sum up, raisins in an open packet can be frozen for up to a year beyond the 'sell by' dates. The quality of the products will start to deteriorate as time passes. An unopened package will last indefinitely.
How To Tell If Raisins Are Bad?
Raisins, unlike other berries, have distinct symptoms that indicate they have become rotten.
Change In Appearance
Mold growth is another sign of spoiled raisins. If there is moisture around, it can develop on raisins. The molds can grow when raisins are kept in moist conditions, rendering them unsafe for ingestion.
Moreover, when raisins start to discolor, it implies they've started to rot and might go spoiled, and their taste will be diminished.
Change In Taste And Smell
Tasting raisins is another method to determine whether or not they are rotten.
The raisins could dry up, lose flavor, become tough, or have a bitter taste, implying that they will deteriorate in a short period of time.
Furthermore, the lack of raisin flavor indicates that the dry fruits have gone rotten. It might happen as a result of discoloration or freezing.
The texture of raisins and its fragrance may deteriorate if you freeze raisins for an extended time.
Another easy way to detect bad raisins is to smell them. Raisins have a sweet aroma or a fruity smell when they are ripe. If they have a decaying or rotting odor, the raisins have been damaged.
Also, when you notice a soured or vinegar odor, it means that bacteria have begun to invade the raisins.
If you spot this smell, it is recommended to throw out the whole packet of raisins since the fungus can grow fast if the germs are trapped in a vessel.
How To Store Raisins?
Using Glass Jars
Glass jars with sealed lids offer an airtight cover, protecting the raisins from humidity and preventing the growth of mold. These jars are also good at preventing intruders from entering.
The taste of the raisins may alter, but they can last many years if preserved this way. You should also check them regularly and carefully replace your source whether the old one is spoiled.
Using Aluminum Foil
If you live in warm and humid weather, it would be best to keep them in the refrigerator to increase their storage life.
Meanwhile, it would help if you kept them in an air-tight container or covered them in plastic wrapping or aluminum foil to keep them from drying out.
Using Vacuum Sealed Bags/ Containers
Vacuum-sealed bags or containers are other options for storing raisins. It will keep moisture from exposure to the raisins preventing deterioration.
You should note that these packs are not pest-proof. If your house has mice or other biting animals, it is advisable to keep them in metal cans that are not vulnerable to these hazards.
Storing In A Dry And Dark Place
The main causes of dry fruits and other foods spoilage include oxygen, moisture, warmth, light, and bacteria.
To maintain the best quality of your raisins, store them in a dry, dark area, or using a drying method to store it.
Oxygen can strongly oxidize everything it gets into touch with, and this chemistry is partly to blame for food contamination.
Air is also an agent of spoiled food, as it transfers bacteria on raisins, and they begin to digest it.
FAQs
Can Raisins Be Frozen?
Yes, raisins may be stored in the freezer forever. However, the raisins can capture some of the freezer's unpleasant odors and cluster into a huge glob.
What Happens If You Eat Spoiled Raisins?
Raisins that have a bad or rancid smell should not be ingested. Besides, when you notice the raisins expiration date is overdue, you should throw it.
If you consume too many rotting raisins, you may get food poisoning with symptoms like stomach discomfort, diarrhea, and vomiting.
Should You Refrigerate Raisins?
Should raisins be refrigerated? Raisins should be kept in the fridge rather than in hot, humid areas. It will keep your raisins fresh for around 6 to 12 months.
Conclusion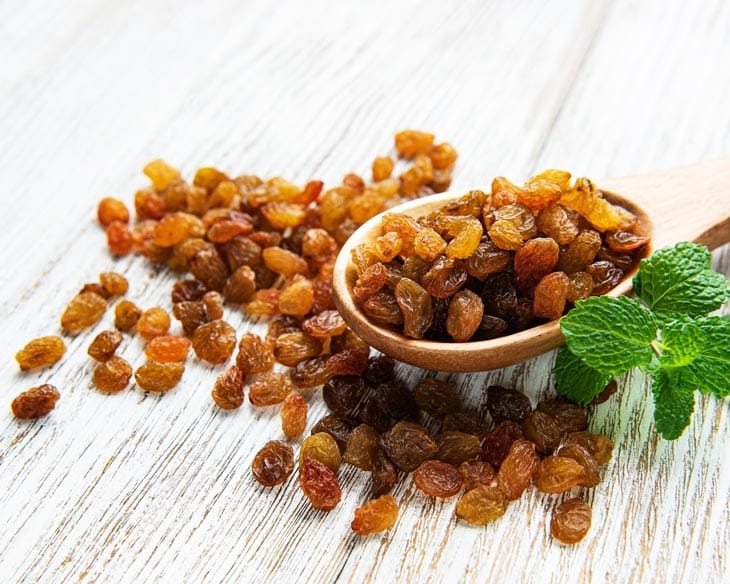 How long do raisins last? Depending on the place of storage, the lifespan of raisins can be short or long.
Storing in the refrigerator and freezer will help keep raisins longer than storing them outside at room temperature.
And remember to check the signs of spoilage before enjoying the dry fruit.