How Long Do Raspberries Last? 3 Ways To Keep Them Fresh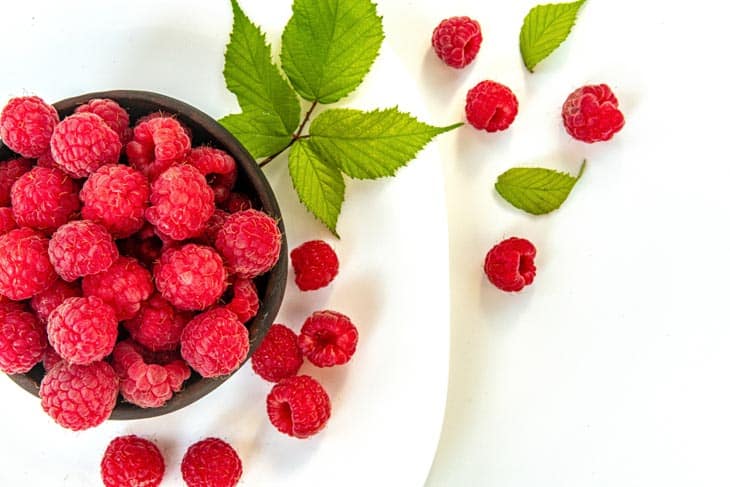 Raspberries are a super tasty berry that should be consumed on a regular basis alongside other veggies and fruit.
In order to preserve raspberries for a longer time, you need to consider: How long do raspberries last?.
Like some other fruits, raspberries are plucked at their peak of freshness, and they have a limited lifespan.
The shelf life is so important that it has a considerable influence on the taste and satisfaction of consumers.
The article below will show you how to store raspberries and how long they will survive when stored in a refrigerator or freezer and other picking tips.
How Long Do Raspberries Last?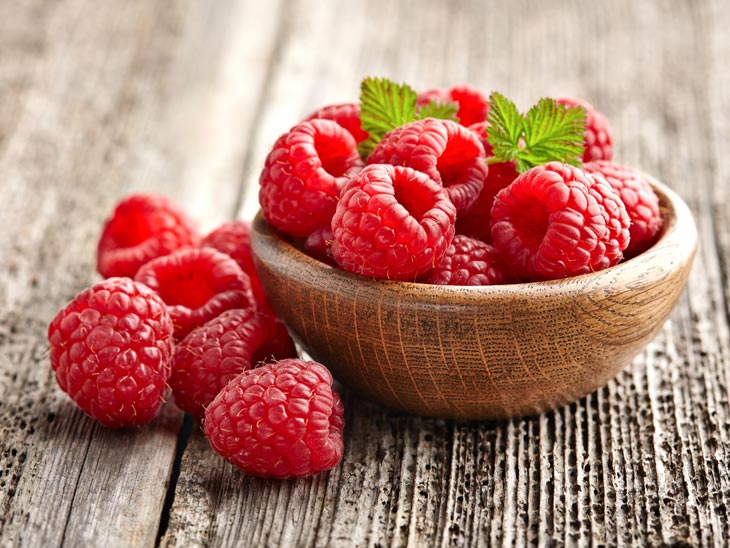 By and large, raspberries are good to use within 1 day on the countertop, 2-3 days in the fridge, and 6-12 months when frozen. The time raspberries last depends on which method you choose to keep them fresh.
Three methods are common to store fresh raspberries; you may select the one that is most suited and convenient for you.
For instance, storing raspberries in refrigerator can last anywhere from 2 to 3 days, and it also depends on how fresh they are when you pick them.
If you want to store fresh raspberries on the countertop at room temperature, they will barely survive a day.
The scent and texture of fresh raspberries make them a delight to consume. They will become inedible and soggy if you leave them in the kitchen for too long.
Freezing raspberries is considered the best way to keep them fresh for longer, which can last for 6 to 12 months.
Milkshakes, juices, or even alcoholic drinks may benefit from freezing raspberries. When you aren't using them, store them inside the freezer to keep them fresh.
Furthermore, freezing food is common to keep other fruit and seed fresh, such as rutabaga and kefir grains.
How To Store Raspberries In The Right Way?
Besides knowing how long raspberries last, it is necessary for you to keep your raspberries in a proper way. You can refrigerate raspberries or freeze them.
1. Storing Raspberries In Refrigerator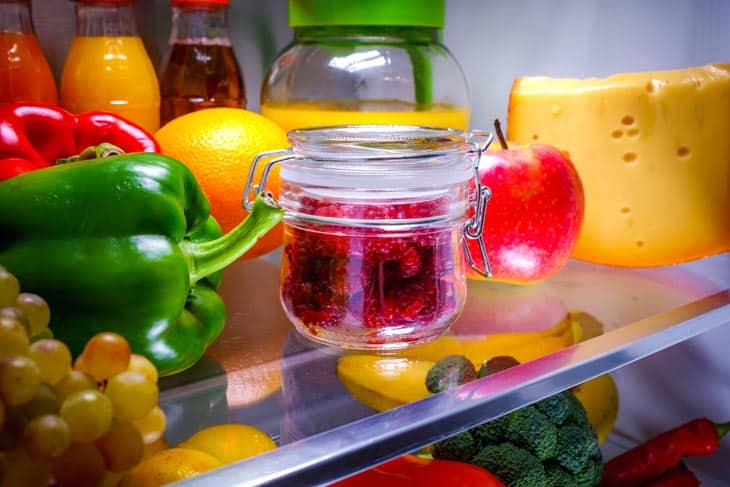 Should raspberries be refrigerated? Many people wonder about this query, and the answer is yes. To store them in a refrigerator, here are some suggestions for you:
Store Unwashed
Suppose that you don't intend to consume the berries right away. Keep them in a filthy plastic container.
When the berries are exposed to dampness, they swiftly dehydrate. Just before eating, clean the number of berries you intend to eat.
Wash Them Before You Use Or When Necessary
As mentioned above, due to the emergence of moisture making raspberries deteriorate, you had better wash your berries just when you intend to eat them, not before storing them.
When you're ready to utilize your fresh berries, wash them in a colander under running water.
In order to truly appreciate the flavor of raspberries, you should rub the berries clean with a dry paper towel before using them.
Store At The Front Of The Refrigerator
Storing berries at the front of your fridge not only relates to the temperature or position but is also considered a tricky way.
This storing method indicates that if you keep raspberries in the front of your refrigerator, you'll remember to utilize them before they go bad.
Keep your berries away from the back of the fridge and the veggie crisper drawer, where moisture can accumulate.
In addition, berries should not be kept in the back of the refrigerator or the vegetable and lower fruit section.
Because the vegetable and edible fruit chamber atmosphere is somewhat moister than in the other part of the refrigerator, the raspberries may decay faster.
Place In A Well-Ventilated Container
When canning raspberries, they should be stored in a box with holes to allow them to breathe.
The initial vessel is typically appropriate for storage, whether a plastic shell from the food store or a shallow cardboard carton from the farmers' market.
Put Them In A Fridge As Soon As Possible
After buying them, you should get the raspberries into the refrigerator as quickly as possible: even a few hours out of the fridge can adversely affect flavor, quality, and shelf life.
Soak In A Bath Of Vinegar
Rinsing your berries before storing them might cause them to deteriorate due to the dampness.
However, soaking your berries in a white vinegar solution before storing them can kill any germs and make them last longer.
To prepare a vinegar bath, mix one-part vinegar with eight parts of cool water in a big mixing dish.
For one or two minutes, swish the berries around in the solution. Rinse and dry the berries in a strainer beneath fresh water.
Remove Damaged Raspberries
Fresh raspberries are firm and plump, with a lively, bright color and a pleasantly fruity aroma.
Remove any rotten raspberries first. Discard any bad fruits that have been damaged, are extremely soft, or have been crushed.
2. Storing Them In The Freezer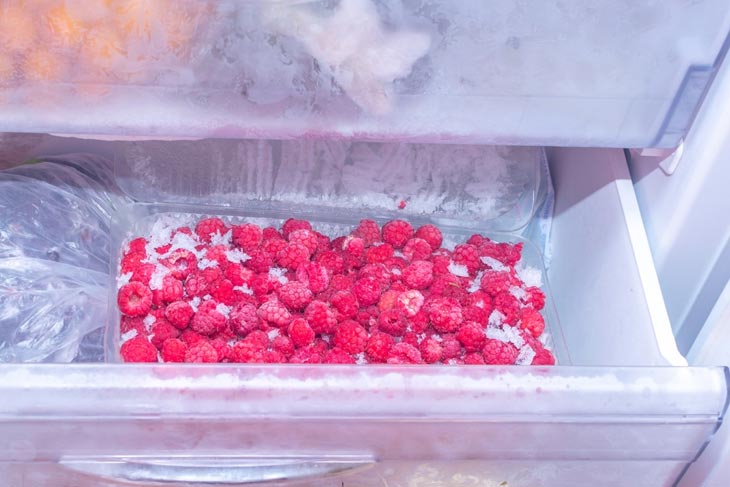 Another option is to freeze raspberries, which can expand their biological shelf life by up to a year. Follow these ideas to freeze raspberries so you may enjoy your favorite raspberry dishes all year long.
Using Cold Water To Wash
Place the raspberries in a strainer and rinse them under cold water. To dry, place berries on paper towels. To speed up the process, wipe the raspberries dry with a cloth.
After the berries are completely dry, just put them all in a cookie sheet and store them in the freezer.
Pack (Sugar) Sweetened
The natural juice from the fruit is extracted by mixing it with sugar, which results in a syrupy mixture that coats the fruit and protects it from air exposure.
Berries that have been frozen with sugar maintain their color and texture well and may be preserved for longer than those that have not been frozen with sugar.
To prevent crushing the berries, delicately combine them with the sugar.
Storing with Air-permeable Container
The best way to store raspberries is in an air-permeable container. So, instead of transferring store-bought raspberries to an airtight container, keep them in their original packing.
Slits and perforations in the original container enable air to circulate, preserving the berries fresh longer.
Syrup Pack
This process freezes the fruit into a solid block. You'll need to make a sugar and water syrup, boil it to dissolve the sugar, then chill it.
Water may be either cold or hot. If you want to use them with waffles at a family event, one cup is adequate for a whole one.
After that, fill appropriate containers halfway with raspberries and top with syrup, allowing 1/2 inch of headroom. Using the syrup pack method, you may utilize raspberries for up to 9-12 months.
Freezing Without Water (Unsweetened)
Regarding this method, it's preferable if you don't wash the berries. Firstly, place the fruit on a cookie sheet or baking dish in a single layer.
Then, freeze the cookie sheet until the fruit is firm, keeping it level in the freezer. This normally takes one or two days.
Ultimately, take the berries out of the freezer and place them in plastic freezer bags or other freezer containers.
Remember that before closing the bags, remove as much air as possible to keep them fresh. With the unsweetened way, the berries can last from 6 to 8 months.
How To Tell If Raspberries Are Bad?
Raspberries are considered the most biodegradable soft fruits. Those that have gone bad will often become soft and mushy, and their color will fade.
They can turn mushy within a day or two due to autolysis, and the injured fruit is quickly infected by molds, most often Botrytis cinerea. The mold is visible: gray and low-growing.
Discard raspberries if mold emerges or when they have an odd smell or look.
Consuming damaged raspberries can result in food poisoning owing to pathogenic bacteria and viruses, specifically the hepatitis A virus.
How To Pick Raspberries At The Grocery Store?
Choose brightly colored and glossy berries with no evidence of being crushed or damaged. Pick raspberries that are plump, firm, and fully ripe; avoid picking raspberries that have not fully matured.
Unlike several other fruits, Raspberries do not remain to ripen after being plucked. When you gently tug on a completely ripe raspberry, it will fall into your fingers without effort.
Regarding its sweetness, whether red or another hue, ripe raspberries are brilliantly colored. The color of the fruit should be constant throughout.
To tell if the raspberries are ripe, look for fullness and roundness. After plucking, raspberries with the green crowns still attached were not ripe.
Remember to look for large, firm, and completely red berries that are clean and dry. Green and fresh-looking hats are recommended. Avoid berries that are damaged or wrinkled.
Conclusion
How long do raspberries last? The above sharing might help you answer the question and provide some suggestions about how to keep raspberries fresh.
Suppose that you want your raspberries to survive for a long shelf life; it is better to keep them in the freezer.
On the other hand, keeping them in a refrigerator is an ideal choice if you consume raspberries for a week.
You will be able to be flexible and opt for which methods suit you most. And hope that the information is helpful for your preservation of raspberries.