If you are a cotton candy lover, it can be a disappointment to see it turning into a hard sugar ball and no longer a bag of fluff.
So, how long does cotton candy last? If you take a look at this article, we will tell you every detail to store this fluffy dessert.
What Is Cotton Candy?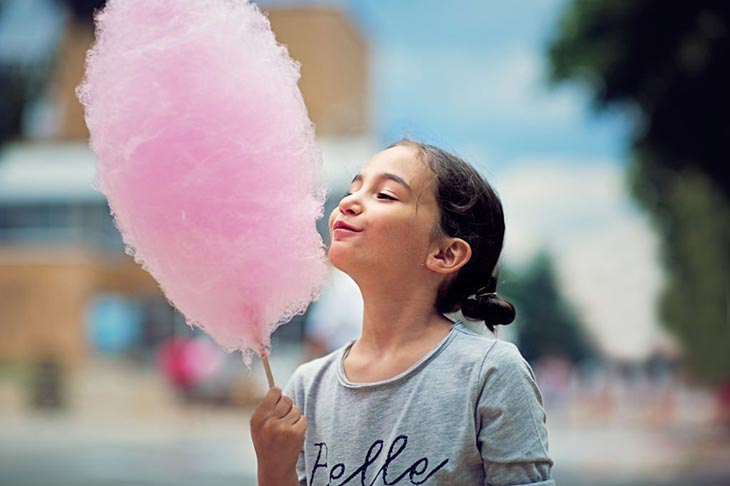 This delicious dessert is made of spun sugar confection. It is quite weightless and airy, so it looks like fluffy clouds.
For fairy floss, it is a combination of mainly sugar, water, salt, and some food coloring to bring out your favorite color.
Also, you can easily add some fluffy stuff cotton candy flavors from banana, strawberry extract, and vanilla. To finish, you can use some topping on top to make it more attractive.
Does Cotton Candy Go Bad?
Technically, this tasty treat can last for years, thanks to its high sugar content added. However, fairy floss can definitely go bad as it easily shrinks in moisture and air exposure.
Generally, it starts to shrink two to six months after manufacturing, depending on different materials and how well tight seals of the packaging we use to store it.
How Long Does Cotton Candy Last in a Bag?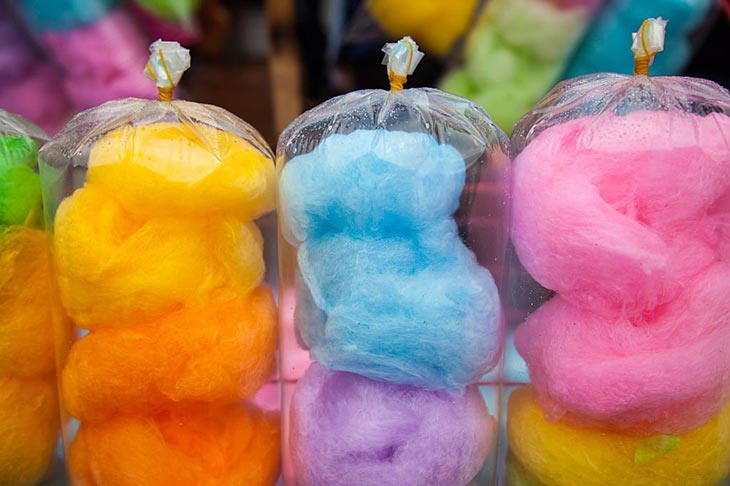 With a normal plastic bag, it will last for three days to three weeks while a well-sealed lid in a plastic container can keep them fresh between five and ten weeks.
It survives for only ten to twenty minutes when it is left in the open air.
The expiration dates on the bag you find will alarm you when deflation can happen. But don't misunderstand the exact date of these fluffy clouds gone bad.
Other factors such as humidity, ambient temperature, and vibration also contribute to their expiration dates.
Let's do a quick rundown for different individual bags of cotton candy:
Open Air
If you want to use them as decoration items for table settings, I have to warn you that this sugary treat will not survive for any longer than twenty minutes. It will melt under the air exposure.
And inevitably, this melting cotton candy will not be as mouth-watering as it is supposed to be. It is definitely a great disappointment for you and your guests.
My advice here is to change it to smaller bags for every guest. The other easiest way to bag cotton candy beautifully is by putting it in jars so your customers can easily pick them up and enjoy the treat.
These alternative options can help to extend the shelf life of cotton candy by more than 5 to 6 hours compared to a short time in open-air exposure.
Standard Plastic Bag
Shelf life: With an unopened standard plastic bag, your fluffy sweets are likely to be good for two to three weeks.
This is due to a thick bag and great airtight seal from the manufacturer. Otherwise, your fluffy cloud will start to shrink after a few hours.
DIY Shelf Life: If you plan to wrap those sweeties in your DIY plastic bags, you have to be sure that they are at least three mil thickness. You also have to prepare a high-quality heat sealer for your bag.
Ensure that you don't go for cellophane in the packaging, as the candy will stick to it. Then it will waste your time to do it all over again.
Temperature and Humidity: The great option for you here is storing your candy floss at room temperature for the longest shelf life.
If you consider other ways to store it, like in the freezer or refrigerator, I would say a big no.
The high humidity and moisture in the freezer or the fridge might affect your sweet cloud when it has poor seal.
It will be a risk for you, and instead, you can put it on your countertop for a safe temperature and humidity.
Vibration: Your fairy floss can easily shrink with vibration. It can affect its taste and shelf life, so don't do it for any reason.
Mylar Bags
Shelf life: If your fluffy sweeties are prepackaged in mylar bags, it will last for a couple of years if left unopened.
The long-life resulted from the well-sealed lid and thick material. However, once opened, you should eat it in a few hours.
DIY shelf life: This is an ideal choice for users as well as manufacturers to package them. It has not only a long shelf life but also a cost-effective material as you don't have to invest in containers.
This way, the manufacturer can produce a large quantity for the packaging.
Temperature and humidity: As always, you should keep it at room temperature. As humidity and sunlight are its worst enemies, you should avoid them as much as possible.
Vibrations: Any vibration that happens can affect the amazing fluffy balls shrinkage. So try not to cause any vibration, or it will get squished.
Plastic Container
Shelf Life: If those fluffy cloud-like treats are wrapped in a plastic container, it will last about five to 10 weeks when left unopened.
The amazing feature of this material is its thick, deli-like container so it can keep your delicious treat for long.
You can also replace the lid to protect the fairy floss after use. But it'd be better if you eat cotton candy in plastic containers opened within a few days.
DIY shelf life: It is a great choice to package those tasty sweets in containers when you run for plenty of products or events.
The lid is also needed to have a liquid-tight seal that can maintain the shelf life of this amazing sweets.
Humidity/Temperature: We still recommend you store them at room temperature.
The main advantage of these packages is thick, preventing tasty dessert from humidity while keeping them warm enough to be airy and tasty.
Vibration: Due to its thick container, it can protect those treats from vibration. Since vibration will influence your shrinkage, you can use plastic containers as an ideal choice.
Does Cotton Candy Melt In The Heat?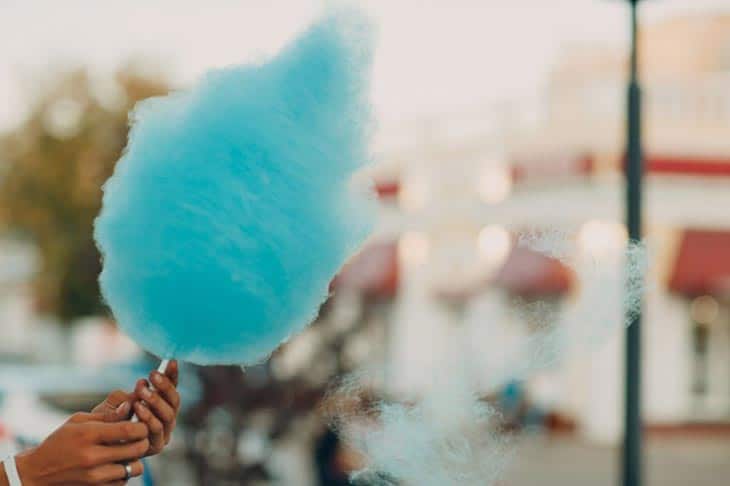 Yes, once it is exposed to the air, it will start to melt. And it should not be left out for any longer than 10 to 20 minutes.
The cause is humidity in the air that makes those sweet balls melt. As the humidity is getting high, it will fasten the process.
To solve this problem, you should zip the lid right after use so you can open and eat it later. Remember not to keep the fairy floss out for 20-23 minutes. Otherwise, you will expect some melting.
How to Store Cotton Candy?
As we discussed above, the process of cloudy sweets melting is obviously due to air exposure. For this reason, we can use an airtight container to keep the sweet clouds fresh and fluffy.
Here is a step-by-step introduction for preserving the airy sweets for best:
You will place those fairy floss into a ziplock bag.
Get rid of all the excess air from the bag. Make sure there's no air left in the container.
Seal them properly.
Transfer them to an airtight bag or container.
Please keep them in a cool atmosphere and avoid sun exposure.
When in need, you can easily take them out and sprinkle some powdered sugar or crushed crackers to serve.