Many products canned milk products are available today, such as condensed milk and packaged milk. Today we will cover evaporated milk.
Many people consider this a rather strange type of milk and aren't sure what to use it for or even how long it lasts. Below, we'll help you figure out the answer to the question: "How long does evaporated milk last?".
What Is Evaporated Milk?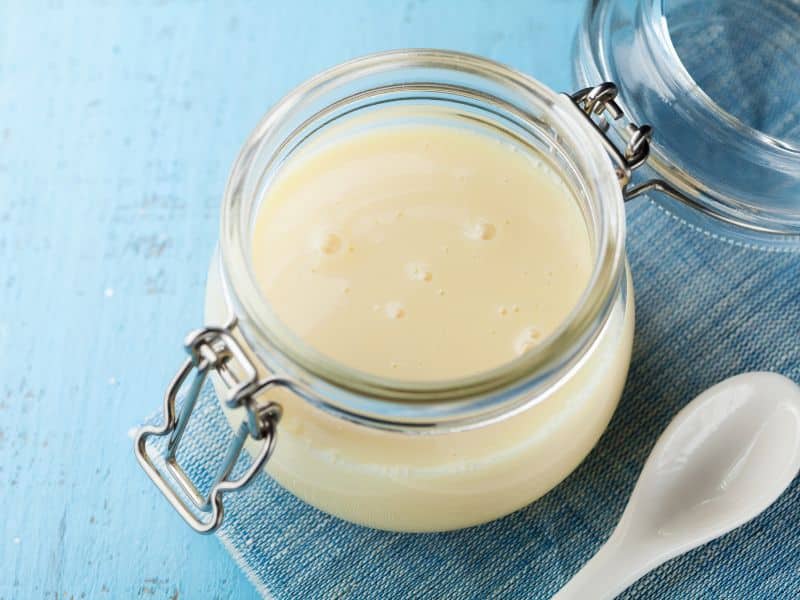 Evaporated milk is a milk product made from the evaporation of about 60% of its water content. It can be made with whole milk or skim milk.
Once the evaporation is complete, the product will be homogenized and then poured into sealed cans.
Subsequently, the entire can will be disinfected to ensure safety for consumers. Manufacturers are all aiming for a standard of 12 fluid ounces per product.
The slightly sweet taste is characteristic of this product. Different dairy products have the same taste.
Evaporated milk is different from regular milk, as it is thicker and less watery. When pouring the milk out, you will see that it is darker in color.
The milk then gets sterilized at extremely high temperatures, it creates the darker color and caramelized flavor that everyone (some people) loves in evaporated milk.
It can be used interchangeably with fresh cream or whole milk in most recipes.
There are several good dairy choices for evaporated milk substitutes, including cream, lactose-free, powdered types. Thickened regular milk also does the trick.
How Long Does Evaporated Milk Last?
Condensed milk is pasteurized milk without sugar and preservatives, so the shelf life will depend on how you store it.
We want to present that we will go into detail to find the answer to the question, "how long is evaporated milk good for?".
How Long Does Opened Evaporated Milk Last?
Once you've opened it, evaporated milk usually only lasts two to three days. Some manufacturers guarantee that their products can be used within five days after removing the seal.
Storing milk in open cans is to avoid spoilage if you want to continue using the products. Hold in an airtight container and preserve in the fridge. If you do it well, it can last up to three months.
We recommend never storing opened products in the kitchen as the air and heat can spoil your products quickly. Or else, you'd better find an evaporated milk substitute.
How Long Does Unopened Evaporated Milk Last?
How long does unopened evaporated milk last? In general, this milk will last at least 3 months from the date. Unopened products have a longer shelf life and can be stored in multiple locations, as long as appropriate.
For unopened cans of evaporated milk, you just have to store it in a dry and cool place, such as your pantry or kitchen cabinet.
Keeping it in the kitchen is still a good choice if it does not have good storage conditions or locations. Six months to a year is an average time for an unopened milk can.
Food experts recommend that unopened evaporated milk products should not be placed in the refrigerator.
How Long Does Unopened Low Fat, Skim Evaporated Milk Last?
Unopened Low Fat, Skim Evaporated Milk is safe to use within eight to nine months after best-by as long as it is well stored in a cool and dark environment.
Signs Evaporated Milk Is Bad
Here are the most common signs that evaporated milk has gone bad.
The first is the appearance of milk. There will be a layer appearing on top called milk skin.
Don't worry because this is not a spoiler. It just signals that you have not kept it properly and that there is already air inside.
You can smell it when pouring it. The bad smell will come out immediately if the product is spoiled. That's when you know you shouldn't use it anymore.
Plus, you can observe the spoilage through its color. Usually, dairy products will have a pure white color.
Any discoloration such as turning green, brown, or even black indicates spoiled milk.
It can be a bit dangerous to taste if it's already gone bad. The mild sweetness doesn't show up, but instead, it's sour, and you know it's time to throw it away.
Furthermore, condensed milk has a creamy texture and always stays smooth.
Mold is a sign that food has gone bad. When it appears on the surface, you then know that the milk has gone bad. Do not attempt to consume moldy parts. Instead, you should stop using it to be safe.
If the milk is curdled, green, or brown, or has a sour taste or smell, get rid of it immediately.
Is It Good To Use Expired Evaporated Milk?
The answer is yes. You can use spoiled milk if the outside of the packaging is undamaged and shows no bad signs in sight.
Before choosing to buy a product, look closely at the product label. On it, pay attention to evaporated milk best by date.
You need to understand that the number on it is the time when the product reaches its best quality, not the expiration date.
Therefore, you can still use milk after that date. Usually, the shelf life of these types of products can last several months, except for skim milk.
If a can has passed its expiration date and is still in the refrigerator, pour it into a glass to check it out first.
Consuming rancid products can lead to digestive problems such as intestinal disorders or food poisoning.
Common symptoms include fever, vomiting, diarrhea, and intestinal spasms when you have a digestive illness.
In addition, milk is contained in tin cans. If the box shows signs of rust, it is also a danger to watch out for.
Damaged cans are a potential risk of botulism poisoning. Toxins on the can wall can affect the product's quality inside.
Illnesses can also follow. Difficulty breathing, list, and more dangerous death from poisoning are the most obvious manifestations.
Although many people have eaten or drunk food or milk that has been left outside and did not get sick, you never know your luck.
Therefore, never be subjective when using expired products. Consume it before they pass expiration time. Health is always a top priority.
How To Store Evaporated Milk
When buying from the store, evaporated milk usually comes in cans.
Light can't impact it, but be careful as temperature changes can make it go bad.
Most people choose the pantry as the ideal place to store their milk, but as long as it is on a shelf somewhere cool, you will be good.
As long as you store it well to avoid temperature changes, you can be assured of that it will be ok.
The refrigerator is also a pretty good solution. Once you have opened the lid, store the milk in the refrigerator right after using it. Keep it covered, or switch to an airtight container if the tin cannot be sealed tightly.
You can think of other sealing methods, such as using an aluminum wrap with a rubber band. The finest method is to utilize an airtight container because it is much more convenient and safer.
If you don't have an airtight container on hand, sealing the can with aluminum foil and a rubber band will help.
Another option is to freeze the leftover milk in an airtight freezer safe container with some space at the top for expansion. Keep in mind that the quality will not be as good as freshly opened milk because of the change in texture.
FAQs
How To Use Evaporated Milk
Evaporated milk is quite similar to other dairy products that are used in cakes, candies, shakes, and custards.
When you want to make a dessert that requires raw milk, but you lack milk in the kitchen, evaporated milk is considered an ideal substitute.
Shake well before opening the can. You can add a little water to some dishes and use the exact amount determined earlier.
Or you can also use it directly to create richness in flavor. If the recipe specifies how to use it, it's best not to dilute it.
As evaporated milk will not curdle in high temperatures, it is indeed a great option for puddings, crockpot dishes, and sauces as a thickener.
Are Evaporated Milk And Condensed Milk The Same?
We would like to say "No". Many people also have confusion about these two types of milk. Of course, the two still have similarities.
The difference here is the sugar content of the two products. In evaporated milk, it is a non-sweet product. It is just dehydrated milk without sugar.
Meanwhile, condensed milk is also known as sweetened condensed milk. It has a lot of sugar in it.
Condensed milk is typically a pale creamy color, but will darken and become more yellow over time.
Therefore, to avoid confusion, you should observe carefully before buying.
Does Evaporated Milk Go Bad?
Does evaporated milk go bad after opening? Yes, it's true. If you store an opened product improperly, then the milk will go bad.
Evaporated milk shelf life also depends on many other factors, so you need to focus on proper use and storage.