How Long Does Homemade Salsa Last?
Fresh salsa from a restaurant always good, and occasionally, you just want to be able to make salsa for yourself with fresh ingredients from your garden.
But after you've made it, you may wonder "how long does homemade salsa last?" or "How long does salsa last?"
How Long Does Homemade Salsa Last?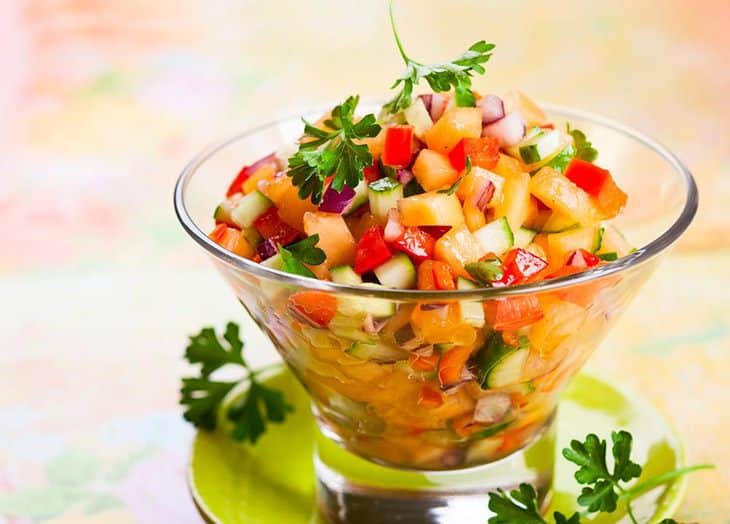 In general, homemade salsa will last for one week and not more than that. However, it also depends on the used ingredients.
Ingredients in a sauce that you buy from a grocery store have preservatives and will help extend the shelf life of the salsa beyond one week.
How To Tell If The Salsa Is Going Bad?
Have you ever ask yourself, "Does salsa go bad if not refrigerated"? and how do you know it is going bad. Knowing the shelf life of salsa is crucial because salsa's quality directly influences your health.
First, if salsa begins to look a darker maroon color instead of bright red and also appears a thicker texture over time, it is time to discard it.
Second, if you feel a foul smell compared to its original state, it needs to be removed.
Last, if mold begins to appear at the surface of salsa, you need to throw away the entire salsa.
Some Tips To Keep Homemade Salsa Fresh
You already know how long your homemade salsa last, now you need to know some tips to keep it fresh. Here are two simple ways for you:
You can preserve the salsa in an airtight container in the refrigerator.
You can freeze it in covered airtight containers or heavy-duty freezer bags.
The original flavor of salsa will last for 1 to 2 days. But regarding food safety, the salsa lasts much longer.
However, you need to remember that, the salsa will be fresh unless all ingredients in it are fresh. So, you should not enjoy the salsa after one week in the refrigerator and no longer worried about how long is salsa good for.
You also should divide salsa into different parts; then you can pick it up anytime without affecting other parts. You can enjoy your homemade salsa in main meals or enjoy it with tortillas and so on.
Some Cautions When Making Salsa
Wear plastic or rubber gloves and do not touch your face while handling or cutting hot peppers.
In case you do not wear gloves, wash hands thoroughly with soap and water before making salsa.
If you cook tomatoes, choose non-reactive cookware like copper or stainless-steel pots and pans. Tomatoes are very acidic; if you cook them in mental cookware, it may cause bitterness and a metallic taste.
Using a serrated knife to slice fresh tomatoes is the best idea because it doesn't cause a mushy mess in tomatoes' slices.
How To Can Tomato Salsa
Step 1: Sterilize jars and lids in a water bath
Place new or clean jars on the rack and put them in the bottom of a large stockpot or canning pot. Then, fill water into the large pot to come to the top of the jars.
Simmer for 10 minutes. Sterilize lids by a boiled water kettle before canning for some minutes.
Step 2: Roast chile peppers or chili
Roast chile peppers or chili by a gas flame on the stove top until blackened on all sides. Then, let the chiles steam in a covered bag or bowl for some minutes. Discard all stems, seeds or any prominent veins.
Chop chiles and use no more than ½ cup of chopped chiles.
Step 3: Prepare the tomatoes
Peel the tomatoes and grill them on high direct heat until blackened. Chop the tomatoes and save any juices that may come out of them. Place them in a bowl.
Step 4: Simmer all ingredients in a large pot
Boil then simmer all ingredients in a large stainless-steel pot and keep cooking uncovered for 10 minutes.
Step 5: Blend salsa
Use an immersion blender or juicer to pulse salsa for several times to make it smoother.
Step 6: Adjust seasonings
Add more sugar if salsa is too much acidic, and add more vinegar if it is too sweet. Besides, you can add cumin to create a distinctive flavor for your dish.
If you do not really love Cumin's taste, Doesn't Matter! Let you select one of 7 alternatives for it here: All You Need To Know About Cumin Substitute
Step 7: Ladle salsa into canning jars and seal
Leave ½ inch headspace in canning jars. Clean the rims carefully with a paper towel. Screw on the lid rings, but don't over-tighten it.
Step 8: Boil in a water bath
Put the jars in the large stock-pot of hot water with 1-2 inches head space then boil it for 20-25 minutes.
Step 9: Let jars cool
Put jars on the counter for several hours until it turns cool. Jars and lid need to be sealed. You should be able to hear the pop of the lid when it is sealed. Don't forget to label the date because sealed jars may last for one year and opened jars may last for two months.