How Long Does It Take For Mold To Grow On Bread?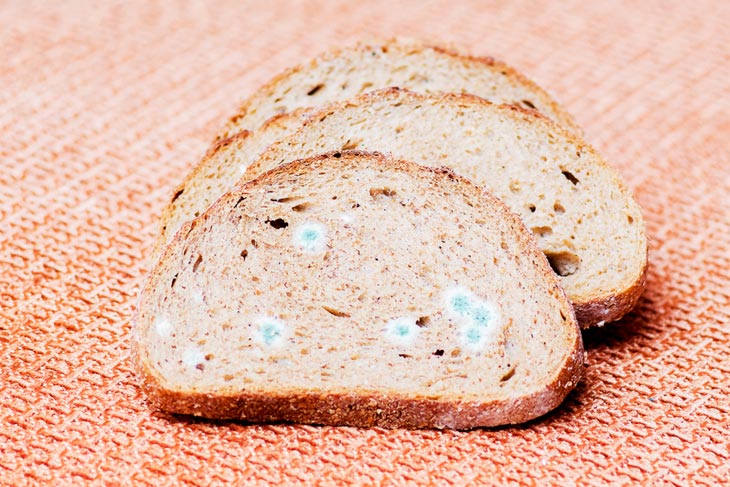 Every day, a ton of baked products are consumed worldwide. These bakery products have been a popular choice for breakfast, afternoon, or for even dinner!
However, bread get moldy after a short period of time. Read on to learn how long does it take for mold to grow on bread and other useful info related to the topic!
How Long Does It Take For Mold To Grow On Bread?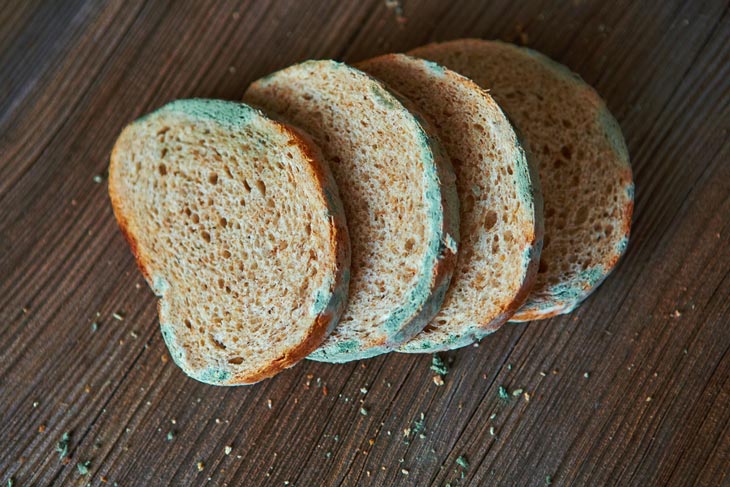 The fungus can appear on bakery foods after being put at room temperature for a short period of time.
Let's figure out why and how long this will happen on our foods, as well as which grows mold faster moist bread or dry bread!
Why Does My Bread Get Moldy?
So, why does mold grow on bread?
Molds can only develop under certain circumstances. The molds require wet, moist, as well as nutrients to grow. As most baked goods are rich in carbohydrates in it, they are very likely to get mold on them.
Moisture
Even though it might not seem clear, there is a bit of moisture in yeast foods. As the air outside is dry after baking, moisture from the inside will travel outwards.
The crust won't get wet, but it is obvious that it will get remarkably softer.
When you store bakery products in a plastic bag, you can see the moisture in them very well. The inside of the bag may get a little damp (especially in warmer weather).
These conditions, therefore, are what yeast really appreciate. The perfect condition for the growth of molds is the slightly moist environment.
On the other hand, putting foods made from yeast in a paper bag will not create such a nice environment as the paper will simply let the water through.

Although they dry out more easily in a paper bag, their chances of getting moldy are also lower!
Temperature
The best temperature, in which bacteria can mushroom quickly is room temperature and 30-37 degrees Celsius. However, it also depends a bit on the types of molds as well.
That being said, storing your foods in a closed plastic bag on a hot summer day may lead to the faster development of bacteria than on a cold winter day.
By contrast, in a freezer where the temperature is well below zero degrees Celsius, their growth is virtually zero. Frozen baked products won't mold even after years (if stored at -18C).
Molds are killed in an oven. However, these will probably come back again once the food is put outside the oven.
How Long Will My Bread Get Moldy?
In general, an unwrapped loaf of bread will start getting moles at room temperature after four days. This process even goes faster in humid areas.
In addition, note that homemade food will get moldy faster than those store-bought.
How Can I Get My Bread Away From Mold?
During the process of baking, common bacteria spores generally can't survive. However, baked goods can easily pick up spores from the atmosphere after baking — for instance, during slicing and packaging.
These spores, as a result, grow mushrooms under the right conditions, such as in a warm and humid kitchen.
Following these tips below to deter bacteria development from any kinds of foods made from yeast or flour:
Keep it dry: When you see visible moisture inside the food package, use a paper towel or a clean cloth to make the package dry before sealing it.
Cover it: Remember to keep foods covered in any cases, such as when serving them, or to shield them from spores in the air. However, you shouldn't package freshly baked products until it's thoroughly cooled.
Freeze it: As mentioned above, the refrigerator slows bacterial growth. Therefore, please make foods dry as freezing products stop the growth without altering their texture.
It is also recommended that you separate the slices with wax paper. In this way, it is easier to thaw the part you want to consume.
Gluten-free yeast products are more likely to get moldy due to the higher moisture content and limited use of chemical preservatives. For this reason, they are often sold frozen.
Nevertheless, some products are even protected with special packaging instead of preservatives, such as in vacuum-sealing conditions to get rid of indoor mold.
Can I Use Moldy Bread?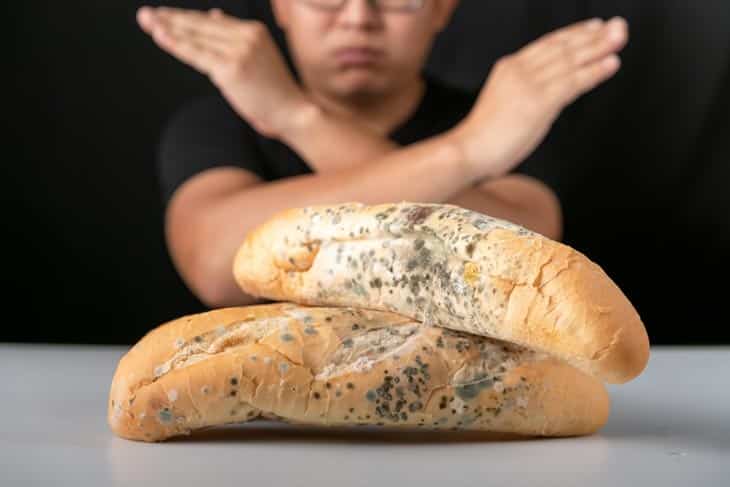 According to an experiment from The Food Safety and Inspection Service of the USDA, it is advisable that you discard the entire bakery product if it has developed mold.
In detail, some fungi can have harmful and invisible poisons named mycotoxins. These bacteria may spread through foods, particularly when the growth of molds is remarkable.
As a result, the high intake of mycotoxins may trigger many mold health issues such as digestive upset. These toxins can also sicken animals.
Mycotoxins may have negative impacts on your intestinal health, which alters the makeup of the microbes that occupy your gut.
In a long-term period, heavy exposure to some mycotoxins — including aflatoxin produced by certain species of Aspergillus, will put people at increased risk of cancer.
FAQs:
Which breads get moldy faster?
In fact, the pace of getting moldy is faster in organic white goods compared to that of non-organic white bread, as it contains fewer preservatives.
Meanwhile, homemade bakery foods get moldy faster than store-bought ones due to the difficulty in controlling their acidity levels and fewer preservatives.
Raisin and banana-baked foods also mold faster than other types of baked goods due to the higher level of moisture.
Is it okay to eat bread with a little mold on it?
Although you might only see a few spots of the fungus, its microscopic roots can actually spread through the whole food.
Therefore, don't try to scrape off molds or salvage the rest of your loaf to rescue it! Just throw it away!
Can mold grow on toasted bread?
When toasting any kind of baked product, the moisture contained in them is sucked out of it. It mushrooms in moist environments, so it would not thrive easily on toast due to its dryness.
As soon as toasts are put outside the toaster, they will get moldy, but not as fast as normal bakery products.
Conclusion:
We all know that baked goods are a staple in our daily diets. However, this type of food can go bad easily and affect your health negatively.
Make sure that you have noted down all the important things related to how long does it take for mold to grow, as well as how to get rid of it.