Are you a Nutella lover wondering how long your favorite chocolate hazelnut spread will last? Or maybe you've recently found an old jar of Nutella in the back of your pantry, and you're unsure if it's still safe to eat.
Whatever your situation may be, understanding the shelf life of Nutella is important for both food safety and taste quality.
In this blog post, we'll explore the factors that influence how long Nutella lasts, and provide some tips on how to store it properly to extend its shelf life. So, grab a spoon and let's dive in!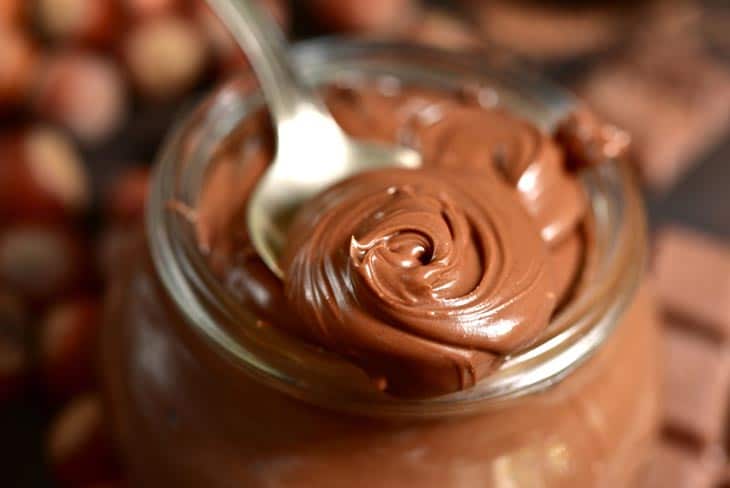 What Is Nutella?
This name is a famous hazelnut jam brand, which has been manufactured and sold since 1864 by Ferrero – an Italian company.
Nutella has the taste of sweet chocolate. The main ingredients used in the production of Nutella are sugar, hazelnuts, palm oil, low-fat milk, and cocoa powder.
It is commonly known as "hazelnut ice cream" or "chocolate cream."
The making of Nutella is very similar to chocolate spreads with the extracted cocoa powder from the cocoa beans as the critical component.
It contains a lot of sugar (57% according to Healthline), so you should balance the amount consumed.
Up to now, Nutella has become one of the most recognizable commercial spreads globally.
With a creamy texture and sweet taste like peanut butter, it is ideal for serving with a quick breakfast or snacks like ice cream, bagels, or crackers.
How Long Does Nutella Last?
A typical plastic container or jar of Nutella can last up to one year after opening with proper storage methods.
The unused Nutella products that aren't opened can last for many years in the pantry with no light and suitable temperatures.
How Long Does Nutella Last After Opening The Container?
How long does Nutella last once opened?
It is hard to decide on an exact time, but the regular jars of Nutella can last around one year after you open the container.
The lifespan of the product also depends on its components and storage.
You should consider three particular ingredients: sugar, oil, and milk.
As sugar is a preservative agent used in various processed products such as cookies or ice cream, it can help prolong the shelf life of Nutella.
On the other hand, oil and milk can shorten the shelf life of the product. Therefore, Nutella products that are high in sugar usually last longer.
The packaging also affects the lifespan of Nutella.
The piping bags or plastic containers will go bad faster and become inedible in more than six months. Also, its flavor and quality will decrease over time after opening the container.
For this reason, it is best to use all the Nutella you have in less than one month to get the nicest flavor. If you don't use Nutella regularly, don't buy much of it.
How Long Does Nutella Last After Its Best-By Date?
How long does it take for Nutella to expire?
Similar to the other processed foods and commercial spreads, Nutella products come with expiry dates. However, these dates are not always accurate.
The best-by date of Nutella is only the estimated time of the manufacturers to ensure the quality of the product after a certain period of time.
Therefore, if you store it correctly in suitable conditions, the Nutella is still edible several months past the sell-by date. However, its quality and flavor will decrease over time after many openings.
Why Does Nutella Go Bad?
Can Nutella go bad? The answer is yes.
All the ingredients used to make Nutella, especially hazelnuts and the dairy product, will deteriorate in quality over time.
Sometimes, Nutella can expire faster due to the carelessness of users.
An example is improper storage (you may forget to close the container or leave the jar exposed to light and hot temperatures).
Another common cause is cross-contamination, which happens when you use a spoon or dip the finger that has bacteria from the other foods into the Nutella.
Should You Freeze Nutella?
The Nutella texture will become stickier and get harder to chew when refrigerated or frozen. Also, its flavor and scent will decrease when stored in the fridge.
To your surprise, a frozen Nutella expires faster than products stored in the pantry. The opened Nutella doesn't necessarily need to be frozen.
It can still last for a long time at room temperature. Therefore it is best to store the Nutella in a cool and dry place with no light.
How To Know If Nutella Goes Bad?
How to know when Nutella is bad? When is Nutella no longer edible? You should ask these questions regularly to avoid food poisoning from consumed expired products.
There are three obvious signs to consider: the smell, appearance, and flavor of this hazelnut spread.
As the Nutella contains a lot of oil, a rancid smell from the jar means that the oil has become rotten and is no longer safe to eat.
In case you can't smell, try stirring the jar to see whether there is any mold or bacteria visible. Hot temperatures with light or moisture are an ideal condition for the bacteria growth in the container.
If some parts of the jar have a different color from the remaining, you should get rid of the whole thing. You should only give it a taste when the smell and appearance of the Nutella are totally fine.
Should you notice an unpleasant taste, even mild and subtle, discarding the whole jar is the right thing to do.
How To Store Nutella?
How long is Nutella good for? It depends on your storage method.
Proper storage is the most effective way to prolong the shelf life of Nutella. Store it in a dry and cool place with no light and moisture to prevent the bacteria from growing.
Also, keep it away from sources of heat.
Don't dip the fingers that have contact with the other food and drink. It can transfer harmful bacteria to your Nutella and make it go bad faster. Instead, use dry utensils.
If you have reheated donuts and want to boost its flavor like fresh ones, just use a dry, clean spoon to spread Nutella on them. And you are good to go.
Is It Safe To Eat Out-Of-Date Nutella?
As mentioned above, out-of-date Nutella is still safe to eat if you don't notice any strange smell or taste.
However, most Nutella products are inedible when passing the sell-by date of one or two months.
Out-of-date Nutella doesn't have a tasty flavor and appealing scent. It may cause stomachache and food poisoning, so I recommend that you should not consume expired Nutella.