How Long Does Parmesan Cheese Last?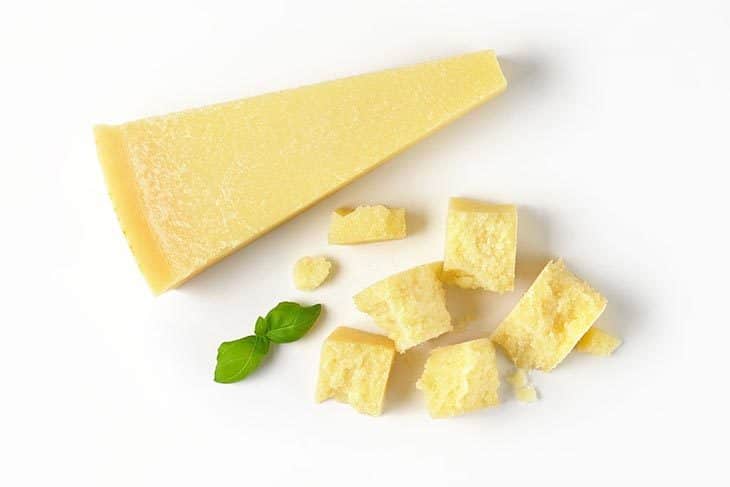 Parmesan cheese is a well-known ingredient in many Italian cuisines. This unique cheese has a firm texture and is made primarily of cow's milk. The procedure of making Parmesan normally takes at least a year, and the average duration is between 2 and 3 years to mature the cheese to perfection.
It is best to use Parmesan immediately once you open the package (especially after ground it into a powder). However, there are some occasions when you cannot use it immediately after purchasing it and must preserve it to use it later.
So, how long does Parmesan cheese last? Read down to learn more about it!
How Long Does Parmesan Cheese Last?

Normally, grated Parmesan cheese shelf life will differ from that of unopened cheese, which will last for around 2-4 months. Under the same conditions, once opened, grated Parmesan cheese expiration is shortened to around six weeks.
Continue reading for a thorough explanation to the question, "Can Parmesan cheese go bad?"!
How Long Does Parmesan Cheese Last In Fridge?
Unopened Parmesan Cheese
When it comes to extending the grated Parmesan cheese shelf life, the fridge, without a doubt, is the best way to store parmesan cheese.
Suppose you are wondering, "Does Parmesan cheese need to be refrigerated". In that case, yes! It is the same as our advice on how to keep grated Parmesan cheese from molding.
You can keep whole pieces of Parmesan in the fridge for 7-9 months by strictly controlling the temperature and humidity.
Opened Parmesan Cheese
Opened Parmesan can only stay fresh for about 4-6 weeks, even if you have refrigerated them and used air-restrictive methods. This period is much shorter than with the entire block.
How To Tell If Parmesan Cheese Is Bad?
Color
First, you must understand what does Parmesan cheese looks like to be able to spot whether it is going bad or not. Typically, the color of Parmesan is a bright yellow or off-white, while grated Parmesan is yellow or dark beige with slightly darker skin.
If there is discoloration or the appearance of white spots on the Parmesan cheese, discard it immediately!
Odor
When cheese spoils, it frequently has a sour odor similar to soured milk, or it may have a musty or decomposing odor. In general, if cheese emits a foul odor, it is a warning that it is no longer safe to consume. It would be best to throw it all away!
Texture
When Parmesan cheese reaches its limit, it will turn watery and become an ideal environment for harmful bacteria to grow. This is probably the most obvious sign when it has gone bad, as they have a slightly wet and spongy feel.
Mold
Cheese is one of those foods that you can still use even when it is moldy. Particularly, we only need to remove the moldy section of that slice of cheese with a sharp knife (about 1 inch from the surface of the Parmesan block), then you can consume the rest as usual.
That's not to say you should take advantage of this method. If the mold has covered its entire surface due to past use-by or improper storage, it is still advisable to discard it!
Taste
To be clear, you should only attempt this way in case all the other procedures are ineffective. This means that mold or bacteria of any kind have not yet developed to the point where you should throw them away.
Expired or dried Parmesan cheese frequently tastes sour and rotten when eaten.
How To Store Parmesan Cheese Properly?
How To Store Opened Parmesan Cheese?
Option 1: Wrap it in wax paper
Option 2: Wrap it in aluminum foil
FAQs
Is It Safe To Parmesan Cheese After The "sell by" date or "best by date" On The Package?
When you see the phrase "sell-by date" on a product label, it signifies that you should use it within a certain amount of time for safety concerns. After this date, the product may endanger the user's health, so you shouldn't eat it anymore.
If it says "best by date," you can eat it for a while after that date.
Is It Safe To Eat Parmesan Cheese With Mold On It?
Yes, it is. It is completely safe if the mold is not much, and you can remove the damaged part before using it.
How Long Does Parmesan Cheese Stay At Good Quality After Being Frozen and Thawed?
You can use it for about 3-4 days if defrosted from the freezer to the cooler. If using the microwave to defrost, you should use it immediately after the ice melts.
Does The Flavor Of Parmesan Cheese Remain After Being Defrosted?
After defrosting, it loses its flavor and nutrients. It will be slightly brittle and will be suitable for use in pasta sauces or potato casseroles.