How Long Does Pesto Last After Opening?
Pesto sauce is an irresistible addition to family-friendly meals. When you see a jar of pesto in the store, you may have a few questions in your head like….
How long does pesto last after opening? How long does pesto last in a refrigerator?
This article will tell you everything you need to know about this tasty green sauce.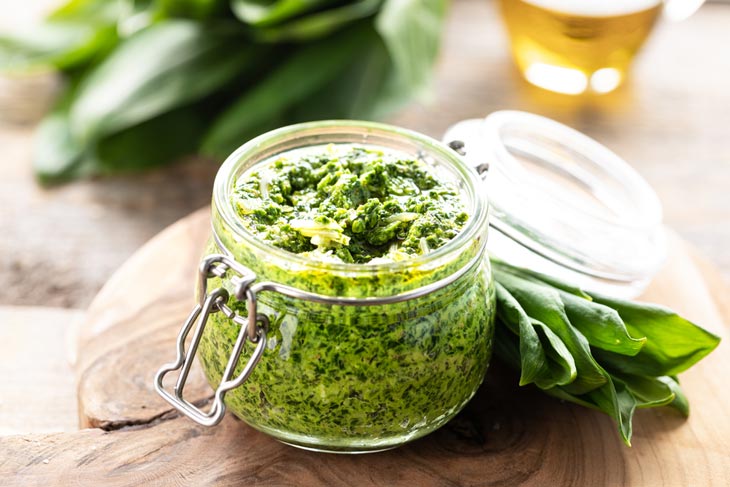 What Is Pesto?
Definition
Pesto is an Italian dish that originated in Genoa (a city and a seaport in northern Italy). Classic basil pesto is also called Pesto Alla Genovese.
According to most classic pesto recipes, this popular sauce is made from raw ingredients: basil leaves, pine nuts, virgin olive oil, fresh garlic, and Parmigiano Reggiano cheese.
The ingredients are then put together, pounded, and crushed by a mortar and pestle. But these days, people often opt for a food processor or blender as great alternatives to make pesto at home.
Usage
There are many recipes for green pesto sauce, so everyone can make it no matter what ingredients you can find.
For instance, you can replace fresh basil herb and Parmigiano with other substitutes of annual herb and Parmesan cheese, respectively.
Or, if there are no fresh pine nuts in your areas, you can use chives, cashews, or walnuts instead.
The unbeatable combination of many aromatic ingredients seasoned with some sea salt and pepper will surely satisfy your sense of taste.
Moreover, the unique flavor can liven up a list of common dishes, such as pesto pasta, pizza, sandwich, and roasted vegetables.
But is this sauce healthy? Definitely, YES. Researchers have written about pesto nutrition facts and health benefits.
That's why you should consider adding pesto sauce into your family's favorite meals.
How Long Does Unopened Pesto Last?
How can you preserve a jar of pesto after purchasing it in a grocery store? It should be stored in the same condition that you found it.
For an unrefrigerated jar, we recommend storing it at room temperature. Keep it in a cool, dark area away from direct sunlight and other heat sources. This place could be a pantry or a kitchen cupboard.
On the other hand, if your fresh store-bought pesto has been kept in the fridge, you should preserve it in continuous refrigeration.
In comparison with unrefrigerated pesto sauce, it has a shorter storage life. That explains the question: Should pesto be refrigerated?
So, how long does pesto sauce last in the fridge when left unopened?
It is obvious that you should have a look at the best-by date to know for certain whether it is edible. But when you leave it unopened, the sauce can still be used for the next 5-7 days after that date.
How Long Does Pesto Last After Opening?
Once being opened, the store-bought sauce can be safely used within 7-10 days if it's unrefrigerated pesto, while the refrigerated pesto lasts for 5-7 days.
Without any preservative substances, the homemade pesto should be used up within 4-5 days when being stored in the refrigerator.
Store-bought Pesto Sauce
We suggest storing your pesto sauce in a tightly closed container to save it from growing bacteria.
If you have a tin of pesto, it would be better to pour all the sauce into another jar. Thus, you can reseal it carefully for later use.
Homemade Pesto Sauce
It is preferable to make a large portion of fresh pesto sauce ahead of time. You will save a lot of time preparing your favorite dishes loaded with pesto in the future.
Due to not including any preservatives, the shelf life of pesto is shorter than its store-bought counterpart.
But there are simple tricks to prolong the storage life of your homemade products slightly.
In the process of making pesto, you should blanch the basil leaves or top a single layer of extra-virgin olive oil in the final step.
Why Does Pesto Have A Short Shelf Life?
The shelf life of food products is partly determined by their components. Due to including fresh basil and other high-oil ingredients, pesto sauce is delicate, resulting in short-term storage.
It is much shorter after pesto exposure to external environmental factors, such as oxygen, light, and bacteria.
But no need to worry! You can extend its storage period for up to 8 months by freezing it. Let's find out how to freeze pesto properly in the last parts.
How To Tell If Pesto Has Gone Bad?
Despite your dedicated effort in preserving, food with moisture cannot be in its prime forever. So, how can you tell if pesto is bad? A list of signs is going to be explained clearly here.
Mold
Mold is an easily noticeable and dangerous symptom. When you find some white spots on the surface, that means bad mold is thriving in the container, and your pesto sauce is inedible.
Do not try to tear off the mold patches and consume the leftovers anyway, or you will get seriously negative effects on your health.
To be more specific, you could not ensure whether you have already tossed all moldy bits out since mold is microscopic.
Its roots and branches travel deeper than you think. The visible moldy parts mean the threat has been firmly embedded in food.
Hence, the whole sauce should be thrown away immediately.
Rotten Smell Or Bitter Taste
When mold has not grown heavily enough to be seen, an unpleasant odor and taste are other clear indications. They say that you should discard your rancid pesto sauce.
Color Changes
The change of color, from green to brown, is another visible sign of spoilage. The main reason for this matter is the oxidation of basil over time.
It's time to throw your spoiled pesto in the trash even when you don't want to waste food.
How To Freeze Pesto Sauce?
Using Ice Cube Trays
Using an ice cube tray is a simple method to store this sauce in a freezer. Cover the tray with plastic wrap for cleaner storage. In this condition, its prime can last for a maximum of 6 months.
For each time of use, take out and thaw enough amount you need so as not to waste any. Never defrost and freeze food more than once; otherwise, you may get the risk of food poisoning.
In addition, you can place frozen pesto cubes in heavy-duty freezer bags. They are space-savers which is a smart option for a busy fridge.
Using Airtight Containers
You can use freezer-safe containers or glass jars to prevent mold spores and save the freshness of this sauce for future consumption. In this way, the storage duration can last for 8 months.
What To Do With Leftover Pesto Sauce?
Lack of ideas to use up a pesto jar before use-by date? This problem cannot obsess you anymore! Here are some of our best suggestions we would love to share.
Beyond the role of pasta or pizza sauce, it goes with chicken, tuna, meat, and tofu as an ideal accompaniment.
Besides, fresh pesto can replace mayonnaise and mustard to spread on your regular sandwich and warm bread.
When combined with other ingredients, such as mayonnaise, Greek yogurt, or cream cheese, this versatile summer sauce offers a new dressing to your salad.
It can also be used as a dip for chips and crackers. This combination will give you a huge surprise!
Conclusion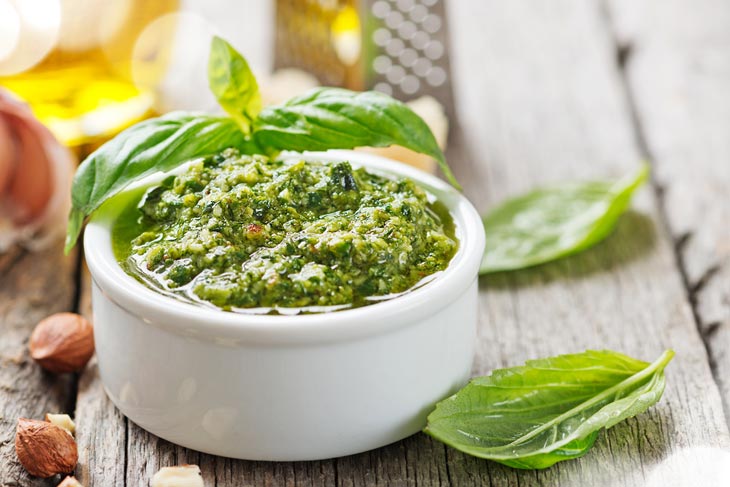 Hope that we have helped you with a straightforward answer to the inquiry of most Italian food lovers, how long does pesto last after opening?
Aside from this common question – How long is pesto good for in the fridge? How to store it properly?, other questions have been explained in this informative post.
Still curious about more useful cooking ideas? Follow us to become the master of your home kitchen corner!
Thanks for reading!