Popcorn is always the most popular food that people snack on while watching movies. It may taste salty or sweet depending on your preference, but it's at its best when freshly popped.
Still, there must be a time you couldn't use up your popcorn and wonder if you should throw it away. So, how long does popcorn last?
Let's dig in this post for a well-rounded answer for this question and other related information!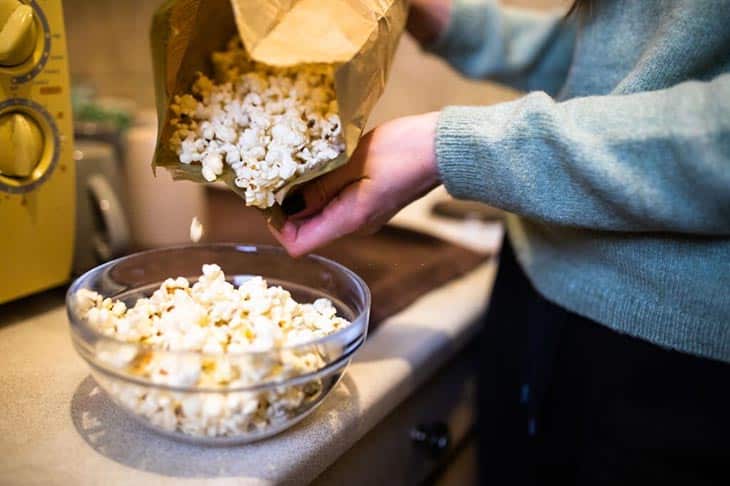 How Long Does Popcorn Last?
Unopened popped popcorn can last for two months after its best by date, which is 2-3 months after the production date. Once you open the package, the time can reduce to 1-2 weeks based on your storage methods.
For dry kernels, you can expect a long storage period of up to a year. However, microwave packages can stay for only three months. 
Popped popcorn
How long does popped popcorn last? Or how long does store-bought caramel popcorn last?
The ready-to-eat popcorn, also known as commercially-popped, always has a best-before date or best-by date labeled on the package. That date is typically two to three months following the manufacturing date.
So, how long does popcorn last after the expiration date?
It could be two months for an unopened package! But one thing for sure is that the quality within and after the use-by date is different.
Your popcorn will dry out and lose its flavor over time so that it won't be as fresh and tasty as the original.
It's worth noting that the quality of the popcorn also determines the shelf life itself. For instance, a higher-quality product would likely keep its freshness for longer.
Still, your popcorn package can stay for only one week or two weeks after opening. The quality degrades quickly, so you should eat it as soon as possible.
Dry kernels
How long does unpopped popcorn last?
When stored properly, unpopped popcorn, or dry kernels, come with an indefinite shelf life. They're safe to use for years, but you won't get the same quality with 12-year-old kernels as with new ones.
Fresh kernels always have the best flavor and quality. They also pop more consistently and are larger than older kernels.
So if possible, you should use them within two years of the use-by date, or 6-12 months after that date.
Microwaveable packets
How long does microwavable popcorn last? The microwaveable packages won't last as long as dry kernels as they already contain the needed ingredients to pop the popcorn.
The oil, butter, or other fat quality does not last indefinitely. Even if you find your old kernels pop as the fresh ones, the flavor is unlikely to satisfy you.
As a result, it's best to enjoy your microwaveable packages within three months after the best-by date.
How To Tell If Popcorn Goes Bad?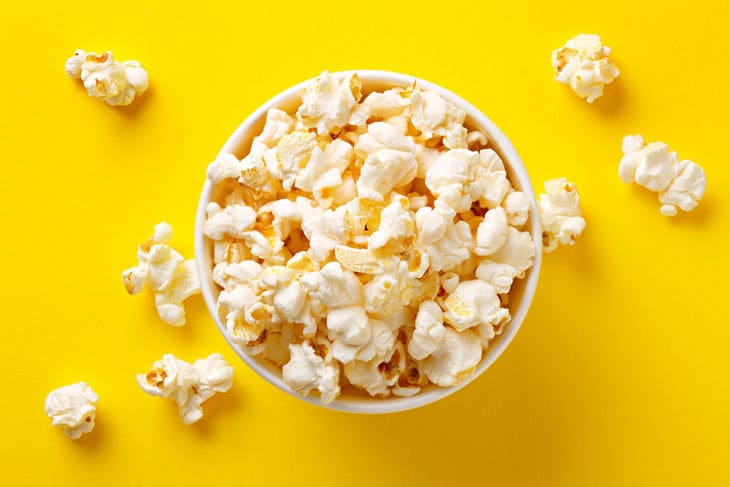 The texture and the taste will help you detect if your popcorn turns bad.
The popcorn will be stale if you haven't wrapped the package correctly. As a result, the texture will be less fluffy and have a gentle chew instead of a crunch.
Your chewy popcorn is still edible, but it reduces the initial delicious experience!
That's not to mention the taste! Flavored popcorn might lose its flavor over time. It isn't always a sign that your popcorn goes bad, but it's best to buy a new package to continue enjoying your favorite tastes.
If your popcorn has passed the expiration date for more than one year without a proper storing method, the mold may appear on it.
So if you are not sure, do a quick check on how your dry kernels pop before eating it.
If there are more kernels left behind than when you first used the packet, it's a sign that you're not preserving them correctly or you've bought them for a long time.
You can still consume this popcorn, but the texture will be different, and there will be more unpopped kernels than usual.
How To Store Popcorn Properly?
The best storing method is using airtight containers. It doesn't matter if they're clear, dark, glass, plastic, or metal.
Make sure your popcorn is at normal temperature before putting it in a container for the best result.
If you place hot or warm popcorn in the airtight container, there will be moisture in the container, making your popcorn stale faster.
It would be best if you also considered the place you store that container. You can put it in your cupboard or counter, but make sure it's dry and dark.
If the container is exposed to direct sunlight, it will speed up your popcorn going stale.