Thanks to its classification as a Super Food, quinoa is extremely popular among those that strive for a healthy and balanced diet.
After cooking quinoa, how long as it last in the fridge before it needs to be tossed out?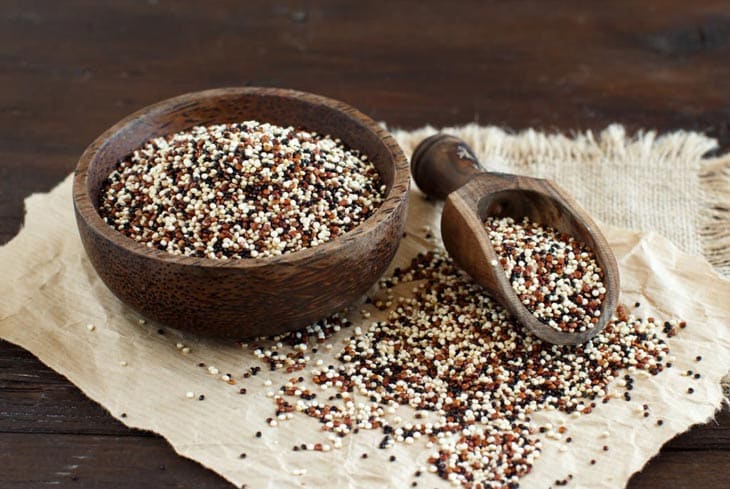 What is Quinoa?
Quinoa is a grain located in the Amaranth family. Quinoa is not classified as a cereal category like rice, oats, millet, brown rice.
The nutritional content of quinoa is outstanding. In fact, each cup of quinoa contains about 222 calories and is packed with essential nutrients, high protein and fiber.
Thanks to its nutritious value, this grain has become a staple food in vegan cuisine.
In addition to the abundant fiber and carbs, 9 amino acid-formulated protein accounts for 16% of the dry weight of quinoa, higher than other more popular grains such as rice, corn, and barley.
Thanks to what makes quinoa such a superfood, it is known to stabilize blood sugar levels while enhancing your heart's health.
There are three different types of quinoa: white, red and black. White quinoa is the most commonly found, and has a soft texture and light, mild taste when cooked.
Red quinoa has a richer and more highly seasoned taste, whereas the black quinoa is for those who are interested in a sweeter grain.
What is the Shelf Life of Quinoa?
Most grains will store well past their expiration date if kept in a dry, cool place. We typically keep our rice and quinoa in airtight Tupperware containers.
How long can you store uncooked quinoa? For uncooked quinoa, the recommended expiration is up to 3 years, regardless of the type of quinoa you've got. You just have to make sure it is stored in a container that is airtight, and is not left out in the sun or daylight.
Uncooked quinoa can also effectively be stored in the fridge as well, but again – it would need to be stored in an airtight container. However, the fridge doesn't provide a longer lifespan, so there is really no need to store it cold.
How Long Does Quinoa Last in the Fridge?
Airtight is the key here as well. We use Tupperware or Rubbermaid containers, but a bowl with plastic wrap tightly wrapped on top works as well.
Please do not store hot food in the fridge immediately! Always let the food cool down – at least 20 minutes – before placing into the fridge.
In this type of environment: airtight and chilled in the refrigerator, quinoa will last up to 5 days.
Flavors and texture will likely decrease after a couple of days, so for best results, use it within 2 days of being cooked.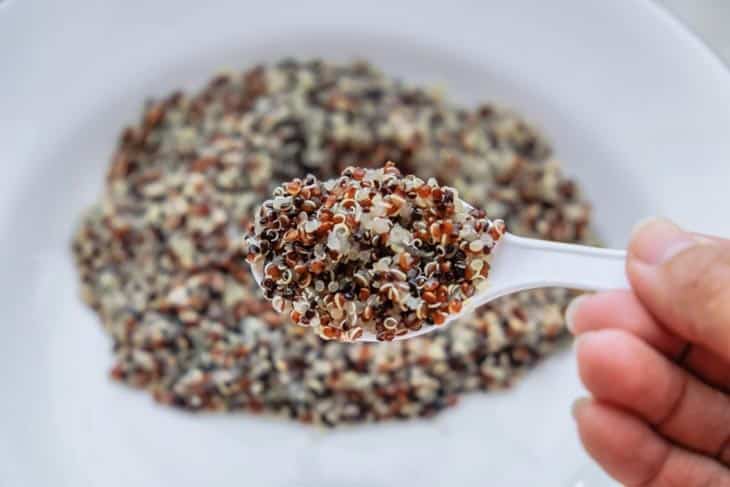 The Signs of Expired Quinoa
Dry & Uncooked:
Remarkably, dry quinoa grains that are stored properly will likely not "go bad" for well over 5-6 years. They will probably begin to get stale, or lose their flavor and texture as the years go by.
However, if you store sealed quinoa in unstable conditions, for example, under direct sunlight or in a humid area of the house, the quinoa will likely not last the month.
Cooked & Refrigerated:
Mold will begin to form on the dish, after about a week or so in the fridge. You will begin to see white fuzzies forming on the grains, at which point you'll know that it is time to throw it out.
Rancid quinoa will also likely become watery and experience color changes. You'll likely smell it as soon as you open the contianer as well.
If you take this cooked quinoa out of the fridge and notice any of these signs, please throw it out. There is no reason to try to save it!
Can You Freeze Quinoa?
There is no need to store dry, uncooked quinoa in the freezer. It won't add to the lifespan, and will likely shorten it due to the moisture levels inside.
You can, however, store cooked quinoa in the freezer. Frozen quinoa can last anywhere from 8 months to one year. Freezing cooked quinoa will extend its storage time drastically.
The longer you keep the quinoa in the freezer, the worse it will taste when it comes time to use it. It will get freezer burnt, take on odd freezer smells, or lose all of its quinoa flavor and texture.