How Long Does Ramen Last? Best Ways To Preserve Flavor
Originally brought by the Japanese, ramen noodles quickly impressed food lovers with their colorful texture, delicious broth, and various toppings. But people are still vague about its exact shelf life.
In this article, you will discover the answer to "how long does Ramen last?". Are instant noodles non-perishable?
And some great tips for storing them for the finest flavor and texture. Read until the end to get hold of all valuable information.
What Is Ramen?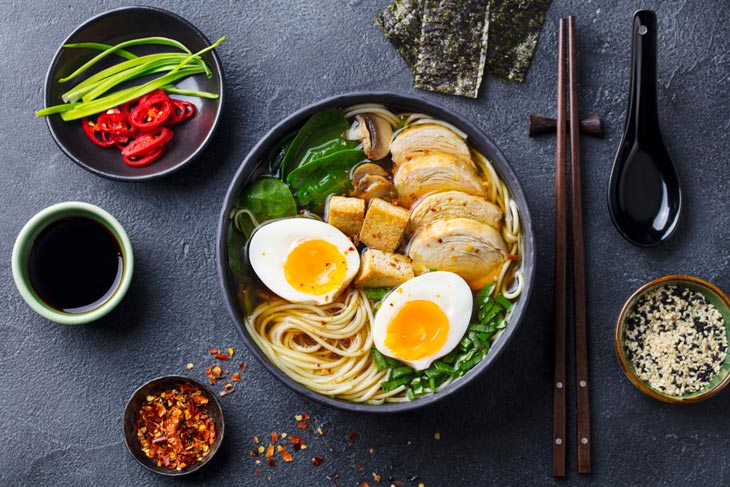 Ramen is one of the favorite instant noodles in Japan that is popular worldwide because of its unique flavor and texture, cooked by Japanese in a bowl of broth mixed with topping, enhanced flavor, and diverse ingredients.
Fresh noodles make instant ramen noodles with basic ingredients as a pack of instant noodles or wheat noodles.
Then, people serve it with boiling water, marinated with miso or soy sauce or other flavor enhancers, combined with toppings including pork, eggs, menma, salt, and green onions.
I recommend trying them in Japan to taste the original flavor, especially in ramen shops. There are many types of Ramen with various flavors and toppings mixed, such as Shoyu, Shio, Miso, and Karē, etc.
Why Do Ramen Noodles Expire?
Instant noodles mean instant food. Thus, it's understandable that cooked products can be spoiled after sitting out at room temperature for a long time. So how can ramen noodles go bad?
The answer is moisture in noodles that takes the main charge in the explanation why this food might go rancid really fast.
Water or oil are two primary factors shortening its shelf life. In detail, water forms moisture surrounding its environment that is superb for any bacteria, signs of mold, and eventually spoils.
Likewise, oil gets oxidized over a period of time after being cooked then turns into bad chemical compounds that even cause heart disease or metabolic syndrome.
Another thing responsible for bad instant ramen noodles is the flavor added in. Flavor packets can be easily rotted and spoiled, leading to a faster expiry than raw ones with no flavor added.
However, there's a rare chance that bugs may slip into ramen noodles due to uncovered packets or mistakes in storing that also potentially lead to expiration.
Hence, you need to pay attention to its conditions before consuming it to avoid food poisoning.
How Long Does Ramen Last?
What Is The Shelf Life Of Ramen?
Ramen instant noodles' shelf life is different depending on the type. Different types indicate different details in duration or expiration date.
Let's start with the raw one, which is contained in a packet. It can last longer than the expiration date on packets because of preservatives for a few months.
The next thing is wheat noodles wrapped up in a plastic bag type with an expiration day label on it. This type's shelf life is normally one year or half, sometimes shorter depending on the environment storage, etc.
Lastly, the fresh type brings the best flavor but the shortest shelf life in the team. This one always has the most delicate flavor after cooking.
So, it is better to put it in the fridge because things could turn spoiled if you mistakenly leave them in the pantry.
How Long Does Ramen Last In The Fridge?
When it comes to the fridge, instant and cup ramen, don't seem to need the fridge as other kinds of type have a pretty long shelf life.
Wheat type just lasts three months in the fridge. However, unlike instant type, they can't last longer than expiration day, and their quality will gradually decrease after the due date.

The fresh type is much shorter. Regularly, it remains in a decent state for 5-7 days in the fridge.
How Long Does Ramen Last In The Freezer?
Instant and cup ramen shelf life is up to 6 months and about a year with freezer and wheat form is several months like 3 or 4 in the freezer.
If you still get some leftovers or are too busy to enjoy fresh ones, a freezer is compulsory to keep your tasty bowl of ramen lasting longer in 1-2 months.
Generally, a freezer is a common way to preserve food. However, it's necessary to know more about this method. Finding more related information about freezing storage can help you store your ramen better.
How To Tell If Ramen Is Bad?
Usually, all types of Ramen are entirely safe and fresh except cooked ones when they are still warm, just cooked, and not affected by any contamination or bugs from the outside environment.
You can double-check by smelling and looking if it is stale or dry or some unusual signs that tell if your noodles may be edible but not flavorful at all.
Wheat and instant forms are good to go unless you unpack them because they are all protected with packaging.
If you ripped the seal off, you could check for the color and weird smell. Unless there is mold or a strong smell like stink, you can still use it without concern.
The fresh type contains moisture so that it can become spoiled quickly, along with apparent signs such as mold, stale, bad color, or stink.
If all those signs are free, you can taste the bowl. However, throw it away whenever the taste is different and make a new bowl.
Should We Trust The Expiration Date On Ramen Noodles?
Except for fresh ramen noodles, all ramen noodles packaging has an expiration date written on it to know their shelf life. This expiration is reliable and accurately reflects the shelf life of ramen noodles.
It's also a condition for products to be permitted and sold on the market, having a direct influence on the health and safety of users to avoid using expired products, so this expiration date is trustful.
How To Store Ramen Noodles?
There are many ways to store instant noodles such as fridge, freezer, plastic wrap, etc., but we will go with types of Ramen.
Typically we have three types:
Instant type (a cup or a block-like common noodles).
The wheat type also comes in a block but features spaghetti.
The fresh type (mainly used as the main piece for our ramen instant noodles in many restaurants).
The instant type is dry noodles. Thus, you might let it stay in a dry place, avoid sunlight, and cool room temperature.
Moreover, you need a zip pack or airtight plastic container to pour the extras in whenever you want to divide them into many small pieces.
Next is wheat type, pretty similar to instant type. It also needs to be kept in a dry place and avoid sunlight or heat.
Some kitchen closets or in a pantry are fine enough. A little caution is don't let air in the airtight container or better use a freezer bag for convenience.
The last type is fresh form. With this type, refrigerating is always a great choice. However, you should bring them to the fridge or freezer as soon as possible in case you can't use them all at once.
A frozen bag is the best match. You also can double cover it with plastic wrap and then thaw it in the fridge overnight. Freezing fresh type always prolongs its poor shelf life.
FAQs
Can We Use Refrigerated Ramen Noodles?
Yes, we can use refrigerated ramen noodles, but it is best with instant type and wheat type to keep them at the top flavor.
You might store the fresh type in the fridge to last for several weeks since it has been cooked. If mistakenly left in the pantry, it's dramatically shortened into 1-2 days, so you better eat it up instantly.
Can You Freeze Cooked Ramen Noodles?
Yes, as it turns out, ramen noodles are perfectly frozen, and freezing is a great way to prolong their duration.
But it's an exchange of flavor to shelf life. This is because refrigerating cooked noodles and broth together will gradually cause its taste to vanish. So you might prefer eating a warm and yummy bowl to cold ones.
Conclusion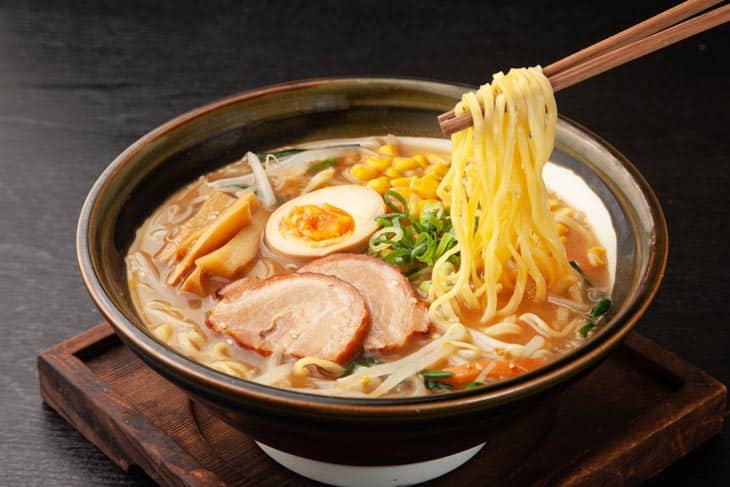 Ramen instant noodles are a delicious bowl with a wonderful combination of broth and toppings. It's a waste letting it expire due to not knowing how long ramen noodles can last?
With all tips above to learn the period of its span correctly and the most befitted way to store it, now you can enjoy a perfect bowl of Japan noodles without worrying about health problems!