How Long Does Rhubarb Last? (3 Ways for Proper Storage)
When it comes to the question "How long does rhubarb last". It is not that everyone knows the exact answer.
Assuming that you find several stalks of rhubarb left after making pie and have no plan with them for any other recipes. Some of you might wonder how long these veggies can stay good until they start spoiling.
The rheum rhabarbarum always constitutes a healthy ingredient with tons of benefits. But its protection will make no sense from expiration.
Why don't you learn more about how to store fresh cut rhubarb and other helpful information for better use?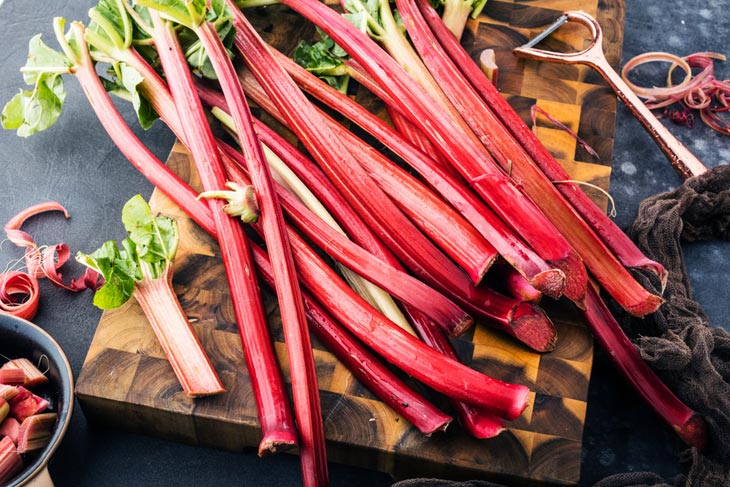 What is Rhubarb?
Rhubarb (also known as rheum rhabarbarum) is a spring vegetable that you can find mostly from March to April. In many regions, it even grows till the beginning of June.
Health Benefits
It is not a commonly known story that the ancient Chinese had used rheum rhabarbarum as medicine. The plant is rich in vitamin K, which can help improve your blood and bone health.
Not only that, it provides a nutrient source of vitamin A and antioxidants. They all combine and fight radicals which could damage your skin and lead to aging over the year.
Ways To Eat
The raw plant bears a sour taste. In other words, the red stalks have a stronger flavor than the green ones. Tasting a slice before cooking will help you enjoy that pure flavor at best.
Cooks often associate the flavor of rhubarb with limes. Also, many people pair it with kaffir lime leaves or their substitutes for the ice cream.
Besides ice cream, various ideas for rheum rhabarbarum are available in the kitchen worldwide. You can have a great combination of the rhubarb pie, cookies, cakes, and fresh tart rhubarb with strawberries.
Crunchy rheum rhabarbarum topping is not a bad addition to your lovely pie. It will be perfect when going with a scoop of ice cream.
How Long Does Rhubarb Last?
In short, the life of rhubarb is often 2-4 days at room temperature, about a week in the fridge, and even a year if frozen.
Despite having a special flavor with numerous health benefits, how long is rhubarb good for? Using a moldy rhubarb stalk that goes bad could have negative effects on your body.
In general, our answer depends on the storage condition. Do you refrigerate rhubarb, store it in the freezer, or keep it at room temperature?
There is no problem letting the rheum rhabarbarum sit in the pantry. This storing method often allows the plant to stay edible for 2-4 days.
What's about refrigeration? How long is rhubarb good in the fridge? It ranges from 5 to 7 days as long as you place it properly without washing first.
Another method to extend the rheum rhabarbarum shelf life is to use a freezer. Thanks to this way, you even can maintain its best quality within one year at 0°F.
However, it is still controversial whether we should or should not use frozen food.
How To Store Rhubarb For Long-term Usage?
With this guide, we would like to suggest the best way to store rhubarb. And here they are.
How Long Does Rhubarb Last at Room Temperature
The first recommendation of how to keep rhubarb fresh is to leave it at room temperature. This method can help to store the plant within a couple of days after buying.
That said, you must choose as much fresh rhubarb stalks as possible.
One of the most important notes is that you should not wrap the food. Wrapping with nylon bags or paper will trap more moist storage around the plant.
The raw rhubarb cannot dry out. It constitutes a good condition for mold and bacteria to grow quickly.
Moisture seems to be the most obvious drawback of this storage. Even when you do not wrap the food, the moisture in the air is also a big problem.
Hence, if you are not confident with this way, why don't we turn to the second idea?
How Long Does Rhubarb Last In The Fridge?
We view storing rhubarb in fridge as a potential alternative for the first option. The refrigeration method is handy when you wonder how to store fresh picked rhubarb or cooked rhubarb, canned rhubarb, too.
Preparation
Refrigerator
Airtight container or perforated bag
Instruction
Unlike leaving at room temperature, you need to keep the food wrapped and unwashed before placing it in the fridge.
In terms of packaging, you had better focus on the issue of ethylene gas. Along the process of storage, rheum rhabarbarum produces and shows a considerable sensitivity with this gas. For days, the ethylene gas accelerates the decay of food.
As a solution, you need to ensure good air circulation. To put it simply, it would help if you cut some holes in the storage bag. These holes enable the ripening hormone to escape. With perforated bags, there will be no need for these holes. With the cut rheum rhabarbarum, we suggest using an airtight container.
How Long Does Rhubarb last in the Freezer
If you have too much leftover rhubarb and expect a very long-term storage, freezing will be the best option to go.
Preparation
Freezer
Plastic freezer bags or containers
Instruction
Choose the fresh, firm, and ruby-red rheum rhabarbarum from the soil surface. It helps to keep the right original flavor of the food after freezing.
Wash stalks of rheum rhabarbarum with cold water and cut off their ends. You should ensure that the remaining length can fit into the bag or container.
Blanch the food in boiling water and then cool it immediately. It is to help both color and flavor stay the same during storage.
Place the stalks separately until they get entirely frozen (about 2 hours) in ice cube trays at the cold temperature.
Take the frozen rhubarb rhabarbarum out, package them, and keep those rhubarb pieces in the freezer again. Then, you can defrost the rheum rhabarbarum and add it to food like fried rice for more flavor.
How To Tell When Rhubarb Goes Bad?
What're Signs?
There are several signs helping you detect that the rhubarb is no longer in good condition. So, how to tell if rhubarb has gone bad? The following list includes four typical signs.
Texture: When going bad, rheum rhabarbarum tends to become limper or softer. It cannot be as firm as the fresh one. You will see that it does not hold the original shape anymore.
Color: The fresh rhubarb bears a combination of ruby-red and light green color. In case its skin starts darkening and turning black or brown, it goes bad.
Mold: Some bit of mold could stand on one or both ends of the rheum rhabarbarum stalk. This sign with black color is common when you leave the food at room temperature. You can cut the moldy part if it is small and enjoy the rest. But when the mold spreads to the whole stalk, it is time to say goodbye.
Smell: A spoiled rhubarb could smell bad. If that is the case, do not eat that stalk.
Is It Edible After Going Bad?
You know how to tell if rhubarb is bad. Is this food edible then?
We are afraid not. In this state, the plant starts going with different types of bacteria. They can cause many problems for your health, like the digestive system.
Thus, it would be better to throw these stalks away and buy the new fresh ones.
Conclusion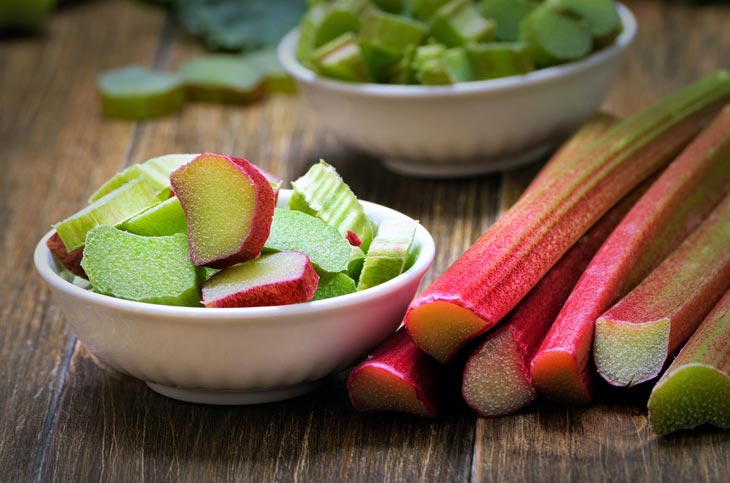 To sum up, how long does rhubarb last? Its shelf life ranges from 2 days to 12 months based on the storage condition.
Since this plant is not available all year round, freezing is not a bad idea.
However, you also should pay attention to both the freshness and nutrient value of the food when freezing it.