How Long Does Smoked Fish Last?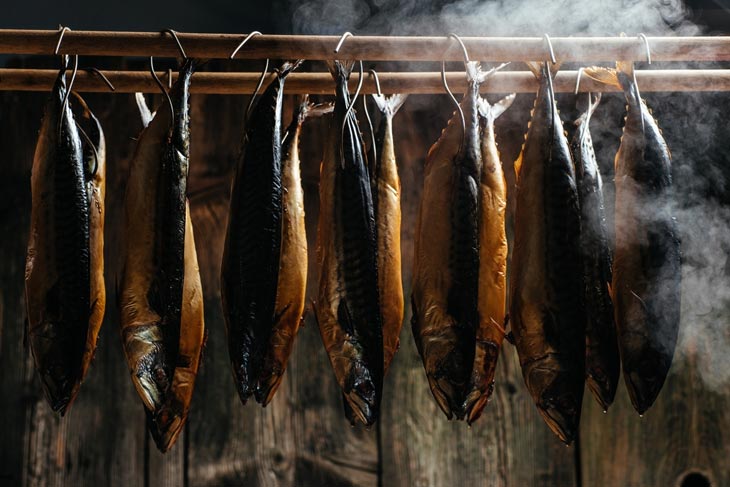 Smoked fish has a wonderful flavor that makes it widely favored. It's a simple BBQ option with a smoky flavor and a scent of charred wood.
Cold-smoked or hot-smoked salmon is usually safe to eat and easy to find in most stores.
But how long does smoked fish last? Find out below!!
What Is Smoked Fish?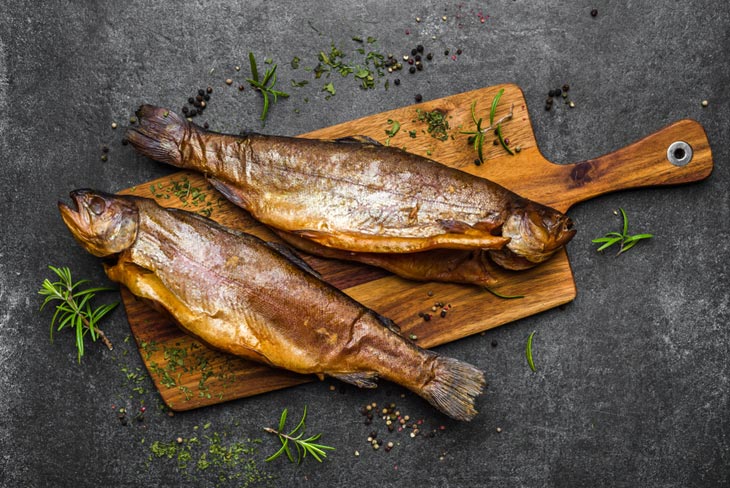 Definition
Smoked fish is frequently brined before being cold or hot smoked, herbs & spices and the optional spice mix can be added at any time in the smoking process.
The finished product can be served on its own or added to several meals and cuisines, for example, cold-smoked salmon or hot-smoked salmon.
Smoked fish is often created from high-quality, fresh fish with minimal fat content. The smoking techniques and processing times can depend on the type of fish.
The most common fish products for smoking are salmon, mackerel, trout, and haddock. Sturgeon, sea bass, kippers, herring, whitefish, and anchovies may also be utilized in some cases.
Health Benefits Of Smoked Fish
Smoked fatty fish is a dish appreciated mostly in Africa, Asia, and North America. It not only tastes delicious, but it also offers many health advantages of smoking fish that are rarely discussed.
Rich In Omega-3 Fatty Acids
Despite its low-fat content, smoked fish is rich in Omega-3 fatty acids. These are extremely useful to our heart health, as they aid in reducing inflammation and regulating cardiac rhythm.
Omega-3 fatty acids are essential for proper brain function and can prevent plaque build-up in blood vessels.
Contain High Amount Of Vitamin D
The high amounts of vitamin D in smoked fish provide additional health advantages. Vitamin D is vital for healthy bones, as we all know.
Because there are few dietary fibers of it, including cold-smoked salmon or hot-smoked salmon in your meal is a requirement.
Amazing Source Of Vitamin B12
A 10-gram serving of fish contains 2.9 micrograms of vitamin B12, which is about 30% of our daily requirement.
Vitamin B12 is just as important as Vitamin D because it aids in important tasks such as forming red blood cells.
Anemia is a danger for those who lack vitamin B12. Particularly, Vitamin B12 protects against heart disease and dementia while also providing energy to the body.
Two Types Of Smoked Fish
Smoking fish may be done in a variety of ways. Some procedures are more complicated than others, and the amount of time required varies.
You should also need some time to explore topics like temperature, wood, and other factors.
There are two types of smoked fish: hot-smoked and cold-smoked.
Hot-Smoked Fish
Fish is smoked at extreme temps, usually about 120 to 150-160 degrees Fahrenheit. Before smoking it, people leave raw fish in saltwater and then season it with spices, sauce, or maple syrup.
As a result, the taste of hot-smoked fish is rich and crumbly. Hot smoking fish pairs well with stews, eggs, quiches, and a casserole dish.
Cold-Smoked Fish
On the other hand, cold smoking fish is smoked gently at the ideal temperature of 80-90 degrees Fahrenheit with no seasoning after already being dry-cured in salt overnight to remove moisture and fishy smell.
Subsequently, cold-smoked fish has more fish flavor and is softer than hot-smoked fish. It's typically served as a appetizer with mascarpone, sour cream, and other canapés.
How Long Does Smoked Fish Last?
Unopened smoked fish will last for 2-3 weeks periods of time with proper storage or until the expiration date on the package.
Both cold and hot-smoked fish need meticulous moisture, temp, and process time management. In addition, adequate cleanliness and storage following processing are required.
To truly appreciate the flavor, use it within three days of opening the package. Even though the sell-by or use-by date on the packaging has passed, smoked fish may usually be used for a week after being opened.
However, nothing really lasts forever. After opening the package, immediately wrap it and keep it in the coolest area of your refrigerator.
How Long Does Smoked Fish Last In The Fridge?
Smoked fish will keep its optimum quality for around three months if stored properly in the refrigerator with an unopened package; however, it will be safe for even longer.
Over wrap the original package with airtight duty aluminum foil, aluminum wrap, plastic wrap, or a plastic bag, or place the item inside heavy-duty freezer bags to extend the shelf life and avoid freezer burn.
How Long Does Smoked Fish Last Without Refrigeration?
This particular procedure has been exposed to soaking in saltwater, smoking, and vacuum-sealed packaging.
It will remain for 2 to 3 days, even within humid and warm weather conditions, without being refrigerated.
How Long Does Smoked Fish Last Vacuum Sealed?
The lifespan of vacuum-packaged smoked fish is indicated by the expiration date on the tag. Its shelf life is usually another few weeks from the day it was vacuum sealed.
Unlike vacuum-seal meat, just because vacuum-packed, smoked fish has expired does not imply you have to put it right away.
If the vacuum-sealed smoked fish packaging says, it will keep for 3-4 weeks unused; you can store it for another 2-3 days.
Signs That Smoked Fish Has Gone Bad
You may forget about your smoked fish packets in the fridge for several reasons
Then you'll be concerned about their quality and worry not whether you can eat them. To determine whether your smoked fish has gone bad, use the following methods:
Check The Date Of Expiry
The first step you should do is look at the expiration date on the package. If you neglect such a shelf life, you risk getting food poisoning or having stomach issues caused by harmful bacteria such as scombroid poisoning.
Toss the unopened product away immediately if the date on the tag is more than a couple of weeks.
Pay Close Attention
To inspect the appearance of the smoked fish, place it in direct sunshine. It is no longer edible if it contains green and white spots or color-changing areas.
Another thing to remember is that smoked fish is dry, so if you find slime or discolored and dull color on the skin areas, toss it aside.
Smell The Smoked Fish To Check The Degree Of Freshness
Smoked fish with a foul odor and sour smell is rotting. In this scenario, throwing it away is the wisest option.
Dangerous bacteria in fish are extremely harmful, and putting your health at risk isn't really worth it.