How Long Does Tomato Paste Last In The Fridge? Storage Tips
As you know, we just use one or two spoons of tomato paste for a dish and put it back in the fridge.
So, it can take you a while using up all the leftovers in that can, and maybe it will go wrong without you realizing it.
Tomato paste sauce is used in pasta, meat, soups, and so many other foods, but most recipes just don't require that much of it, so there always seems to be some leftover.
It's time to find out how long does tomato paste last in the fridge? Read on to get the answer you need, and you will not waste any more of this delicious sauce!
What Is Tomato Paste, And What Is It Used For?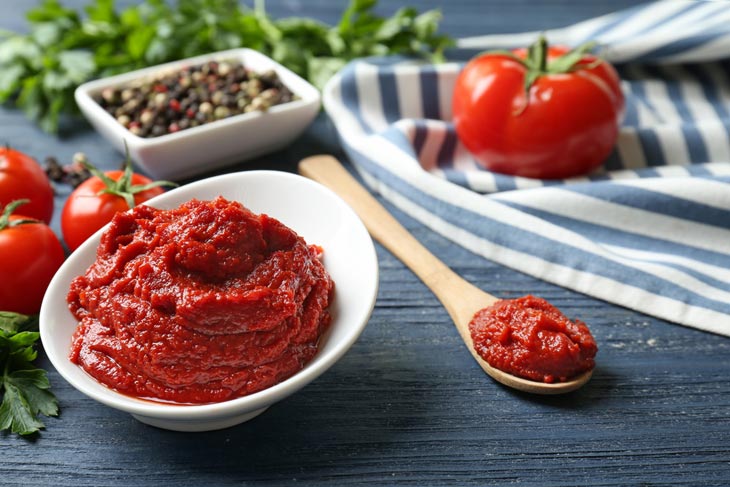 It is simply fresh tomato fruit cooked down to make a thick and rich fluid and aroma. This cuisine brings out umami and full-bodied flavor compared to raw tomatoes.
You can also add some celery seed to make it more mouth-watering.
To fill you in, the price for fresh tomato sauce in tubes is generally higher than in cans. It is fine to buy canned one to cook for a family.
But in case you have to serve a large group of people, the smart choice for you is now considering a tube.
Though it is slightly higher, it is still an ideal option to go for a tube to extend tomato paste shelf life.
It will be worth it when you realize later that it keeps you from wasting plenty of tomatoes, especially with sieved tomatoes.
You know that some dishes are not perfect without this wonderful sauce. With its rich, full-body flavor, you can enhance the taste of your spaghetti, soups, or stews.
One magic way to go with this sauce for pizza and fried chicken and potatoes.
How Long Does Tomato Paste Last in The Fridge?
It can last for 7-10 days if sealed properly with an airtight-container in a fridge. It can hold for five days with an opened can, while storing them in a glass jar can last for 2 or 3 days longer.
Not only that, but it doesn't seem good news, so are there any other ways to keep it good for longer? Yes, there still are.
First, you can freeze it and surely thaw it before using it. Anyway, this is quite an impressive way to store it as it can last for up to 5 to 6 months in the freezer.
Another option is that you put it in a tube, and it will be as good as day one for 30 to 45 days left in the fridge.
Even if it is a glass jar or a tube where you keep it, you should refrigerate the sauce after opening to maintain a great flavor and shelf life.
Using an airtight container for any method can make it through more than ten days.
Considering the time you open the sauce and leave it in the air can affect the longevity of it as well. So, it'd be better if you closed it right after you used it.
How to Tell If Tomato Paste is Bad
The noticeable signs of spoilage is any mold growth. This will lead to some discolorations on the surface that you can obviously notice. Then there's no way to save expired tomato paste other than tossing it out.
An off smell is also a typical sign of spoilage, warning that it has probably gone bad. Combining this is some watery part of the substance.
It is an almost 80-percent chance that it no longer tastes delicious and will impact your other dish. And definitely, you don't want your delicious costly spaghetti to be ruined by this sauce.
If it looks just fine and in good shape but still not sure whether it is safe to eat, one simple and all-rounded option is tasting it. Then the answer is obvious to you whether to keep or kiss goodbye to it.
Can You Freeze Tomato Paste?
Totally yes, if you don't want your great tasting sauces to go to waste soon. The frozen process will extend its longevity.
It is all good except that the quality degrades a bit when the substance is defrosted. Yet, it still goes well for the minor change that will be difficult to notice.
The tip here is to store the canned tomato sauce conveniently for you. Transfer them into a freezer bag using ice cube trays and then chuck them into the freezer.
This way, you will not have to thaw a large jar of tomato sauce when you just need a small amount of it.
How to Store Tomato Paste
You can keep it in cans or glass jars, and tubes are the best option. With a container, you have to make sure that it is safely sealed, keep it in a cool and dry place, and avoid as much heat.
If it is placed in a jar, just keep it far from sunlight and heat.
You can find it ideal for keeping it in kitchen cabinets or cupboards.Otherwise, you want to keep it in a freezer for longer use, here comes the details of how to preserve tomato paste:
Place a baking tray with parchment paper.
Use tablespoon portions to scoop the tomato sauces on the parchment paper.
Put it in the freezer and wait until it becomes firm. This stage takes hours and also depends on your power supply.
After several hours for the defrosting process, you will transfer it to a freezer bag or an airtight container. This helps to keep it in good shape for more than four months.