How Long Is Egg Salad Good For – A Detailed Answer!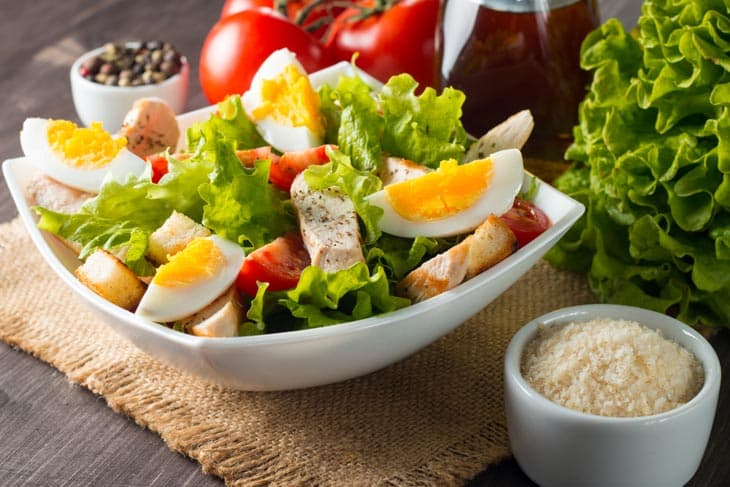 Egg salad is an easy-to-make recipe that you can create with only a few ingredients and takes a few minutes to prepare.
Moreover, it offers us a good source of nutrition. So, this food has become one of the most common dishes in many meals, even at parties.
If you love it, you need to know, "how long is egg salad good for?". The correct answer can help you avoid the risks of food poisoning and health harm.
So, let's check out our blog to know more things that go with egg salad.
What Is Egg Salad?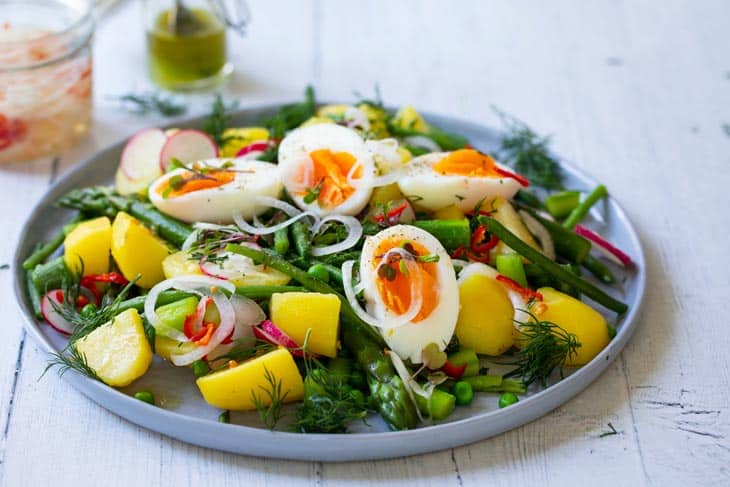 Egg Salad Ingredients
This dish's simple components are one of our favorites. Only a few ingredients are required for a good traditional egg salad.
A hard-boiled egg is a major ingredient in this food. Some things go with it, like mayonnaise, salt, and black pepper.
People nowadays frequently use other ingredients to make egg salad more appealing and appetizing. Herbs like parsley and fresh chives can be used because eggs go well with these herbs.
Mustard, red onion, and a bit of lemon juice are more regularly used components. These ingredients will make it more attractive than ever.
Healthy Egg Salad Recipe
First, it is important to boil eggs carefully. Then, add some spices, such as mayonnaise, lemon juice, and a teaspoon of mustard to improve the flavor. Chopped celery and parsley give crunch and color to the dish.
This dish takes about 20 minutes to finish, including 10 minutes for preparation and 10 minutes for cooking. The quantities of the ingredients required are listed below:
8 eggs hard-boiled and cooled
1/2 cup mayonnaise
1/2 teaspoon yellow mustard
1/2 teaspoon lemon juice
1 rib celery, herb, and scallion finely diced
How To Make
Boil eggs and set aside to cool before cutting into desired pieces.
Finely chop the herbs, celery, and scallions.
Combine mayonnaise, mustard, lime juice, salt, pepper, and sugar in a mixing bowl. Depending on your taste, carefully adjust the amount of salt not to make it over salted.
Season with salt and pepper to taste. Then serve or keep refrigerated until needed.
How Long Is Egg Salad Good For?
If you make your favorite dish with fresh ingredients, how long does homemade egg salad last? Most salads or dishes can be refrigerated for three to five days, such as chicken salad, tuna salad, and ham salad. And egg salad is not an exception.
Indeed, how long can you keep egg salad in the fridge?. If properly covered and preserved, the storage time can be 3 to 5 days.
This is because lemon juice in the recipe can be used as a natural preservative to help your dish last longer.
Yet, it will only keep for a few hours at room temperature and even less on hot days. The higher temperatures are, the quicker bacteria growth can happen.
If you bring this meal to a picnic or an office lunch, you keep it in an insulated container or sealed bag. When not refrigerated, how long egg salad last? You should consume it within 5 to 6 hours.
According to supermarket counters, this food should be kept in a place where the temperature is above 40°F or 5°C for longer than 2 hours.
While it can be made with various components, that advice applies to practically all recipes.
What Causes Egg Salad To Go Bad?
After knowing "how long does egg salad last?", are you curious about what makes this food go bad? We will list some main reasons in this section.
As mentioned before, the shelf life of egg salad is about five days. So, if you let it stay in your fridge for more than 5 days, dangerous bacteria might start to grow.
And you should toss it, even if you cannot smell or see anything.
This dish contains minced hard-boiled eggs and mayonnaise, both of which contain fast-growing bacteria that degrade food.
Fresh eggs should keep their shells if kept in the fridge for three to four weeks, while you might put mayonnaise in a sealed jar to preserve.
So, it is better to store the ingredients separately to start cooking them when you need them. Otherwise, bacteria can easily spoil other ingredients. When this happens, this food is no longer safe to eat.
In addition, onions, cucumbers, and potatoes are frequently found in this recipe. Bacteria can quickly infect these materials.
For example, Salmonella, which can grow at temperatures ranging from 40 to 140 degrees Fahrenheit and cause food poisoning, is one of these bacteria.
How To Tell If Egg Salad Gone Bad
The smell of an egg salad is one of the most evident signals that it has gone bad.
This food will begin to smell sour and even rancid once the bacteria have entered, comparable to the smell of sulfur. The smell may be mild at first, but it will quickly intensify.
If mold is present, you can determine if your delicious egg salad has gone bad by its appearance. Green or white spots are one of the most common mold signs.
A change in flavor is another clue. To make sure, just try a little bit. Spit out food and rinse your mouth with clean water when you see an abnormal taste.
If you have eaten it and are experiencing symptoms such as diarrhea, vomiting, exhaustion, or stomach cramps, you should get hospital treatment. Symptoms of food poisoning usually last 4 to 8 hours.
How To Properly Store Egg Salad
We should preserve our meal carefully to retain its freshness and safety. We need to pay attention to the following information to know how to fix egg salad.
You will prevent the potential of bacteria from forming on this salad.
Temperature
At any temperature, storing this salad can always attract harmful bacteria. If you leave this food out at room temperature for more than two hours, it will go bad.
As a result, egg salad should be kept refrigerated between 36 and 40 degrees Fahrenheit. The temperature will keep the ingredients fresh for longer, and it is just below the bacterial growth barrier for most infections.
Environment
Do not combine egg salad with other foods because bacteria can easily attach to its ingredients. This dish should be kept in an airtight container in the refrigerator, away from other foods or liquids.
Furthermore, you do not freeze and then defrost this meal because the defrosting process increases the risk of harmful bacteria attracted to the food.
Time
How long should this food be kept? This food should not be left at room temperature for more than two hours because they are only good for two hours.
How long can you keep egg salad in the refrigerator? You should keep this dish in the refrigerator for 3 to 5 days because it keeps good.
When bringing this salad to a picnic with family and friends, you should eat it within 5 to 6 hours.
FAQs
What Happens If You Eat An Old Egg Salad?
Old egg salad carries many risks of causing illness to people who eat it, so you need to pay attention to the following information. If a person is unsure whether or not the egg is harmed, they should discard it.
Diarrhea, nausea, tiredness, and abdominal cramps are all common symptoms. They commonly appear 30 to 48 hours after consuming poisoned food.
While most cases of food poisoning caused by eating poisoned egg salad will go away on their own with rest and rehydration, some cases may require medical attention.
Some of the more serious cases may necessitate hospitalization.
If your symptoms last longer than eight hours, you should seek medical attention. You should see your doctor right away because this could lead to a more serious problem.
Is It Ok To Freeze Egg Salad?
You can freeze this food, but this method is not particularly effective. When you freeze eggs and then defrost them, they become less crunchy.
Besides, taking the salad out of the freezer will lose its fresh flavor and become more prone to bacterial contamination.
After a few days, if the food has not developed an unpleasant odor, it is still safe to eat. Simply thaw the box overnight in the refrigerator before eating.
In short, you should store this salad at 40 degrees Fahrenheit to prevent bacteria from forming. And there is no better place to do it than in the refrigerator.
How Long Are Egg Salad Sandwiches Good For?
Bacteria grow more active at higher temperatures than at lower temperatures. If stored properly, your egg salad sandwich can last three to five hours at room temperature. When you keep the food in the refrigerator or freezer, the time can be longer.
How long do egg sandwiches last refrigerated? The answer is pretty similar to the information "how long can egg salad stay in the fridge?".
They will last about 5 days in the refrigerator. If you keep it in the freezer, it can last up to two months. Please warm it up in the microwave before eating.
In Summary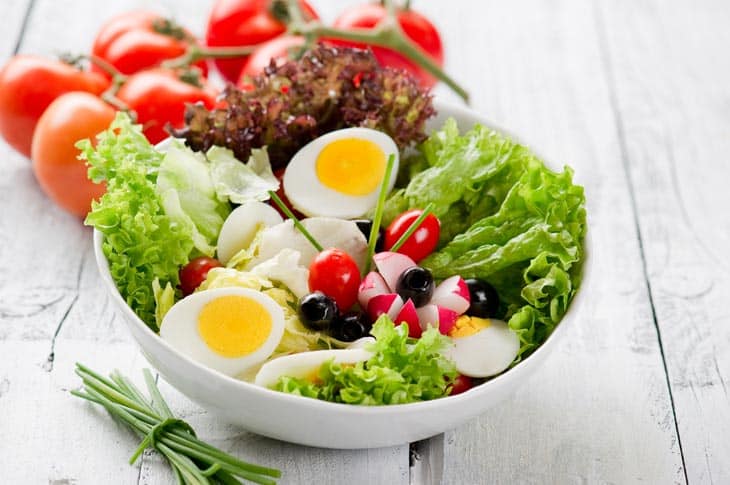 In short, although it also provides a good source of nutrition and is a quick snack that many people enjoy, it is crucial to know the answer to "how long is egg salad good for?"
If your dish has been left in the fridge for more than 5 days, throw it away, or you might suffer some symptoms of food poisoning.
Moreover, always remember to check it before eating to ensure the quality is still good.