Chili is an easy dish to make for dinner. It has a rich and complex flavor that meshes perfectly with my husband's sourdough recipe.
As a family, we love to make chili, especially on busy days. But when I started making it, I wanted to know the answers to some questions like "How long should I simmer chili?" and "How long should I cook chili for the best flavor?"
I found that chili cook time ideally ranges from 20 to 30 minutes. Still, can you overcook chili? Yes, but it is not a big deal to overcook it, since it just makes it a little thicker than normal chili.
Below, red on down to learn how to simmer chili and find some of my favorite chili tips!
How Long Should Chili Simmer?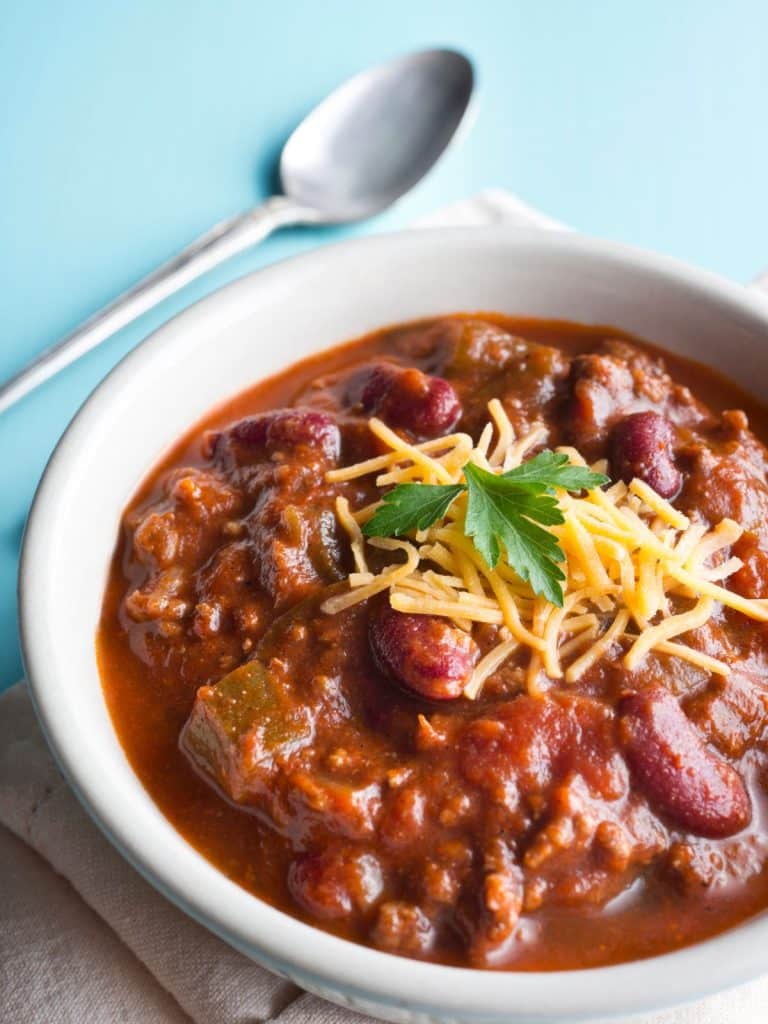 As mentioned above, it often takes 20 to 30 minutes on average. Plus, while it is simmering, you will need to stir the chili evenly over the course of the 20 minutes, so it doesn't burn or stick to the bottom of the pan.
Plus, it is ideal to add a bit of extra time for simmering when making recipes such as turkey chili, chili with beef and sausage, to name a few because of the added ingredients.
Should you simmer chili covered or uncovered? It is not relevant whether you cook chili with lid on or off.
Still, we highly suggest keeping the pot uncovered and cooking for 20 -30 minutes. This tip helps to thicken up the liquid to get the desired consistency.
How To Simmer Chili On A Stovetop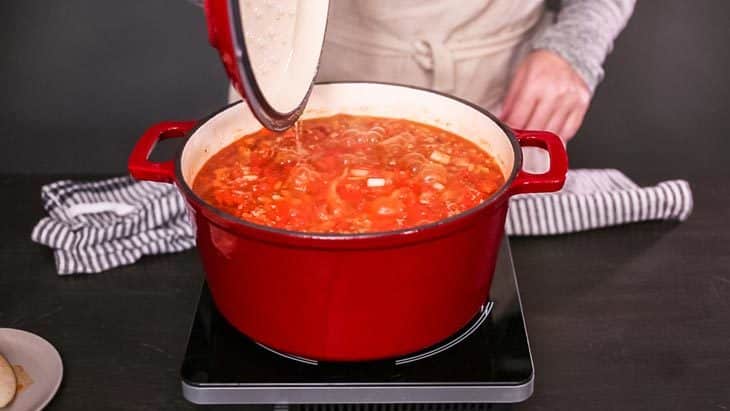 Cooking chili in a Dutch oven on the stove top is my families go to way of cooking and simmering chili.
It helps maintain the chili taste and pulls the mouthwatering flavor out from the added ingredients. Plus, the simmering process makes the chili beans more tender.
How to Cook Chili on A Stove
Preparation
Gather Ingredients: Ground Beef, ground turkey or sausage and seasonings. You can make this chili with chili seasoning that you can buy in a store or make yourself. Chili seasoning mix usually contains chili powder, cumin, oregano, and salt.

And also extra ingredients that you love to simmer with chili such as beans (light + red kidney beans), beef, roasted tomatoes, onions and green peppers.

Gather Supplies: A Dutch oven and wooden spoon
Regarding the ingredients for the simmered chili, it is debated topic if chili should not have beans or should. Nevertheless, many chefs insist that the simmered chili is a creative dish with no rules. Personally, I love adding extra beans to my chili, so it makes it a thicker and heartier dish.
Instructions
You may cook the chili from scratch, seasoning packets, or pre-made products. Whatever it is, the simmering time counts when all ingredients in the pot will be the same.
Another important thing is to set the stove on a low temperature and stir the chili often.
Step 1: Simmering
During the process, you must keep an eye on the pot. In case of overcooking, the tomatoes will turn into the sauce along with the burnt beans, obviously affecting both the dish's taste and consistency.
It is better to let the chili gently simmer rather than boil. When the liquid starts boiling, it is time to drop the stove tops heat.
Step 2: Finishing
When you are done simmering, remove the pot from the stove. Serve immediately, or we suggest putting the simmered chili in a slow cooker for around 6 hours if you won't be eating it right away.
The heat inside that cooker can prevent bacteria from growing and allow you to serve the simmered chili for more time.
But, if there is no cooker, is chili better the next day? It is advisable not to keep the chili at room temperature. Rather, you had better store it in the refrigerator for 2 hours.
Can You Cook Chili Too Long?
There is a question that "Can you cook chili too long?" Yes, you can, but as long as it is set to a low and steady heat you will be ok.
We, personally, often simmer the chili for 20-30 minutes and then refrigerate the leftovers for the next day once we are done eating.
On the next day, to reheat, we will simmer it 20 minutes or so. Undoubtedly, the taste becomes much better thanks to the second cooking. Chili is always better the second day in my opinion.
For a slow cooker, the answer to the question "how long to let chili simmer?" may be different. It allows you to cook overnight (up to 8 hours) at a low temperature.
Tips For Cooking Chili
Below is a list of tips on what makes a good chili.
Adding a small amount of sweetness for a balance in flavors (sugar + honey)
Simmering the chili long enough.
Spicing it up with the seasonings for better taste.
Lightly heating the spices by adding them when meat turns brown and onions get softened in the Dutch oven or skillet.
Finishing with the right level of thickness.
Not draining beans (this is a personal preference, but I dislike draining the beans for my chili) If you prefer you can drain them which will reduce the sodium in the chili.
Browning meat with onions and garlic before adding other ingredients to the skillet.
Garnishing the chili with green onions, avocado, sour cream or shredded cheese for serving.