How Much Is A Pat Of Butter (Simple Answer)
Get ready to explore the world of food jargon, even in the kitchen. Yes, even something as basic as food can come with its own specialized terms. The phrase "butter pat" may have crossed your path before, but do you know exactly how much it refers to?
If you're curious and want to put your knowledge to the test, read this article to find out, "How much is a pat of butter?" You might be in for a surprise as you discover the real amount!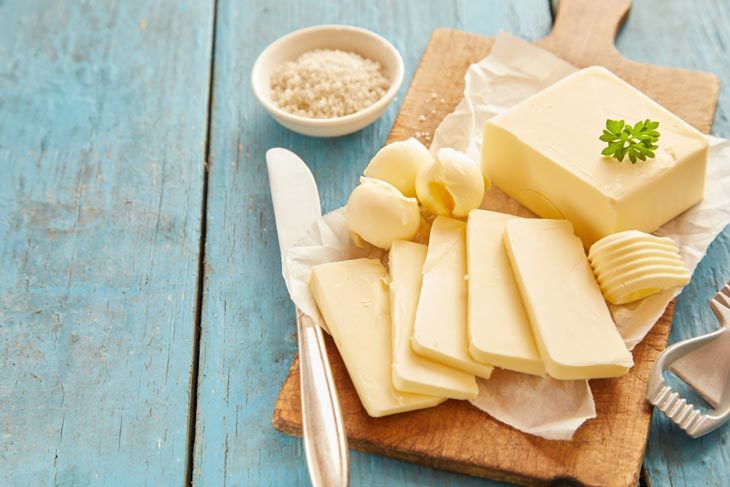 How Much Is A Pat Of Butter?
One pound of butter contains 48 pats, so one stick of butter would have four pats. When you convert that answer, you get "1 pat of butter is a quarter of a stick of butter".
A pat of butter is certainly not a lot, but it is certainly convenient for those who only want one serving at a time. So, if you don't have the intention of spreading a stick of butter on an entire loaf of bread, you should consider buying one pat of butter to test out the amount first.
Why Is It Called 1 Pat Of Butter?
"What is a pat of butter?" There is an entire collection for the possible origin of "pat of butter", and it is certainly an interesting category to look into.
The most popular and plausible sentiment behind the name comes from the tool people used to process butter back in the day. Watching the process, you will notice that people use a big and flat spatula-like tool to press and wring out the buttermilk. This tool is called the Scotch hands or the butter pats, depending on the region you live in.
The butter pats have a grooved and smooth side to do their job better to increase the butter's quality. A butter maker also uses these tools to spread salt into the grain of butter, improving its shelf life. Using your hands for the process will cause the butter to melt too quickly for preservation. That's how you get the pat of butter!
Another explanation involves the dollop of butter you see on restaurant toasts. Since butter can be hard to press down into molds, restaurants usually pat the mold into it instead. That's how you get that little piece on your order of bread or pancake to be so consistent and cute.
The last explanation is rather sad. Since "pat" is the sound of butter hitting the ground, people call it that, hoping that the portion of butter falling will be small. It is a form of well-wishing, after all.
How Many Calories Are In A Pat Of Butter?
Since we can only approximate how much a pat of butter is, it is also very hard to tell the number of calories in 1 pat of butter. However, we can take a gander at the ratio of a pat held in a stick.
Generally speaking, a stick of butter is around 130–150 calories. As a result, those foil wrapped butter pats extracted from a stick will amount to up to 30–50 calories. The majority of manufacturers and retailers will label the wrapped butter pats with 36 calories at most.
The butter type will not influence the calorie count, so you don't have to worry about that. The calories in one pat of butter will stay consistent whether the market labels it. There is only one difference between salted and unsalted butter, which is the sodium content.
Pat Of Butter Vs Pad Of Butter Vs Knob Of Butter
Now we are entering confusing terminology territory. Between a pad of butter and a pat of butter, only one refers to an item or a unit of food. A pad is a small platter on which butter rests and gets served. The question between pat of butter or pad of butter is dependent on context, most of the time.
If anything, a knob, and a pat are more similar, as they both refer to an amount of food. Like a pat of butter, a knob does not have a definite amount or measurement. But whoever is familiar with cooking instructions and recipes knows that to get a knob, you take a knife and cut just enough to coat a pan's surface.
Because of this, many people think that a knob is a thumb-worth of butter, and they would actually be right. So long as the clump of butter you cut out can add flavor to a whole pan, you now have a knob.
Perhaps the most significant difference between them is how they are put to use. A pat is usually for baking, as most popular pastries require some ratio of a stick of butter to puff up. A knob is most commonly seen in cooking – frying in particular – as the amount helps flavor the surface of the skillet/pan.
What Advantages Will You Get From A Pat Of Butter?
A pat of butter is useful for several reasons, and knowing this, you will be able to find yourself buying this ingredient in pats more often than sticks:
It is the perfect trial product. It's big enough for us to notice the difference and place our preferences, but not big enough to become wasteful. Typically, it will suffice for one meal, and one meal is all you need to test out a new product. Buying butter in pats allows us to try different variants of this ingredient!
It is the perfect amount for baking. Most baking formulas that call for butter will require you to take out a portion of a stick. So, why don't you get the portion of the stick right out of a box? Restaurant butter pats are the most popular for small and beginner bakers for this reason!
When in doubt, get a pat of butter. Trust us when we say that's exactly how much you need for three-five dishes!
How To Make A Pat Of Butter
This section is for future party hosts who want to get fancy with their feasts. You can make your pat of butter and create your fancy design as well!
The most common and beginner-friendly shape is a thick rectangle your guests can sink their spoon or knife into. All it will take you is to cut off squares from your stick of butter so that the stick can produce many even cubes.
Circles and spheres of butter are definitely more eye-catching, as it is rather unconventional to see butter in such a form. You simply have to press down a cookie cutter or mold to get the shape with flat circles. If you have the intention to roll the butter into a ball or a spherical dollop at least, we suggest not using your hands.
Any other, more complex design will require you to pull out a mold of sorts. Some have resorted to using fun ice cube trays for their party delicacies as well.
How To Serve A Pat of Butter?
If you want the butter to hold its quality and shape before you serve them, of course, you will have to put it into the cool compartment of the fridge. This is especially useful for those who spent an eternity trying to push a mold onto their pats of butter beforehand.
Then, what's next? We suggest you do your timing right and take it out to rise to room temperature 15 minutes before the festivities start. This prevents any food from being ripped apart by the cold butter.
Frequently Asked Questions
How many tablespoons of butter is a pat?
1 pat of butter equals how many tablespoons? Such an amount should fill up from half to one tablespoon. When a recipe calls for one tablespoon, you can just use up a generous pat to emulsify the mixture you're working on.
The answer to "How many grams in a pat of butter?" can be aided with the tablespoon comparison as well. As a result, a pat – or a tablespoon of butter should be around 9 grams.