How Much Meat Do you Need Per Person For Pulled Pork?
Determining how much meat per person for pulled pork is always the toughest part if you are about to host a party.
People love this pulled pork at parties, which is delicious to serve on its own or with a slider bun or coleslaw. It is also a great make-ahead meal option served as leftovers. We love to freeze ours and save it for quick meals when we are short on time.
Since we love to have leftovers when we smoke pulled pork, we make sure to have enough for everyone who wants to eat as well as for us to freeze for later.
How Much Meat Per Person For Pulled Pork?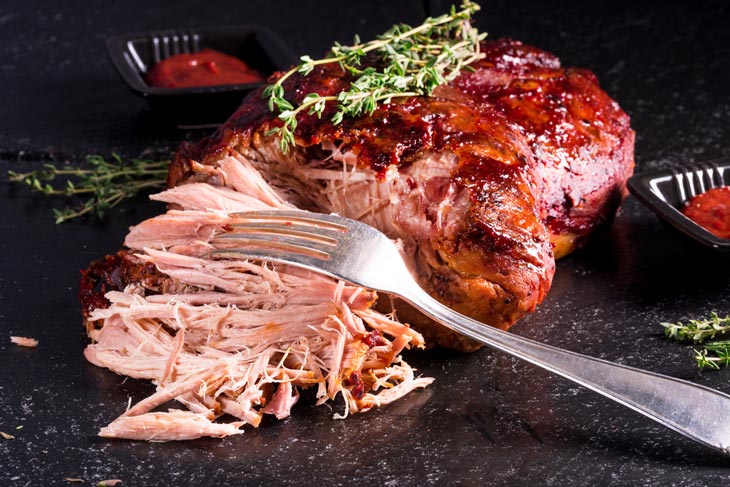 The rule of thumbs is ⅓ pound of pulled pork for each person, equalling 5-6 ounces per serving. This calculation is based on the portion for lunchtime. If you are hosting an evening party, the amount of meat should be 1-2 ounces more (7-8 ounces for each).
Doing math in your head, how much pork butt per person actually entails many factors. The utmost importance in calculating is that the slow pork shoulder loses around 30-40% of its weight.
Boston Butt and picnic shoulder, known as the best two cuts for the flavorful and juicy pulled pork, contain high-fat content.
The cooking process involves the shrinkage, dehydration, or evaporation of the meat and the melting of the fat. The yield after cooking pork is about 50% of its raw weight.
The second basic formula in calculating the portion is ⅓ pound of pulled pork per head. It is the advice from BBQ experts for any party planner.
According to the two above rules, we can easily do some math and answer several questions:
How much does 6 lbs pulled pork feed? 18 servings.
How many does 10lb of pulled pork feed? 30 guests.
How much does 20lbs of pulled pork feed? 60 people.
How much pulled pork for 6 adults? 2 lbs.
With the easy formula in mind, you can always measure the amount of meat based on the number of guests. However, other factors are at play to determine the right measurement.
Other Considerations In Calculating How Much Meat Per Person For Pulled Pork?
Deciding how much pork per person is really enough to serve at a get-together party is always a tough part.
You expect the food is enough to go around all members, but also do not want to have too many leftovers. The fact that no exact meat per person calculator for pulled pork is perfect for any event.
Many factors are considered when hosting an event.
The number of smoky pork sliders amount depends on the time of the event, kind of party, guest list, and the richness of the menu you plan to serve.
Age And Gender of Your Guests
The most important aspect in measuring the amount of pork shoulder butt is who your party guests are.
It is easy to recognize that there is a different need for calorie requirements between adult guests and children.
More particularly, the ratio of the number of men to women highly affects food portion calculation.
Teenagers and men tend to consume more. On the other hand, guests' occupation is another vital consideration to be mindful of. A sports team has a bigger appetite than office workers.
Time Of The Day
As essential as the guest list, the time of the event highly impacts the shoulder roast amount. Portions at lunchtime are less than in the dinner smoked BBQ feast.
If you are serving the pulled pork at lunch, let's consider dropping the food amount to a pound per four people instead of three.
In another circumstance, the late afternoon party allows people to enjoy more appetizers. As a result, they feel full faster and do not need more meat.
The length of the party is also really worth considering. The longer the event lasts, the more servings you need to cater.
People have a tendency to spend more time meeting and chatting with other people. They will eat slowly at such long parties.
Some others still can feed themselves until the end of the gathering occasion.
Type Of Party
Like the time and duration of the party, the type of party affects the estimation of the consumption of Boston butt.
The food amount varies on the kind of cookout setting. In an active setting such as a poolside party or casual barbecue, people like to walk around, chat, or socialize with each other.
They are not going to overstuff themselves with your meal.
In contrast, with sit-down meals, it is vital to prepare more pulled pork as guests pay more attention to dishes.
The Rest Of The Menu
The diverse menu also plays an important role! Ask yourselves whether you are going to serve pulled pork as the main course or cater to big-batch main dishes.
Other side dishes, such as coleslaw, baked beans, cornbread, etc., also have a great impact on the ratio between dishes.
Certainly, slimming down the total amount of grilled pork is wise if you are offering various food items to guests.
Allow For Second Servings
Last not least, don't forget to consider the second serving as guests tend to enjoy some meals at the beginning.
Then, they will go around to socialize and then end up finishing their meal.
How To Store Pulled Pork Leftovers?
Despite knowing the two aforementioned rules, many influential factors coming into play lead to the leftovers. However, some juicy and flavorful pulled pork leftovers are never a bad thing.
Many tasty ways for you to jazz up the leftovers are like making tacos and sandwiches or pizza with leftover pulled pork.
You can also mix it with your favorite barbecue sauce and then serve it as bulkie rolls along with some coleslaw and crispy fried onions.
To retain its flavor and freshness, the proper storing of pulled pork leftovers is vital. Especially, it protects you from spoiled meat. Keep reading and follow our tips for the preservation of leftovers.
At room temp, it can keep warm for 3-4 hours as long as you wrap it into tin foil and put the meat in a cooler. Covering it with a blanket is an added bonus.
The loaded pulled pork requires long-term storage. While placing leftover pork roast in an airtight plastic container or a zip-lock bag can retain its freshness in a fridge for several days, frozen meat can last a few months.
Don't forget to divide the cooked pulled pork into meals, rather than freeze the whole batch together.
You should use aluminum foil to cover the pork cuts and then put them in freezer bags. Vacuum seal the pork to ward off bacterial growth and minimize freezer burn if you can.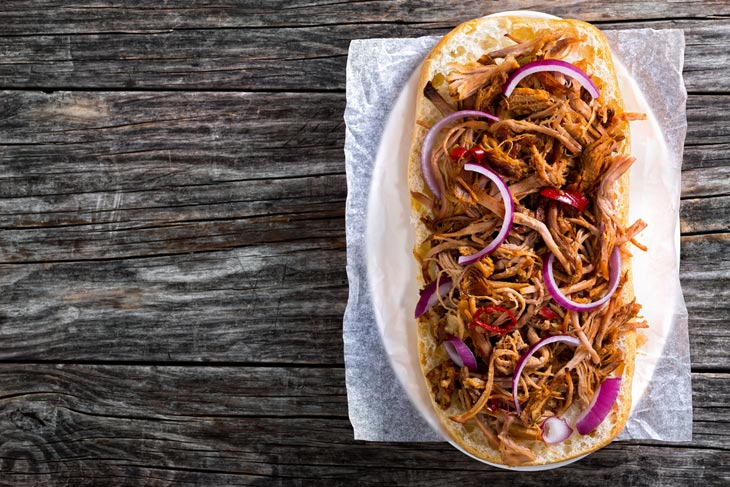 Final Thoughts
We hope you find the post on how much meat per person for pulled pork informative. It is helpful for you to refer to a sure-fire way to avoid running out of food.