Cooking frozen chicken strips, tenders, or nuggets in an air fryer is straightforward and makes for a quick meal for the whole family! My kids enjoy making these for lunch, a quick weeknight dinner, or even an easy snack.
This cooking method is a simple way to make a crispy air fryer chicken meal that EVERYONE will love!
Scroll no down to learn how to cook frozen chicken strips in an air fryer.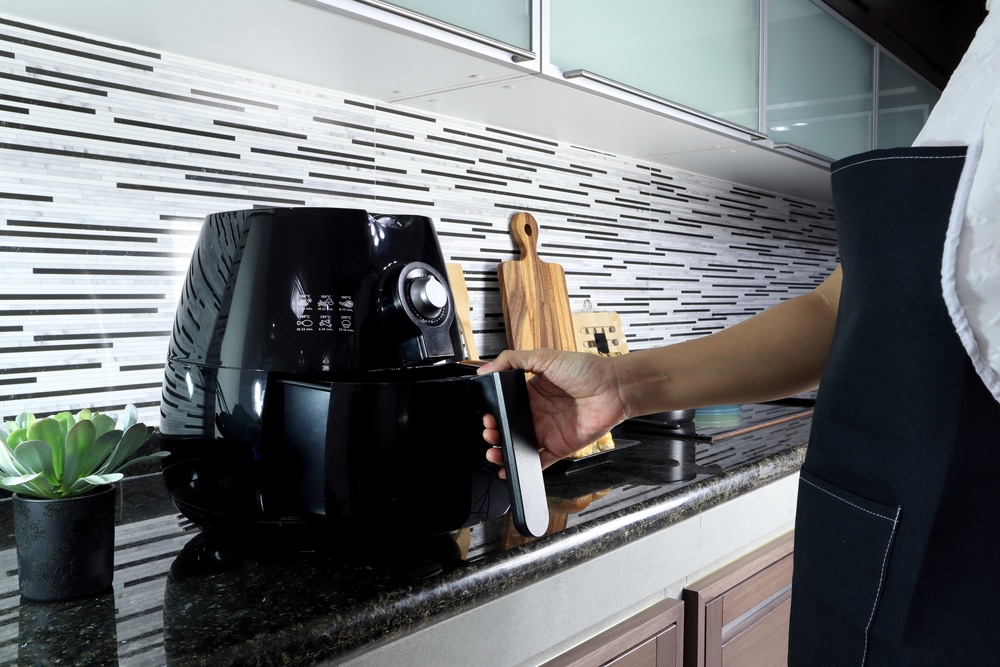 How to Cook Air Fryer Chicken Strips
You can use three different types of frozen chicken strips: Grocery Store-bought Pre-cooked, Raw and Homemade. Learn how to cook each one of these chicken strip types below.
Pre-Cooked Store-Bought Chicken Strips: These pre-cooked chicken strips are ready to go directly from the freezer to the air-fryer with no prep other than taking them out of the freezer. You will not need to add extra oil due to the strips already having oil on them from being pre-cooked before being frozen.
Raw Store-Bought Chicken Strips: This type of chicken is frozen but not pre-cooked, so it will need a bit of oil spray to cook in the air fryer to get a crispy breading.
Homemade Frozen Chicken Strips: You can pre-make your own chicken strips and freeze them until they are ready to be cooked. These would be prepared just the same as the raw chicken strips instructions above.
Learn how to make air fry chicken strips, chicken tenders, chicken fingers or chicken nuggets in the air fryer with our tutorial below! This is an easy dinner idea that doesn't cost much and is quick to make. Enjoy!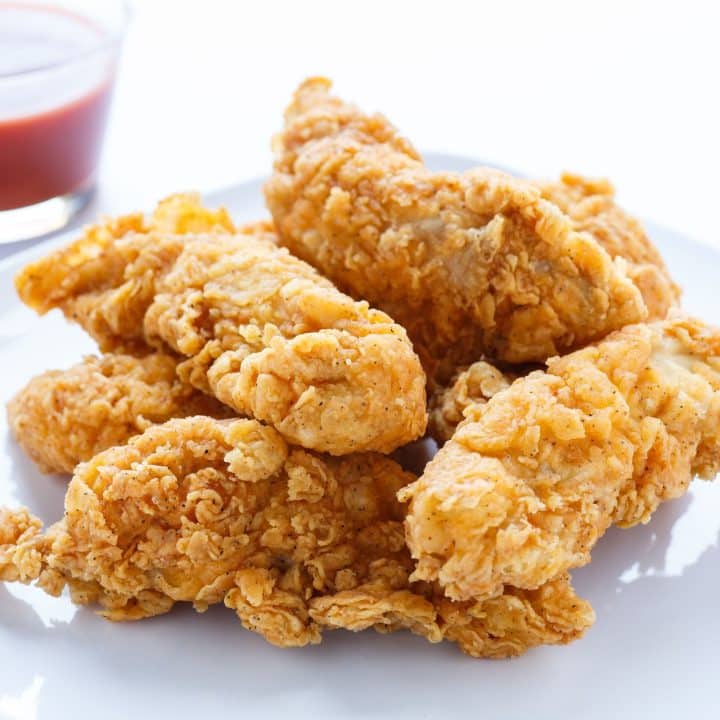 Air Fryer Chicken Strips
Use these simple steps to learn how to make frozen chicken strips in the air fryer.
Ingredients
Air Fryer
1 Bag Frozen Chicken Strips (Brand and size will vary) We like Tyson Crispy Chicken Strips, but any brand will work.
Spray Can Non-stick cooking spray (for best results use high heat oils)
Instructions
Place frozen chicken strips (4-8 strips) into the air fryer basket evenly. I like to lay the chicken strips in a single layer and not stacked.
Use spray oil if the chicken is raw and leave as is if they are pre-cooked.
Turn or shake the chicken strips after about 5-7 minutes of air-frying and cook for 5 to 7 minutes longer. The cook time will vary, so follow the recommended time on the package.
Remove from the air fryer.
Place the air-fried chicken strips on a plate covered with a paper towel to soak up excess oil.
Once finished, serve with your favorite dipping sauce.
Notes
If you are using raw chicken strips, they may need to be cooked longer and temperature checked before consuming.
Use a High Heat Oil
Avocado Oil Spray – 450 F
Grape seed Oil Spray400*F
Extra Virgin Olive Oil Spray – 350-375*F
Coconut Oil Spray – 350*F
Or use a mister or spray bottle filled with oil. (use oil if cooking raw chicken strips
Recommended Products
As an Amazon Associate and member of other affiliate programs, I earn from qualifying purchases.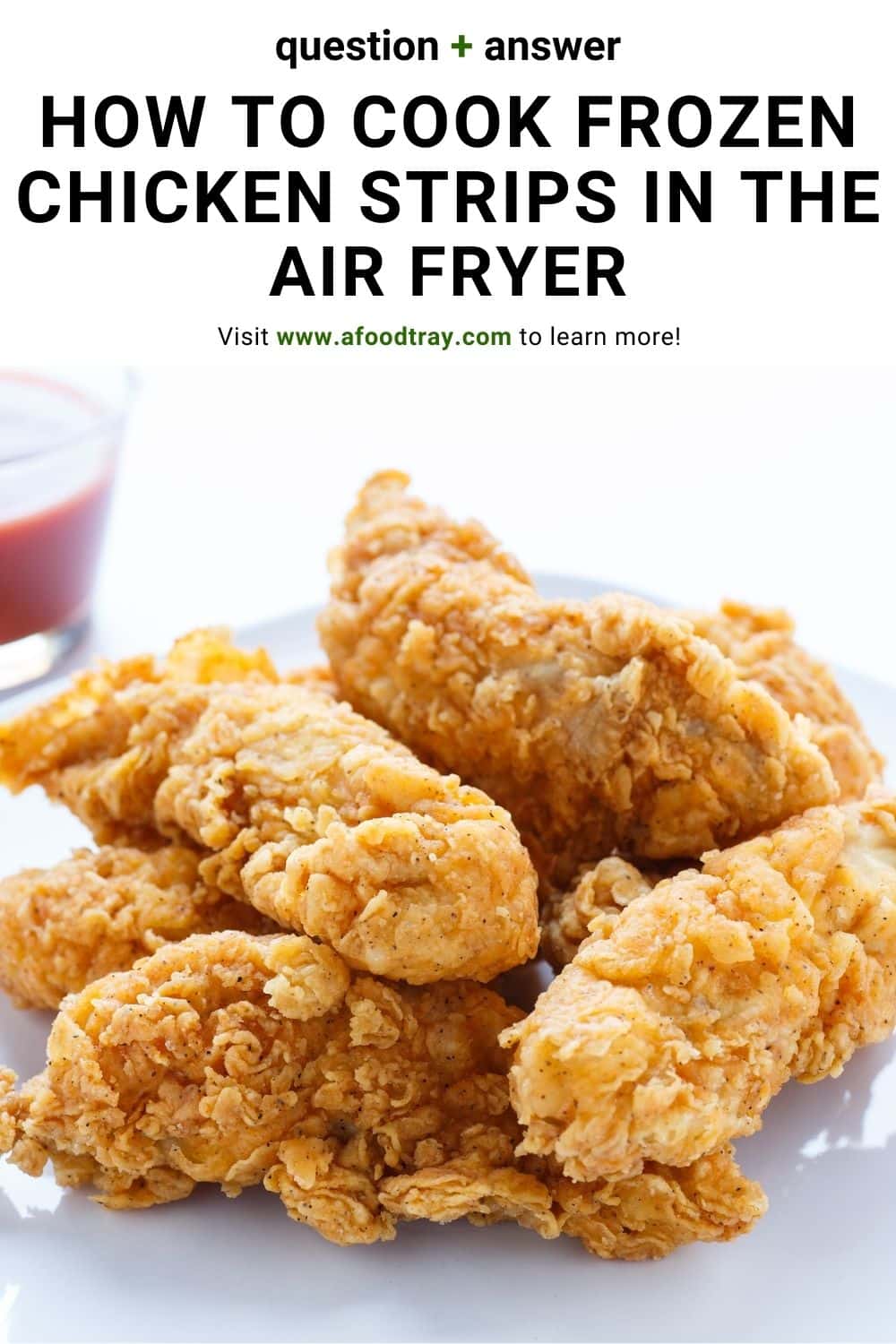 Common Questions about Chicken Strips
What Can I Serve with Chicken Strips?
For a complete meal, some good options to serve with chicken strips (tenders, nuggets, and fingers) are french fries, sweet potato fries, tater tots, onion rings, homemade potato chips, apple sauce or a bowl of fruit. These side dishes will cover all bases, compliment the main dish and make the entire family happy at dinner time.
What are the Best Dipping Sauces for Chicken Strips?
Homemade Ranch Dip: This is my kids favorite sauce to use with almost anything we make in the air fryer for them. We like to make a yogurt ranch dip since it is a healthy alternative, but homemade buttermilk ranch dressing would work great too. Store bought ranch is great to use too if you are rushing and can be found easily at most grocery stores.
Easy Ketchup Recipe: This homemade ketchup recipe is so easy to make and tastes great! The best part is that you can control what is in it, so it is a healthier option than store-bought ketchup.
Honey Mustard Dipping Sauce: This two minute honey mustard dip is simple to put together and is the perfect dipping sauce for breaded chicken strips.
More Recipes & Food Questions