How To Cook Pork Medallions From Costco? 4 Easy Steps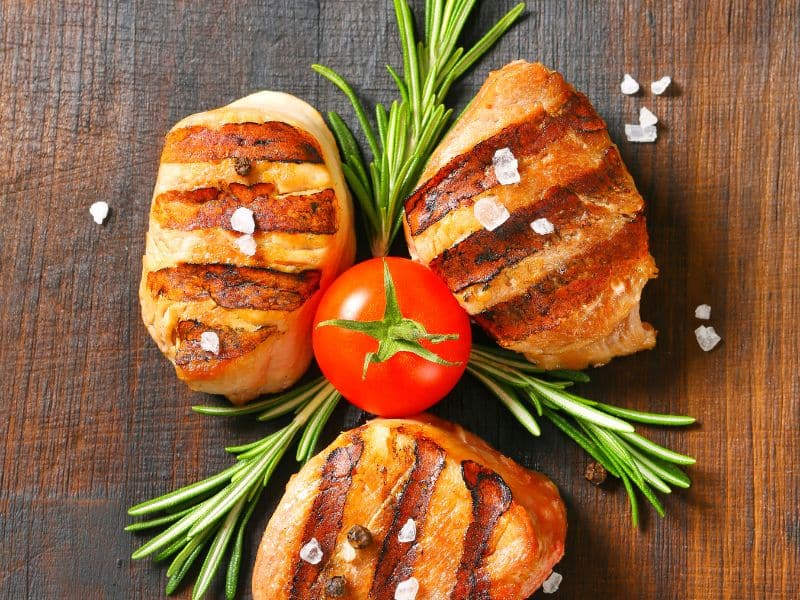 Do you find it hard to come up with a dish for dinner? Consider Costco pork medallions! It's not too difficult to make yet can stimulate your appetite. So, how to cook pork medallions from Costco?
We'll guide you through every step. There are also useful related questions to give you a better idea about the dish.
What are you waiting for? Scroll down to discover the answer!
How To Cook Pork Medallions From Costco?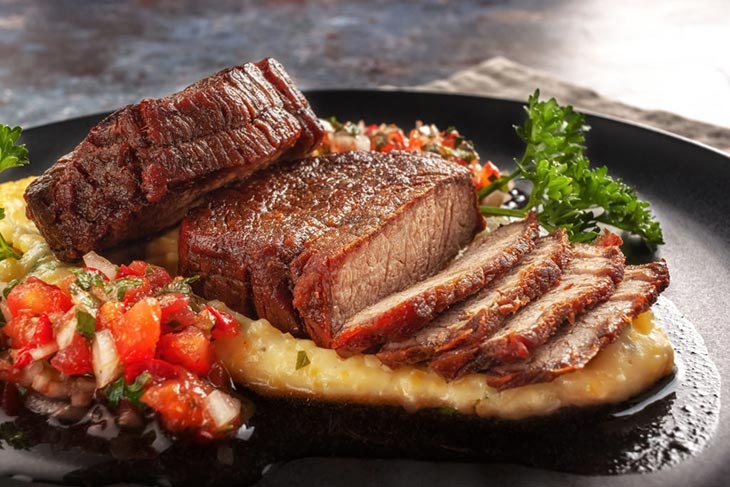 Preparation
Pork tenderloin: 1 lb
Pepper: 1/6 teaspoon
Butter: 4/3 tablespoon
Salt: 1/3 teaspoon
Prosciutto/Deli ham: 3 slices
Minced garlic: 3 cloves
Sage leaves: Fresh 1-2/3 teaspoon / dried 2/3 teaspoon
Balsamic vinegar: 4 tablespoons
Heavy whipping cream: 2/3 cup
Plum tomatoes: 1 chopped
Basil : 6 leaves
Grated parmesan cheese: 1 teaspoon
Cooking Instructions
So here is how to cook costco pork tenderloin:
Season the tenderloin with pepper and salt.
Melt the butter in a large frying pan. Fry the tenderloin in it. If you want your pork medallions Costco to be medium-rare, the internal temperature must reach 145 degrees. Then take it off the pan.
Fry the prosciutto quickly in the pork drippings in that pan. When it turns brown, add minced garlic and sage leaves. One minute later, pour vinegar in and stir to loosen the fond.
Keep stirring until the mixture boils. Lower the flame and stir until the texture is slightly thick. Add tenderloin and tomatoes, stir until thoroughly hot. Put basil and cheese on top, and the Costco Tuscan pork medallions are ready to serve.
So the Costco pork loin cooking instruction has wrapped up our " How to cook pork medallions from Costco" section.
However, if you still have questions, don't worry. We've already collected the common difficulties and offered solutions in the below section.
What To Serve With Pork Medallions?
These Tuscan pork tenderloin medallions make an amazing main dish that lends itself to a variety of side dishes.
Salad is a simple but healthy choice of accompaniment for this dish. It's fresh and full of fiber to balance your dinner.
Plus, the crunchy texture and the light taste also help accentuate the main dish, making your meal more satisfying.
If you have it on a cold day, consider casserole as a side dish. You can go for one that is made with rice or broccoli. A steamy hot bowl of the casserole will warm your body up and stimulate your appetite.
Cooking Tips
Choose A Good Piece Of Meat
Good ingredients will bring out a tastier dish. Therefore, you should start with a perfect tenderloin.
The signs to know one is good enough are the pinkish-red color and the marble on the surface. The marble (the fat) will make your food more tender.
Stay away from ones that look pale and have dark spots on the surface. They are not fresh and can contain dangerous bacteria.
If you can't find a satisfying tenderloin, a piece of cushion meat will be the perfect substitute as they are from the same part of the animal ( the shoulder).
Pat The Meat Dry
A piece of meat with a dry surface will turn brown on the surface when cooked. On the other hand, if there's still water on it, the heat will push the juicy water out and leave you with an unappealing pale piece of meat.
Heat The Pan Before Cooking
This small step will make the searing process go smoothly. The hot pan will give the meat a nice sear while the inside stays succulent and tender.
If you use the skillet, place it in an oven and preheat for about 10 to 20 minutes.
What Is The Temperature To Cook This Dish?
Depending on how you want the meat to be done, the pork medallion temperature may vary. Look at the table below to have a better idea:
| | |
| --- | --- |
| Desired doneness | Internal temperature |
| Medium rare | 145-150°F |
| Medium | 150-155°F |
| Medium well | 155-160°F |
| Well done | 165°F |
Proper Cooking Time
If the cooking time is too short, your food might not come out as expected. On the other hand, a long cooking time is also not good.
The overbearing heat will make all the moisture evaporate, and your food will end up dry and hard.
Obviously, you don't want that to happen; therefore, pay attention to the time your meat stays on the pan. A duration of 2 or 3 minutes will be ideal.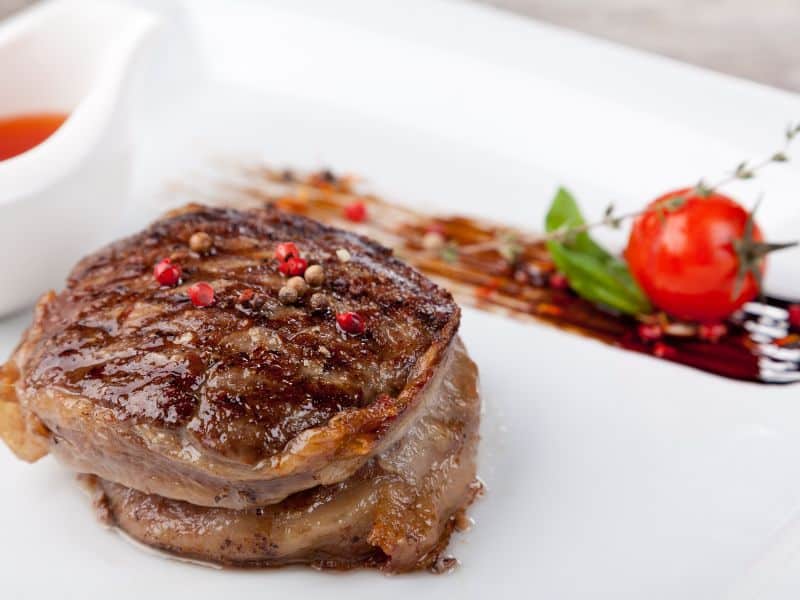 How Long Can You Keep The Loin In The Fridge?
The time you can store your food in the fridge depends on the sell-by date. If it has just arrived at the supermarket for a day, then you can keep it in the fridge for 3 or 4 days.
However, if it has been there for several days, it will spoil faster. Consequently, the amount of time you can store it shortens.
If you want the meat to last longer, put it in the freezer. Set the temperature at 0 degrees Fahrenheit or lower, and all the dangerous bacteria and mold will be killed. That way, your food can remain good for weeks or even months.
How To Defrost The Meat?
After taking the tenderloin out of the fridge, the first thing you need to do is to defrost it. Below are three common ways to defrost a piece of tenderloin.
Fridge Thawing
Small pieces like Tuscan pork tenderloin Costco will take 24 hours to thaw.
When defrosting the meat in the fridge, don't put it together with other food. Bacteria will transfer between them and cause cross-contamination.
Therefore, place your meat in a bowl or on a plate and wrap it carefully. Put the bowl on the lowest shelf of the fridge. This way, it will stay good for one or two days more before cooking.
Cold Water Thawing
Put the meat in a leak-proof bag. Then place it in a bowl of cold water. Change the water after half an hour. A pound of loin will just take an hour to defrost.
Microwave Thawing
This one is the fastest way to thaw meat out of the three.
Put the meat bare in the microwave. Set the machine to defrost setting. If it doesn't have this function, set it on low power and check the meat every 2 or 3 minutes.
After thawing with a microwave, you should cook the food immediately since some parts may have started to cook.
How Much Does This Dish Cost In The Supermarket?
A package of 2.35 pounds Costco pork tenderloin with Tuscan seasoning costs $11.73 in the supermarket.
You can cook it right after purchasing. You can also put the package in the fridge to make the pork stay good for a longer time.
Conclusion
"How to cook pork medallions from Costco " doesn't have to be a nerve-wracking question if you have the right recipe and ingredients. We hope this article can make preparing a perfect dinner easier for you.
Thank you for reading! Good luck with your Costco Tuscan pork tenderloin medallions!