How To Cook Sizzle Steak – The Utmost Guidance
For those who are a huge fan of steak, you will certainly not be able to pass out our innovative stehouwer sizzler steaks recipe, which is especially ideal for these protein-boring days.
Anyway, be cautious! Our ultimate guide on how to cook sizzle steak perfectly would perhaps be the last thing you want to see in the middle of a starving night!
How To Cook Beef Sizzlers?
Ingredients
Now let's take a look at what we're going to have to recreate this flavorful fare. The meal's flavor is heavily reliant on its marinated seasoning as the cooking time of sizzling steak is vastly quick. Here's what you should prepare for steak and sizzle in general!
1 – 2 thin slices (1-1.5cm) of boneless rib-eye steaks
Two strips of bacon (optional)
1 ½ teaspoon Kosher salt
One teaspoon garlic powder
¾ can cream of mushroom 10.5 oz can
¼ cup chopped red onion
Two tablespoons olive oil
½ cup water
Two tablespoons butter
Two toothpicks cut in half
Steps
Step 1: As the first step of the process of approaching a mouth-watering beef sizzle steak, you will need to defrost the steak at least an hour before cooking. Also, don't rush to make the next move without washing and drying out those "babies"!
Step 2: Now, let's go through a little memory about which ingredients. As we said above, with or without bacon doesn't really matter in the dish's flavor.
This combination between sizzling beef and bacon may sound weird for those who first hear about it. Yet, if you give yourself a chance to try something new, we promise it will be the factor that somehow blows up your mind later on.
Bonus: So, in case you are still determined to choose the more conventional approach, then feel free to skip the following step and go straight to the sizzle steak marinade part, which is just right there below.
Otherwise, here's what you should do with your bacon and any other sizzle steak recipes. To begin with, wrap and secure them tightly together with toothpicks. Then use the remaining half of the toothpick to place the opposite side.
Also, don't forget to take those out whenever the meat is ready to serve, and there you have it: your upgrade is complete.
Step 3: Coming to marinating the sizzling meat, Kosher salt is always our most reliable assistant to highlight outstanding flavors while preserving the essence of the steak. All you have to do then is spread the salt evenly on both sides and leave it there at room temperature.
Since our meat is fairly thin with the thickness, the marinating will not take much longer. You can make the most of this time by heating the pan to a moderate temperature.
Step 4: Once the pan is hot enough, keep adding butter until you see golden brown color. At this time, pouring an adequate amount of olive oil would be great to warm up the whole procedure for the next step.
Step 5: The moment has come to put the steak in. This phase is quite straightforward, requiring only 2 minutes of cooking time on each side. Plus, remember to customize the fire so you can get the desired doneness.
Step 6: We've almost done it there when it comes to making delectable sauces depending on your preference. Also, some vegetables and mushrooms sauteed for about a minute will be a perfect balance for the dish.
Step 7: Finally, serve it all on a plate and garnish the steak with a few cilantro leaves or some garlic cloves. You now can invite yourself to enjoy the meal done by the best sizzling beef recipe ever!
Tips On Cooking Sizzle Steak
In addition to soaking with Kosher salt, many cooks also recommend oiling the steak with olive oil before adding it to the pan. In that way, you will somehow enrich the flavor of the meat as a result of this extra step.
Removing the tendons in the meat (if any) before or after cooking will make your dish somewhat more pleasing to the eye and less annoying to the diners.
Try varying your dishes with chinese sizzling beef style or a wide range of different sauces, such as honey BBQ sauce, creamy sauce, and so on. You will be wasting a versatile dish like sizzle steak if only eating it in a single way.
Frequently Asked Questions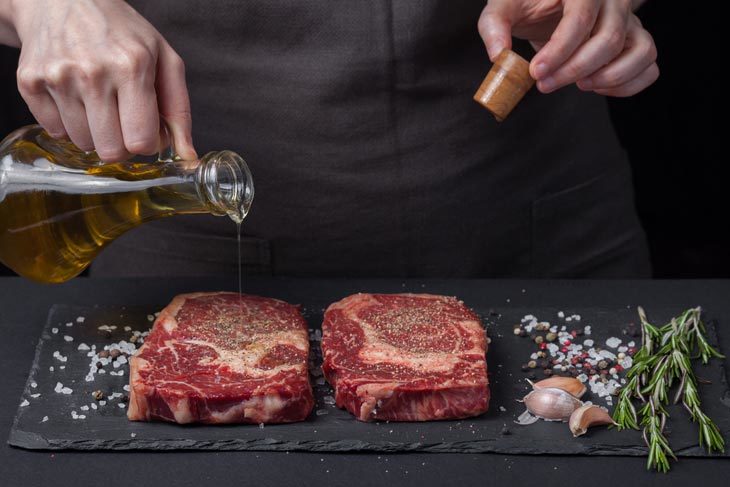 How Long Does Sizzle Steak Take To Cook?
Cooking a thin piece of meat like this is relatively rapid if we only count the time it is placed in the pan, about approximately 2 minutes on each side, to have an impeccable medium-rare sizzle and steak.
However, to get the whole meal ready more precisely, you will need at least an hour to defrost the meat before cooking. After that, spending a few minutes marinating both sides of the meat will be an indispensable step.
If you process all phases the correct way, the total time can be around one and a half hours for you to have a beautiful, succulent sizzle steak. Things also go the equivalent way as sizzling beef recipe chinese.
What Is Sizzle Steak Good For?
Thanks to its premium quality and rich flavor comparable to top-notch sirloin steaks but without the thickness and fat, sizzle steak or sizzling beef chinese is a terrific and budget-friendly alternative like never before.
You can even savor them in the same way that you would do with a sirloin steak.
Especially with a time-saving recipe on how to cook sizzle steak on stove, serving it as a staple to make a cheese burger or a sandwich in the sizzler steak sauce covering is also worth giving a try for those who are a big steak geek.
What Cut Of Beef Is Sizzle Steak?
Sizzler steak cut is cut of meat from Round. To cook them in only 2 to 3 minutes, we'll need exceedingly thin slices. These slices can only be from 1 to 1/2 inches thick.
There you are! With such a perfect thinly cut steak, mushrooms, and onions placed on a bun, you've got a quick and easy but equally tasty supper.
Why Is My Steak Tough And Chewy?
These are some of the most typical blunders people make when cooking this summer steak. One of the major causes is that you are too impatient to cook the beef well enough, resulting in the inability to melt the fat in the meat and causing the steak to be fairly chewy.
Consuming such meat not only makes you feel unpalatable, but it can also create severe diagnostics related to food illness.
Another explanation is because you might have overcooked the meat. As a result, the fat has been burnt off all at this time, leading to the meat becoming dry, chewy, and hard even to take a bite.
Final Thoughts
Elegant but mouthful taste and easy-going approach will be the only thought leftover once you give this beef sizzler steak a try. So what else to wait for without making up your mind in deciding what to have for tonight's dinner?
That's all of our instructions on how to cook sizzle steak. Hope our post can somehow help you get the right way. See you then!