How To Crumble Blue Cheese? 2 Best Ways Never Been Easier
Western cuisine from the 7th century has discovered the famous blue cheese with a super interesting history that many of us favor.
It contributes to the perfection of our meals in different ways, from being on top or part of dishes to adding uniqueness to desserts.
Yet, not many know the true technique to deal with this ingredient, especially how to crumble blue cheese.
It is easy if you're just an amateur. But if you want to obtain the best flavor and impress everyone, you will need more than regular methods.
To help you get a closer look at this subject, we have compiled the best two methods and how you can use this ingredient for your meal.
How To Crumble Blue Cheese Step By Step
This section will show you two different ways on how to crumble cheese, especially feta blue cheese or others of the same category.
#Method 1: Crumbling By Hands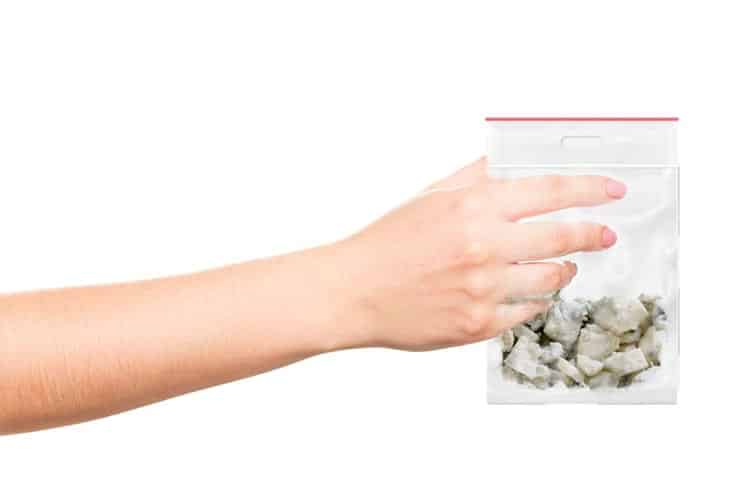 Isn't this crumble blue cheese technique too simple? Not at all! Even instant noodles will be tastier if you know how to cook them right.
We all know that cheese melts under high temperatures. And your palms delivering heat is also one possible method.
Crushing the cheese using your warm paws might destroy its texture. Therefore, this method is not recommended for those with warm paws.
If you have to use this method, try to make your hands colder by washing them with cold water, and chill the cheese a bit before crumbling them.
Our advice is to use some plastic bags to contain them and apply force from the outside of the bags. Then you can use that same bag to store your crumbled cheese to keep it last longer.
#Method 2: Crumbling By Using Fork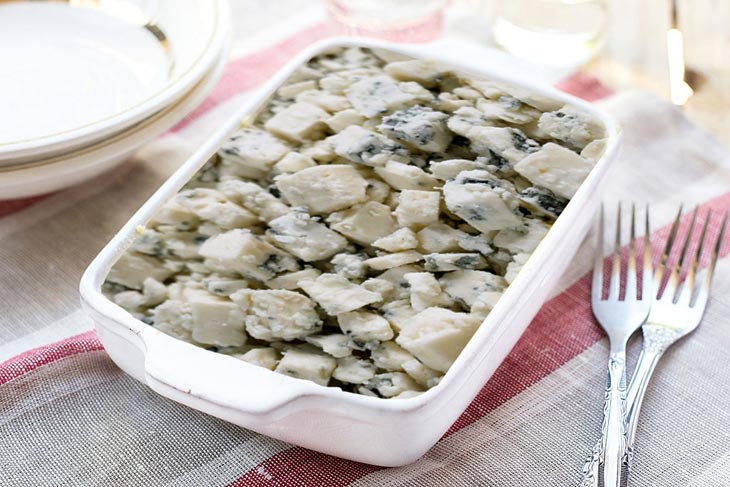 Though you can use this method to crumble blue cheese of all types, we will introduce how to crumble feta blue cheese, a famous variant of this category
Tools and Ingredients
Folk (any type of your choices)
Coldwater (ice water would work better)
Feta cheese ( Make sure you how to check if Feta Cheese is bad)
Instructions
Cut your feta block into slices. If you've already purchased it in slices, skip this step.
Clear your feta by running it under cold water in 10 seconds. The water should be quite cold so it can firm up your cheese simultaneously.
Use your fork to break the cheese into pieces. Here you can do it in 2 ways for 2 usages.
Salads: This dish demands small chunks, which only require you to use the fork's tines or your hands.
Pasta's toppings, Pitas, Dakos, and meat dishes: To get those small pieces of cheese, use the fork's tines to poke your cheese. Just make sure you're not mashing them.
Although we repeatedly mentioned feta, you can actually do the same for any type in your pantry, and it will work just fine.
The secret here is not to let temperature damage it and which dish you're making that might demand certain textures.
What Can You Use Crumbled Blue Cheese For?
Crumbled blue cheese comes with multiple usages in almost every cuisine, including Asian cuisine, where they top crumbly blue cheese on dishes.
This ingredient is often used as snacks or as part of famous fast food during gatherings. Let's see some options below:
1. Melt On Top Of A Burger
Have you ever seen commercials of burgers with cheese melting on top of them and want to try at least once?
It's so satisfying just thinking of it. You can make this famous dish by sprinkling crumbled cheese on any burger you want.
2. Make A Dip
Cheesy dips must be the best appetizer that can comfortably pair with carrots sticks, toasted baguette, celery, or even chicken wings.
3. Make A Dessert
Thinking of crumbled feta cheese and other related types, many might not be thinking of sweet appetizers.
However, you will be surprised as they bear the power of adding depth into those dishes. You can make blue cheese apple crumble, or pair it with walnut, etc.
4. Mac And Cheese Recipes
Culinary calls for creativity and experience. You shouldn't restrict yourself to a range of food ingredients. Unleash your creativity and use any cheese type of your preference for this famous Mac And Cheese! 
5. Melt In A Grilled Cheese
This one here is a famous dish coming from European cuisine. Replicate this dish in your kitchen using your crumbled blue cheese!
6. Topping
We often see crumbled cheese on top of dishes worldwide, and it seems the easiest way to utilize this ingredient.
Use it to add texture and creamy taste to your crispy lettuce, and there you have a tasty and gorgeous salad.
You can even toss them on chicken wings and meatballs before serving. The heat coming from the newly made dishes will melt the cheese down, giving the best effect!
How To Make Blue Cheese Crumbles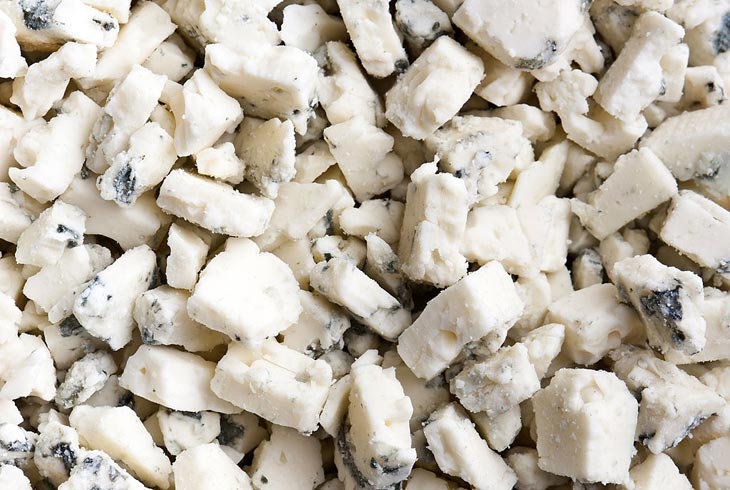 The guideline below on how to make blue cheese crumbles will help you have a fantastic meal at home with just some simple ingredients!
Ingredients
½ cup of chopped onion (preferably red)
⅓ cup of olive oil
One tablespoon of lemon juice
Two garlic cloves
Two tablespoons of red wine vinegar
8 oz or ½ a pound of crumbly blue cheese (you can use a block of it alternatively)
½ to one teaspoon of ground pepper (adjust to your preference)
½ cup of parsley
Instructions
Step 1: Prepare the onion and garlic cloves by cutting them into small pieces. You can start by slicing each clove in half, then turn those halves into strips. And cut those into several small pieces.
Step 2: Prepare the parsley. You must remove them from their stems, then adjust the measurement due to our recipe, which is half a cup.
Step 3: Spread your crumbled blue cheese out to form a flat layer on top of a shallow dish. About 8 to 9 inches shallow would be enough.
Step 4: Mix your small garlic pieces with the olive oil in a bowl.
Step 5: Spread the above mixture on top of the cheese layer.
Step 6: Mix pepper, lemon juice, and vinegar together using the ratio in the recipe. After they are all completely mixed, add your red onion and the parsley you have prepared into it.
Step 7: Make a layer of that mixture on top of the garlic and olive oil layer.
Step 8: Cover your dish and store it for an hour in your fridge. After that, it is ready for you to enjoy!
When it is out of the fridge, you can use the method of crumbling cheese we mentioned. But once again, consider which dish you're making. If you need chunks instead of crumbs, you can use a large-hole grater.
Conclusion
Not only give you methods on how to crumble blue cheese, our article even introduces some dishes you can pair it with.
One more tip from us is never to follow any recipe too strictly. Cooking is an art, and artists should always strive for creativity.