The Ultimate Guide On How To Cut Chicken Breast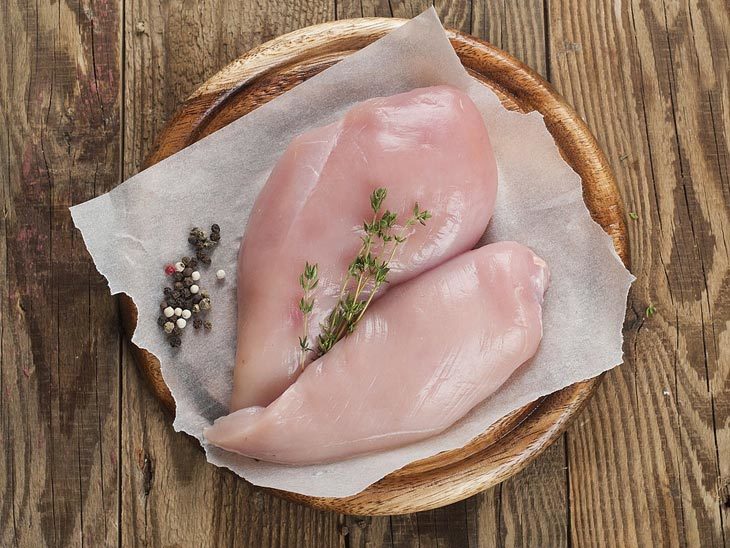 Below, learn how to cut a chicken breast with these simple tips and steps to make chicken strips, chicken cubes and more!
How To Cut Chicken Breast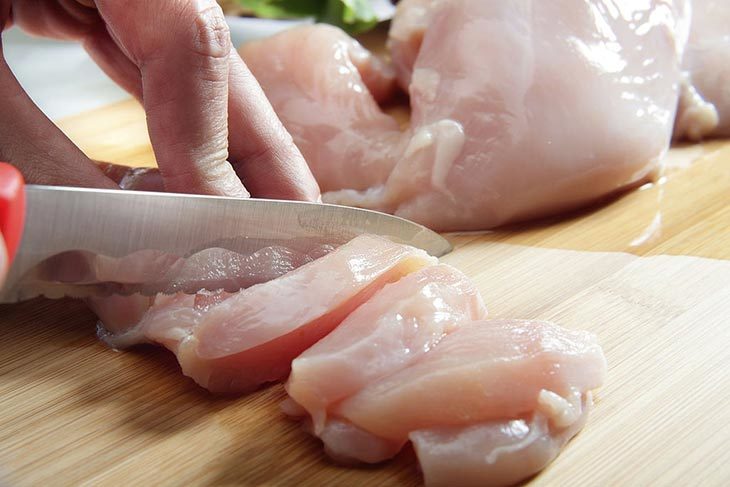 Strips
If you're making stir-fried breast chicken, you must cut this type of poultry into strips. Cutting chicken breast into strips helps the chicken meat be well cooked under the medium heat of stir fry.
So, how to cut chicken into strips for stir fry?
1. Before cutting the chicken, you should put it in a fridge or freezer for 15 minutes first. This would make the raw chicken less slippery and soft, making it hard to cut into small strips.
2. Then, hold the chicken piece with your non-dominant hand on a cutting board.
3. Use a sharp chef knife with a length of eight to 10 inches and cut the chicken piece against the grain.
A chicken breast can have five to seven strips, depending on the desirable size of the strip. You can cut a strip about half an inch for the Fajitas recipe, or around 2 inches for fried chicken.
In half
If you receive a family pack of chicken breasts, the breasts tend to be large and weigh around 12 ounces each piece. That's when you need to cut them in half to use them for cooking.
Learn how to halve a chicken breast below with our easy steps.
1.Place the raw chicken breast on the cutting board with the skin side down, revealing the bone and meat.
2. Then use a chef knife and start at the white cartilage. This part is usually at the end of the bone, making it easy to cut right through it.
3. Use your knife and start cutting the chicken breast in half vertically.
With bone
Learn how to cut chicken breast with bone below!
In this method, you need to use a cleaver, kitchen shears, or scissors to cut through the hard bone easily. In this method, we will use the cleaver.
1. Place the large chicken breast with the skin side up.
2. Aim at the middle of the chicken, then use your cleaver to make a long slice.
3. When you reach the bone, pressure the knife and rock it back and forth a few times until it cuts through the bone.
Fillets
Pan-frying chicken breast is most suitable for fillet cuts as it can leave the crispy chicken outside yet juicy inside. However, this method is a bit tricky, so you must be careful when cutting it.
So, how to fillet a chicken breast?
1. Place the chicken breast with the skin side up.
2. Use your entire non-dominant hand and press on the chicken meat so stable it.
3. Use a chef's knife and put the blade parallel to the cutting board. Then place it at the chicken meat and start slicing chicken breast horizontally.
Cubes
Chicken breast cube is an ideal size for sautéing the chicken. It is perfect for shish kebab or hot pie dishes. Learn how to cut chicken into cubes below!
1. Place the chicken breast with the smooth side up.
2. Look at the meat fibers' grain, then use a chef knife to cut the chicken horizontally against the grain into half to one and a half inches strips.
3. Then rotate the strips and slice them into small cubes at half-inch size.