Pasta is the pride of Italian cuisine to the world. Pasta is popular with adults and children because of how easy it is to make and how easy it is to combine with other foods.
However, when cooking, many of us often have that time when our cooked noodles are hard and not tasty. Do you want to know how to fix undercooked pasta? Find out below!
How to Tell If Pasta is Overcooked or Undercooked
In five-star Italian kitchens, great Pasta is described as "al dente", which means "to the tooth". To achieve this perfection, hard Pasta needs to be boiled to a moderate level so that it is still chewy but soft. You can test it by poking undercooked noodles; if it's still hard, then your noodles are not done yet.
Another way is to time the noodles.
Usually, for each type of pasta, the package has the exact cooking time written on it. Follow these instructions to be able to make delicious In case you don't know how long to boil Pasta, you can completely boil it in about 8-10 minutes.
How To Fix Undercooked Pasta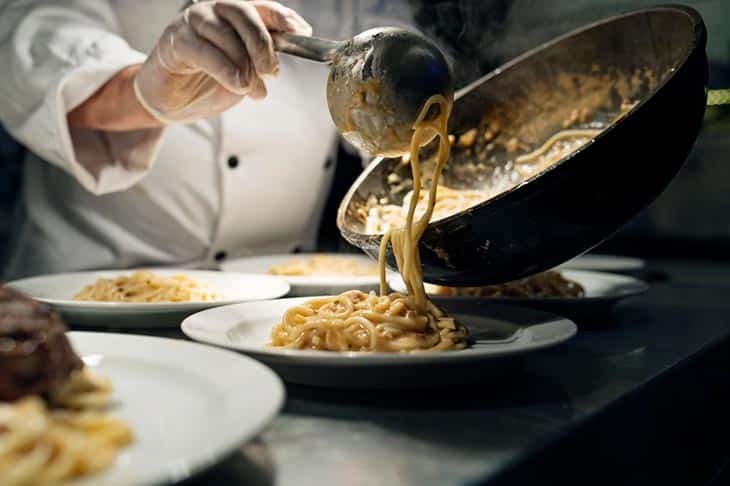 1. Boil the Pasta Again
Can you reboil Pasta? Well, of course, you can.
First, you need to prepare a large pot to prevent the noodles from getting tangled together. Keep this in mind because one of the mistakes that cooks often make is choosing a too-small pot.
When you put a large amount of spaghetti in a pot with a small amount of water, it will inadvertently lower the boiling point of the water. It will take you a while to reboil uncooked spaghetti noodles. To avoid mushy noodles, please wait for the Pasta to cool completely before putting it back into the pot!
After the water boils, add a little oil and salt to the pot. Not many people know this trick, but if you don't do it, the noodles will easily stick together. As a result, your dish will end up vicious, causing a feeling of nausea when eating.
To prevent the spaghetti from breaking, you should put the noodles in boiling water. After about 30 seconds, use tongs to gently stir the whole noodles in the water.
Do this continuously until you feel fine. Then, take the noodles out and put them in a bowl of cold water.
2. Put It In The Oven
Serving a plate of raw Pasta may sound bad, but here's your chance to turn an ordinary dish into an oven-baked pasta dish. You need to undercook to solve this one. Oven pasta is one of the proudest dishes of Italian and will definitely give you a unique culinary experience.
3. Add Sauces To The Pasta
Adding sauces to your Pasta is also a good way. This method is slightly better than re-boiling because it will add more flavor and texture to the noodles.
First, add a little olive oil to the pan and heat it up. Next up, home cooks should fry minced onion and garlic until fragrant. Continue to add ketchup with one pinch of salt and cook until the mixture is a bit dense, then add the noodles and stir well. If you see that the sauce mixture is now thickened, you can add a little water.
Wait a few minutes, and all you need to do left is to put the noodles on a plate and sprinkle some rosemary on top for looks.
4. Follow the Instructions
To solve the problem of undercooked pasta, perhaps the most important thing is to learn how to cook it properly. Read the box or bag of pasta and follow along with how long the instructions tell you to cook it.
Is It Okay To Eat Slightly Undercooked Pasta?
Eating undercooked pasta or other foods from flour and milk that are not thoroughly cooked could be harmful. Eating undercooked food means that the body will have to work harder to digest the food, which may cause stomach pain.