How To Freeze a Cheesecake
Have you just made a cheesecake and want to know the best way to keep it in the freezer? If so, read on down to learn how to freeze a cheesecake and much more!
How To Freeze Baked Cheesecake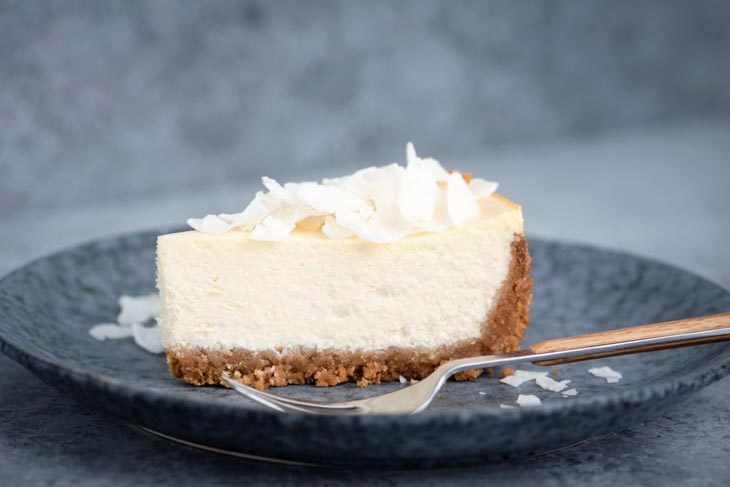 1. Freezing A Whole Cheesecake
Before removing the baked cheesecake from the pan, you need to cool it normally. The cheesecake should be chilled for at least 4 hours before we freeze it at room temperature. For cheesecake in a spring form pan, you have to cut around the edges and remove the sides.
Put the cheesecake on the bottom plate of the spring form pan or on a piece of cut cardboard, or on a round cardboard cake board.
Put a layer of plastic food wrap around the cheesecake in an extra-large freezer bag that has been removed as much air as possible. Furthermore, you can wrap the cake board or cardboard with aluminum foil or cover the board with contact paper for extra protection or slightly longer storage time.
You can note the date because the cheesecake can last for 1 to 2 months in the freezer.
2. Freezing A Sliced Cheesecake
Similar to freeze whole cheesecake, cheesecake by slices needs to be cooled and chilled before freezing it. You need a thin, steel knife and a tall drinking glass of hot water.
Dip the knife in the hot water class before cutting one slice of cheesecake.
Clean the knife by paper towel.
You do the same thing for other slices of cheesecake. You can cut the cheesecake into any parts you like.
Use large square wax paper to cover each slice of cheesecake until you complete to cover all slices of cheesecake.
Put the cheesecake on a baking sheet and freeze until it firms. Again, put the entire cheesecake in plastic wrap, then in aluminum foil.
Do not forget to note the date because you just can keep it for 1 to 2 months.
How To Freeze No-Baked Cheesecake
Because a no-baked cheesecake contains softened cheeses, you need to keep it cool to prevent it from spoiling. A no-baked cheesecake should contain a low-fat proportion of cheesecake by using light cream cheese and low-fat yogurt because it is easier to freeze it.
Because it is a no-baked cheesecake, you should make it in a small bowl, glass, or a cup to freeze and enjoy it easier.
In particular, if you use eggs, it should be thoroughly cooked to avoid bacterial contamination.
Also, you should put the cheesecake at room temperature no more than one hour to avoid spoiling. Now, just follow below instructions to freeze no-baked cheesecake properly.
Keep the cheesecake cool in the fridge for one hour without covering it.
Then, wrap the whole cheesecake to place it in the freezer for an hour. If necessary, you can cut the cheesecake into small slices, then wrap it and put it in the freezer to firm the cheesecake.
After defrosting the cheesecake, you should not return it to the freezer because it may spoil easily.
Place the cheesecake as a whole or slices on the foil-covered cardboard platter or several layers of plastics wrap. Then, put it all in a large freezer bag.
Seal the bag and put it in the freezer. Don't forget to note the date because it may last for only one month.
How To Thaw Cheesecake
1. Thawing Whole Cheesecake
You need to keep the entire wrapped cheesecake in the refrigerator overnight to prevent condensation from forming on top of the cheesecake.
Then, you must take off the plastic wrap and the aluminum.
Next, you can put the cheesecake on a plate and put it at room temperature.
Finally, wait about 30 minutes at room temperature before enjoying your tasty cheesecake.
2. Thaw Cheesecake by Slices
You need to put individual slices of cheesecake on a microwaveable plate, then, select defrost (30% powder) and thaw it for 45 to 60 seconds.
You can keep the cheesecake in the microwave for 5 more minutes after it turns off.
Then, you can garnish with some chili, strawberry, and others to make the cheesecake more appealing and just enjoy it.
Some Tips to Make Perfect Cheesecakes
You all have your recipes to make a cheesecake; however, some following tips and tricks may help you make the perfect cheesecake. Then, you can freeze cheesecake better, even if it is a New York Cheesecake or just a slice.
Temperature: You need to follow instructions to chill your cheesecake, especially since some recipes require a 6-hour chill time. Also, your cheesecake should be kept at room temperature (60-68'C) to retain the best taste. Putting your cream cheese at room temperature before making cheesecake helps to soften cream cheese.
Texture: Some tips to adjust the filling from fluffy heaven to dense and cake-like.
For thick and cakey: When you beat the cream cheese, you can add 3 tablespoons of flour.
For silky smooth: You can use an electric mixer at low speed to mix 1/2 cup of sour cream into the recipe.
For dreamy and dense: You can use sweetened condensed milk instead of fresh milk and tiny cut sugar.
Crust: Before filling the crust with your cream cheese, you need to bake the crust in the oven for 10 minutes. Believe me, the crust will be much more attractive.
Tricks to Prevent Cracks
If you are worried that some cracks may appear before and after freezing process, just try some following tricks.
Use ingredients at room temperature: You should leave eggs, cream cheese, ricotta, sour cream, butter and other ingredients at room temperature for a while before processing it.
Do not over mix: You should try to gently mix eggs or other ingredients by hand.
Cool the cheesecake down slowly: Before taking the cheesecake off the oven, you should slow down the oven and keep the cheesecake in it for a while.
Do not overcook: You need to keep your eyes on the cheesecake, if you just overcook it for a while, it will cause cracks on the top of the cheesecake.
Use sour cream: To deal with some cracks at the top of your cheesecake, you can spread a layer of sour cream over the cooled cheesecake and add a little extra creaminess to each bite.