If you are wondering how to grate an onion, then you have come to the right place. This question gets asked more often than you think!
Sometimes, just chopping an onion won't be enough to get the super tender bits that that may be needed for recipes. Plus, onions that are grated into tiny pieces will cook faster and more evenly.
Find out the best way to grate an onion below!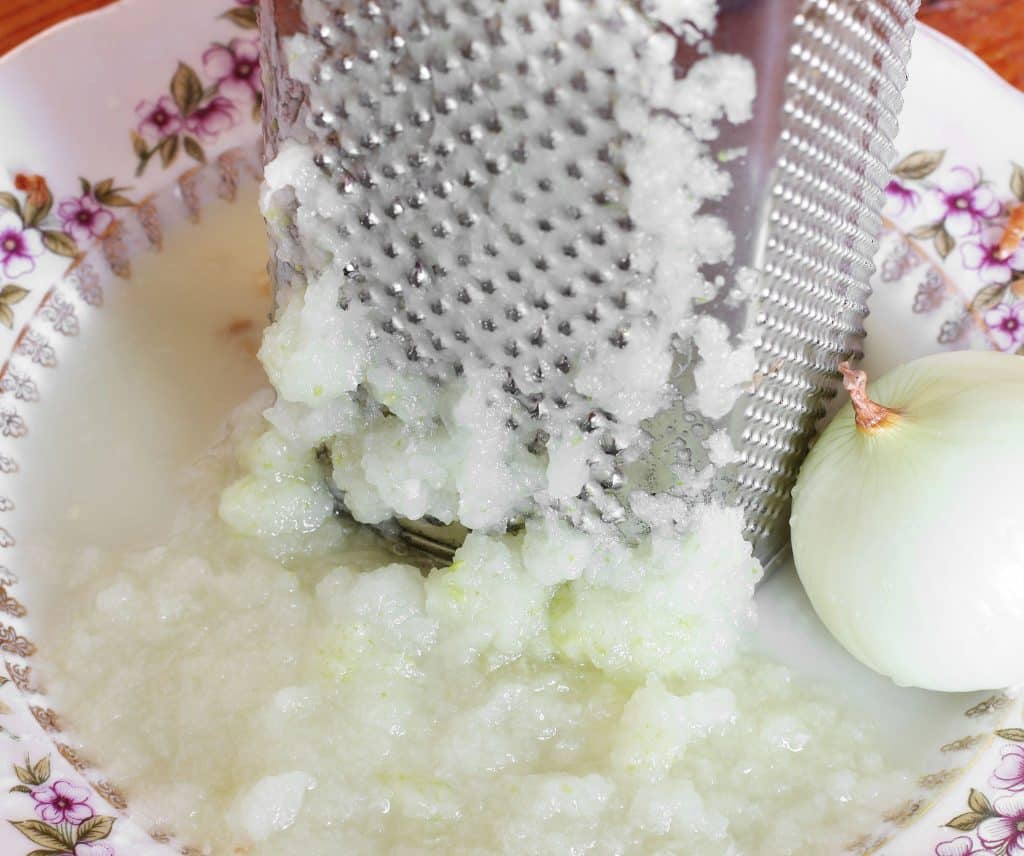 What Is a Grated Onion?
When it comes to preparing onions for cooking, chopping, slicing vertically or ring-cut are some of the most well-known methods. However, there is one method that may be game-changing, which is a grated onion.
Grating is a way of onion preparation that will create well-minced onions or, more likely, onion paste. Why is it a game-changing method?
Grated onions help deliver the flavor more thoroughly to the dish. Big chunks of onions may not be well spread throughout the dish, yet things are different with grated onion. When using this form of onions, you can easily distribute them all around your dish, which will absolutely enhance the overall savor of the dish.
Another reason for grating onions is that you won't bother cooking the onions beforehand, especially when baking a casserole. This approach is time-saving as you only need to grate the onions finely and fold them directly to your casserole mix.
It also gives you a pleasant mouth-feel while eating as you will not get any big chunks accidentally. Plus, your onions will be cooked thoroughly due to their small sizes, resulting in better flavor to the dish.
How To Grate An Onion & How to Shred Onion
Ultimately, there are two ways to grate an onion – with a food processor and a grater.
Grate Onions With A Food Processor
When grating onions with a food processor, the most common problem is that instead of getting shredded onions, people end up with a combination of onion juice and smaller chunks of onions.
Grate Onion With A Grater
If you don't happen to have a food processor, you can also grate onion with a grater. Even though it won't be as fast, the texture is likely to be better. And if that's not good enough for you, a quick run-through with your knife will do!
The process is simple and shouldn't take you any longer than 5 minutes to grate a regular-size onion. To start, cut the onion vertically in half. Now that you see the basal plate, simply grab the onion half and grate until you get to the end
This technique is a game-changer as it goes one step further to expose the watery part inside, making the onion so much softer and jammier as you cook it.