How To Keep Noodles From Getting Soggy In Soup
Mushy noodles – It is the worst thing ever when that happens when you want to create a flavorful noodle soup, right? So, how do you keep noodles from getting soggy in soup?
Let us show you the best tricks that you can follow to help the noodles stay firm, and your soup tasting fantastic!
How To Keep Noodles From Getting Soggy In Soup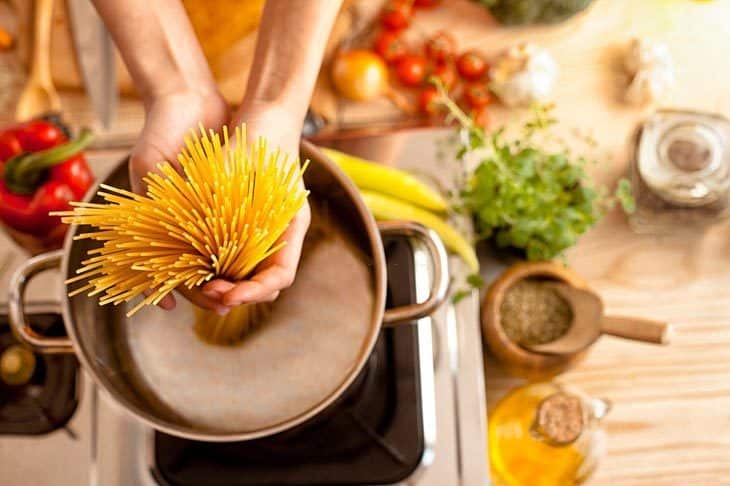 #1. Pick the right noodles for your soup
Have you known that to make the best taste of your soup, you'll need to pick the best noodles for soup?
For instance, if you feel under the water and need warming soup, it would be best to cook chicken noodle soup with broad egg noodles.
These noodles are hearty, rich, and absorb the flavor of the chicken broth pretty well.
#2. Cook noodles and soup separately
You probably think that adding noodles to hot soup that you have already seasoned would be the best way to have soup noodles, right?
The truth is cooking noodles in broth would bring you nothing but mushy noodles and drastic effects on the soup taste.
Thus, instead of cooking noodles and broth together, then placing the whole shebang into a bowl and serving, you should cook noodles separate from the soup.
You can heat freshwater, then put the noodles in the boiling water with the cook time depending on the noodles' thicknesses and shapes.
Remember to immediately drain and rinse them with cold water to prevent the noodles from absorbing the water content further for some noodle types.
#3. Never add the noodles to the hot soup too soon
Another thing to notice if you want to avoid soggy noodles is never add the noodles to the soup pot too soon.
If you do so, the soup's residual heat might continue to cook the noodles, causing them to get soggy.
For this reason, adding noodles to soup should be the last step of the cooking process.
Place the pre-cook noodles in your preferable bowl, pour the finished soup into it, garnish your dish, and enjoy it right away.
#4. Heat your bowl (only apply for ramen)
Suppose you are a ramen lover; here is a bonus tip for you to avoid the noodles from going soggy – keeping your soup hot by heating your ramen bowl.
You probably have heard about this, but many ramen restaurants use this tip to keep your ramen hot for you to enjoy and experience its unique taste.
To heat your ramen bowl, simply fill it up with hot water for a few minutes. Then, remove the hot water, put the soup base and the noodles in the bowl right before serving.
#5. Never add the noodles to the leftover soup if you intend to freeze it
You know, many soups like homemade soup from skinless chicken breasts can be a great freezer meal; however, egg noodles in chicken broth can be a disaster when you defrost and reheat.
That's why, if you are about to freeze the leftover chicken soup, never add the noodles into the soup broth. Instead, wait until you have taken the soup from the refrigerator and reheated it to mix it with noodles.
In this way, not only can you avoid soggy noodles but also allow your still-perfect noodle soup to stay fresh for days to come.
How To Fix Overcooked Noodles?
What if you have overcooked noodles? What should you do in that case? Here are some solutions that you can apply to turn your overcooked noodles into a feel-good dish.
First, you need to bring the pan to medium heat, add a little butter (or olive oil) with some garlic, then throw the noodles in the pan and sauté them over low heat.
You can also season with salt and pepper to add extra flavor to the dish.
Frying the noodles will crisp them back up a bit, while the smell of garlic and butter helps to disguise its flavor.
If you want to bring fresh air to your dish, let's use the overcooked noodles to make pancakes. Yes, you can create tasty pancakes in minutes of cooking.
Mix the noodles with some onions, tomato sauce, and a whisked egg. Then, mix well until you can form the mixture into individual pancakes.
Fry them with some garlic butter or olive oil on a flat griddle, and you've created a yummy meal in no time.
Frequently Asked Questions
How do noodles in canned soup stay firm?
You might have wondered many times – how do noodles in canned soup stay firm?
Well, it's most likely the noodles in canned soups are high alkaline pH noodles. This is usually obtained by adding the sodium carbonate (Na2CO3 or sodium salt of carbonic acid) into the primary ingredients.
Thus, the alkaline noodles typically feature yellow color and have a more elastic texture than the ordinary noodles, allowing them to stay firm when reheated.
How to create homemade egg noodles for your classic soup?
Here, let us show you a simple guide on making noodles for the chicken noodle soup at home.
Step 1: Prepare the ingredients, including 2 and ½ cups all-purpose flour, 1 pinch of Kosher salt, 2 beaten eggs, ½ cup of milk, and 1 tbsp of butter.
Step 2: Stir the flour and salt in a large bowl, then add the egg, milk, and butter.
Step 3: Knead the dough for about 5 minutes until it's smooth. Then, let it rest in a covered bowl for about 10 minutes.
Step 4: Roll out the dough to ¼ or ⅛ inch thickness on a floured surface. Thereafter, cut it into the sticks with the length and shape depending on your preference.
Step 5: Let the egg noodles air dry before cooking in the homemade chicken noodle soup.
Wrapping Up
Here you know some tips on how to keep noodles from getting soggy in soup. Follow these tips right away so that you can bring out the best version of the noodle soup recipe.
In case you have any other tricks to avoid mushy noodles, please share your solutions in the comment box below. This way, we can have more ideas to develop the best-tasting soup without worrying about soggy noodles.