How To Keep Pulled Pork Moist? Never Forget Doing These!
If you are into barbecue or Southern cuisine, you indeed love excellent, juicy pulled pork just like any meat lover out there.
While the dish is usually made using a slow cooker and requires a straightforward process, there is one vital question in preparation: How to keep pulled pork moist?
In terms of food and drink preparation, timing, heat, and moisture are crucial. While pulled pork usually involves pork butt, a.k.a the juiciest and amongst the fattiest parts, it can dry out easily under certain conditions.
Nevertheless, keeping pulled pork warm and moist is the first process to serve it in bulk. It is especially true if you need to keep it in the fridge and make ahead pulled pork for a crowd.
Besides the meat of the article, we will also give you some tips for how to keep pulled pork warm or how to moisten dry pulled pork.
What Makes Pulled Pork Dry Out?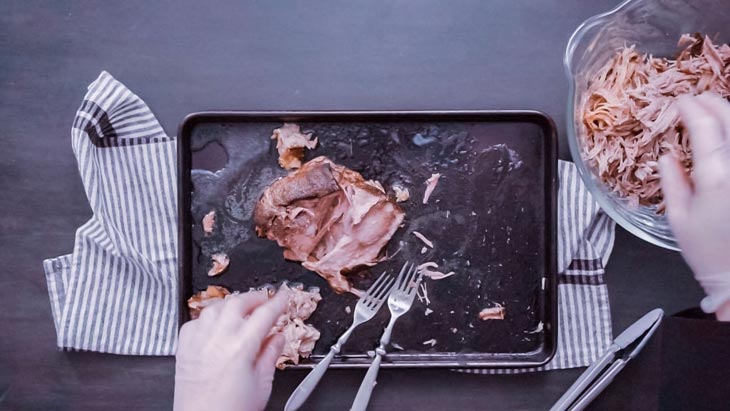 Overcooking
There are several reasons why the dish can quickly dry out. One of the first and obvious reasons is that you overcooked it when trying to make ahead pulled pork.
You see, when you cook foods, not only meat, in particular, you have to use heat. While cooking the dish, the heat also evaporates water molecules inside the meat.
If you cook it for too long or too hot, even for a slow cooker, the heat will eventually blow out all the juice.
Furthermore, the dish's preparation usually takes place outside, making it even harder to lock in the juice for the meat to reabsorb. Eventually, you have left coarse, pathetic pieces of cardboard-like meat.
That is why you should want to wrap your dish in tin foil while letting it rest. The wrap will trap all the juice, and when it cools down, the meat can easily absorb that moisture again.
Also, remember to let it rest for one to two hours for the liquid to sink in completely.
Undercooking
While overcooking won't help in keeping pulled pork moist, undercooking won't either. The reason lies in the structure of the pork butt. It consists of a lot of fat, collagen, and connective tissues.
To break down these connective tissues, you have to let the inside temperature of the meat reach at least 160F.
Only until then that the whole structure will break down into gelatin – essentially what makes the dish moist and juicy.
The perfect inside temperature range for the dish is 200 to 205F. Remember this next time you prepare the dish. A proper meat thermometer should come in handy in such a situation.
On the other hand, if you let the heat rise too high, to 300F, for example, the meat will likely burn, which also kills your moisture.
How To Keep Pulled Pork Moist?
Besides avoiding all the above mistakes, there are several more you need to keep in mind while serving and preserving the dish.
It seems the perfect solution is to shred and enjoy the meat right after it rests. This way, you don't have to mess around with temperature fluctuation, preserving, etc.
However, that's a dream world when you make just enough, and nobody asks for more the next day.
What if you want to know how to keep pulled pork moist for the next day? Like in a realistic scenario? Fortunately, we have some valuable things to share.
Storage
Storing is a crucial part of preventing your meat from spoiling. Yet, it is exponentially hard to control moisture when it comes to long storage (we are talking several hours or days).
The storage process doesn't begin when you put the dish in the fridge. It starts with preparation.
Remember this: the more surface exposed, the less moisture your meat can keep. A larger surface means the liquid inside the meat will have more chances to escape during storage. That's why we recommend:
Keep your piece of meat as intact as possible. Don't shred it if you don't consume the part right away.
Then, wrap the piece in tin foil as tight as you can. Put the whole thing in a Ziploc and squeeze out all the air.
Please wait for the meat to rest and cool down before putting it in the fridge.
Finally, you can keep your meat in the fridge for three days without freezing. Consume it all as soon as possible.
If you decide to go hardcore and store it in the freezer, two months is okay, as long as you know how to reheat it.
How To Keep Pulled Pork Moist When Reheating
Reheating will reintroduce heat to the dish and, therefore, evaporate the moisture. However, you can prevent this from happening by following these steps:
The best method is slow-cooking at a low temperature. You can use a grill, a slow cooker, or a crockpot for this.
Make sure that you spend at least two to four hours waiting for the meat to heat evenly and nicely. Slow-cooking keeps the meat's tenderness and taste.
While reheating, wrap the meat in tin foil to trap the liquid inside.
Remember that the inside temperature of the dish still reaches 165F before serving. It helps loosen up the structure and reintroduce the tenderness after being cooled down for so long.
Some Tips To Keep Pulled Pork Moist
How To Keep It Warm
If you plan to reheat your dish in the morning and serve it later to save time, you will want to keep it warm the entire day.
The best tool for this is by using a crockpot. Crockpots are the ultimate tool for the low-and-slow processes. It ensures your dish will keep its warmth and freshness without breaking the texture for a day.
A crockpot is a perfect solution. Slow cookers are fine too. However, avoid using microwaves. Not only does it make you look careless and cringe, but no matter how hard you try, you will still end up with subpar quality. Besides, recipes for pulled pork in a crock pot are all over the internet.
Avoid Direct Heat
Direct heat is a moisture killer. First, it will cook your butt too fast, which is a big no-no, as we discussed earlier. Second, it poses the threat of burning the outside of the dish while leaving the inside raw. Remember to use indirect heat and smoke.
How To Fix Dry Pulled Pork
If you accidentally screwed things up, rest assured, it's not the end of the world.
While cooking the dish, remember to keep the pan drippings. Believe it or not, the liquid is a golden sauce and is mouthwatering enough to save a piece of cardboard. Add it to your dish, or use any sauce you like to accommodate the dryness.
You can pour it directly after shredding or simmer it in a pot.
Finally, you can add juice (chicken broth works insanely well) or water in the reheating process. Though not perfect, it will still penetrate and give your meat a nice touch of liquid.
To Wrap Things Up
Pulled pork is a delicious, nutrition-packed dish that all meat-eaters and barbecue people have come to love and adore. Like it or not, you can't deny that a whiskey-pairing serve of pulled pork with your buddies will make one of the best afternoons of your life.
We hope our article is helpful for your question on how to keep pulled pork moist. Until next time!