How To Keep Ribs Warm – Reach The Satisfactory Guide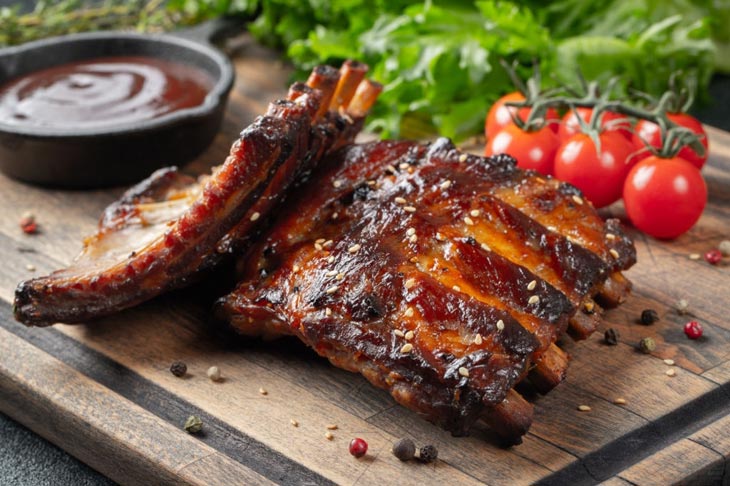 The main course for today's party is grilled ribs. You take the meat off the grill when it reaches the ideal temperature. Yet, that time might not be the time to enjoy them.
So, you will seek "How to keep ribs warm" wisely to hold the best taste and nutrition of food for your family and friends in the cozy party.
Your interest is our motivation to write down tips effectively for you. All things you need will be unveiled in the next sections. Read on.
What Is The Best Temperature For Ribs?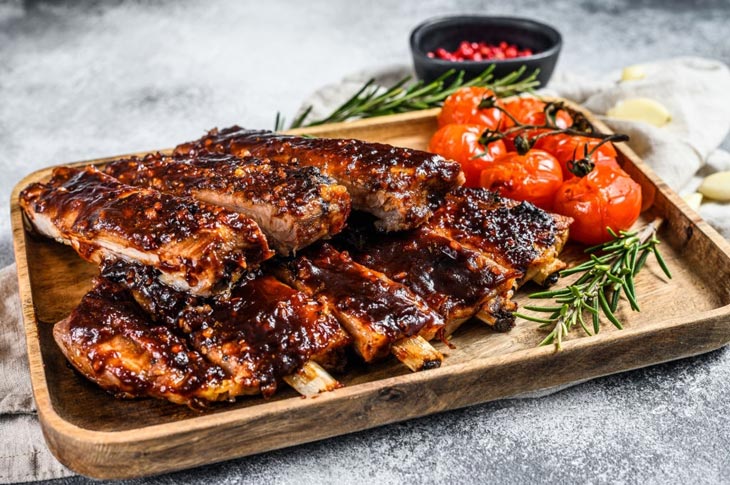 If you want the food to warm longer, you ought to be clear about what the ideal temperature needs to be first. Ribs reaching 145°F will stay warm longer later.
If you set the heat lower, bacterial or harmful factors can multiply fast and result in being cool and going off.
So you need to retain the appropriate temperature – 145°F to keep your food from getting cold.Everything will be harmonious if it belongs to the above level of this heat. So you should be careful when setting the heat to grill your short ribs.
How To Keep Ribs Warm
In general, there is a wide variety of options on how to keep ribs warm after cooking. You can use a cooler, food warmer, or simply watch the time as you grill it wisely.
In case you intend to keep the food warm just for half an hour, it is more convenient to place them into an oven set at low heat until serving time.
Use Oven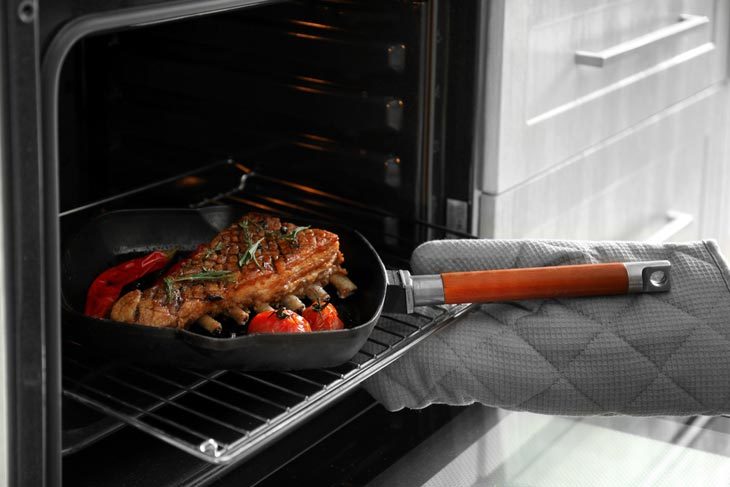 We will pass through how to keep ribs warm in ovens. This is one of the most convenient approaches to get the proper heat for your food since it isn't hard to meet an oven in most kitchens.
You can utilize your oven to warm ribs until the meal is on the table. It will be better if you set them into the oven shortly after smoking (cooking), which will help them stay moist and warm for longer.
In this way, you need to pay attention to which suitable temperature to set. At this time, you should set the heat at 140°F till reaching their serving time.
Allow the dish to rest in a frying pan around a half-hour after smoking, which permits the juices to redistribute and sink into the whole meat.
Preheat your oven to around 170 to 200°F.
Use aluminum foil to wrap the meat in the frying pan.
Let the pan rest in the machine until the dishing out time.
Food Warmers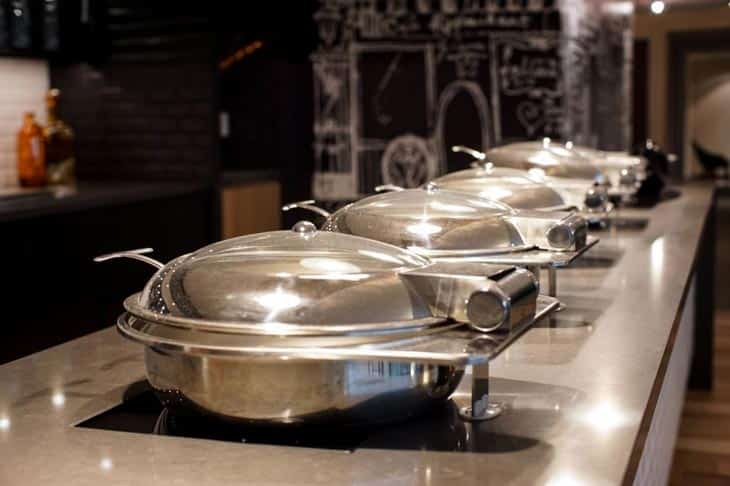 These warming containers are engineered markedly for this main intention, so you should not miss the option when seeking a way to retain the meat warmer longer.
When it comes to this method, "cut and dry" performance may pop up in your mind. Yet the conclusion about food warmers to warm and store pork ribs on many cooking forums might make you feel unexpected thanks to its quality.
This equipment gives you a chance to keep cooked food at a constant heat for hours solidly. But at heart, that is the root of its birth. This means how well its design is, thereby acquitting itself to its task.
The level of satisfaction with this product depends on its quality construction and how much your food wants to keep inside the container.
It is not surprising that better quality is synonymous with higher heat retention and insulation. Yet this means the item will cost your budget more, which obviously is its drawback. So many pick other choices with more affordable prices and reasonable quality.
Yet, if you seek a method of retaining the heat on your food while traveling or carrying it to a portable station, food warmers should be one of your considerations.
Watch Your Timing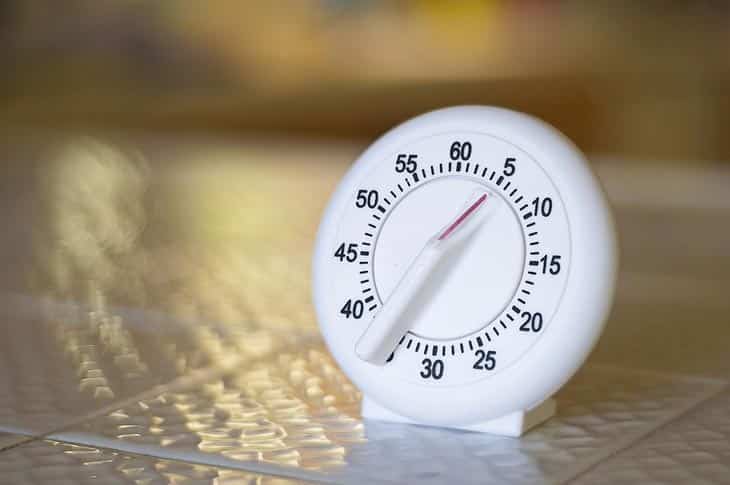 We have mentioned how long it is optimal to cook ribs for ideal tenderness and flavor in the earlier sections. If you do as our guides, you can set the time for your machine. This lets you serve piping hot ribs for your families when reaching the time to enjoy.
If you intend to leave them longer in your machine, please note that the ribs will not stay succulent and juicy indefinitely.
In general, you have a maximum of 16 hours before this type of meat begins to mislay its integrity. Yet, it could not even hold that long, subject to which cooking techniques you apply.
To demonstrate its all flavor, attempt to get the full and perfect food preparation no exceed four hours before dishing out. It will be better if you can narrow the gap shorter than that.
This is also a way to address "how to keep ribs warm without overcooking".
Utilize The Faux Cambro Cooler Approach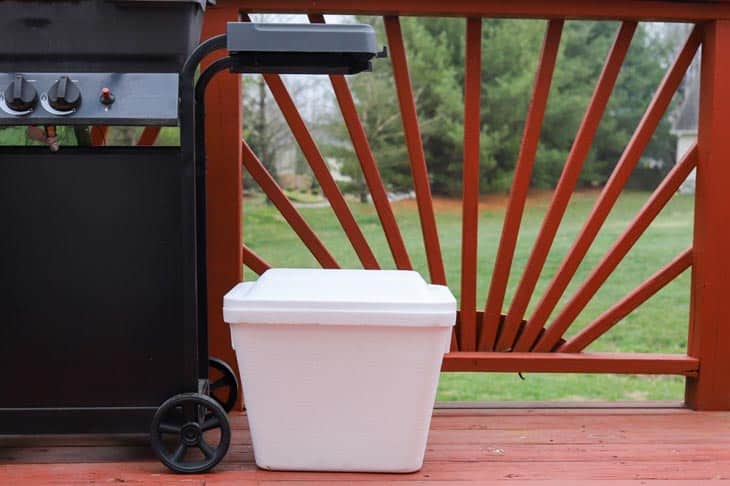 Recently, the Faux Cambro tech is no longer unfamiliar to most cooks who are into barbecue. This method consists of warming up a well-insulated cooler, arranging and putting some inner lining of towels.
Then your job is to put the smoked meat inside it. The preheating stage, mixed with the remaining heat from these meats, will hold the environment juicy and warm. This is how to keep ribs moist after cooking.
Around 60 minutes before the key ingredients are ready, fill a big cooler with around 3 gallons of boiling or hot water from the bottom and then put on the lid.
Please make sure this cooler is big enough to cover all of these rib racks. If the lid of this box doesn't close properly, the technique will not work.
When the ribs are finished smoking, drain water from the cooler. Don't forget to utilize your pair of thick gloves to ward off burning or heating your hands. Using clean towels to line inside this cooler, close its lid again when covering the meat in aluminum foil.
Place the wrapped meat in an aluminum pan (disposable one); after that, set all of them into the cooler. If that's possible, hold a thermometer inside the Faux Cambro, which allows you to follow the heat during the waiting stage.
Now resting ribs in cooler for approximately 3 or 4 hours. Then, the heat will begin to drop off gradually. The meats might be held warm for 2 hours and over, yet they will not be as fresh and hot as before.
Now, serve them with mac and cheese, baked beans, cornbread, or whatever you like!
The Bottom Lines
We have walked through four of the most common and effective ways on how to keep ribs warm.
We are completely confident that you'll have no further trouble holding the heat for the food until their serving time. While the kind of meat you purchase will impact the smoking time differently, the cuisines to keep these meats warm do not vary much.
In a nutshell, your picked method should rely on the sort of tool you have in your kitchen, as well as how much time you have for heating up.
If you are about to join a picnic, food warmers might be your priority.
If your oven is out, Faux Cambro coolers can aid in keeping your food for several hours with a tight budget.
Finally, knock them dead, and enjoy your perfect grilling!