How To Make Canned Chili Better For Your Homemade Dinner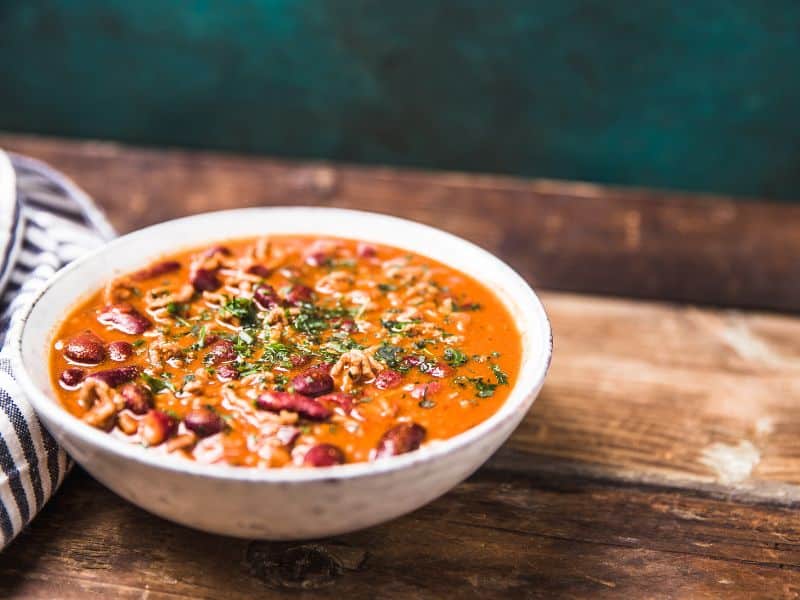 Canned chili allows us to always have a ready-to-eat dinner without having to do much preparation. This is why manufacturers decide to focus on mild and ambiguous flavors to satisfy as many clients as possible.
However, there are still ways that you can make tasty, restaurant-quality dishes out of this so-called non-unique food. Don't you believe it? The answer will be right in our post. Let's dive right into how to make canned chili better!
How To Make Canned Chili Better?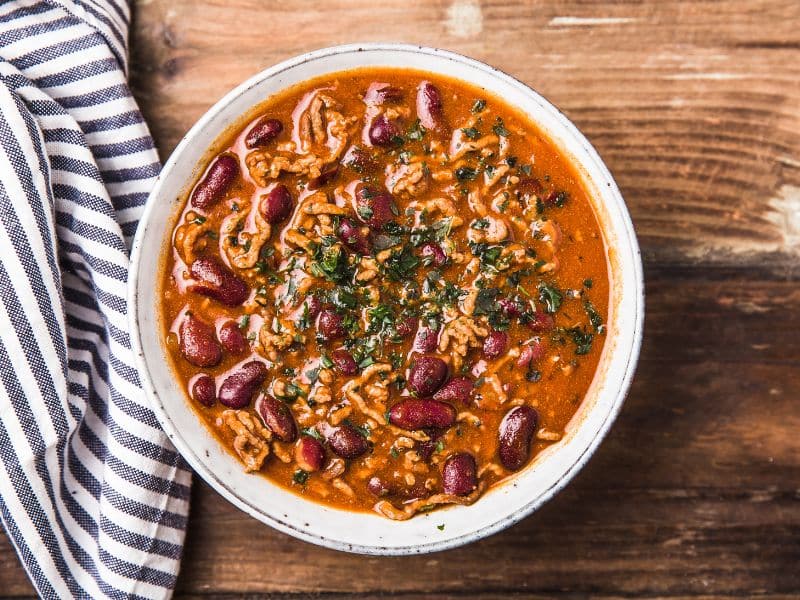 Let's find out some extraordinary ways to improve canned chili!
1. Freshen It With Some Spice Vegetables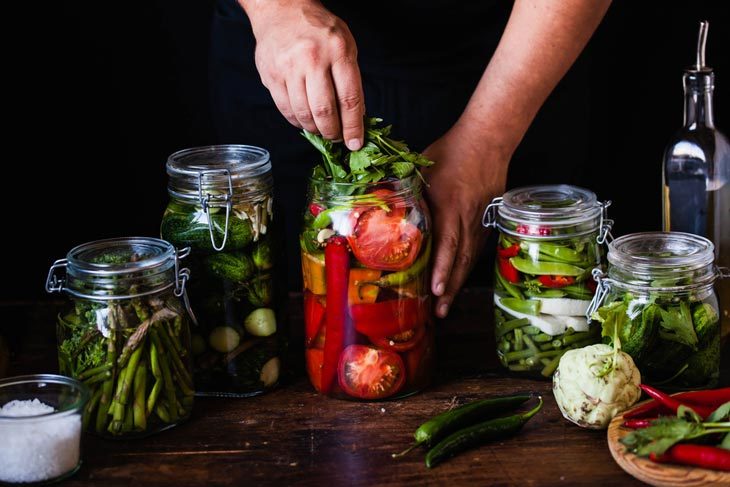 Our first advice for your question on how to make canned chili taste better is to add some vegetables or herbs.
Spices herb will add color, flavor, and appeal to meals through their natural aromatic oils. The somewhat bitter and cold aroma of Rosemary or the slightly salty, spicy, and aromatic flavor of Thyme may fully captivate you.
All of these flavors compliment the chili's spiciness beautifully. When in combination with Capsaicin in chili, the essential oils of spicy herbs will stimulate the secretion of Endorphin. This chemical will add more pleasure to your gastronomic experience.
From our experience, it would be best to just cook canned chili as usual and when it's almost done, add a little bit of seasoning herb to the pot. Maybe some thyme, some basil, or some onion will be excellent!
2. Put In Some Extra Texture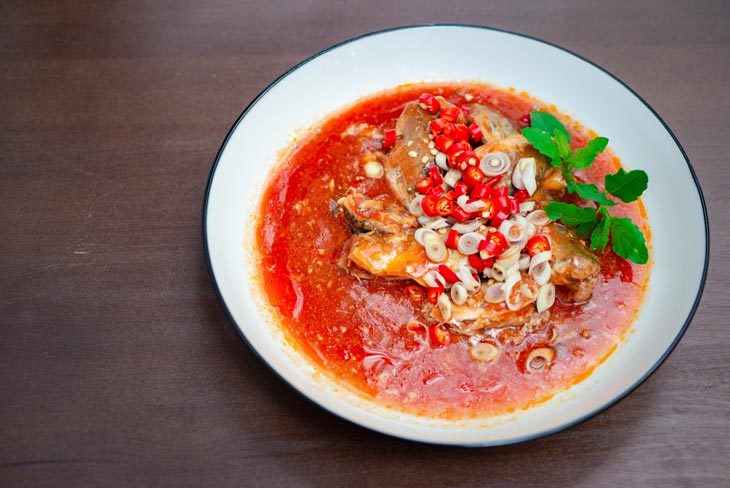 Okay, canned chilies go great with sauces, just like they would with a burger or nachos. But, unless you want to throw a dipping party, are you willing to feed your guests a lunch of only dips and burgers? Probably not.
So, what to add to canned chili to lend more flavor?
Adding a little texture to store-bought chili will help thicken your dish, making it more attractive, fuller, more elegant. You can use additives like maize starch to give the flavor a more layered appearance. This way, you can create homemade chili that tastes like Nalley's.
It's also a good idea to add some beef, ground chicken to the mix to balance the overly sugary canned chili. All you need to do is lightly sauté the meat with butter, onions, and garlic until fragrant, then put in a large pot with canned chili. It would be best to combine with herbs as we mentioned above.
3. Spice It Up
If you're wondering how to improve canned chili, our advice is to spice it up. Add a little more pepper, salt, and sugar, and adjust it until you find your desired taste. There is no such thing as a recipe that tells you what to do, so keep on exploring, and you will soon come up with your own homemade Nalley chili recipe that works best for you.
4. Surround It With Good Ingredients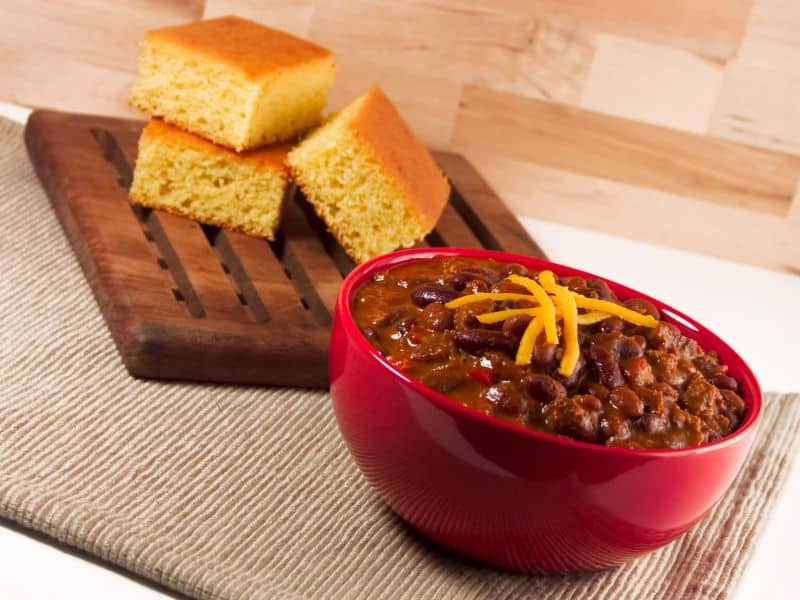 Choosing delightful appetizing side dishes is always a good idea when it comes to answering the question of how to doctor up canned chili.
Try to picture it. If you pair it with the tastiest beef, some corn bread and the freshest herbs as well as cheese, your chili dish will be great.
The delightful, deep flavors of the surrounding wonderful ingredients can help you boost your dish to restaurant levels by counteracting the slightly industrial flavor of canned chili.
5. Always Go For A Low-Sodium Canned Chili
Choosing low sodium items will allow you to freely customize the product's flavor to your desire. When your chili foundation is milder, you have a better chance of adding spicy herbs, seasoning, and elevating your dish to the next level.
A diet abundant in salt (sodium) can also lead to severe kidney stones or heart disease. So, go for a low-sodium canned chili to have a healthy body, and of course, a better meal.
What Dishes Can You Make To Elevate Canned Chili?
In this part, we will give a step-by-step guide on how to cook canned chili to make it your best dish ever.
Chilli With Ground Beef And Onion
Ingredients:
Ground beef
Carrot, basil, Rosemary
Onion, garlic
Cornstarch
Cooking oil
Butter
Tomato
Canned chili
Chilli powder
Doing:
First, make the sauce. You add the blended tomatoes, garlic powder, and chili powder and cook until the mixture thickens.
Add canned chili and season to taste with sugar, salt or celery salt substitute, and pepper.
Mix ground beef, chopped carrots, 1-2 finely chopped basil leaves, salt, pepper, a little oil, and cornstarch.
Heat the pan on the stove with butter and cooking oil. Sauté the beef until it is tender. To enhance the flavor of the steak, add a splash of sweet vermouth substitute.
Pour the chili sauce mixture into the pan and simmer for about 15 minutes on medium heat, and it's done.
Spicy Pasta
Ingredients:
Spaghetti
Olive oil, salt, pepper
Onion, garlic
Canned chili
Tomatoes
Balsamic vinegar
Parmesan cheese or brick cheese substitute
Basil, Rosemary
Doing:
Boil the pasta for 8 to 10 minutes and then soak the noodles in cold water.
Next is making the sauce. You heat a pan over medium heat, put olive oil in the pan, add onions, garlic, and stir-fry quickly.
Add tomatoes, sugar with balsamic vinegar and salt and pepper, canned chili, basil, and cook for about 20 to 30 minutes until the sauce thickens.
Put the noodles in the saucepan, mix well.
Serve spaghetti with spicy sauce on the table, sprinkle with chopped coriander leaves, and finely grated parmesan cheese.
Meatloaf With Chili Sauce
Ingredients:
Ground beef
Sliced bread
Egg
Onion, pepper, salt
Ketchup
Brown sugar
Tomato sauce
Canned chili
Doing:
Mix ground beef with bread crumbs, egg, sugar, pepper, salt, onion, ketchup, and canned chili.
Roll up in foil and bake for 1 hour to 1 hour 15 minutes at 350 degrees F (177 degrees C )
Meanwhile, you make the sauce by heating the pan with oil and butter. Put onion and garlic in, stir until yellow.
Put in the canned chili and cook for about 15 minutes.
Take the meatloaf out and serve with chili sauce.
Conclusion
There you go; all you need to know on how to make canned chili better.
Canned chili is extremely convenient and a great way to add extra nutrition to your meals with no effort. If you don't feel the taste is right for you, you can completely apply the above ways to make the dish more delicious.
We hope you enjoy these recipes and see you soon.