If you are looking for what to substitute for sour cream, then Greek yogurt is not only a great substitute for sour cream in most recipes, it is also healthier.
It is easy to replace sour cream with Greek yogurt, depending on the recipe you want to substitute it in. For example, with a sauce, you'll need to add a few ingredients to the Greek Yogurt to make it more sour cream like.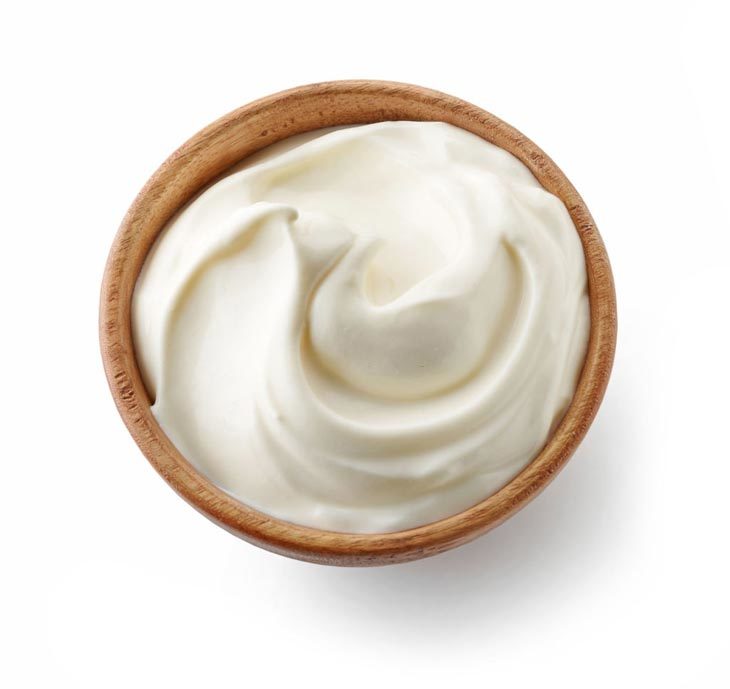 Sour Cream vs. Greek Yogurt Taste in Sauces
It's simple to sub Greek yogurt for sour cream in sauces, dips, and marinades. To make plain Greek yogurt taste like sour cream, you'll need to mix in 1 tablespoon of freshly squeezed lemon juice sans the pulp and seeds for every cup of whole milk Greek yogurt used.
This method is great as a healthy sour cream substitute to use on tacos, baked potatoes, chili + more! Use our Easy Greek Yogurt Sour Cream recipe and start adding this healthy topping to your meals!
Sour Cream vs. Greek Yogurt Taste in Baking
When baking, you can use full fat plain Greek yogurt as a substitute 1:1 for sour cream in recipes. You won't be able to taste the difference between the sour cream or yogurt once it's baked in to the cake, cupcakes, or dessert you are making. It will be the best tasting Greek yogurt sour cream you've ever had!
This Lemon Berry Yogurt cake is a yummy example of Greek yogurt being used in baking.
Sour Cream vs. Greek Yogurt Nutrition Facts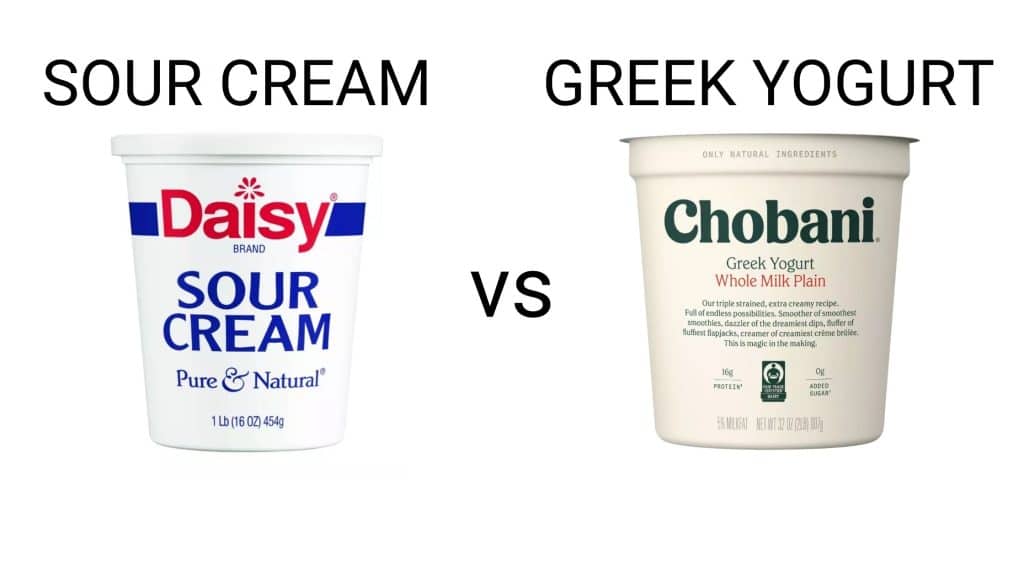 We are comparing the full fat version of sour cream to the full fat version of plain Greek yogurt to see the difference in nutrition.
The chart is using Daisy Pure & Natural Sour Cream and Chobani Whole Milk Plain Greek Yogurt as our comparison products.
| | Portion | Fat | Protein | Calories |
| --- | --- | --- | --- | --- |
| Sour Cream | 3/4 cup (170 grams) | 34 grams | 6 grams | 340 |
| Greek Yogurt | 3/4 cup (170 grams) | 9 grams | 16 grams | 170 |
As you can see from the chart, Greek yogurt is the healthier choice to use in your recipes when able because of the lower calories, fat and higher protein.
Tips about Substituting with Greek Yogurt
Below you'll find some useful tips on how to cook with Greek yogurt
Always use the full fat/whole milk version of Plain Greek Yogurt when substituting in cream sauces and recipes for baking to prevent curdling.
We recommend freshly squeezed lemon juice instead of bottled lemon juice because it simply just tastes better in Greek Yogurt.
Common Questions about Greek Yogurt & Sour Cream
What does Greek yogurt taste like?
Greek yogurt has a sour taste, but can be sweet when it is made in flavors like Vanilla Greek yogurt or coconut Greek yogurt.
What does plain yogurt taste like?
Plain yogurt has an airy taste that is more sour than sweet. It definitely takes on the taste of sour cream when consumed plain.
Recipes to Make Using Greek Yogurt
---
---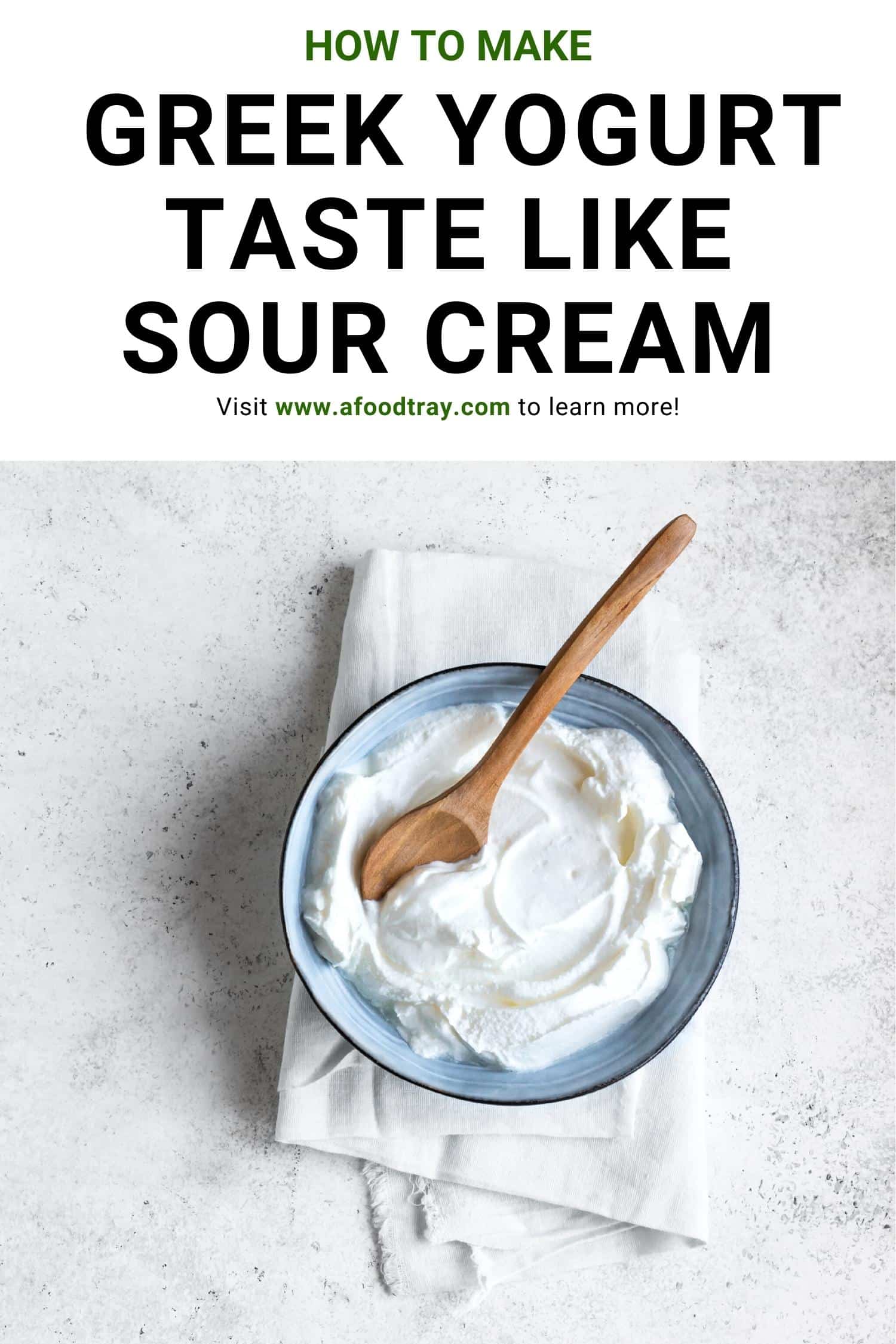 More Food Questions + Recipes
If you liked this post, you may also like our recipes or our Question + Answer food section too.