How To Reheat Calzones (5 Ways)
A calzone is a dish that everyone enjoys. The delectable ingredients of your choosing pour out of the folded-over pizza, making it the ideal comfort meal for any party.
It takes a lot of effort to finish an entire calzone, and you can end up with many leftovers.
Alternatively, you may decide to prepare a few calzones ahead of time and freeze them. So, "Which method is the most efficient for reheating your favorite calzone?"
In this post, we'll show you how to reheat calzone and provide you with some helpful information resources! Now is the time to read and relax!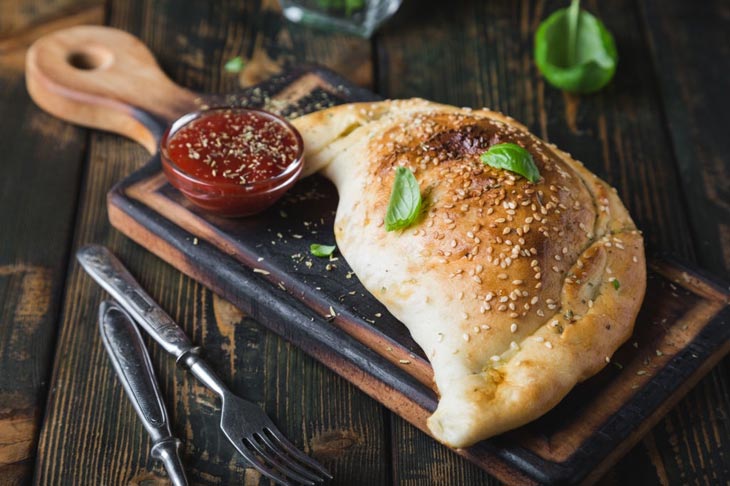 What Is A Calzone?
Before we discover the best way to reheat calzone, you can find in this section to know more about the definition of calzone, what we will need to cook, and more. Keep reading!
Calzones, like pizza, are considered a classic meal in Naples and the nearby Campania area. You may still find new calzones wrapped in paper and ready to eat while walking on the street corners of this city.
What's more? This dish is also common in several southern Italian cuisines. A bread dough preparation that is folded into a stuffed pizza. Baked or fried dough is rolled into a semicircle or tubular shape.
The most famous are the Neapolitan calzones, loaded with cottage cheese, provolone cheese, chopped salami, and pecorino cheese. However, other variations include tomato, cheese, ham, veggies, and mozzarella.
To cook this pizza pocket, we have to prepare some necessary ingredients, including flour, oil, water, salt, and leaven, to make sourdough bread for calzones. Bread starter is used to make the light, most digestible dough, increasing for even more than 20 hours.
Calzones and strombolis, an Italian-American pizza turnover, are sometimes mistaken. Calzones are usually folded into a moon form, unlike strombolis, normally rolled or folded into a cylinder or rectangle shape, and usually do not have a tomato sauce interior.
You may watch a video on how to build these pizza shapes to help you tell them apart.
How To Reheat A Calzone
"How to reheat a calzone?". Well, in this part, we would suggest some useful ways to reheat a calzone in the oven and the skillet and explain that using the microwave is also a good idea for your pizza pocket.
Now, let's take a moment to learn three more specific methods for reheating calzones.
#Method 1: Reheat Calzone In Oven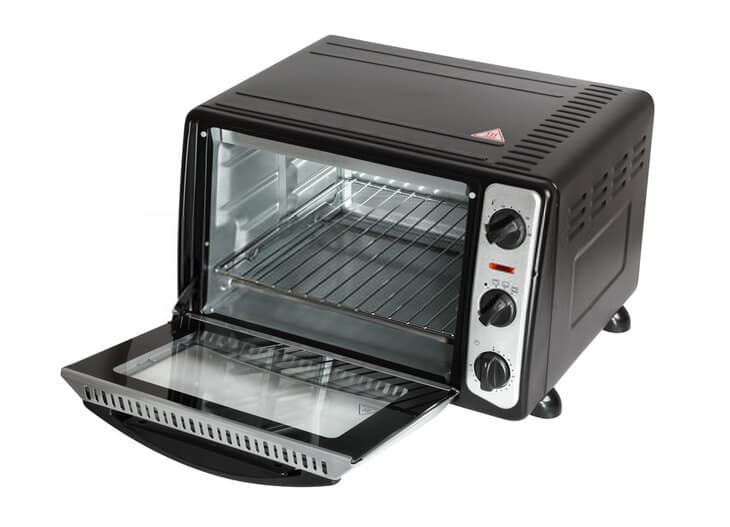 Choosing an oven to reheat your pizza to have the same flavor as the first moment you ate it hot. This method works great with frozen calzones or those stored in the fridge overnight.
There are a few advantages to reheating calzone in the oven. It warms the pizza evenly from the outside shell to the internal filling.
It also allows you to reheat calzone oven straight from the freezer, saving time and effort. Make sure the filling stays mushy in the center, and the crust stays golden and crunchy for the best results.
One downside is that rebaking a pizza in the oven takes time. It takes a little longer than normal compared to the other cooking methods we'll discuss in the next section.
By the way, if you're ever unsure how to reheat croissants or other varieties of bread in the oven, you may utilize all of the information above to do so.
What we'll need to prepare before warming is a baking sheet, oil, sealed oven tray, and brush or oil spray.
But how to heat up a calzone? Here is specific steps for reheating calzone in oven:
Step 1: Set the oven to 400°F to warm up your pizza.
Step 2: Put the calzone on a baking sheet when removed from the refrigerator.
Step 3: You may warm the calzone from frozen if you've kept it in the freezer.
Step 4: Spray some oil on the calzone to make it perfectly golden and crunchy.
Step 5: Bake the dish within 20 minutes on a baking sheet. Whether you're reheating the calzone from frozen, bake it for 30 minutes, and then check to see if it's done.
Step 6: After the food is entirely warmed, remove it from the oven and set it aside to cool slightly before eating.
Step 7: After the food is entirely warmed, remove it from the oven and set it aside to cool slightly before eating.
# Method 2: Reheat Calzone In A Skillet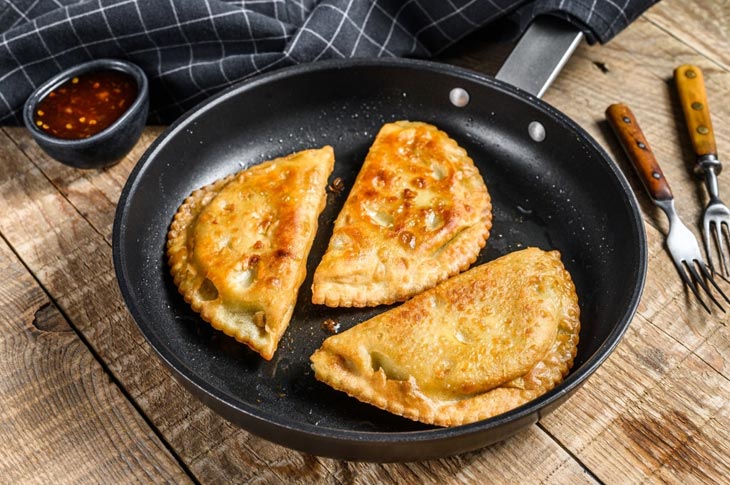 If you have unexpected visitors and don't have much time, warming in a skillet is a faster and better choice.
Warming up on a frying pan, on the other hand, necessitates monitoring. To avoid the calzone smoking or browning too quickly, keep an eye on it.
The benefit of using a saucepan is that it saves time. It cooks the calzone in less than 5 minutes, ideal for on-the-go eating.
However, it has also a disadvantage. It can burn to the pan and stick if you distract your attention and leave it on for too long.
Remember that you can not warm a frozen pizza in a skillet. It would help if you first defrosted it.
For food preparation appliances, you need to begin with things such as a non-stick skillet that comes with a lid, 1 or 2 mini teaspoons of water, and a spatula.
Now, let's take look at step by step to recooked your pizza in a skillet:
Step 1: Put a nonstick pan over medium heat on the stove.
Step 2: Cook for around 2 minutes, or until the underside of the crust is crunchy.
Step 3: After rotating the calzone with a spatula, cook for 2 minutes more.
Step 4: Reduce the heat to a level that you are pleased with. Fill the pan halfway with water, keeping it away from the calzone.
Step 5: Close the skillet with a lid.
Step 6: Allow the water to steam to reheat the filling.
Step 7: After taking the pizza from the oven, allow 1 minute for the heat to disperse.
Step 8: It's ready to eat right away.
#Method 3: Reheat Calzone In The Microwave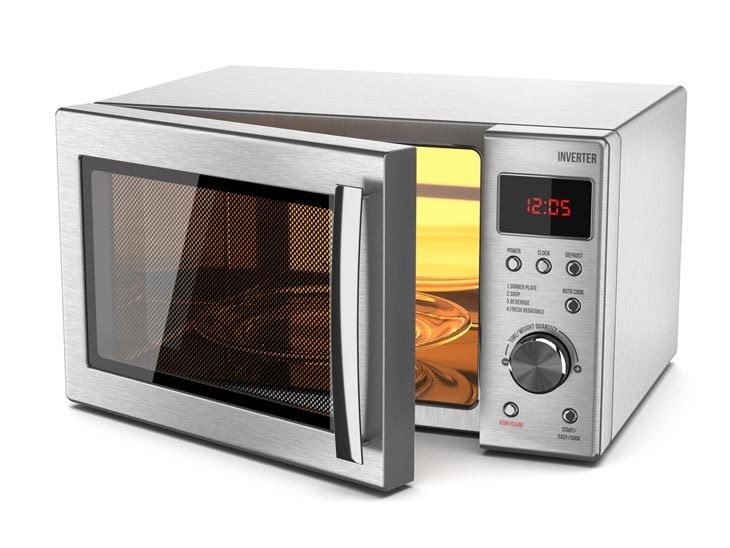 Microwaving your calzone may not be the best option, as it would most likely turn the crust soft and soggy.
If you want a crunchy, golden coating, you should use one of the ways mentioned above. That's also a useful tip for reheating stromboli.
However, if you're used to warming pizza in the microwave and don't mind the softness, that might be a practical solution (though not for a freezing calzone).
There are some simple steps to microwave calzone:
Step 1: Cover the calzone with a damp paper towel and microwave it.
Step 2: For 1-2 minutes, microwave on high for 30 seconds at a time.
Step 3: Allow the calzone less heat for one minute before eating.
FAQs
Is It Safe To Reheat A Calzone?
Using the microwave oven, air fryer, or frying pan, all involve heat, and if you reheat incorrectly, are negligent, or don't use protective gloves, you risk burning your skin.
As a result, you must exercise caution during warming up.
Can You Reheat A Calzone In The Air Fryer?
Our quick response for this question is a big Yes! You can reheat calzone in air fryer, and it's a rapid process.
To begin with, set the temperature to roughly 400°F and cook the calzones for 3–4 minutes. As a result, the center will be warmed, and the crust will remain crispy in the air fryer.
What Is Best Served With A Calzone?
We may know that Calzones typically contain strong flavorings, so a fresh green salad with a little ranch dressing or balsamic vinaigrette is the finest side dish for your pizza pocket.
Does Calzone Need To Be Refrigerated?
Because calzone is served in a circle shape, you can chop up what you need and store the remainder in the fridge or freezer.
If you want to store the baked pizza pocket in the refrigerator, place it in a sealed container or set it on a bigger dish and cover it with saran wrap.