How To Reheat Eggplant Parm? 4 Best But Easy Reheating Methods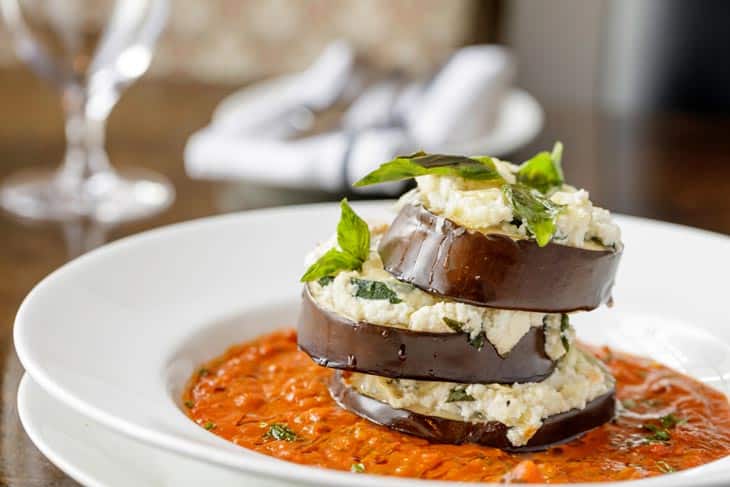 As an Italian food lover, you would come up with the question, how to reheat eggplant parm once in a lifetime. If this is your current situation, you've landed in the right spot!
Getting fried food, especially eggplant parmesan, to recook is a common challenge. But no need to worry. Help is on the way!
While good food brings a good mood, we're here to bring you guys inevitable reheating instructions. Chill out and scroll down!
Reheating Eggplant Parm Is Not Easy!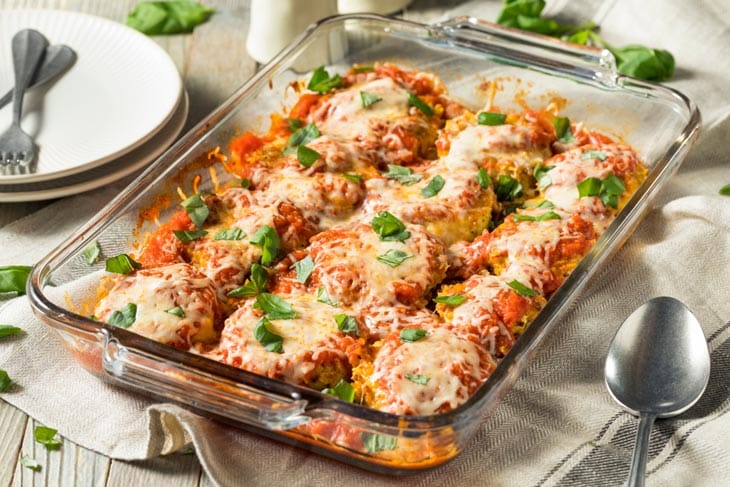 Eggplant parmesan has been known as one of the most notable dishes to all fans of Italian cuisine. Integrating it into your family meals seems to be a great choice because of the numerous science-packed health benefits of eggplant.
Eggplant parmesan recipe is a harmonious combination of eggplant slices, tomato sauce, parmesan cheese, and crunchy breadcrumbs.
Indeed, nobody can deny its appetizing flavor. It is not an exaggeration to say that you could feel a little piece of heaven from the first bite.
The only downside is a considerable amount of oil. Thanks to the spongy eggplant flesh, this vegetable acts like a sponge. It can soak up all oil droplets in its path.
That's why reheating eggplant is a complicated task. Without proper methods, you may risk increasing the excess oil in your leftover dish.
Nevertheless, this difficulty could not obstruct your journey to the title "Home MasterChef" anymore. Let's find out how to help your leftover eggplant parmesan to reach a higher level in the following parts!
How To Reheat Eggplant Parm?
Using An Oven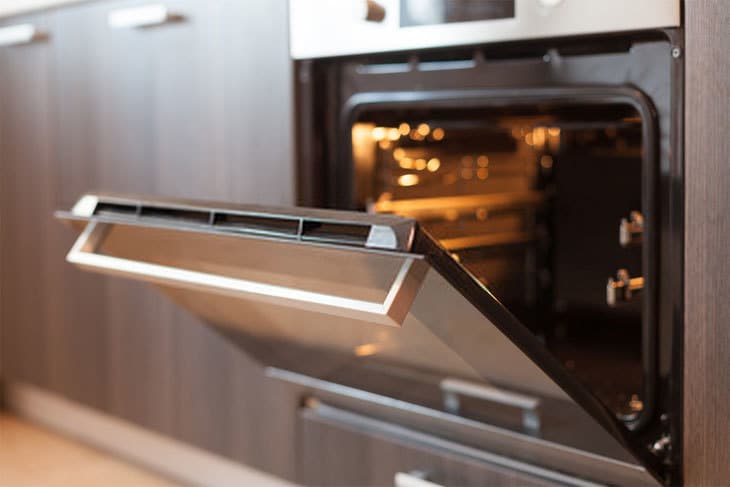 Reheating eggplant parmesan in oven is a must-see option in an attempt to re-deliver your tasty eggplant parm.
We recommend using a conventional oven for large servings. Otherwise, a toaster oven could already meet your needs.
Here are step-by-step instructions on reheating frozen eggplant parmesan in oven.
Step 1: Preheat your oven to 350 degrees Fahrenheit (or 325 degrees for a toaster oven). Wait for 2-3 minutes. Never skip this step though you are short in time.
Step 2: Take cold eggplant parm out of the refrigerator. Place it in an oven-safe container (never use a plastic container) and put it in the preheated oven.
Step 3: You can add a cup of tomato sauce, fresh mozzarella cheese, and pepper flakes to boost the fresh flavor before covering the dish in aluminum foil.
Step 4: Let the leftover eggplant slices heat for 5-10 minutes.
Step 5: Remove the foil. Consider baking it for 4-5 minutes to crisp up the breadcrumbs slightly.
Step 6: As the extra sauce bubbles and the cheese melts, take your dish out of the oven. Check inside to ensure every bit has been warmed thoroughly.
Step 7: Enjoy a satisfactory result with a crispy texture!
Preparing a preheated oven is necessary for reheating cooked slices of eggplant parmesan because this type of food requires a blast of heat in a quick cooking time.
Unless the oven reaches the correct temperature, your undercooked dish may cause food poisoning.
There is a small note. Do not wrap your dish with foil too tightly. Otherwise, it will keep water inside and make your dish turn into soggy eggplant parm.
One disadvantage of this method is time-consuming. But if you desire to achieve the final glorious moment, why don't you give it a try?
Using A Microwave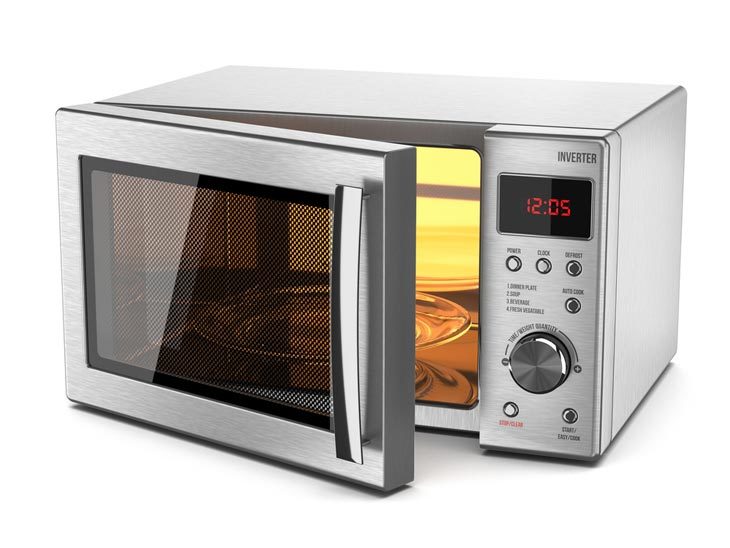 Reheating leftover eggplant parmesan would no longer be a terrible experience, thanks to another popular kitchen assistant – a microwave.
Step 1: Place your eggplant parm in the microwave-safe plates or baking sheets, but not a plastic container.
Step 2: Add more toppings, such as black pepper, fresh basil leaves, mozzarella cheese, and extra tomato sauce according to your sense of taste. Wrap it with a lid or aluminum foil.
Step 3: Heat it for 90 seconds and check whether it has been fully warmed. If not, you should microwave for further 90 seconds and recheck. Repeat this step until you feel your favorite has already been done.
Step 4: Take it out of the microwave and serve!
In comparison with an oven, using a microwave saves much more time. And if you are fond of a soft texture, it's advisable to reheat eggplant parmesan in microwave.
However, not every material can go in the microwave. A dish with metallic trim may arc or even break and result in a fire when being overheated.
Also, never leave your food microwaved in a plastic container. Thus, read labels and warnings on your container cautiously to maintain safety first.
Using A Stove
Using a stove for reheating purposes is a great alternative to preserve the inviting flavor of cooked eggplant parm. Read on this cooking guidance if you prefer this method.
Step 1: Cut eggplant parm into smaller-sized pieces for quicker heating.
Step 2: Add 3-4 tablespoons of water or a bit of olive oil into a pan. Cook liquid over medium heat until it is extremely hot.
Step 3: Place all pieces in the pan. Feel free to add some parmesan or fresh basil and let it be covered.
Step 4: Set the pan over medium heat for 3-4 minutes.
Step 5: Open the lid (or foil) and check for doneness.
Step 6: Everything is ready to serve you the best leftovers ever!
Using An Air Fryer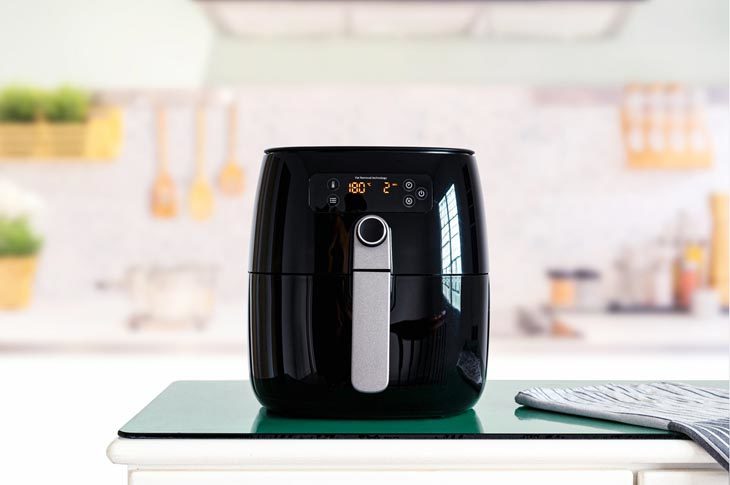 You come home after a hard-working day, but those slices of eggplant parmesan yesterday are the only lifesaver. You are starving but do not want to eat something filled with too much oil.
There is no doubt that an air fryer does a great job in this situation. Take a look at this detailed guide to have delicious air fryer eggplant parmesan from your leftovers.
Step 1: Preheat your air fryer to the temperature of 350 degrees Fahrenheit.
Step 2: Remove food from the fridge. Put a single layer of eggplant on parchment paper for even temperature and easy removal. Then place it into the air fryer.
Step 3: Keep your dish for 2-3 minutes of cooking. Then flip to the other side.
Step 4: If you aim at refreshing your amazing dish, top it with extra cheese and sauce. Continue to cook for 1 minute for a crispy crust before turning off the air fryer.
Step 5: Your parmesan eggplant still needs to sit for 1 minute in the air fryer. Be patient!
Step 6: Serve your appealing meal!
Not only loaded with less oil but airfryer eggplant parm also prevents the breading from being soggy.
If you plan to reheat a large portion for the whole family, divide the eggplant tray into smaller parts for more reheat cycles.
Other Tips On Reheating Eggplant Parm
There is more to keep the original flavor than just acknowledging the heating instructions on how to reheat eggplant parmesan above.
Here is our advice on reheating so you can eat your leftovers with more satisfaction.
Extra Sauce And Cheese
Eating a dish twice may make you feel bored and lose appetite.
It's time to solve this problem and show your creativity! You can freely add a cup of sauce or a mix of different cheeses (such as mozzarella cheese, parmesan cheese, and cottage cheese) to renew the flavor of your leftovers.
Storing Process
Fried eggplant is tricky to preserve. Without a proper storing process, all your efforts afterward may go down the drain.
First, wait for your food to cool down to room temperature after cooking. We recommend the two-hour rule. That means only leaving food outside within two hours before applying any storing methods.
There are two ways to save for later use: keeping food cold in a refrigerator or a freezer (place it in a freezer-safe baking dish for easier reheating).
If you can consume food within three days, store it in the fridge. Or choose the second option in case you suspect it could take more time than that.
Thawing Process
Thawing is as crucial as freezing and reheating processes. It is encouraged to estimate the certain amount of food you need each time before defrosting it.
More specifically, researchers have shown that the more times you reheat food, the more nutrients you will lose. Thus, never cool and reheat your dish more than once.
Allow frozen eggplant parmesan to defrost in the fridge overnight. This avoids the danger of thriving bacteria in such an optimal condition as food.
Also, using a microwave for thawing frozen eggplant slices is ideal since it would save a lot of time if you are in a rush.
FAQs
Is It Safe To Eat Leftover Eggplant Parmesan Cold?
Surely, YES! While people often ask for reheating frozen eggplant parmesan to serve it hot or lukewarm, some strongly advocate eating cold. It would be all down to your personal preference.
How Long Is Eggplant Parm Good For?
Parmesan eggplant stored in the fridge could be in good condition for three to five days.
As I mentioned above, if you intend to preserve this family favorite for a longer time, put it in a freezer-safe container and freeze it. It can be stored for more than one month in this condition.
In both cases, an airtight container is the most prominent choice to save your dish from external environmental factors. Freezer bags are another practical alternative as they are space-efficient.
Besides, learn what to serve with eggplant parmesan to add variety to your meals and use up all the leftovers as soon as possible.
Can Eggplant Parmesan Be Made Ahead?
It would take a lot of time and effort to prepare a hearty dish of parmesan for an energetic breakfast or lazy dinner.
The good news is you can make this classic comfort food in advance, then freeze it to use on other busy days.
Can I Store Unbaked Eggplant Parmesan?
Again, a wholehearted YES for this question! You can freeze your leftover, precooked, and unbaked eggplant parmesan.
Conclusion
This article has walked you through the answer to the inquiry, how to reheat eggplant parm. Also, some tips and tricks are clarified so that your leftovers still preserve their flavorful taste.
Life is too short to eat boring food, right? Hope to see you in the next articles for more cooking hacks and recipe ideas.
If there is any inspiring cooking experience, don't hesitate to drop a comment below to share with us.
Thanks for reading!