How to Reheat Meatloaf? Detailed Steps (New Guide)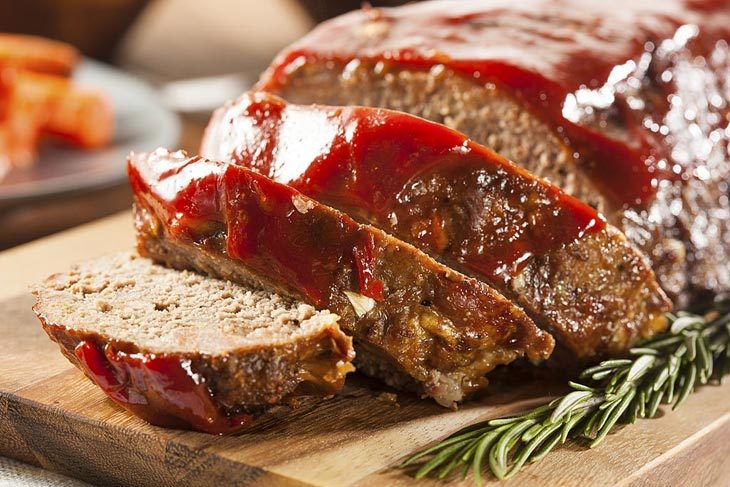 Due to the great flavor which can be preferred by almost everyone, meatloaf is used widely in family meals or restaurant feasts.
Both professional chefs and homemakers pay a lot of attention not only how to make this dish but also how to reheat meatloaf.
That's because this practice really calls for a plenty of concerns instead of just turning the oven on. For the best guide, we have made this post for you!
What Is Meatloaf
Meatloaf is a favorite dish to many people. It is often served in slices and accompanied by some kinds of bread or so.
Meat is the main ingredient of this recipe, of course. At first, it will be chopped into very small shreds. Usually, a meat grinder will be used for this step, but cutting the meat by hand is totally fine.
After that, the chef mixes the cut meat with other things, usually some seasonings which can vary depending on personal interests.
The mixture will then be cooked in a container which will shape the meat into a chunk after finishing.
How To Reheat Meatloaf In 3 Easy Ways
There is a variety of methods for you to choose from when it comes to reheating meatloaf. The three most common ones are using an oven, a microwave or a skillet.
We have compiled a useful guide about all of these ways for you and demonstrated it in lucid instructions below.
1. Reheating Meatloaf With An Oven
Perhaps ovens are thought to be the best way to deal with grilled dishes like meatloaf. However, it doesn't mean that you never go wrong with ovens when it comes to reheating meatloaf.
You have to know exactly what you have to do before getting right down to this business.
Generally, the oven is turned on and left at too high a temperature. Some people may think that this is a good way to save time because the meatloaf will get hot faster.
However, too high temperature can cause the moisture in the meatloaf to come off too quickly, resulting in a dried-out dish.
To avoid this trouble, you'd better follow these instructions.
Step 1: Heat the oven to the temperature of about 225-250 degrees Fahrenheit (105-121 degrees Celsius) before starting to handle the meatloaf.
Step 2: Place the meatloaf in a shallow dish and don't forget to cover the dish with aluminum foil to keep the moisture away from draining out.
Step 3: Leave the meatloaf alone in the oven for about 20 minutes.
Step 4: Take the meatloaf out of the oven and let it cool down a little bit before eating.
2. Reheating Meatloaf with A Microwave
In case you don't have an oven available in your kitchen or simply because you are too lazy to use an oven just to reheat some slices of meatloaf, a microwave may be the best choice for you.
However, the microwave is often blamed for making the meatloaf dry out terribly. Don't worry because if you process this practice in the right way as follows, this bad scenario will never take place with your meals.
Step 1: Place the meatloaf on a plate which can fit on your microwave and make sure it is microwave-safe.
Step 2: Keep the meatloaf moist using a damp paper towel to encase it.
Step 3: Leave the microwave on the low setting for about 2 minutes or more. The set time depends on the overall power of the microwave you are using. With the low temperature, you can guarantee that the dish can be kept moist.
Step 4: After the time is up, make sure the meatloaf is fully warmed up. Generally, the hot front can deceive you into thinking it's done, but the middle can still be not hot enough. If so, continuing to warm it up for a little longer.
Step 5: As usual, you should leave the meat a little bit cooler, and then it is ready to eat!
3. Reheating Meatloaf With A Skillet/Frying Pan
Although skillets are not as common as the two above ways when it comes to reheating meatloaf.
I think this is really a brilliant idea when you only need to warm up some slices of meatloaf. Follow the instructions below to get the perfect reheated meatloaf:
Step 1: Preheat the frying pan/skillet until it gets a little bit warm.
Step 2: Layer the pan/skillet's surface with a little bit of oil or butter so that the meat does not stick to the surface and is easy to flip.
Step 3: Place the meatloaf into the pan quickly and flip over until it gets fully warmed up. In this step, watch out for being burned by the oil from the pan.
Step 4: Wait for a while until the meatloaf is cool enough to eat. Now you can enjoy it!
Tips For Juicy Slices Of Meatloaf
One big trouble in reheating meatloaf is losing moisture. No matter which ways you choose to reheat it, you have to find a way to avoid this. We have some useful tips for you:
The meatloaf should be slightly undercooked. This may sound weird, but if you leave it pink on the above front by turning off the flames about 10 minutes sooner than your usual cooking, the meatloaf will use the left heat to reheat itself for a while and result in juicy junk.
However, you have to make sure that the meat is not too undercooked because there will not enough heat for the meat to kill the bacteria.
Check the moisture if you use a frying pan to reheat the meatloaf. You can use a fork or chopstick to check this regularly.
In case you plan to reheat a meatloaf in a microwave, an oven or something similar, remember that the moisture can lose so quickly because of the large reheated surface of the chunk of meat.
Therefore, if you don't want your meatloaf to become too crisp and run out of moisture, you have to wrap or cover it properly.