How To Reheat Rice? Best Ways To Safely Reheat Your Rice!
Rice is one of the most-consumed foods worldwide as it is reasonable and filling. You can make a perfect combination of this grain and almost any kind of dish.
So how to reheat rice correctly can be a frequent question to us.
Acquiring this necessity, we would like to show you our tips and tricks on the best way to warm up rice safely. Let's get started!
How To Reheat Rice?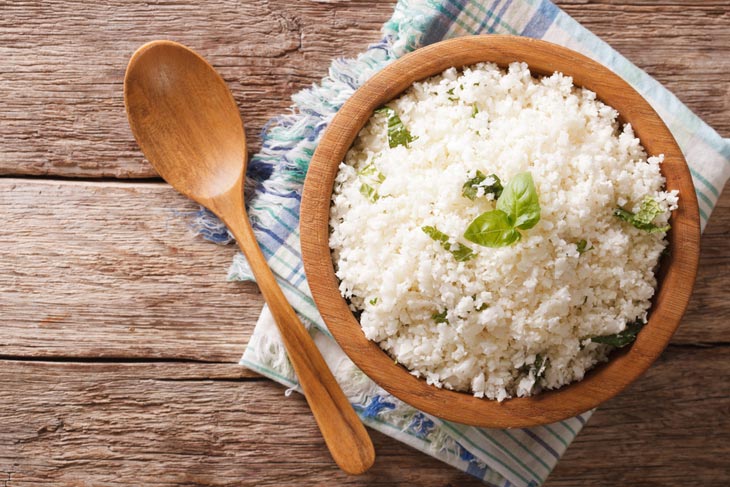 There are various ways to make perfect reheated rice, depending on which ingredients you have and how much time you get.
You can make use of your microwave, your stove, oven or cook some delicious fried dish.
Now take a look at our tips on how to heat leftover rice.
1. Use Your Stove To Steam Rice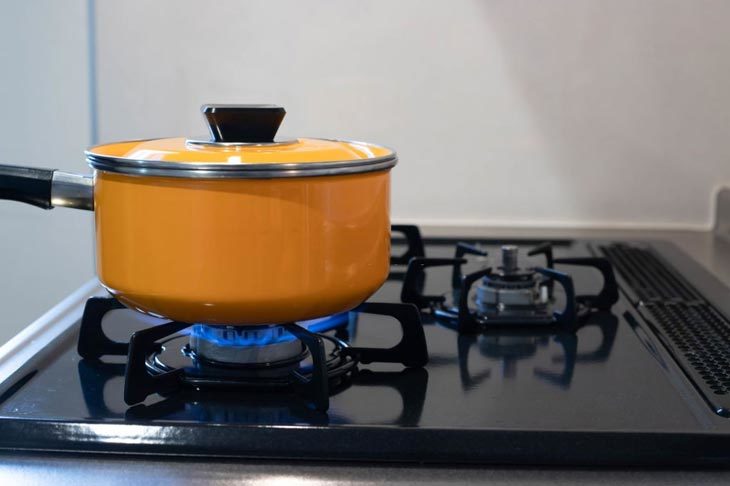 You can use a small pot or a pan with a cover for reheating rice on stove. It is very simple to warm up your rice on the stove.
Step 1. Remove the grain from the fridge and set it aside to rest until it comes to room temperature.
Step 2. Pour some liquid over the food in the saucepan or spread them out on the skillet (around 2 tablespoons of water per cup of rice). Cover securely and cook for about 5 minutes over low heat.
Step 3. If there are still clumps, stir them gently to break them up. Using a cover over low heat helps produce steam, which hydrates the texture. And now you can get your fluffy rice ready.
2. Use A Microwave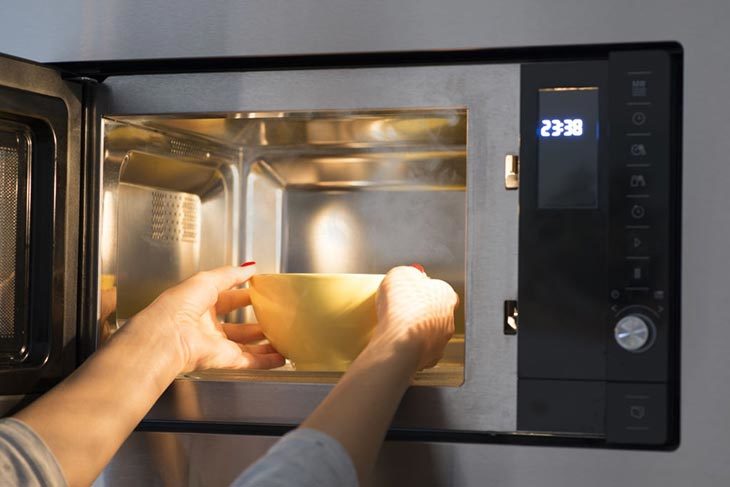 Steaming or reheating leftover rice in the microwave will save you quite a lot of time. This can be the best way to reheat cooked rice.
The key to this procedure is to use a microwave-safe container and to have a hand towel on hand.
Step 1. Put the leftover in a microwave-safe bowl, break all the big clumps and make a uniform layer.
Step 2. Add 2 tbsp of water per cup of grain and cover the dish with a moist paper towel or napkin.
Step 3. Microwave for 30 to 20 seconds at a time, fluff, and continue for around 2 minutes or until it gets thoroughly heated.
Note: If you are using a deep bowl, keep in mind that the dish may become warm on the borders but remain cold in the center, so mix at each pause to ensure even warming.
When you cover the grains with a moist cloth, it will generate steam that prevents them from drying out. Consequently, you will get a warm meal with a delightful soft bite.
Try this approach if you are in a hurry or do not have access to a stove. It is best to heat a single portion rather than huge batches.
3. Reheat Your Rice With An Oven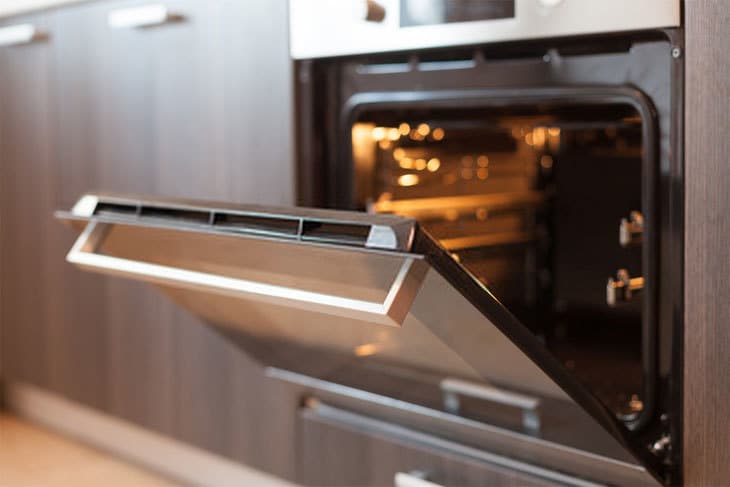 If you are reheating meals for more than one person, the oven method is ideal for you because the microwave approach is better for smaller quantities.
Yet, you will need aluminum foil and a shallow oven-safe dish.
Here is how to reheat rice in the oven!
Step 1. Preheat the oven to 150°C. Cover the baking dish with your dish, and gently break up all the clumps.
Step 2. Pour around two tablespoons of water or broth per cup of rice. Cover the dish completely with foil.
Step 3. Cook for 20 minutes, or until well warmed.
4. Stir Fry The Rice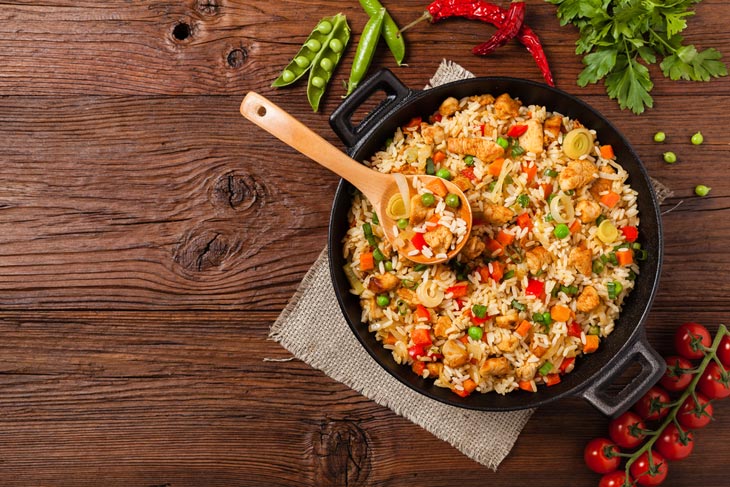 You can use this method to stir fry any grain variety, just like the others. And, of course, you can create a fried dish using the brown one!
This approach may be useful to make an amazing dinner of chicken and white rice or stir pre-fry right into your favorite fried dish.
Step 1. In a pan or skillet, heat the oil. For around 3 to 5 minutes, add the white grain straight from the fridge and toss until it is coated and cooked completely.
Step 2. Add spice depending on your taste, and add any kind of veggies and protein like bean, carrot, pepper, corn, egg, or bacon. Now, enjoy fried rice with your favorite sauce for the best taste.
Is It Safe To Reheat Rice?
The answer is definitely yes. You can consume leftover dishes, but you must be cautious to ensure safety. Bacillus cereus bacterium may be found in this type of food.
Unlike other bacteria found in leftovers, this one is not usually eliminated during the cooking process.
The longer you leave cooked grain at room temperature, the more likely you are to suffer food poisoning due to the development of bacteria in it.
Therefore, the greatest method to avoid contracting a foodborne disease is to cook the leftovers as fast as possible.
Moreover, the cooked dish should be kept in the refrigerator for no more than four days and reheated to at least 165°F.
One more thing to remember is that you should not warm up cooked dishes twice.
Leftover meals stored in the refrigerator can last for days, but you should only recook it once because the second rewarm will increase the risk of Bacillus cereus bacterium.
How To Cook and Store Your Rice Correctly
Before looking for how to heat up cooked rice, you had better master how to cook and store this kind of food properly.
There might be a chance you will wonder why my rice is mushy. It is because you cook it too long or with too much water.
This is also one of the reasons for the boiling over of rice that affects its taste. You should know how to avoid it for the best taste.
After getting the perfectly-cooked bowl, you should know how to store them correctly if you can not eat it all at one time.
Dormant bacillus cereus spores can awaken when cooked food is kept at room temperature, creating germs that cause food poisoning.
Thus, minimize the warm, wet circumstances that rouse the bacteria to avoid this. Here are some notes:
After allowing some steam to evaporate, store your food in an airtight container in the refrigerator. After cooking, please do not keep it out for longer than two hours. You can store it for 4-6 days with this method.
If you want to utilize your dish for a longer time, you can freeze it. All you need to do is put the fresh, hot dish in an airtight container. Remember to pre-portion your meal before freezing it to make meal prep easier and reduce waste.
Squeeze out all the excess air to prevent freezer burn and maintain the grain's moisture. Fresh grain may be frozen for up to a month after being cooked.
Bonus Tips: How To Have The Perfect Rice Recipe
Here are some tips to keep in mind to serve the best-reheated recipe.
Serve the grain as soon as possible after it has been cooked.
If you can not eat it immediately, cool the food as soon as feasible (ideally within 1 hour).
Refrigerate it for no more than one day before reheating.
Always verify that the grain is boiling all the way through before reheating it.
Grain should not be reheated more than once.
FAQs
1. Can You Eat Cold Rice?
Many might get into the habit of eating a cold meal. Yet, it would be best to give up this habit as cold food can cause you diseases or food poisoning.
Bacillus cereus, a bacteria that survives boiling and can cause stomach pains, diarrhea, and vomiting, doubles your risk of food poisoning if you eat it cold.
As heating does not kill Bacillus cereus spores, you had better cook it like any other perishable food.
Moreover, when it comes to food poisoning, the matter does not only lie in Bacillus cereus in cold food but also in the way you cook and store it.
Therefore, you should learn about food safety and some effective ways to process, cook, store, and reheat dishes to have a safe meal.
2. How To Reheat Brown Rice?
Unlike white rice, you will need to pay extra attention when you reheat your brown one. However, the end product would be a warm, fluffy texture. Here is the best way to reheat brown rice.
Step 1. Take enough water to immerse the grain in a separate pot according to the amount you want to reheat.
Step 2. Bring a pot of water to a boil, then add the uncooked rice. Allow it to soak for 2-3 minutes in boiling water.
Step 3. Remove the water, and you are done! You can serve your reheated brown grain with roasted vegetables for a tasty meal.
3. How To Reheat Sushi Rice?
Microwaving sushi is the fastest method to recook it. The margins of fish and side stuffings, on the other hand, are very simple to dry out. So, be cautious and follow our instructions:
Step 1. Place the sushi on a microwave-safe plate, leaving space between each piece.
Step 2. To keep your sushi from drying out, put a glass of water next to it in the microwave.
Step 3. Heat for 10 seconds on medium level or until the sushi reaches room temperature. Then keep on heating for 10-second, so the sushi is warm enough to be served.
Step 4. Take the sushi out of the microwave and enjoy it immediately for the most delicious taste.
Conclusion
Hopefully, our blog on how to reheat rice will be helpful to you! People might consume this type of grain daily, so it is essential to know the proper ways to reheat it.
And for the best heated-through dinner, we recommend reheating cooked rice in layers or tiny pieces or parts if you have separated your components apart.