As a food lover and cooking enthusiast, I always find myself mesmerized by endless ways to turn fresh ingredients into delicious meals.
Being a rather imaginative cook, I am particularly keen on creating new exotic dishes, and shrimp is one of my favorite ones. Keep scrolling down and you will learn how to reheat shrimp properly.
Shrimp is a delicious food that is packed with nutrition and can be combined with many options.
There are a wide variety of shrimp recipes. You can steam them, grill them or fry them in different styles be it Asian or Italian.
But once the party is over, you have faced with a problem: the leftovers. Thanks to whoever invented refrigerators, you can easily keep the leftovers or untouched shrimp and reheat them to eat later.
That sounds simple, but reheating shrimp can be a lot trickier than you think. So where can you find out how to reheat them so that you can still enjoy their flavor after you take them out of the refrigerator?
To reheat food in general and shrimp, in particular, refers to the process in which cooked or processed food is defrosted or warmed up by being exposed to high temperatures.
Some people are concerned about the safety of reheated shrimp, for example, is it safe to reheat shrimp?
However, like any other type of food, shrimp is safe for reheating and you will not be having any problem consuming reheated shrimp on the condition that they are all reheated properly.
That's why you should learn tips on reheating shrimp to do it safely and effortlessly. When it comes to reheating food, there have been several proven ways for us to consider.
Below are some easy-to-follow methods with explained pros and cons that are guaranteed to make your shrimp flavorful and ready to serve warm.
1. How To Reheat Shrimp In Microwave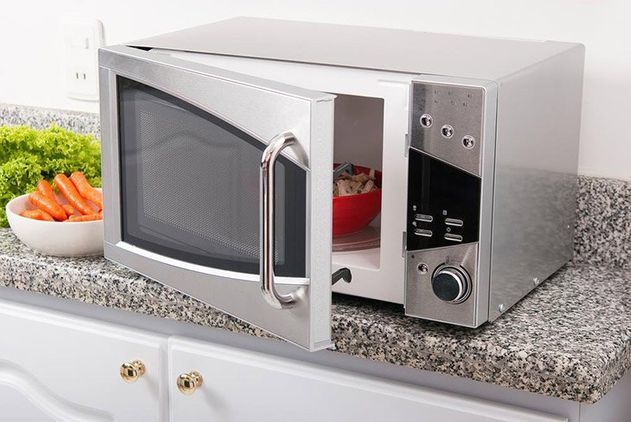 This is arguably the most common method to reheat not just shrimp but any other dishes. This is also a convenient way to reheat cold-cooked shrimp that has been mixed with others. Make sure you put your cold-cooked shrimp into a microwave-safe bowl or plate.
Recommended food containers that are suitable for microwave ovens are ceramics or glass. Other microwave-friendly materials include plastics labeled "microwave-safe", aluminum foil and parchment paper.
Step by step instructions:
Place the dish into your microwave-friendly food container.
Cover the dish with a microwave-friendly wrap. You can either use a lid or a food wrap. A cover is not always necessary as I have tried microwaving my shrimp with no cover and they came out just fine. But covering your dish can ensure quicker heating and more moisture. The cover can also prevent your shrimp from being splashed all over the microwave.
Putting your covered shrimp in the microwave, then adjust the temperature to medium-high.
Your shrimp will be ready after 3 ~ 5 minutes but the time may vary depending on the amount of shrimp and how long it has been kept in the refrigerator.
Pros & Cons
Pros: Quick, easy and applicable to most dishes, little preparation
Cons: Shrimp may lose its flavor and become too dry if not covered properly.
2. How To Reheat Shrimp in A Steamer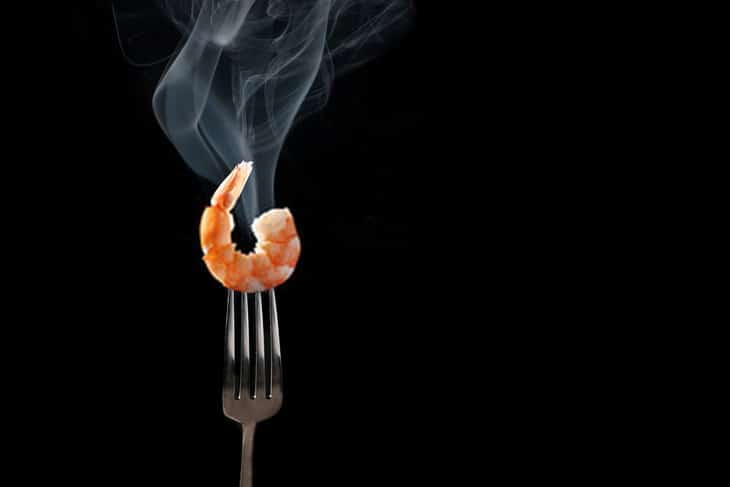 Another effective method to reheat shrimp is steaming. Steaming is a common cooking method, which can also be used to reheat food.
The principle behind steaming is the heat given from boiling water continuously. The steam generated from boiling water will cook the food.
To reheat the shrimp by steaming, you should prepare a steamer either made from bamboo or plastic. There are many steaming gears available in different sizes and kinds.
Apart from specialized steamers, you can look into using a steaming rack at the bottom of your cooking pot.
Instructions:
Pour some water into your cooking vessel.
Put your shrimp in a steaming rack or steamer.
Cover your cooking vessel and boil the water to medium heat.
Wait for the water to reach its boiling point and then reduce the heat. Usually, it will take five to ten minutes for such dishes as shrimp.
Pros & Cons
Pros
Steaming is a gentle cooking method so it can retain the original flavor of the dish. The dish will be moist and juicy.
Steaming is also a healthy method and can be used to cook or reheat various dishes. This method is ideal to reheat steamed shrimp or other shrimp dishes that involve little oil or seasoning.
Cons
This method is not recommended for fried shrimp dishes. It requires more cooking tools than the microwave method.
3. How To Reheat Shrimp In A Pan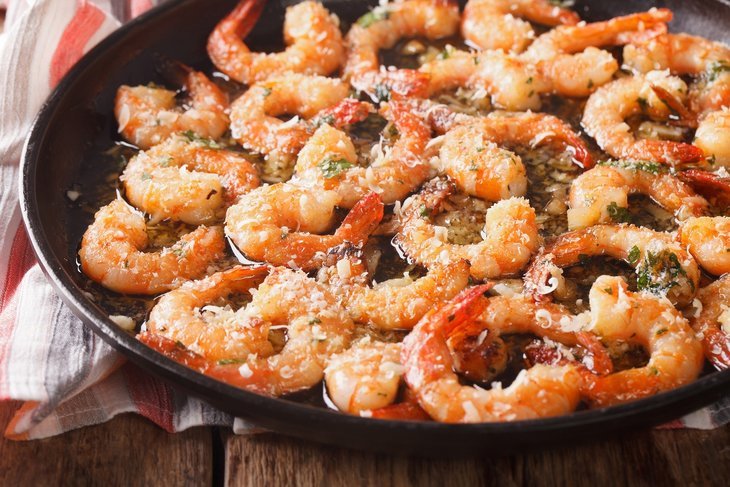 As the name suggests itself, this method involves reheating shrimp using pans or ovens.
Both are common cooking tools and can produce a satisfactory reheated dish. The pan method is used to reheat stir-fried shrimp leftovers.
Instructions:
Prepare a good quality frying pan and some olive oil.
Take your shrimp out of the refrigerator and squirt some olive oil into the pan.
Adjust the heat to medium-high (you can sauté some onions and garlic if needed).
Quickly stir and fry the shrimp in the pan for five to seven minutes.
Turn off the heat and serve the dish warm.
Pros & Cons
Pros: ideal for cold fried or stir-fried shrimp
Cons: It takes more time to prepare and cannot be applied to other types of shrimp dishes
4. How To Reheat Shrimp In A Oven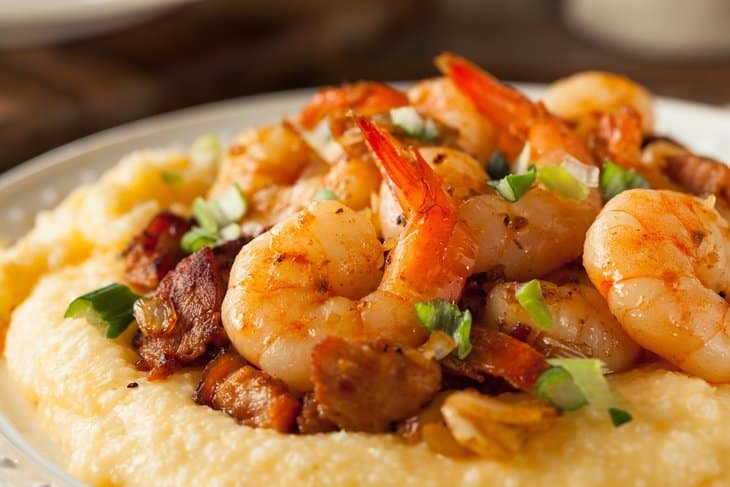 Another similar method is the oven method, in which ovens are used to reheat shrimp. It is an effective way to reheat shrimp dishes without losing their moisture.
Step by step instructions:
Preheat the oven to approximately 108 degrees Celsius.
Before you put your shrimp in the oven, make sure to either put or cover the dish with aluminum foil. Alternatively, you can use a heat-resistant bowl to put your shrimp into.
Spray your aluminum foil with olive oil or use butter to prevent your shrimp from being stuck to the bottom.
If have time, I highly recommend covering the shrimp with oil (butter is also OK) by using a brush, keep it in 2 minutes to make sure that oil will evenly spread the whole shrimp.
Let insert a layer of aluminum foil above the pan to make the shrimp moist.
Put the pan into the oven. Heat up them around three or four minutes (depend on your taste but do not heat over 4 minutes, it can make the shrimp burn out).
Turn off the oven but don't take it out, let them inside for around 3 minutes for steaming shrimp evenly for best flavor.
Now, Your shrimp is now ready to be served!
Pros & Cons
Pros: This method is perfect to retain the moisture of the shrimp and takes less time than other ways. The shrimp will taste fresh and delicious.
Cons: Not everyone can afford an oven. It takes more ingredients than other methods and consumes more energy.
Conclusion
These are the 4 most common and effective ways to reheat your favorite shrimp dishes. Learning about how to reheat shrimp can save you lots of time and energy to enjoy your dishes.
Though there is no perfect method for all, it is useful to pocket these tips and apply them to not just shrimp but other dishes as well.