How To Shred Carrots? 5 Best Ways To Shred Carrots Ever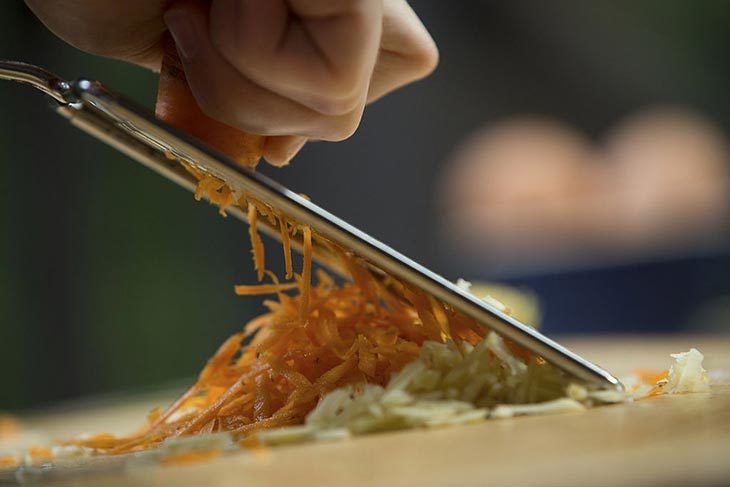 Shredded carrots work great in casseroles, salads, ramen, and many other meals. This technique is simple to master, too.
In fact, I've recently stopped slicing up julianned carrots, and have instead just shredded them. Most of my carrots are toppings for salads, or Asian-inspired bowls, and shredding carrots takes next-to-no effort when compared to manual slicing.
Full Carrots to Shredded Carrot Conversions
Typically, one large carrot will make about 1 cup of shredded carrots. Keep this in mind. There has been too many times that I have ignored this rule of thumb, and ended up shredding way too many carrots!
How To Shred Carrots With A Grater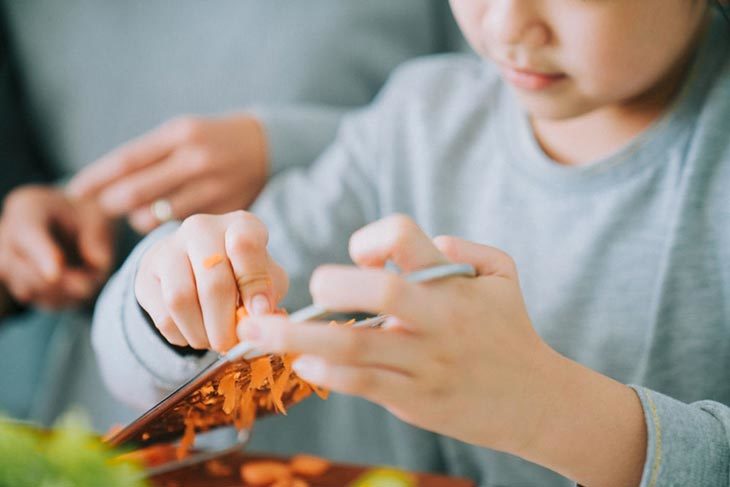 A box grater is the best tool to shred carrots. This is the method I use, but be careful – you don't want to lose a knuckle once the carrot gets too small!
Determine how many shredded carrots you need for your dish.
Rinse carrots under cold running water to remove any remaining dirt and bad spots
Use a vegetable peeler and peel the carrots slowly to remove the skin.
Put the grater on a plate, a large bowl, or a cutting board to catch the grated vegetables.
Grasp the large end of the carrot and position its bottom edge against the top of the carrot grater. Apply a little pressure and move the carrot up and down the tool. Remember to carefully remove your hand from the utensil as the carrots begin to shrink.
Repeat the process until all the vegetables reach the end, but be mindful not to push the carrot too hard, because you may break it in two or accidentally grate your fingers.
How To Shred Carrot With A Food Processor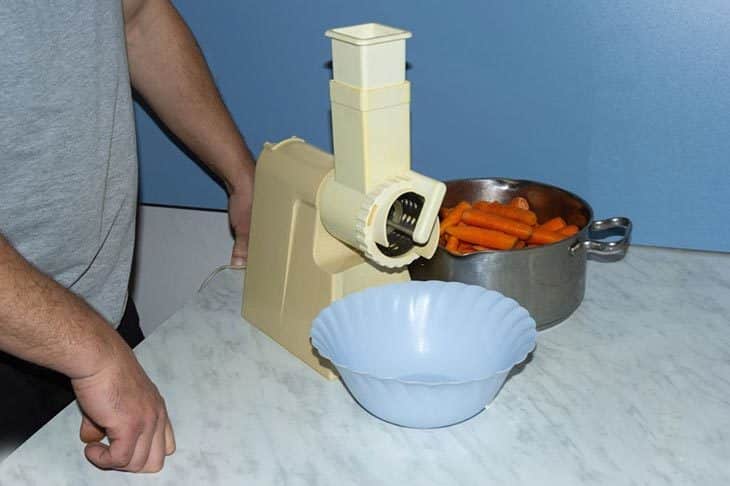 How to grate carrots in food processor? If you do not know, we will help you out!
You can start preparing the amount of carrot to be shredded according to the required recipe. If you don't know the number of carrots you need to cut, you can estimate as above (1 large carrot = 1 bowl of shredded carrots). Now check it out with 3 steps below:
Cut The Carrot: Rinse the carrots to remove any impurities, then cut both edges of the carrots from 0.25 to 0.5-inch pieces like how to cut mushrooms. Peel the skin off the carrot and cut it into 3-inch pieces with a vegetable peeler. The carrot pieces will then be the right size to fit into the processor's feed tube.
Attach The Blade: Look for the right blade for your food processor (Every large tool usually has a small blade). It is often a large disk made from metal, each side has raised grater marks. After you have found it, insert it into the tool.
Shred The Carrots; After putting the lid, security cover in place, you can switch on your food processor. At the top of the cap, push the punger into the carrots, lightly pushing them into the blades. 
How To Shred Carrot With A Knife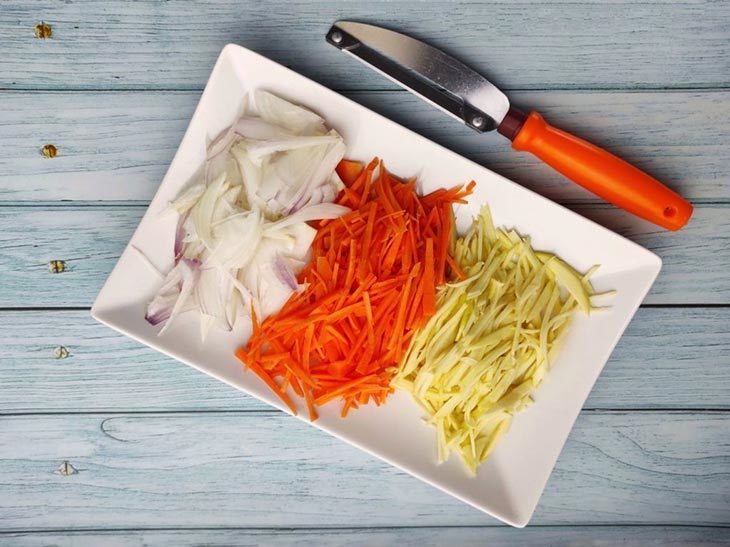 I would not recommend this way, but sometimes it's all you have. The carrot shreds you make with this method will be thicker than shredded carrots. It will be more like minced or julianned carrots.
Peel the carrots.
Cut off two ends of the carrots about ¼ inch.
Slice the carrot down it's middle lengthwise. Lay both halves on the cutting board, flat side down.
Take each piece of carrot and cut it long ways to a length of about 1/8 inch or less.
Leave the pieces in place as you cut them.
At this point, you should have small slivers of carrots that you can cut to size. Slice them perpendicular to your first cuts.
Slice them in 1/8 inch cuts for minced carrots, or 1 inch (2.5 centimeters) cuts for julianne style.
How To Shred Carrot In A Magic Bullet?
Another way to make carrots shredded is using your trusty Magic Bullet! Magic Bullet is a specialized tool that includes a cross blade for chopping vegetables or cheese.
Here is the best way to grate carrots by using a Magic Bullet:
Find out how many carrots you will need for the recipe.
Wash the carrot to eliminate grime and dirt.
Peel out the outer layer of the carrot with a vegetable peeler.
Cut ¼-inch of both sides of the carrot.
Chop carrots into three-inch thick pieces.
Choose the right cup that attaches to the Magic Bullet with the number of carrots you will grate.
Add chopped carrots to the cup and Rotate on the Cross Blade. 
Blend the Magic Bullet until the carrots are grated finely. Remember that you should not leave them too long, or they will turn puree.
Frequently Asked Questions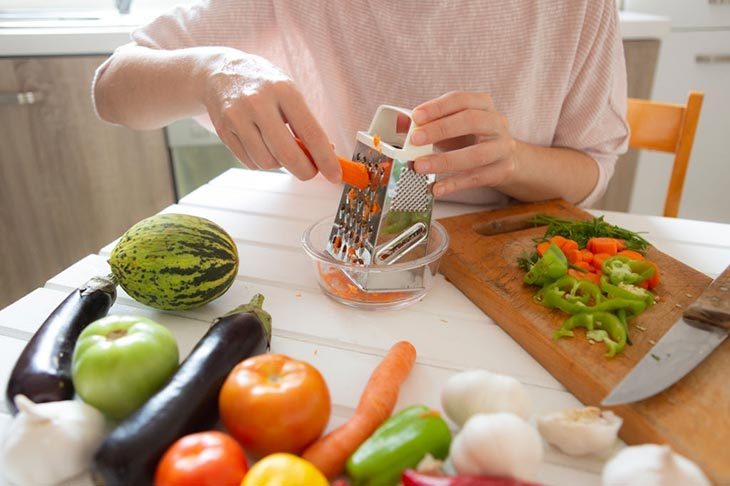 Now, we will come to the FAQs related to this healthy vegetable!
Is It Healthier To Not Peel Carrot Skin?
According to the Tufts University Nutrition Letter, although carrot skins are high in vitamin C and niacin, removing the skin doesn't take away many nutrients.
Still, you don't need to peel carrots when cooking, as long as you wash them thoroughly to remove all chemicals and residue.
How Do You Soften Grated Carrots?
Soak the shredded carrots in 1/4 teaspoon salt and 1 cup of water for about 15 minutes to soften them.
How To Shred Carrots For Carrot Cake?
To grating carrots for carrot cake, you should remove its outer layer, cut off the top and the bottom with a sharp knife, then choose the finest holes on a cheese grater and shred the vegetable precisely.