Beef jerky is a favorite snack in our household. I actually make it quite often from cuts of meat I find at Sam's Club that are on sale because they are about to be expired.
While I enjoy making my own beef jerky more than spending good money on the store bought version, there is one problem I always run into: My homemade beef jerky is always too dry and tough.
Store-bought beef jerky is always so soft and tender, but I can never make it that way at home. This is likely due to special preservatives that the factories use that I simply don't have (or want) in my version.
So, how can you soften up homemade beef jerky that is too dry or tough? I have a few answers that I've found throughout the years.
Tips for Making Perfect Beef Jerky
There are some tips and tricks I've learned along the way to make perfect beef jerky. Sometimes, these tips are more important than the actual recipe I use.
Get a real dehydrator. I've tried using an oven before, and it works fine… but a dehydrator just works better in my opinion.
Cut your slices of beef against the grain. Just like when cutting steak, beef is more tender when cut across the grain, rather than with it.
Even slices are more important than perfect thickness. The more even in thickness the beef slices are, the more even they will dehydrate.
Speaking of slice thickness, I try to get my slices between 1/8 and 1/4 inch thick.
The best way to get even slices is to partially freeze your beef for an hour or two before slicing it. It stiffens up the chunk of meat, making slicing MUCH easier.
How to Tell If Beef Jerky is Done
The way I tell when my beef jerky is done is when it is dry to the touch. During the dehydrating process, the outsides of the slices will continually be moist. Once they feel dry, it's then a matter of pulling off the ones that appear done, and leaving the thicker ones to continue a little bit longer.
I also like to check for doneness by bending it. If it appears to be able to bend too much, then it's not quite done yet. Beef jerky should bend easily with pressure, but not enough that it bends under its own weight.
Why Is Beef Jerky Too Dry?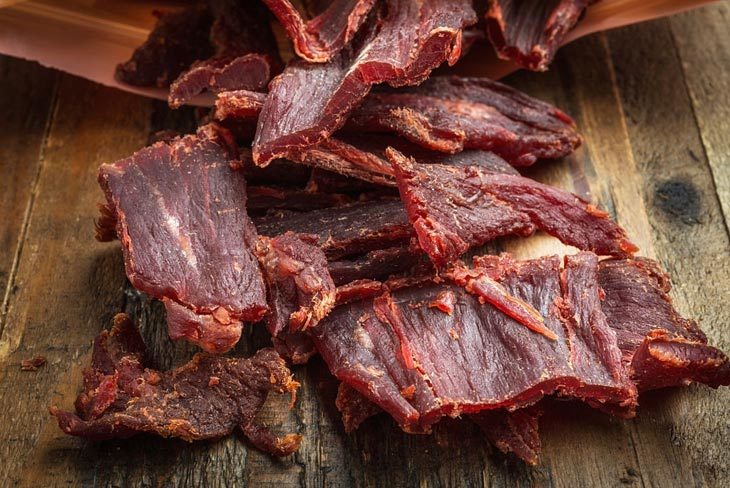 It will take some trial and error to make a perfectly chewy batch of beef jerky.
For a jerky-making beginner, it can be difficult to know whether the jerky is done or not. Many people tend to make similar mistakes while making it.
Dehydrating Time
When making beef jerky, timing is an important element leading to good beef jerky. If you pull the dehydrating meat out sooner than expected, the beef will be too moist, leading to quick spoilage.
On the contrary, if you leave it in the dehydration process for too long, the beef jerky will become too dry and tough.
There are too many factors when making beef jerky to give you a specific drying time. Thickness of your slices, fat content, initial wetness of your slices – they all have an impact on your total drying time.
Excessive Drying Temperature
Another reason for making beef jerky too dry is excessive heat. The FDA recommends setting your dehydrator to 160 °F (71 °C) when making beef jerky. If the temperature is too high, you risk cooking your beef rather than simply dehydrating it.
How To Soften Beef Jerky?
The best way to keep your beef jerky soft and chewy is to prevent it from getting too dry in the first place. However, if you messed up and your jerky is too tough, there are a few options you can try:
Slice of Bread
Place a slice of bread inside the container that your beef jerky is in. The little bit of moisture the bread has in it will increase the humidity inside the container, which will then be reabsorbed by the jerky. After a few hours, the bread will appear stale. At this point, you can remove it and replace it with another slice if your jerky is still too dry.
Rehydrate it
This would be my last resort option. If your jerky is way too dry, you can always rehydrate it by submerging it in water. After about 10 minutes, the jerky should be pliable again, at which point you can put it back in the dehydrator. Just keep an eye on it, so it doesn't get too dry again!