How To Soften Bread In The Microwave – Enjoy Your Like-Fresh Dish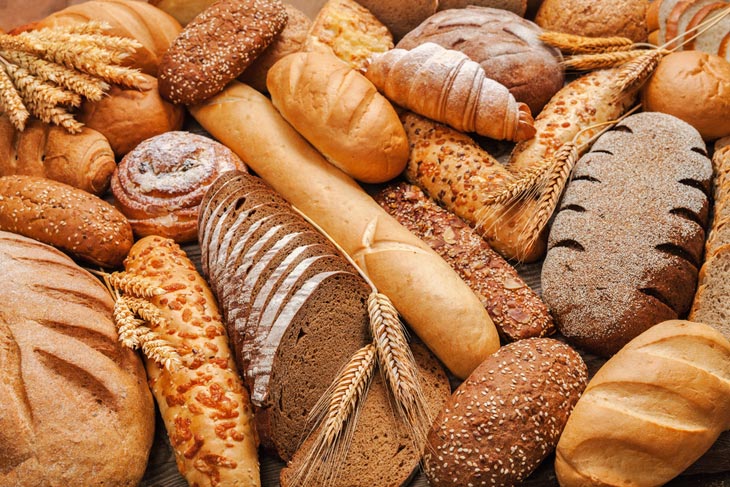 You've just bought a bread loaf not so long ago, but it's already turned rigid. Stop thinking of throwing it away! There's a way to reuse your stale one effectively.
Read our article about how to soften bread in the microwave to revive it quickly and avoid wasting your food.
However, before coming to the guideline on how to moisten bread in the microwave, let's find out how long you can keep it soft and why it becomes hard.
Therefore, you will know how to preserve the food better.
Why Does The Loaf Become Hard?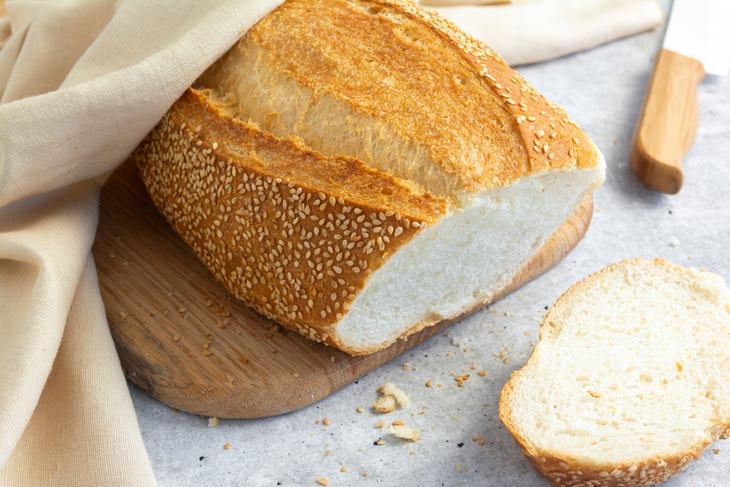 The main reason for your crusty baguettes is the loss of moisture. Mixing flour with water breaks its structure and creates a soft and fluffy texture for the dough when it's bake.
The water leaves the loaf as it cools down, causing the hardened symptoms, and the bread might go stale.
When you put the loaf in the fridge, it will become rigid even faster due to the cooler temperature (unless you put it in the freezer).
Preserve the fresh baguette by putting it in a bag and tightening the bag well to slow down the staling process. If it gets dry after a few days, you can refresh bread in microwave to bring it back to life.
How Long Does The Hardening Process Take?
The time for a loaf to become hard depends on what type and what flour it's made of exactly. It usually takes about 3-4 days before it gets dry.
If you leave the piece for more than five days, it will become truly stale.
You can sharpen your serrated knife to check the freshness. The ultra-fresh one is difficult to slice since it's full of moisture. When it is less moist, you can slice without effort.
However, at the stale stage, you will feel the slice is harder to make. If you want to cook some recipes such as grilled cheese sandwiches, you can soften bread in microwave.
How To Soften Bread In The Microwave?
Is It Possible To Soften Kinds Of Bread In The Microwave?
Yes. It's possible to moisten dry bread in microwave.
Besides other ways to soften hard bread, for example, the oven method, it's a fast and acceptable option since it will not take long but serve you a like-fresh meal. You even may want to eat it right after reheating.
How to soften bread in the microwave? The process is not complicated, but you need to do it properly to have a good result. Placing a slice and turning on the heat may not bring you what you expected.
That's why we will provide you with some tricks on how to make stale bread soft in microwave to deal with the whole loaf and slices.
Step-By-Step Guideline
Let's see how to soften stale bread in the microwave to help you when you are in a hurry and seek fast food.
It will take you a maximum of 10 seconds to prepare and 10 seconds to cook. It's possible to use this method to reheat a croissant as well.
The recommended heating time is not more than 15 seconds. If your loaf is big, it may take more than that, but you should not heat it for more than 25 seconds.
The general rule is don't overheat any baked food in the appliance to avoid rough edges and unevenly warm inside parts.
All you need for the process of how to make bread soft again microwave is a clean kitchen towel and some water.
Soften Whole Loaf
You have cut your loaf and used some slices, but it's still almost one loaf with a crusty exterior, or you have a baguette. Apply this guideline on how to make hard bread soft in microwave.
Step 1. Dampen a lint-free kitchen towel under cool or warm water. Soaking is unnecessary; you just need to make it wet enough but not dripping. Squeeze it to let all excess water out if needed.
Step 2. Wrap your loaf or baguette in the center of the damp towel. Place it on a suitable microwave-safe dish and put it in your heating appliance. You'd better choose glass or ceramic plates.
Step 3. Make it warm for 6-10 seconds. This process will provide moisture to the food again and revive it for a short time. The heating time depends on how big the loaf is and how strong your heating appliance is, but again, it's suggested to heat in less than 25 seconds to reach the desired result.
Step 4. Bring the plate out carefully since it's hot after reheating. Remove the wet paper towel and start cooking your recipe.
Soften The Slices
How to soften bread in microwave? Let's see how you can work it out with slices!
Step 1. Rinse the kitchen towel under water to make it damp. Remember, you don't want to make it dripping wet.
Step 2. Put the slice on the towel and wrap it.
Step 3. Place it inside and reheat for 5 seconds. Take it out and check the softness. If it's not soft enough, place it back and continue for another five seconds.
Step 4. Take out, wait for a second to let it cool down, unwrap the damp paper towel and enjoy.
Remember to keep an eye on everything going on in both cases of reheating, so the food will not be overcooked. You will also not coincidentally burn the wrapping material.
Conclusion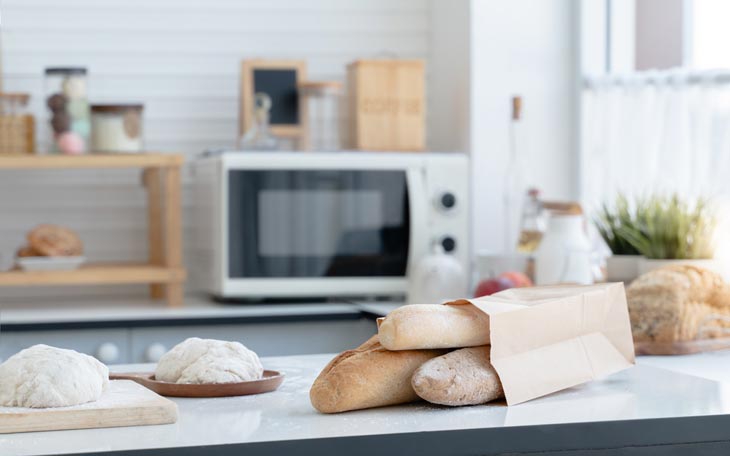 The remedy of how to soften stale bread microwave may not satisfy fastidious people since the brought back loaf is not perfect as it used to be.
However, it's admitted that the method is helpful when you want to grab a fast meal. It's also better to reuse those crusty slices for toast or grilled cheese sandwiches than just throw them away.
Knowing how to soften bread in the microwave is useful. It's a simple technique, and there's nothing much to prepare except a piece of paper towel and your stale loaf.
Follow our instructions, and you can have your food alive again.