Freeze-dried food has become an increasingly popular choice for outdoor enthusiasts, emergency preppers, and anyone looking for a convenient, long-lasting food option. My kids love the new fad of freeze-dried candies! If you haven't had them, yet, you should!
By removing moisture from food, freeze-drying preserves the nutrients and flavors of food while also extending its shelf life. But to get the most out of your freeze-dried food, it's important to store it properly.
In this article, we'll share some tips and best practices about how to store freeze dried food, including how to choose the right storage container, ideal storage conditions, and tips for maintaining quality and shelf life.
By following these guidelines, you can ensure that your freeze-dried food stays fresh, flavorful, and ready to eat whenever you need it.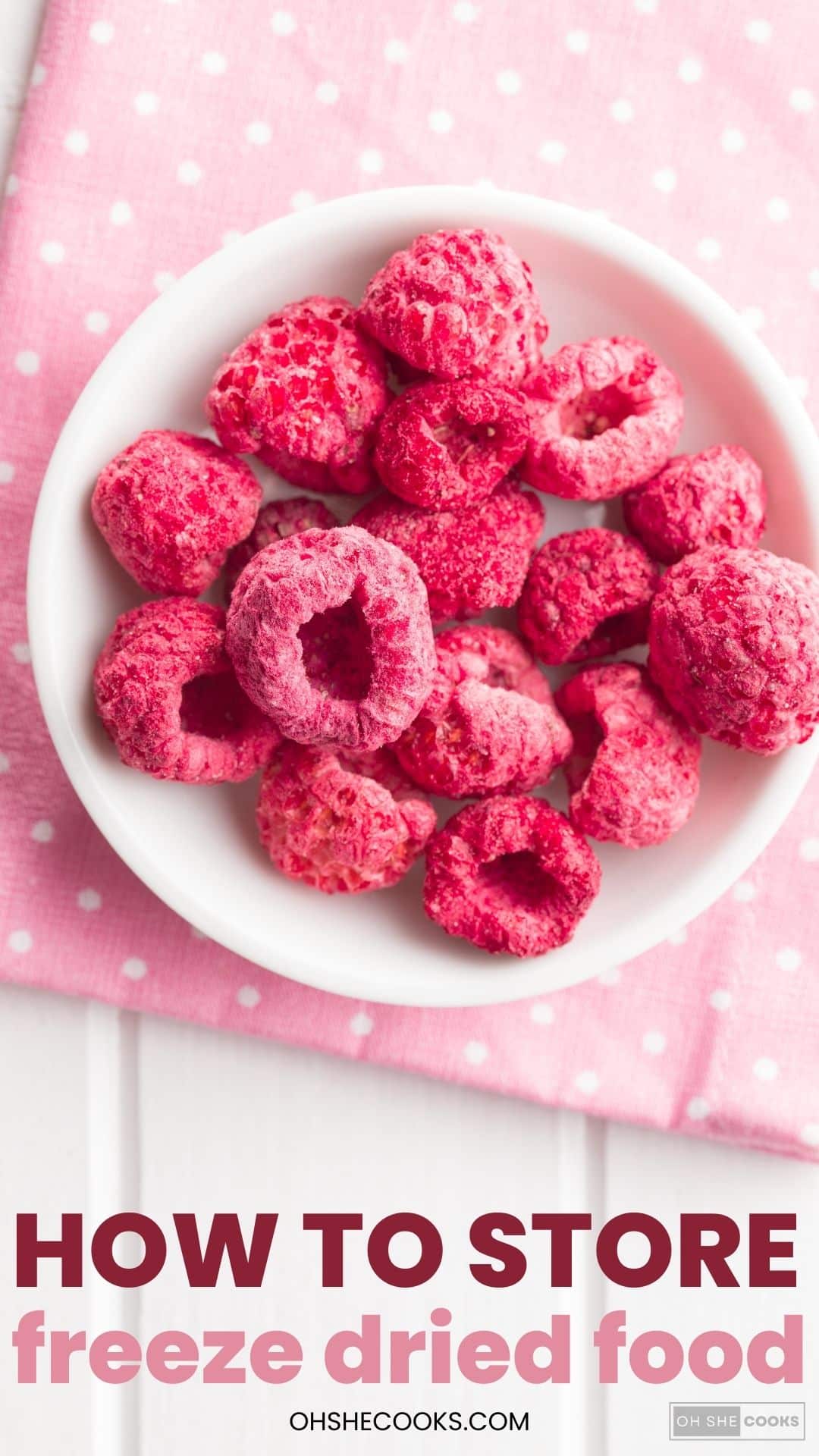 What is Freeze Dried Food?
Freeze-dried food is a type of food that's been dried out using a process called sublimation – basically, the frozen water turns directly into water vapor without ever becoming a liquid. This might sound like something out of a sci-fi movie, but it's a real!
The cool thing about freeze-drying is that it results in a really lightweight and shelf-stable product that keeps a lot of the original flavor, nutrients, and texture of the food. Even though it's been dried out, it still tastes just as good as the real thing!
What is Freeze-Dried Food Good For?
It's really convenient for outdoor enthusiasts, hikers, and campers, as well as for emergencies where you might not have access to fresh food. You don't need to keep freeze-dried food in the fridge, and it's really lightweight and easy to carry around. People who are into prepping also like to keep it on hand because it can be stored for a really long time.
It's not just limited to outdoor activities and emergencies, though – it's also used by the military, in space travel, and for other situations where you might need to store food for a long time. You can find all kinds of freeze-dried foods, from fruits and vegetables to meats and even whole prepared meals.
Now that you know exactly what freeze-dried food is, you'll now be ready to store it with our methods below.
Choosing the Right Storage Container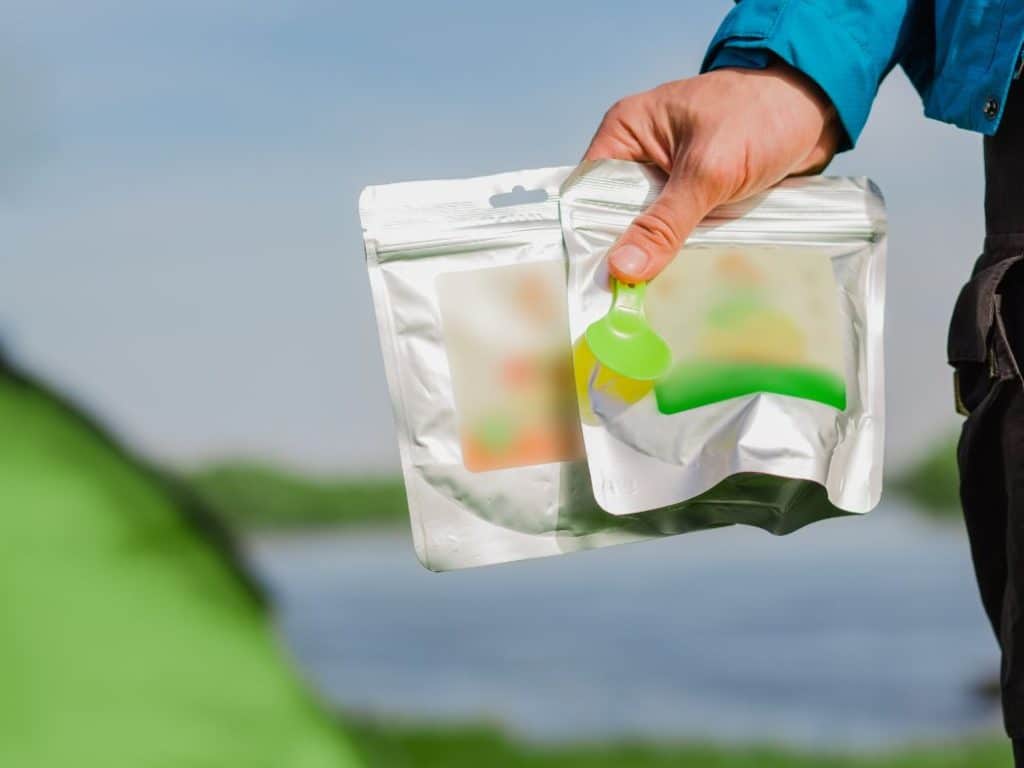 Selecting the appropriate storage container is essential for ensuring the quality and longevity of freeze-dried food. The container should be airtight, durable, and resistant to moisture and pests. Here are some recommended types of containers for storing freeze-dried food:
Mylar Bags – These bags are a popular choice for storing freeze-dried food due to their durability and airtight seal. They are made of a polyester film and aluminum foil that protect against light, moisture, and oxygen.
Vacuum-Sealed Bags – Another option is to use vacuum-sealed bags. These bags are designed to remove air from the packaging, which helps to preserve the food and extend its shelf life.
Plastic Containers – Plastic containers can also be used for storing freeze-dried food. Look for containers that have a tight-fitting lid and are made of food-grade plastic.
When choosing a container, consider the size, shape, and material. It's also important to label the container with the contents and storage date, so you know how long the food has been stored. Finally, remove any excess air from the packaging before sealing the container to maximize its shelf life.
Preparing Freeze-Dried Food for Storage
Storing freeze-dried food is easy, and it can last for a really long time if you do it properly! Here are some basic steps to follow:
Choose an Appropriate Container – First, make sure you have an appropriate container for your freeze-dried food. You can use airtight bags or containers that are specifically designed for food storage. These containers should be made of materials that won't allow air, moisture, or light to penetrate (see the section above).
Fill the Container – Next, fill the container with your freeze-dried food.
Remove Air – Once you've filled the container, remove as much air as possible. One way to do this is to use a vacuum sealer. If you don't have a vacuum sealer, you can also use a straw to suck the air out of the bag before sealing it.
Seal the Container – Finally, seal the container tightly. If you're using bags, you can use a heat sealer or twist ties to close the bag. If you're using a container with a lid, make sure the lid is securely in place.
That's it! Stored properly, freeze-dried food can last for several years. Be sure to store it in a cool, dry place that's out of direct sunlight. You can even keep it in the freezer for extra-long-term storage.
Overall, storing freeze-dried food is pretty simple, and it can be a great way to have a supply of food on hand for emergencies or outdoor activities. Just be sure to follow these steps to keep your freeze-dried food fresh and tasty!
Ideal Storage Conditions
Proper storage conditions are essential for maintaining the quality and longevity of freeze-dried food. Here are some ideal storage conditions to consider:
Temperature – Store freeze-dried food at a cool and consistent temperature. Ideally, the temperature should be between 50 °F and 70 °F. Avoid storing food in areas that are subject to temperature fluctuations, such as in a garage or attic.
Humidity – Store freeze-dried food in a dry environment. The humidity level should be less than 15% to prevent the food from absorbing moisture. Moisture-absorbing packets or desiccants can help to maintain a dry environment.
Darkness – Exposure to light can cause freeze-dried food to deteriorate over time. Store food in a dark place or use opaque storage containers.
Ventilation – Proper ventilation is essential for preventing the buildup of moisture and gases. Make sure the storage area is well-ventilated, but not overly humid.
The quality and shelf life of freeze-dried food can be affected by exposure to air, moisture, light, and heat. By storing food in a cool, dry, and dark environment, you can help to maximize its shelf life and preserve its quality.