How To Store Marshmallows
In my house, marshmallows are perhaps my kid's all-time favorite type of treat. However, once you have opened a bag of marshmallows, we have to eat them quickly since they will get hard and stick together over time.
Do you want to know how to prevent hard marshmallows and learn How to store marshmallows, scroll on down to find out?
A Brief History of Marshmallows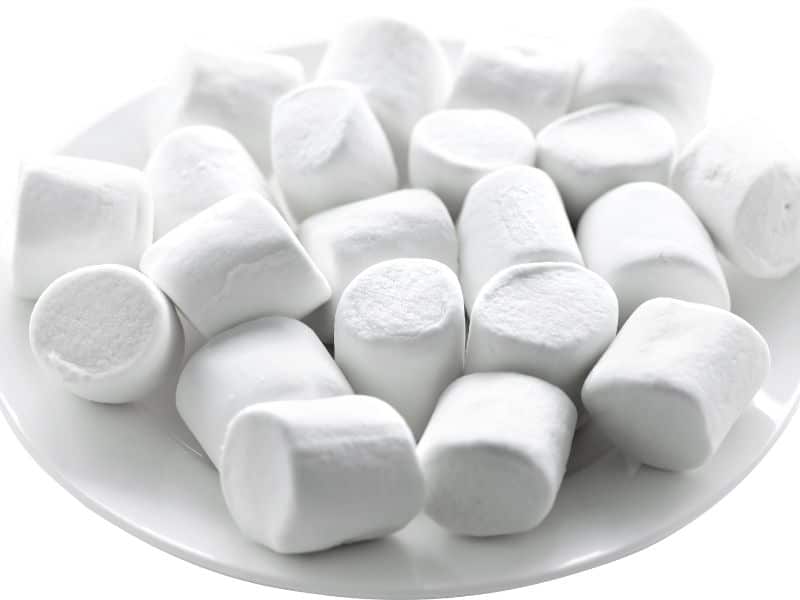 What Are Marshmallows?
Marshmallow is a type of candy that consists of four ingredients: air, sugar, water, and an aerator (usually a protein). They are typically molded into cylinder shapes and overlaid with corn starch.
People often call marshmallow foam candy, as there is up to 50% air contained in it. When incorporating gas into the sugar mixture, tiny air bubbles will be formed, granting the special texture and mouthfeel of this confectionery.
Depending on the brand, different kinds of whipping agents and sugar will be used to create a unique "perfect" version of marshmallow.
How Are Marshmallows Made?
The process for producing marshmallows starts with mixing sugar, corn syrup, and water and then letting them boil. The mixture will give the batch of marshmallows their sweetness. Plus, once the sugar syrup reaches a particular temperature, it will help create a unique texture.
Subsequently, gelatin is added, and the combination will then be whipped to incorporate air. Gelatin acts as the aerator that hardens the candies and maintains their chewy texture.
Suppose there are no additional coloring or flavorings added. In that case, the manufacturers will force the combination through some lengthy tubes under really high pressure using extruding machines to produce thick marshmallow ropes.
Then, they will cut those ropes up into small cylindrical pieces, which later will be coated with cornstarch to avoid sticking. Lastly, the workers will put the marshmallows into bags, seal them, and ship them to stores.
How Long Do Marshmallows Last?
How long are marshmallows good for? Marshmallows can stay good for a long time beyond their printed "best by date" – up to several months if you know the proper way to store them.
When stored in the pantry, an unopened marshmallow bag can last up to 6 or 8 months when properly stored. Yet, what about other types of marshmallows? How long do marshmallow fluffs or marshmallow peeps last? If you keep them unopened, luckily you, they will be there for 6 to 8 months more.
However, once you open that bag of candy, your marshmallow shelf life can only be from 2 to 4 months. It applies the same to all types of marshmallows.
And as time ages, they will get dried or even become sticky marshmallows since moisture has sneaked into the bag and destroyed the texture. Therefore, it is important to find out the best way to store marshmallows and do it correctly.
How To Tell If Marshmallows Are Bad, Rotten, Or Spoiled?
Do marshmallows go bad? Yes, they do!
Marshmallows often have a white appearance, spongy texture, sugary flavor, and mild-sweet aroma. Therefore, if any discoloration or taste change happens, that means your marshmallows have gone bad.
Suppose your white-pillowy-soft candies turn into ones with light yellow color. In that case, you should get rid of those right away. Still, marshmallows stuck together? Were they spoiled? Actually, no.
This change only happens because the sugar melts when you have opened the confectionery bag and let humidity sneak in. You can still eat those marshmallows, yet the flavor and the texture are not the same as the fresh ones.
As for marshmallow peeps, you may see no discoloration as these are coated with colored sugar. Still, when they get hardened since the moisture has gone, it is now the time to throw them away.
How To Store Marshmallows – How To Keep Marshmallows Fresh
There are three ways of storing marshmallows that, we think, are effective and approachable. Knowing the proper way of marshmallow storage will help you keep marshmallows fresh for several weeks or even months. Here are how:
In the Freezer
Freezing marshmallows? Frozen marshmallows? As trivial as it sounds, yet this one is the best way to enhance your candy's shelf life.
To keep your marshmallows fresh, put the opened marshmallow bag into a freezer-safe container, or the one with a tight-fit lid, or even a Ziploc plastic bag, and seal it securely. Then, all you have to do is place it in the freezer and vóila. Storing an opened marshmallow bag in the freezer can lengthen its life to 4-5 months.
Note: Never freeze too many marshmallows in one bag or container, as it will cause them to stick or squish together. 
When you want to use or eat the marshmallows, take the frozen marshmallows ice pack out of your freezer and let them stay on the counter for 15-20 minutes at room temperature to defrost them before using.
If those frozen marshmallows happen to stick together, put them in a bag having some powdered sugar or cornstarch in it, and then shake to overlay them. They will separate into pieces again.
In the Refrigerator
Can you refrigerate marshmallows? Absolutely! This would be a fine choice to keep your sweets fresh for 2-3 months.
The concept of storing applies the same as it is in the freezer. You will need to keep the marshmallows in a cool, dry place and avoid any humidity possible. To cancel a little higher humidity in the refrigerator over the freezer, there are a few more steps you need to follow:
1. Move all the marshmallows from the original package to a new Ziploc bag or an airtight container.
2. Scatter a bit of cornstarch or powdered sugar upon your candies. This extra powder is useful for absorbing the moisture from the refrigerator's air and keeping the marshmallows dry.
3. Seal the bag or the container securely and then shake it up to let the powder coat your sweets.
Once you want to use the marshmallows, just pull them out from the fridge, and they are ready to use.
In The Pantry
What if your freezer or refrigerator is full? What else can you do to retain your marshmallow's freshness?
If you plan to store your sweets in the pantry, place them in one of the types of storage below, seal them securely, and the marshmallows will be there with you for months:
A thick paper bag with an anti-moisture layer inside
An air-tight plastic container
A Ziploc plastic bag
A deflated airbag
How To Store Homemade Marshmallows
Find a proper recipe, and make several batches of marshmallows.
As having spent much effort and time baking those sweets, you would probably want to know how to preserve them. Unfortunately, since your marshmallows are made on a natural basis without preservatives, the time of storing homemade marshmallows is very minimal.
The best way to extend the marshmallow shelf life is to put the candies in a tightly covered cling film container and place it in the refrigerator at 3°С to 5°С temperature.
Remember to tightly pack your marshmallows, as they are air-foam confectionery and will get hardened when they lose their moisture.
How To Refresh Dried Marshmallows – How To Keep Marshmallows Soft
Do not rush to throw your marshmallow away if you find out they have dried up! We will show you the way to soften marshmallows right now.
All you need to do is restore their moisture by putting a few slices of fresh bread in your marshmallow bag and tightly fastening it. The bread will give back the moisture of your dried marshmallow and help them retrieve the original appearance.
How long do you have to wait? It depends on how dry your candies are.
With marshmallows that are slightly dried, they will be back to their freshness in 12 hours. Still, the super dried ones may take 24-26 hours to regain their normal texture.