Cucumbers are well-known for their mild, lightly sweet flavor and significant health benefits. You can enjoy raw cucumbers or mix them with various recipes, like salad, soups, sushi, etc.
So, how can you tell if a cucumber is bad? How long do cucumbers last? What can you do to extend its shelf life?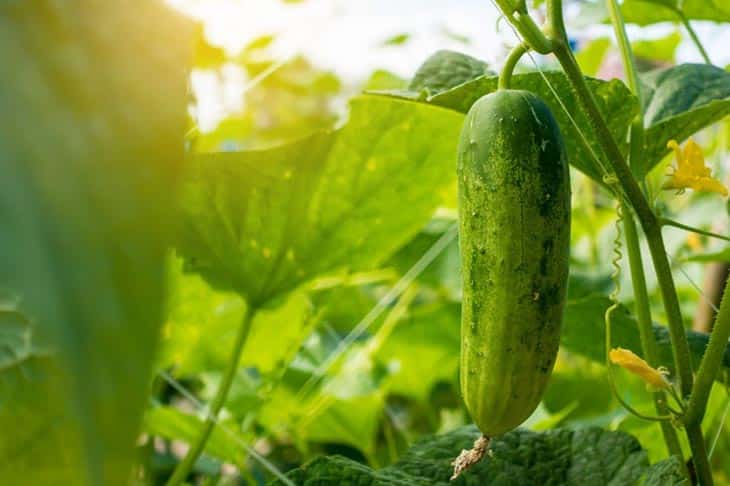 How Does A Fresh Cucumber Look?
Let's first learn about fresh cucumbers!
Fresh ripe cucumbers should be green, firm, crisp, and without any signs of spoilage. Depending on the types, their color can be dark green or light green.
When you pick up a fresh cucumber, you will notice a thick flesh and refreshing scent due to its high water content.
This characteristic refers to the significant benefits of cucumbers, which explains why many people add this vegetable to their daily diet.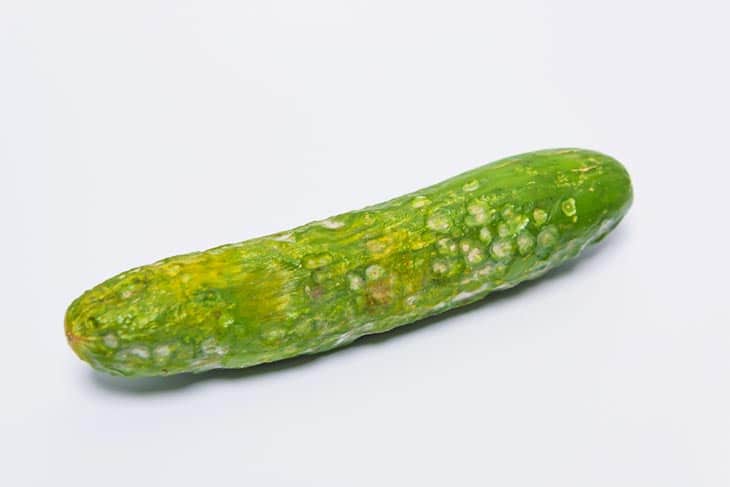 How To Tell If A Cucumber Is Bad
Sight
You can detect if a cucumber goes bad with its physical appearance. And it's easy to start with the skin as the outside spoilage that you see can reflect more on the inside.
Good cucumbers may have yellow patches, but a lot of them mean the cucumber is probably overripe or has gone bad.
If you observe any moisture or slimy white sheen on the surface, your cucumber will likely go spoiled. Blemishes or dark spots are also some signs of spoiled cucumber.
In some cases, you can even find mold growing on its skin. Though you can cut the moldy parts off, chances are the mold has spread into the flesh and even the entire cucumber.
So if there is any sign of mold, you should throw it right away.
Then, how to tell if a cucumber is bad inside if its skin looks good? The best way is to slice it and check the flesh. Bad cucumbers often turn translucent in color and get a milky and soft texture.
Touch
Fresh cucumbers should be firm and dry to the touch. It means you can determine its quality depending on its firmness and texture.
If your cucumber becomes soft, slimy, or sticky, you can discard the entire cucumber.
Smell
Like other vegetables, cucumbers will have a foul odor when they go bad.
Simply cut your cucumber and sniff it. Fresh cucumbers always have a mild, refreshing scent. So if you smell an unpleasant odor, you can discard them away and look for some cucumber substitutes!
Taste
If you can't check if a cucumber goes bad any other way, as a last resort, you could taste it.
Cucumbers are not naturally sour. If they become sour and emit a bad odor, they're spoiled and inedible.
How Long Do Cucumbers Last?
Cucumbers have a high water content and thus a shorter shelf life. It is best to use your cucumber within one week of purchasing them. After this time, you may have to discard them in the trash!
So, how long do cucumbers last?
Fresh cucumbers can stay for three days if you wrap them in paper towels and place them below 26°C. When stored in the fridge, they can last for one week.
Yet, sliced and peeled cucumbers will turn bad faster than whole, fresh ones because the unpeeled skin can protect the flesh inside to stay longer.
Specifically, sliced cucumbers can only stay for a few hours before spoiling, even if you store them in the refrigerator.
If possible, you should put them all in an airtight container; they will last in the fridge for at least 48 hours.
How To Buy The Best Cucumbers
Firm and Green
When purchasing cucumbers, you should choose those with dark green skin and firm to the touch. The lighter-colored cucumbers are usually older and lack crispness and freshness.
As always, the cucumbers should not have any flaws on the skin since they will last longer.
No Sponge
Spongy spots are a sign of old cucumbers. So pick them up and check if they have any sponges.
The Wax Issue
You may not know this before, but many growers use wax on the skin to extend the shelf life of their veggies. So, it's best to use your nails to inspect the cucumbers thoroughly!
Small and Slender
Good cucumbers should be small and slender since this variety is fresher and contains fewer seeds.
Where To Buy
It's also worth noting that cucumbers will gradually lose their freshness and taste if stored at low temperatures. So, rather than picking cucumbers in the supermarket, you should visit farmer's markets.
We do not recommend buying cucumbers online since they may bruise easily, affecting the flavor and texture.
How To Store Cucumbers Properly?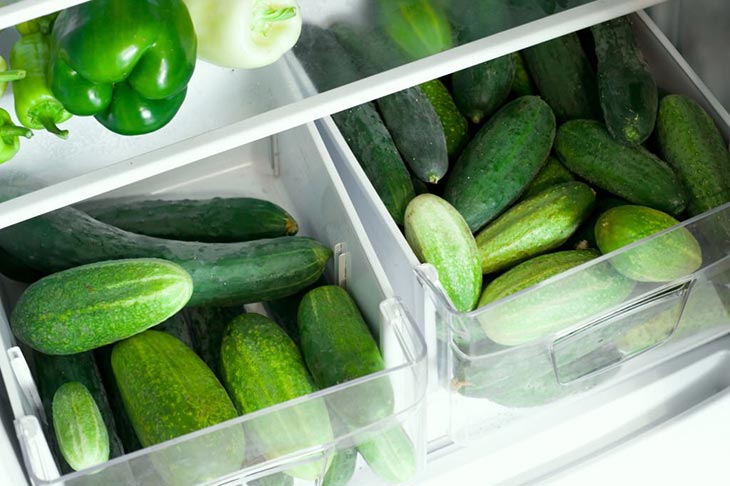 Though cucumbers do not last long, you can extend their shelf life by applying proper storing methods:
Outside Refrigerator
Wash your fresh cucumbers thoroughly, then place them in a cool, dry place.
Containers with ventilated lids are a good way to improve air circulation while preventing mold development.
Inside Refrigerator
Before putting your cucumbers in the fridge, wrap them loosely in a zip lock bag or plastic wraps. You should place them on the middle shelves to avoid high temperature and moisture.
In The Freezer
Due to the short shelf life of cucumbers, many people wonder if they can put them in the freezer. So, can you freeze cucumbers?
You should only freeze sliced cucumbers because fresh cucumbers tend to lose their flavor when defrosted.
Once frozen cucumbers are thawed, they turn into ice and have a mushy, wilted texture due to their high water content and wetness.
General Recommendations
Cucumbers should be kept away from fruits that generate ethylene gas, like bananas and apples. Otherwise, they will accelerate the ripening process.
Do not store the whole and sliced cucumber together.
Always inspect the signs of spoilage before you eat any cucumber.