Asparagus can be considered as a sign of spring. In this period, the veggie appears in almost all supermarkets and groceries. You have bought this expensive spring vegetable and used half of it.
So, what will you do with the rest of the green? You wonder how to tell if asparagus is bad or ask yourself does asparagus need to be refrigerated? If any of these questions sound familiar, this article is for you.
Let's scroll down to get the answer. Some useful tips are also provided to help you store your veggie for as long as possible.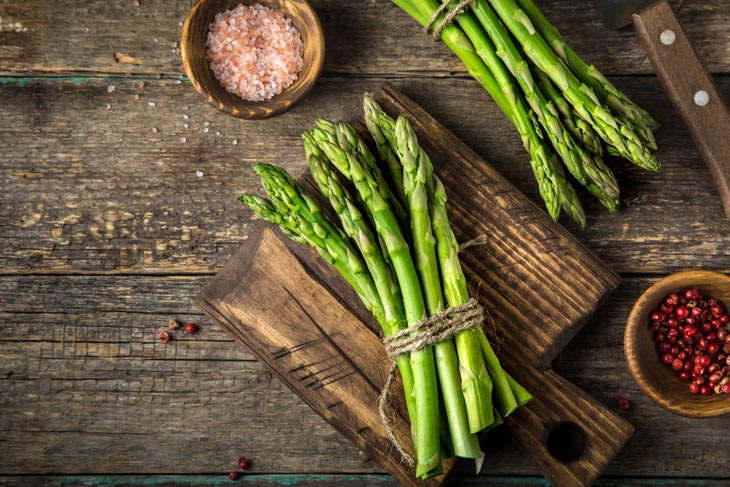 How To Tell If Asparagus Is Bad?
There is more than one method to recognize does asparagus go bad or not. By looking at its outside and color or feeling its texture, you can tell your veggie is still fine to eat.
Knowing these tricks below answers your query, " Is my asparagus bad?"
1. Appearance
The first and most conspicuous symptom is the dark asparagus tip. We all know it is the best part of the sparrow grass, but unluckily, the tip also spoils earliest.
Asparagus spear starts turning into dark green or even black once it rots. Moreover, its texture will become soft and fall apart when you touch it.
The second sign of rotten asparagus is a greasy coating on its surface. The condition happens when your fresh vegetable is kept in a bag or a place with too much moisture.
If you store a bunch of sparrow grass too close together, it also can cause a slimy covering on the outside.
Another indicator is mold growing on it. No matter how hard you try to preserve it, the formation of mold will appear after a certain time.
You should throw away any part that has mold as if you, unfortunately, eat them, you may get food poisoning.
Is purple asparagus bad? Some people misunderstand that it will be bad when sparrow grass turns purple.
This phenomenon is due to exposure between the purple color in your veggie and the heat of the surrounding environment.
2. Texture
When your sparrow grass passes its prime, its texture loses consistency and becomes limp. It starts to wither a little and doesn't have a healthy look.
If there are no signs of spoilage except the limp stalk, it is fine to be cooked and eaten. Of course, you can not use limp asparagus for dishes that need crunchy texture; it would be greatest for soup or stew.
3. Odor
When this kind of veggie is cooked, it has a strong taste. Some people consider its scent quite similar to a mushroom; others find it resembling a broccoli smell. But raw, fresh asparagus will not have an off scent.
Once it has a bad odor, it goes along with other symptoms like limp stalks or blackened tender tips. The advice for you here is to throw these rotten asparagus away.
How Long Can Asparagus Last In Fridge?
How long does asparagus last in refrigerator depends on the fresh level or the storage method you use. First, you have to know some tips to pick fresh and good asparagus when shopping.
Several characteristics of a new sparrow grass are bright green spears, hard stalks, and firm tips. Especially, the outside of its stems must not be mushy.
Moreover, if you are willing to spend more time on the storage part using more techniques, you can extend its shelf life to three times.
How Long Does Raw Asparagus Last In Fridge?
The shelf life of fresh raw one in your fridge is about 3 or 4 days. To have a longer storage time, you can wrap it in a damp paper towel (lasting for seven days) or in a jar with some water, which can lengthen the lifespan to 14 days.
How Long Does Cooked Asparagus Last In Fridge?
Regarding the cooked one, you can seal it in an airtight container and put it in your fridge's vegetable drawer. The storage method can last for 3 to 5 days.
The detailed procedure of each storage method is shown below. Go deeper into our article to know the tricks to keep your fancy veggies fresh.
Can You Eat Old Asparagus?
Yes, you can do it. If your aging asparagus has some bad spots, you can discard it and use the remaining part.
However, when you realize any signs of spoiled food, such as mold spots, foul smells, or slimy covering, you should avoid consuming it.
Not only can it not bring as much as fresh asparagus' nutrition, but it also makes you ill.
How To Store Asparagus In The Fridge?
Here you are provided three ways: wrap them into a paper towel, put them into a jar of fresh water, or the freezing method. Let's talk about the details of each procedure.
Method 1: Wrapping in a paper towel
Sparrow grass prospers in a moisture environment, so keeping it in a half-open plastic bag is the correct option. This considerable method maintains the moisture and allows the entire bunch to breathe.
To extend the storing time, you have to add extra moisture. Your solution here is wrapping it in a dry paper towel and putting it back in a plastic bag, leaving it unsealed.
This way can keep it fresh for up to 1 week.
Method 2: Storing in a jar with some water
The second method is more sophisticated, but it can lengthen the life of asparagus. To do that, you need a glass of water or a container including about an inch of water.
Place the asparagus upright in that cup and loosely cover the spears with a plastic bag. Do not secure that bag; lap it over the top of the veggie.
This kind of vegetable is wet, but storing it in a moist plastic bag without air circulation can fasten the spoilage process. Change the water if you see it become murky.
Method 3: Freezing Asparagus
Your sparrow grass can not be fresh for a long time, so can it sit in the freezer to retain its freshness like other veggies? And how long does asparagus last in the freezer?
The method is quite similar to the procedure of freezing rutabaga.
Step 1: The first step of the freezing process is to carefully wash and trim them into small pieces.
Step 2: You have to blanch them. The boiling period for each level of thickness is different: 90 seconds for small stalks, 120 seconds is great for medium ones, and 3 minutes is for thick ones.
Step 3: Cool down the boiled asparagus with a bowl of ice water. This action can retain the crunchiness of stalks. Then, let it dry for 10 to 20 minutes or use a paper towel to drain water.
Step 4: The last crucial step is the packaging. Depending on your amount of asparagus, you divide them into appropriate proportions then store each portion into separate freezer bags. You have to press air out as much as possible then seal it tight.
Your frozen asparagus can be stored in your freezer for up to a couple of months.
However, the woody stalks will lose their firmness and become more tender when thawed, so it is not a great idea to eat raw. Instead, it can be added to make asparagus soup or stew.