Everyone loves fresh corn season, however, like with any other food, you should not eat it once it has gone bad.
But the signs of spoilage in corn (aka maize) are not always apparent. So learn how to tell if corn on the cob is bad below.
Can Corn on The Cob Go Bad?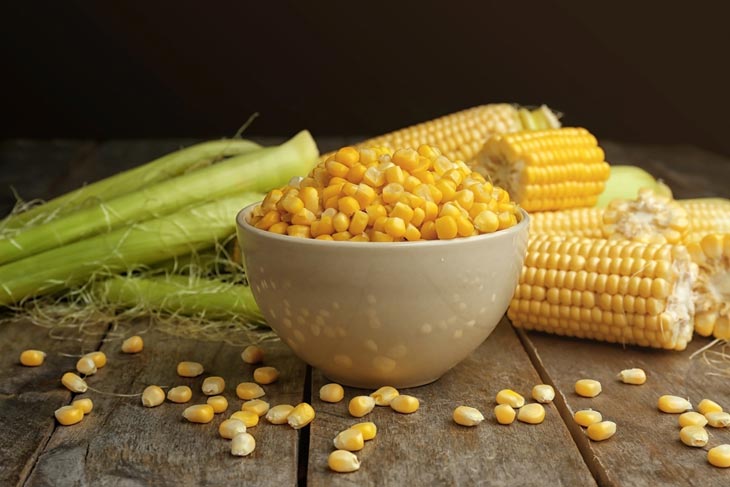 Does corn go bad? Yes, which is unfortunate. Whether raw corn or cooked maize, the spoilage stage arrives sooner than we all anticipated.
The first thing you would notice would be the bad smell coming from the corn, and the second would be an unusually slimy texture on the corn.
In the case of uncooked maize, there is likely to be a reddish hue expanding on the kernels, which grows more transparent when you remove it from the refrigerator.
Nevertheless, sometimes, these indicators do not always point to a deterioration in food quality.
As long as no sticky contour or foul odor is palpable, the dark brown kernels might only stem from excessive fridge temperature.
Then, all you have to do is cut them off and continue your cooking process.
On the other hand, more severe cases of bad corn on the cob will entail more alarming evidence. Refer to the next section for further discussion in this regard!
How to Tell If Corn on The Cob is Bad?
How can you tell corn on the cob is bad? In most cases, it can stay fresh in the refrigerator within 3 to 5 days (reheating does not count).
After these intervals, it's time to search for rotting signals. Check to see if your maize has:
Growth of mold and fungus
Damaged leaves
Light ears
1. How Long Can Cooked Corns Stay Fresh?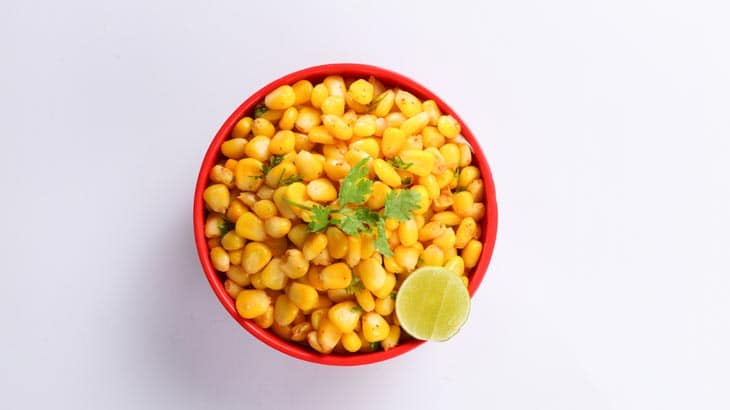 When does corn go bad when cooked? Suppose you still have some cooked leftovers. Then it is possible to refrigerate them (tightly covered in plastic wrap) for 3 to 5 days.
For reheating the corn on the cob, it would be best to place them in a microwave-safe dish (and coat it with a paper towel beforehand).
Reheat the maize in 20-second intervals, and do not forget to stir between increments!
Another tactic is to bring a moderate amount of water to a boil on the stove. Then cook the ears in hot water for approximately three minutes.
This approach might slightly overcook your dish, but no worry; ít sweet flavor still retains!
Boiling procedures will help reduce the possibility of kernels bursting or hardening during microwave cooking.
On the other hand, if the storage period exceeds five days – and there is no reheating within this timeframe – chances are they have already been spoiled.
It is time to consult our checklist below to determine if the meal is still worth preserving.
2. What Does Bad Corn Look Like? How to Inspect Its Condition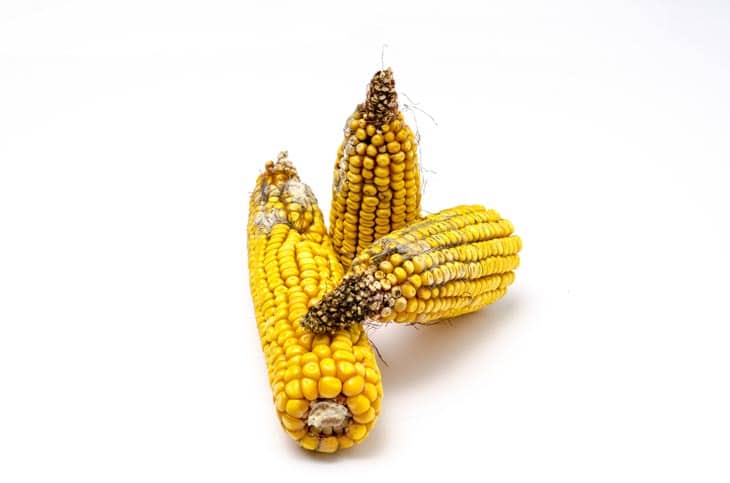 Step 1. Check for Growth of Mold and Fungus
Mold and fungus are among the most obvious signs. Stale flesh delivers an immaculate environment for them to thrive, and corn is by no means an exception to that sentiment.
These fungi will splatter all over the kernel in a sickening hue.
Once you spot your precious delicacy coated in yellow, salvation is out of reach; it is time to throw it into a trash bin.
And do not forget to check on other foods in the refrigerator, especially those adjacent to the corns. The bacteria might have also clung to them, though these chances are pretty slim.
Step 2. Check for Damaged Leaves
How to tell if corn is bad? A quick tactic is to inspect the leaves. Leaves are where the corn cob absorbs most nutrients, representing its condition and vigors.
Fresh maize should have lush verdant and healthy leaves. If the leaflets still retain a vibrant shade of green, there's nothing to worry about.
But when they turn wrinkled and curled, trouble is imminent! The grains and husk adhering to them will vanish, which means the inherent vitality has already ceased to non-existence.
Worse, in some scenarios, gray dots also disperse throughout the low-level leaves. At this point, even the best reheating technologies cannot store one percent of the corns' original state.
Step 3. Check for Light Ears
Since all nutrients within the shelf life have depleted, the ear will be much lighter than when you first purchased it – it is as if you are grasping thin air!
Black, darkening splotches also line up along the base, another unequivocal indication of decay.
What Will Happen If I Eat Bad Corns?
Spoiled maize (or any spoiled food, for that matter) poses an insane number of threats. Digestive issues, food poisoning, and chronic diseases are among the most deadly.
1. Symptoms of Food Poisoning
Despite their finding discrepancies at times, scientific researches all boil down to one common concurrence: germs in rotten food multiply at an insane speed.
A temp range between 40 and 140℉ delivers perfect conditions for their rapid growth.
Hence, an army of bacterial production will invade the shelf in just two hours. It is pretty scary to imagine what they might do to you once ingested.
Your inner system will suffer severe poisoning that might take days or even weeks to get rid of!
Therefore, we suggest avoiding rotten maize at all costs.
If they are still reheatable, remember to set the oven temperature to at least 165℉ (64C). Beyond the 140℉ benchmarks, bacteria fail to reproduce.
2. Digestive Issues
The embryonic spreading over your decaying maize also leads to irreparable digestive problems.
They clog your internal tracts, holding the consumed food from being transferred further for digestion.
When the overworking tracts fail to withstand these attacks, your organs will display palpable symptoms of bloating, bleeding, vomiting, and heart pain.
Other severe conditions entail lactose intolerance, hiatal hernia, and bowel syndromes.
3. Other Chronic Diseases
People with acidity issues or food allergies, whose health risks are already substantial, will suffer even worse from these putrid cuisines.
Stomach pain, reflux disease, cancer, and even mortality are potential threats.
Thus, if one of your family members has severe ailments (or any medical history, for that matter), take extra caution to verify the current state of your purchased maize.
What Is The Best Storage Method to Extend The Shelf Life?
Using polythene papers or fridge containers is the best approach to cob lifespan extension. Of course, extra transitional steps are also required.
1. Using Polythene Papers
Step 1. Clean and sun-dry the corn.
Step 2. Keep it in polythene wrappings for an extended period of time. This tactic is easy to operate and cost-effective, ensuring your maize might last around 6-8 months (even exceeding a year if well-kept).
Step 3. To preserve the quality of the grains, you should maintain a relative humidity level of 12 to 14 percent. Furthermore, do not forget the imminent threats posed by insects. Keep a consistent cleaning schedule to retain a spotless environment for your delicacies.
2. Using Fridge Containers
Aside from polythene papers, storing them in refrigerators is also a great solution!
Step 1. Wash the maize and get rid of all unnecessary portions
Step 2. Place them under the sunlight for a few hours.
Step 3. Wrap them in freezer bags and put them within a deep airtight container in your fridge.
Corn conditions will fare better if the refrigerator temperature stays consistent.
Make sure it does not vary; even a slight signal of temp differences will degrade the quality and nutritious worth of the maize.