How To Tell If Goat Cheese Is Bad? Find Out Now Before It's Too Late
Goat cheese is a popular ingredient in world cuisine thanks to its delicious taste and nutritional value. However, it is very perishable and harmful to humans if ingested.
So, how to tell if goat cheese is bad? How to store for a long time? Scroll down to get the answer and another useful information rated this topic.
How To Tell If Goat Cheese Is Bad?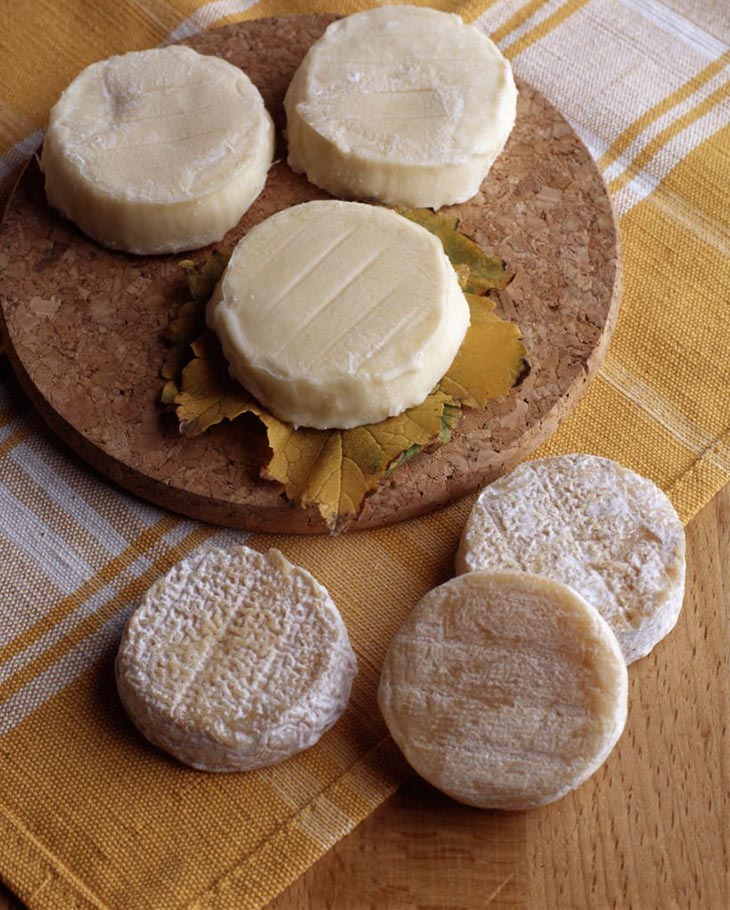 To answer the question "does goat cheese go bad?" The best way is to look at its appearance. The appearance of slimy layers and moldy patches indicates whether it is still usable.
You can also know this by smelling or tasting it.
What Does Goat Cheese Look Like?
Spoiled food can not keep its original appearance, and cheese is no exception. Therefore, you want to look at the outer surface to see if there is anything strange.
For example, mold on goat cheese (new black, blue, and gray fuzzes on the outside of the white crust).
To be sure, you can throw it away, but experts have also proven that moldy goat cheese is still usable. For semi-hard or hard ones, you need to remove the moldy parts.
After that, use the rest as usual because it is still safe for health.
Observation also helps you detect changes in the texture of this food. If it is not packed properly, it will dry out and taste. If you want to continue eating, cut that part off.
However, if there are other abnormalities that you do not know are safe, it is best to replace them with new products.
How Does The Goat Cheese Smell?
Besides visible signs like goat cheese mold, its scent will also tell you many things. Its unpleasant scent makes many people mistakenly think that it has expired.
But if your cheese smells bad but no mold, don't jump to conclusions.
The cause of this smell is due to the chemicals that the manufacturer uses in the cleaning process.
It's a solution almost like saltwater and is the perfect environment for attracting the odor-causing bacteria (B. linens). It's completely normal for it to have a slightly foul smell.
So, how to tell if goat cheese has gone bad by scent? Not every scent is normal; it is spoiled if you notice that the product has a strange smell, such as a sour smell.
How Does The Goat Cheese Taste?
If you're still wondering "how to tell if cheese has gone bad?" give it a try. Spoiled food will taste weird and be harder to eat. If you're preparing dishes with this food, such as mac and cheese, make sure it's good.
But keep in mind that time can also change its taste. The taste of aged products may disappoint you a bit, but make sure it's still tolerable.
How Long Does Goat Cheese Last?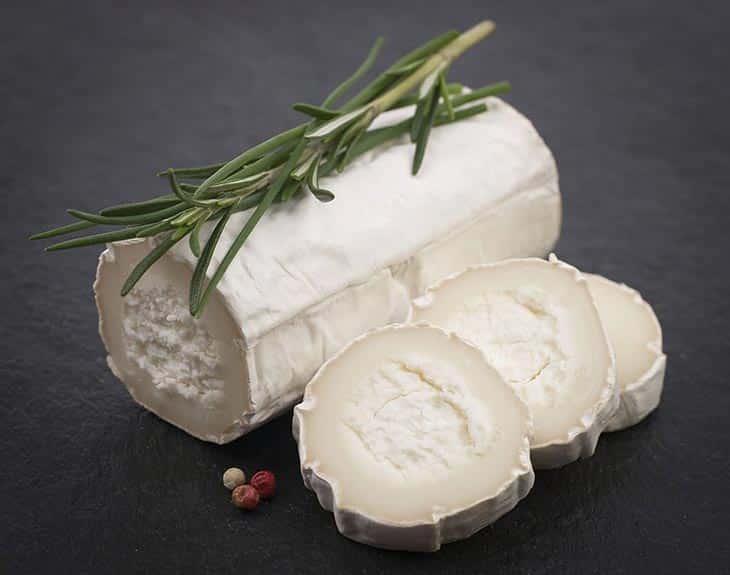 When does goat cheese go bad? This is the concern of customers when buying this type of food. Chevre is not one but all cheeses are derived from goat's milk.
Therefore, it is difficult to determine a specific time frame as it depends on whether your product is soft, hard, or semi-hard, or semi-soft.
– Fresh and soft one: This type has many similarities with cream cheese, not only in texture but also in usage. You can still use it up to two weeks after its date.
So, how long does unopened goat cheese last? The answer is one week because the soft ones won't last long.
– Soft-ripened one: For this one, there isn't a big difference between open and unopened packaging. Its use time is also quite modest compared to its housemates when it can only be a week compared to the date.
– Semi-hard to semi-soft one: You still have a chance to enjoy its best taste even after these few days have expired. Once opened, make sure you use it up in about 1-3 weeks. As we mentioned above, the softer the ones, the faster they spoil, the longer they are left.
– Hard one: This can last up to 1 month (opened and unopened). Thanks to its tough texture, low moisture content, you can be assured of its longevity. However, this is the least common of the above categories.
To make it easier for you to follow and remember, we've put together a quick comparison table below:
How Long Is Goat Cheese Good For?
Type
Unopened
(after date)
Opened
Fresh and soft
2 weeks
1 week
Soft-ripened
1 week
1 week
Semi-soft to
semi-hard
2 to 3 weeks
1 to 3 weeks
Hard
1 – 2 months
1 to 1.5 month
Note: these stages are only estimates based on the construction of each type and standard conditions. To be on the safe side, it's still better to double-check their condition before using them.
How To Store Goat Cheese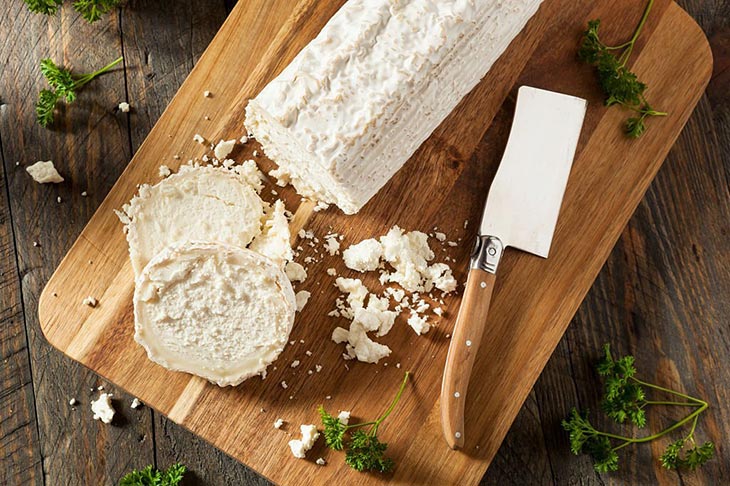 Does goat cheese need to be refrigerated?
Certainly, just like dairy products, low temperatures in the refrigerator will reduce the growth of bacteria that spoil one. Thereby helping you to keep them longer when left at room temperature.
How long does goat cheese last in fridge? Different kinds have different storage conditions, and the shelf life depends on whether it is hard or fresh cheese.
But there's a general rule to keep in mind: Hard ones contain less water, so it has less oxygen, so it will also last longer.
Here are some things to keep in mind to keep your products in the best condition:
Fresh Cheese
The best way to store them is to keep them in their original packaging, put them in a box, and store them on the top shelf of the refrigerator.
The agent that makes it more susceptible to spoilage is oxygen. That's why manufacturers often pack them in vacuum bags for longer shelf life.
If possible, you can also pack them into blocks and vacuum them before putting them in the fridge.
With some varieties made from a mixture of goat and sheep milk, its preservation is a little more special; it is better if you store it in brine.
Soft-ripened Type
Before putting it in the fridge, don't forget to wrap it with wax paper or parchment. If you do not have these items, take advantage of their packaging and pack them carefully.
Alternatively, you can add a freezer bag outside to prevent it from drying out if you need it soon.
Hard And Semi-hard Type
This is the easiest to store; all you need is to put it in the freezer bag and the fridge. However, if you're careful, you can cover it with specialized paper.
Frequently Asked Questions
Is It Okay To Eat Bad Cheese?
According to experts, they can still be used when moldy, but you must remove those moldy areas because they contain many dangerous bacteria such as Listeria, E. coli, Brucella, etc.
Eating them whole can lead to serious consequences such as vomiting, diarrhea, stomach pain, and even death.
When Do Symptoms Of Poisoning Appear?
Usually 4 to 24 hours after eating.
Is Vacuum-Sealed Cheese Safe?
The vacuum helps prevent moisture and air from coming into contact with food, reducing the growth of bacteria. This is the best way to preserve the freshness of the foods.
Conclusion
Chevre is a nutritious food, but sometimes they also contain many threats to human health. To avoid making unnecessary mistakes, you should be careful when using and storing them.
Above are our suggestions for the "how to tell if goat cheese is bad" question. If you have any questions, don't hesitate to leave us a comment. Thank you.