How To Tell If Italian Sausage Is Bad – Storing Instruction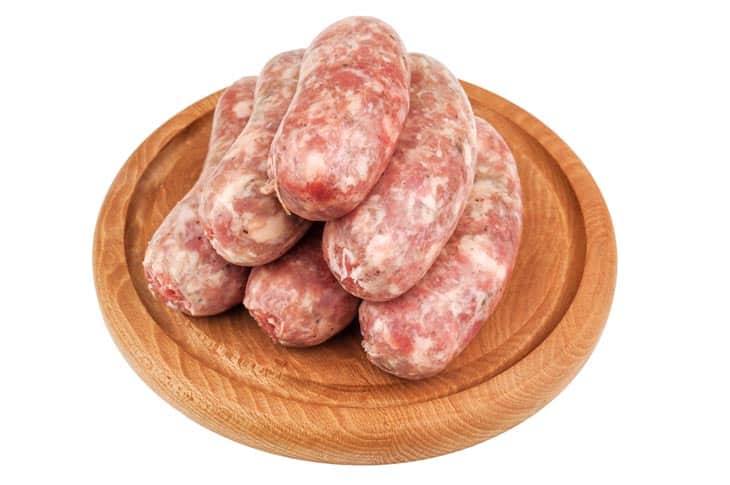 Sausage is a familiar food in many families around the world. However, this type of processed food is very easy to become the target of dangerous bacteria.
To not turn delicious meals into a nightmare, it is important to know how to tell if they are spoiled or not, as well as how to preserve them properly.
How to tell if Italian sausage is bad? Let's find out in the article below.
Features Of Italian Sausage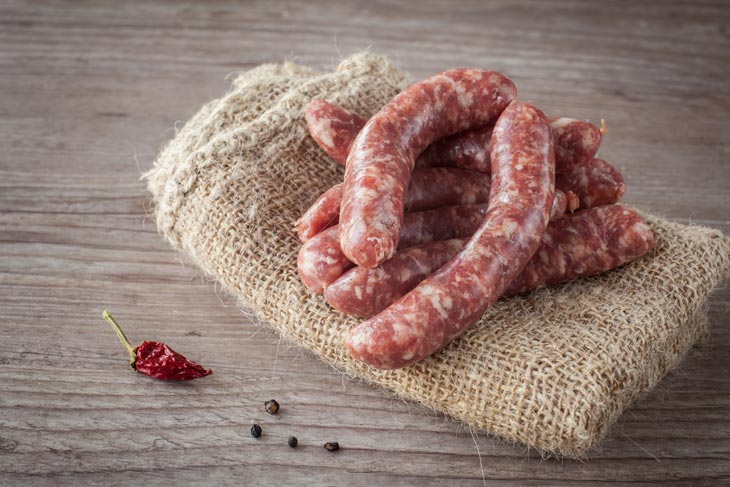 Italian sausage is a favorite dish/ingredient of those passionate about Western cuisine, especially Italian cuisine. Its main ingredients include ground pork or beef combined with some other spices.
There are many methods to make this food, so its taste varies from region to region. These are the three most widely used methods:
Mild type in the North: the anise gives this type a light sweetness like earthiness and licorice. A little bit of cumin, pepper, and garlic makes it a little more attractive.
Hot type in the South: The significant addition of pepper, garlic, and cayenne makes it spicier than the mild one.
Sweet type: A little sugar and basil as ingredients are ideal for those who like sweet taste.
Either way, they all have one thing in common: they do not contain preservatives. This helps them retain their naturally delicious flavor and makes them more susceptible to spoilage.
Read on to learn how to know if Italian sausage is bad!
How To Tell If Italian Sausage Is Bad?
The spoilage of food can come from many causes, such as the improper process of circulation and distribution.
In addition, errors in the storage process, such as storing in a place with high humidity and direct sunlight, also make the infection process faster.
Here's how to know when sausage is bad:
Smell Test
The first thing that you should check is their smell. Of course, it's not to the point of having a rotten smell, but it often has a pungent, sour smell or foul odor when you smell it.
There is no need to smell too close; just put it in front of the windward direction, and you will feel these unpleasant odors. Keep this in mind because strong odors can make you dizzy and have a headache.
The good sausage pieces will have the natural smell of raw meat and some typical smells of herbs inside.
Therefore, if your dishes have a strong smell, it is a warning sign that you cannot use them anymore.
Check The Shape
The next way in the article about how to tell if hot Italian sausage is bad is to check its shape and color.
Fresh food has high elasticity. When you press on it, no matter how hard or how hard it is, it will return to its original shape as long as you let go of your hand.
If that sausage is spoiled, then it is different. When you press on it, it's concave; when you release it, it's still hollow because it's lost elasticity.
Sometimes, it may not be completely spoiled, but it certainly won't taste as good as it used to.
A fresh sausage will normally have a dark red or pink color of the meat, and the color on the whole surface is uniform with each other.
When there is a bacterial invasion, strange colored streaks will appear.
It is not difficult to see pale green, yellow, or brown spots on the outside of the shell with the naked eye. If your food has gone bad, those ugly black spots can knock on your door, as well.
When you see these signs, don't try to ignore them and use them if you don't want to get into bigger trouble.
Texture Check
How can you tell if sausage is spoiled just by looking at its texture?
When we touch it, food that is stale or left for too long will appear an unpleasant viscous feeling in the shell.
There are two different types of shells: natural shells (pork stomachs) and artificial shells.
Natural peels are usually softer and smoother than manufactured ones, but they are different from the slimy texture.
How to tell if frozen sausage is bad? – You can combine it with the aforementioned methods. Degraded products often converge on more than one sign here.
Another sign that you should also not ignore is mold.
Patches of mold, which can be white, blue, or black blood, usually appear quite late compared to other signs. Do not try to use them if you spot these signs, or you will get sick.
Check Expiration Date
The expiration date is also an important basis when determining the answer to the question: how to tell if bratwurst is bad?
There are still a few cases of spoiled food without any abnormality. For example, sausages that have been contaminated with Yersinia, E.
coli, salmonella, or listeria look normal but can still have serious consequences.
They can cause a weakened immune system, even leading to the risk of death for both the elderly and children. Therefore, it is essential to check the labels on the packaging.
How Long Does Italian Sausage Last?
The golden temperature for bacteria to grow is room temperature, ranging from 40°F – to 140°F. Under these conditions, cooked foods don't last too long, only about 2 hours.
When storing time in the refrigerator, the ideal time for you to use it safely is between 3 – 4 days. After this time, it is better to throw them away to ensure the quality of the meal.
The best method you can use is to keep it in the freezer. In this environment, you can store it for up to several months.
However, you should still use them for the first 1-2 months because the longer you leave them, the more nutrients are lost.
When there is a need to cook Italian sausage in the oven or microwave, you need to take it out and put it in the refrigerator to defrost. Thawed food stays for about 3-4 days in these conditions.
Tips For Storing
Raw Type
Storing raw food is not an easy task as it is the most susceptible to bacterial contamination. You must preserve the freshness of the product before processing.
There are two commonly used ways of storing it in the refrigerator or freezer. Which form to choose will depend on when you use them.
If you plan to cook within a couple of days, the refrigerator will be the best choice because it does not need to take time to defrost.
On the other hand, if you're not planning on cooking them soon, put them in the freezer to ensure they're safe until you need them.
When storing items in the freezer, wrap them with the product's original packaging or aluminum foil to prevent burns in the freezer.
Cooked Type
Many people think that cooked foods will last longer than raw ones. However, this is not always the case. Even when cooked, this dish still faces the risk of contamination if not kept properly.
These bacteria are extremely dangerous to our health, so following the storage guides is essential.
When storing cooked foods in the refrigerator, it is recommended that you store them in airtight containers.
When storing in the freezer, make sure that you do not place these boxes too close to the walls, as this will lead to freezer burn.
Dry-Cured Type
Even harmful bacteria can target dry-cured sausages, although this process may be slower than other types. Thus, they have a longer shelf life if stored properly.
You can keep them on the shelf without refrigeration, but with some drying methods, you can still use them after opening the package.
If you don't plan to use it soon, cut it into slices, put it in a box, and put it in the freezer.
FAQs:
Is Bad Sausage Edible?
Processed meat products (sliced or minced) have been exposed to bacteria such as E.coli, campylobacter, or other airborne bacteria, which grow rapidly even when stored in the refrigerator.
Minced meat is always dangerous. Symptoms of E.coli infection include abdominal cramps, diarrhea, and vomiting.
The condition may become clearer after a few days of eating. The illness becomes more severe in vulnerable people and lasts about a week.
If the condition of food poisoning persists, quickly see a doctor for timely treatment.
Can I Eat Them After Their Shelf Life?
With any product, you should use it according to the expiration date on the package.
In case of need, you should only use this group of processed foods within about 1 day after the expiry date has expired.
Conclusion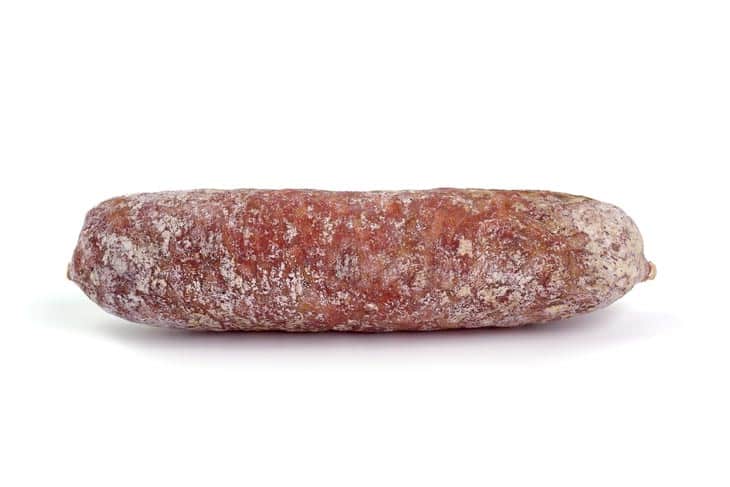 So, how to tell if Italian sausage is bad? There are many ways to know if your favorite food is still delicious and safe, which include smell, shape, texture, and expiration date check.
To extend their shelf life, use the methods we suggested above and don't use them if they're already damaged.
Hope this article is useful for you. Thanks for reading.