Have you ever wondered how you can tell if ketchup is bad, then this is the post for you! I am from Pittsburgh, Pennsylvania and those of us here tend to think we know a lot about ketchup and have a preference for Heinz Ketchup since it was created here.
Scroll on down to learn about Ketchup and how you can tell if it is bad before you decide to use it.
What Is Ketchup?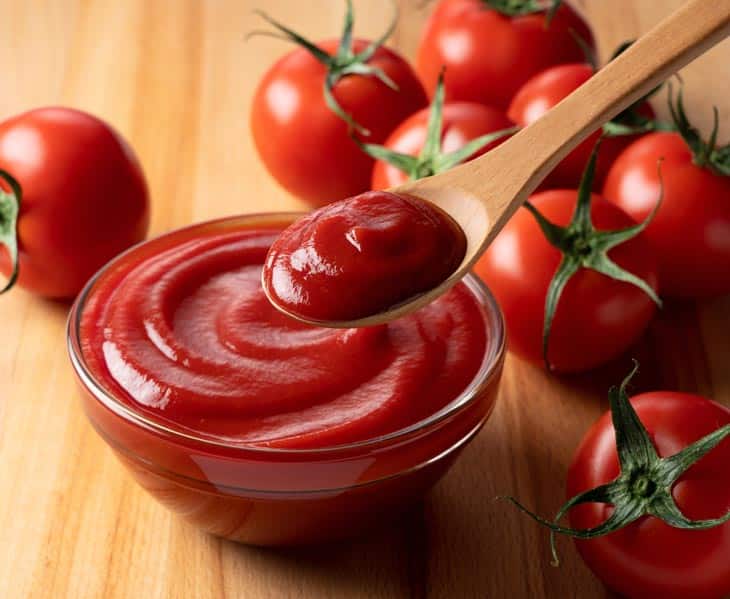 Ketchup, which is also known as catsup is a puréed tomato condiment with a tangy and sweet flavor.
The most common ingredients are tomato paste, salt, sugar, and vinegar in ketchup. Sour is a typical taste when you taste it, and the taste can also depend on the dish you are eating it with.
In the United States, this condiment can easily be found in most restaurants and is a favorite dipping sauce for fries.
The nutritional composition of ketchup is also relatively good.
The data shows that for every 100 grams, it provides users with 112 calories, 0.2 grams of fat, 26 grams of carbohydrates, and 1.3 grams of Protein. In addition, other minerals and vitamins are also present in it.
People also love to serve ketchup with french fries, burritos, hot/corn dogs and hamburgers.
How To Tell If Ketchup Is Bad?
There are quite a few common signs that you can easily recognize that show that ketchup is going bad.
Color is the easiest sign to notice first. Experts state that the obvious sign of bad ketchup is the color. With deep crimson coloring always being seen as an ideal color. But after a while, it may darken.
The next sign is the smell. Even though this may be an obvious one when it starts to stink, it's best to empty the bottle into the trash.
Pay attention to the shelf life of ketchup. It can spoil before its expiration date. With proper storage, you can extend the shelf life, but don't use a product for too long.
How Long Does Ketchup Last
Does Ketchup Go Bad
So, does ketchup go bad?- Many people have reported that they think ketchup as a condiment that is unlikely to go bad in a short time. But that doesn't mean its quality stays the same over time.
For the same reason, the overall quality and taste will gradually change and may not satisfy your taste buds.
Over time, mold can also appear. It's difficult, not impossible, so don't be too surprised if the seasoning worsens.
Though freezing can prolong the condiment's shelf life, it can make it taste not as tasty as it was before and inconvenient to consume.
How Long Does Ketchup Last After Expiration Date
How long can ketchup last? There isn't a specific number. Most people estimate it to be between four and six months.
Many products have good ingredients that can help keep the quality longer, but some products do not guarantee that.
Many manufacturers put in more preservatives to maintain product quality longer.
However, these products are not good if used for a long period because the substances in the spice can put you in danger of health.
Once opened, the tomato-based condiment normally maintains its quality for around two months.
You need to pay close attention to the definition of "expiration date". On the surface of these condiment containers, they usually don't put it on.
You can only see the words best-by date, which is the date that represents the quality, not the expiration date, so consider it carefully.
How To Store Ketchup
We recommend you should store unopened ketchup bottles in a cold, dark location when buying from the store.
Avoid direct sunlight or heat. However, its stability after opening can be affected by storage conditions.
It would help if you keep its bottle's cap dry and avoid hook fungus and dirt or residue leaking to the outside. Before and after use, you have to clean the cap thoroughly.
To minimize residual build-up, you must wipe clean and make sure the cap is dry to close the bottle.
Wet places are suitable places for mold to enter and damage products over time. Thus, if you want to prevent spoiled ketchup, always keep away from humid environments.
When you store ketchup in the kitchen, a month is probably the longest time to preserve it.
For tomato ketchup bottles that have been opened after use, you should store them immediately in the refrigerator.
So, how long does ketchup last in the fridge? Usually, this period can last from 6 to 12 months. Once you've opened the lid, the best way to reserve it is to refrigerate it.
Before putting the condiment in the freezer or refrigerator, it is suggested to keep it safe in the kitchen. Otherwise, your condiment would turn bad before preserving it.
With homemade ketchup, you can also put it in a tight box in the refrigerator to extend the ketchup shelf life.
You can keep it in the kitchen, and its actual shelf life will be reduced to about a month.
An unopened ketchup bottle can last quite long, as it's unopened and hasn't got the opportunity to get in touch with air.
The homemade ketchup has a way shorter lifespan, remaining its quality for only two or three months in the fridge.
When you intend to use it for a long period, always consider storage to preserve its long-term quality.
What Happens If You Eat Bad Ketchup
You can still eat it despite the ketchup past expiration date. Time can alter the taste and texture, but if you feel okay with using it, then do it.
You need to pay attention to the "best before" or "best by" date on each bottle. This is not the expiration date, but the best time to consume the product. If so, is expired ketchup bad?
However, you should still thoroughly check your ketchup for signs of spoilage.