How To Tell If Mayo Is Bad – Things You Need To Know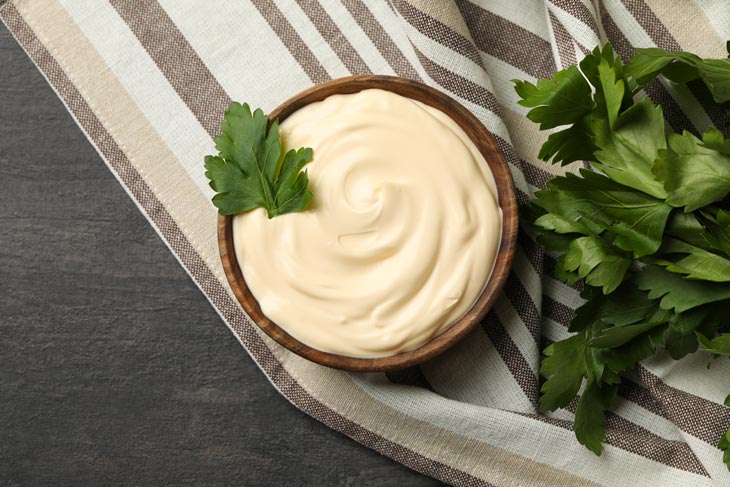 Mayonnaise is a well-known condiment used to enhance the flavor of salads, baked goods, and fried foods.
Yet, do you know that Mayo can expire even if it is still within the manufacturer's suggested shelf life?
How To Tell If Mayo Is Bad? Today, we'll teach you how to solve that problem and keep Mayo properly. For more information on this product, see this article.
What Is Mayonnaise?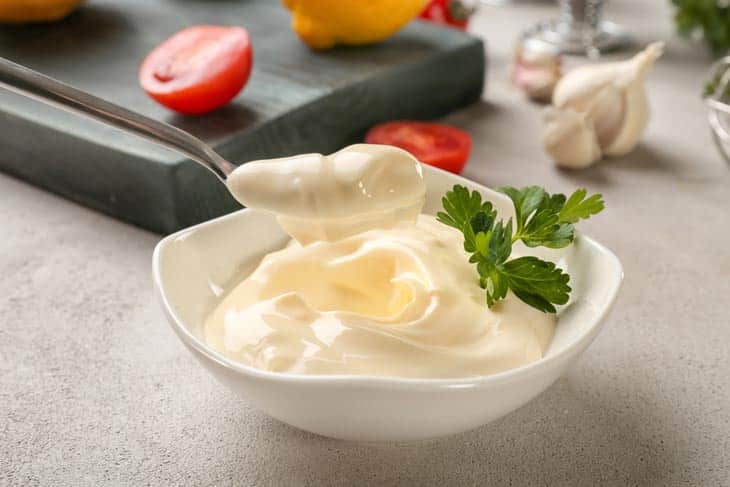 Mayonnaise is a creamy, bright yellow sauce originated in the United States. This sauce is produced with two major ingredients: egg yolk and olive oil, as well as a variety of seasonings such as mustard, pepper, and vinegar.
Mayo has several health benefits since it contains key elements from eggs and olive oil.
Vitamins A, E, D, group B, iron, calcium, zinc, and protein are all key nutrients contained in mayo. Besides essential acids, unsaturated fats, and antioxidant ingredients.
According to experts, eating a lot of mayo might lead to obesity. However, if you know how to utilize it correctly, it will not affect your weight.
Mayo, for instance, does not cause fat to form quickly, and the fat in this ingredient is unsaturated, making it incredibly healthy.
How To Tell If Mayo Is Bad
How can you tell if mayonnaise is bad? In addition to glancing at the expiration date on the packaging, there are a few more methods to tell if a product has expired.
Here are some examples of recognizing it with the naked eye and scent.
Texture Changes
How to know if Mayo is bad? When viewed with the naked eye, the consistency should be creamy and not be separated into two pieces: the sauce and the liquid.
So, if your Mayo separates and liquid collects on top, it's time to toss it out.
This is the result of bacterial overgrowth. Avoid eating vegetables because they might cause serious food poisoning when they do.
Discoloration
The #2 symptoms that this product has gone bad is discoloration. Bad mayonnaise is typically a creamy white color that is visually pleasing.
The hue changes to yellow or overly brown when the bacteria overgrow. Although it may not be immediately apparent, this alteration can be seen with the naked eye.
This is most likely because you didn't properly close the vial after use or left it at room temperature for an extended time. So, if you want to avoid food poisoning, don't hesitate to toss it out.
Strange Smell
These product sauces are known for their light scent. Even though the product contains vinegar, mayo doesn't have a sour or highly acidic aroma.
So, if your sauce begins to smell sour or excessively sour, you know it's no longer edible because it's not good for you or your family.
Sour Taste
You can't always detect if a fever has progressed simply by looking and smelling it. It would help if you tasted them in modest doses in these circumstances.
Because you never know if mayo has gone bad, we advise against eating a large tablespoon.
You can take a sip and enjoy it instead. Unless mayo goes bad, it retains its natural flavor. If the mayo is sour or overpowering, discard it immediately.
Visible Molds
How to tell if mayonnaise is bad? This is readily apparent to the naked eye. Mold or spores should not be present on Mayo's surface.
Because it's largely fat along with liquids, mold can grow if you don't preserve it correctly. Consuming moldy Mayo might result in major health problems.
How Long Can Mayonnaise Last?
How Long Does Mayo Last After Opening?
After opening the can, experts recommend storing the sauce in the fridge. When refrigerating store-bought bottles, the opened product will last 2-3 months.
Cold temperatures in the refrigerator reduce the growth of bacteria in the product, allowing it to last longer.
How Long Does Unopened Mayo Last?
When you buy any product at the store, there is an expiration date printed on the package so that users can know when the product has expired.
If the shelf life is accidentally blurred and you can't see it clearly, the product's shelf life is usually three months from the date of manufacture.
However, if that is the case, the best way is to change to another product that clearly states the product information so that you can rest assured when using them.
How Long Does Unrefrigerated Mayo Last?
Because egg yolk is one of the main ingredients in this product, it is highly perishable. If you don't refrigerate a vial after opening it, it only lasts around 8 hours.
So, if you leave it out overnight, it won't do you any good in the morning, and it's advisable to leave it out to avoid health problems.
How Long Until Homemade Mayo Gone Bad?
Since it contains no preservatives, homemade mayo will spoil faster than the store-bought one, and it will last 3-4 days in the refrigerator.
One of the best ways to make homemade mayo last longer is through fermentation. Ferment the mayo for 5-6 hours and it will be good for 2 months.
How To Store Mayonnaise?
There are many ways to preserve products. You can refer to a few ways below.
Put The Mayonnaise In The Fridge Door
The refrigerator compartment door is usually the warmest area of the cabinet; this is the position recommended by experts to be very suitable for storing products using natural preservatives to prevent rancidity.
Therefore, this area is ideal for storing products. When placing the sauce in this position, the storage time is usually about 2-3 months.
Note that if the refrigerator door is empty, you should move a few items to put the mayonnaise in.
Do not put the product in the refrigerator body; the oil will separate from the egg at too low a temperature, and you will be unable to recover.
If you do not have a refrigerator to prevent spoiled mayonnaise, keep them in a cool, dry place.
Mayonnaise Should Be Used Within 2 Months After Opening
When does mayo go bad? Because mayonnaise contains a significant percentage of fat, many people believe it will not mold or create an environment for germs to reproduce and grow.
Mayonnaise can lose its flavor and deteriorate with time.
As a result, utilizing mayonnaise when making it will be a sensible choice, allowing you to experience the tasty, traditional fatty sauce whenever you want.
Besides, whether you smell or not smell mayonnaise to check its spoilage or change in taste, you should eat it within two months after opening the package or after making it to ensure safety. for the health of your family.
Do Not Let The Mayonnaise Solidify
After defrosting, does mayonnaise go bad? Then mayonnaise will no longer keep its original flavor, nor will the sauce be silky, smooth, or lose its flavor. As a result, when storing mayonnaise, keep an eye on it and don't let it freeze.
What Happens If You Eat Bad Mayo?
If you accidentally ingest expired mayonnaise, it can cause stomach upset and diarrhea. Because mayo is essentially a raw egg, it poses a danger of salmonella contamination, so use caution.
Typhoid can be contracted from a Salmonellosis infection. This is unlikely to happen with a couple of spoonfuls of mayo, but it is possible.
The acidity of mayonnaise will considerably rise as it ages. It not only smells nasty, but it also tastes awful. As a result, it may cause heartburn.
How To Make Simple Mayonnaise
Making mayonnaise is not difficult, and the components are readily available. As a result, if you're wondering how to do it at home, follow the instructions in the article below.
Ingredient
Egg yolk: 1 pc
Vegetable oil like grapeseed oil
Mustard sauce: 1 tablespoon
Salt: teaspoon
Water
Steps
Step 1: Using a whisk or its alternatives if you don't have one, thoroughly beat the egg yolks in a clean bowl. After that, whisk the egg yolks with 12 teaspoons of mustard.
Mustard is used to making the sauce more visually appealing. As a result, you can adjust the amount depending on your family's preferences.
Step 2: Next, add one spoon of frying oil to the mixing bowl at a time. Add a tablespoon of oil, beat until the oil is thoroughly combined with the egg yolk, and then add the next spoon. You should pay great attention to beating the mayonnaise evenly and constantly to achieve the desired results.
Step 3: You will see that the surface of the eggs increases and has a particular porosity after a period of continuously whisking the mixture with a whisk.
Continue beating after adding one tablespoon of lemon juice. Lemon juice will assist the mayonnaise mixture in gradually lightening up and fading from yellow.
Step 4: Continue beating until the mayonnaise mixture's surface is glossy yet dry. To blend, add a little water and stir thoroughly.
After you've completed preparing the mayonnaise, please wait until it's smooth and has a more liquid texture. Before serving, place the mixture in the refrigerator for about 2 hours to chill.
Conclusion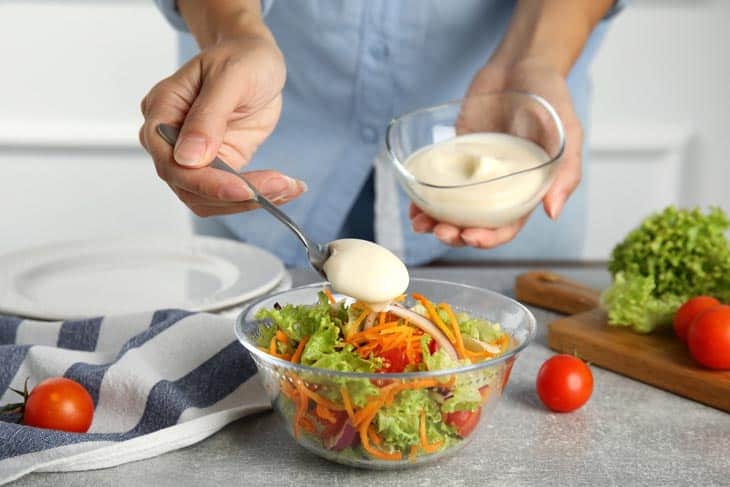 How to tell if mayo is bad? With the information we reveal here, do you know when mayonnaise expires?
Use when mayonnaise is in the best condition to be safe and bring better flavor to the dish.
Wish you have delicious food and ensure the health of you and your family