Mayonnaise (aka mayo) is used to enhance the flavor of salads, baked goods and fried foods.
Did you know that Mayo can go bad even if it's still within the manufacturer's suggested shelf life?
Scroll down to learn how to tell if mayo has gone bad and more!
What Is Mayonnaise?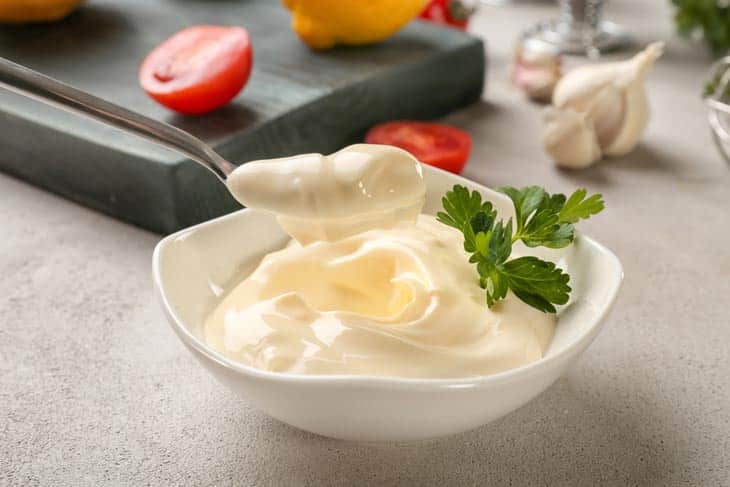 Mayonnaise is a creamy, bright off-white yellowish sauce that originated in the United States. This sauce is produced with two major ingredients: egg yolk and olive oil, as well as a variety of seasonings such as mustard, pepper, and vinegar.
Mayo has several health benefits since it contains key elements from eggs and olive oil.
How To Tell If Mayo Is Bad
How can you tell if mayonnaise is bad? In addition to glancing at the expiration date on the packaging, there are a few more ways to tell if mayo has gone bad.
Texture Changes
The consistency of mayo should be creamy and not be separated.
So, if your Mayo separates and liquid has collected on top, it's time to toss it out.
Discoloration
Another thing to look for is a discoloration in the mayo.
The hue changes to a darker yellow or overly brown when it has gone bad.
Strange Smell
If the mayo begins to smell sour or excessively sour, you'll know it's no longer edible.
Visible Mold
If you see mold on or in the mayo, it is time to toss it.
How Long Can Mayonnaise Last?
How Long Does Mayo Last After Opening?
After opening mayo, experts recommend storing it in the fridge. When refrigerating store-bought bottles, the opened product will last 2-3 months.
How Long Does Unopened Mayo Last?
When you buy any product at the store, there is an expiration date printed on the package so that consumers know when the product has expired.
How Long Does Unrefrigerated Mayo Last?
Because egg yolk is one of the main ingredients in this product, it is highly perishable. If you don't refrigerate a jar after opening it, it only lasts around 8 hours.
How Long Until Homemade Mayo Goes Bad?
Since it contains no preservatives, homemade mayo will spoil faster than the store-bought one, and it will last 3-4 days in the refrigerator.