How To Tell If Membrane Is On Ribs? 2 Best Methods Must Know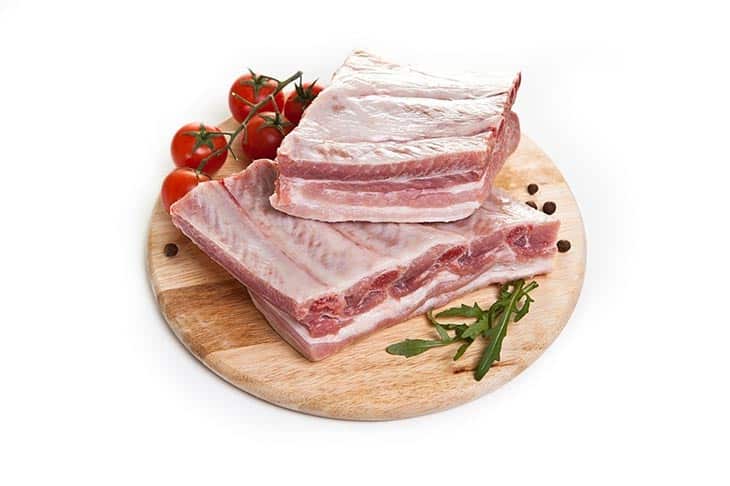 How to tell if membrane is on ribs? Carrying out a good rib dish is not as easy as it might seem in many cuisines.
Though the recipe and cooking process can somehow be simple, the hardest part is how you prepare the ingredients, especially those cuts with membrane.
This prep step is not something so familiar for home cooks. We tend to buy the meat, take it home, clean it, and then cook it right away.
This is because we at home just demand standard meals, and we are not provided with specialized knowledge about the proper steps for a perfect dish.
But caul fat is truly something even home cooks should be aware of. It can decide if your dishes will taste good or not. Knowing whether it has membrane to handle this will surely bring your cooking skill to a whole new level!
All About Rib Membrane
What is it?
To put it short and simple, it is a part of many types of meat that hold internal organs together in an animal's abdomen. People may even call it peritoneum, silverskin, or caul fat.
You can refer to this as cells' membrane, which we all have come across back in high school. They are those barriers that control which can move in or out of those cells. They are elastic and tough enough to carry out such a job.
Where Is The Membrane On Ribs?
After getting them home from the butcher, take time to observe it. You will see white skin in the form of a string tying the underside of the meat up. That silver skin is what you're looking for.
Most animals have this opaque string in their meat, but that string from pork is a big nuisance for cooking.
When the pork was a pig, that caul fat did a great job holding everything in place, and therefore it must have been under great pressure. That makes it super tough when cooked.
Furthermore, though caul fat often hangs to one side of other animal's meat, it webs around all the meat of pork. If you let it cook like that, chances are it will take you quite an effort to cook.
Why Should You Remove It?
What if you find it easy to cook it with caul fat on, or you can't get membrane off ribs? There are still two reasons not to do so.
First and foremost, it's not tasty, yet there is no nutrition included. It can even ruin the texture of your meat.
Let's say you like that kind of texture, then does that whitish skin look appetizing to you? It surely is not and will be a challenge for you in placing such dishes.
That's why finding how to get the membrane off ribs should be the first thing to do once you get home with your piece of meat.
Do You Have To Remove Membrane On Ribs?
No, you don't HAVE TO. It wouldn't cost you any medical expenses eating them. But you DEFINITELY SHOULD because of both delicious and cooking-related issues.
As explained, without removing membrane from ribs before cooking, the meat will become tougher and tougher throughout the process.
Besides, that silverskin will prevent the smoking effect from working. That semi-permeable layer will shield your meat from that effect, and even your barbecue seasoning rub won't seep into the meat!
If you ever forget about peeling membrane off ribs beforehand, it might still carry some subtle smoky sense. But that wouldn't be enough compared to one without that silverskin.
Just to remind and reassure you, those membranes are safe to consume. Some people even use them to prepare foods, such as sausage casings or ground meat.
How To Tell If Membrane Is On Ribs?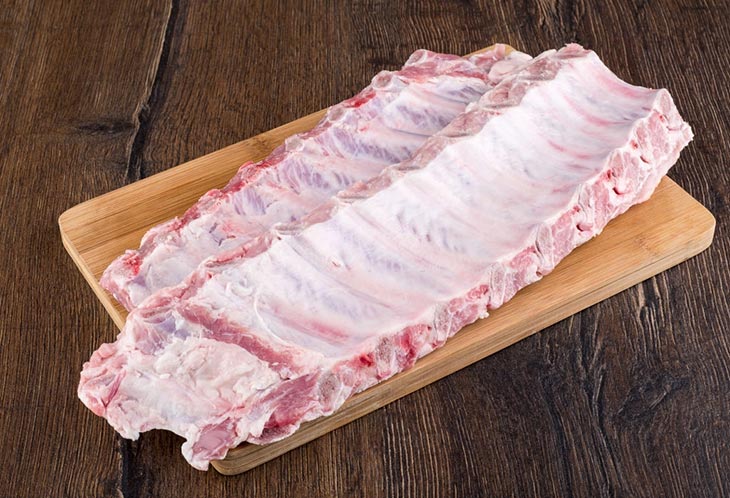 Ask The Seller
Ask the salesperson or the butcher, if you please. That is the simplest yet fastest way.
Still, don't rely on them, as they might not know, or you have just luckily purchased the ones that were missed out during the cooking ingredients preparation process.
If you're buying from a local butcher, nicely ask them, and they will eliminate that layer for you.
Unfortunately, you can't do so if you're buying from a grocery store or retailer. The only option now is to check for yourself.
At Home
So, how to tell if membrane is on ribs at home? Before learning the method, be aware that caul fat doesn't necessarily cover throughout the rack.
Flip your meaty side down, and look at the racks' underside. You should see the bones curving up when looking down at the meat if you do it right.
Then, you might see that layer covering the meat, bones, and fat, just like paper or parchment. Though it might be super thin, you can surely detect it.
Not sure if it is there or not? Take a closer look at it. When taking the membrane off ribs, chefs must have left knife marks along with them. Ribs without membrane should look rough with strands of fat or connective tissue hanging.
If the above is not the case, then congratulations, you will learn how to take off membrane on ribs with our below section!
When Should You Remove The Membrane?
Hold on! Before taking any further step, you must know where this step takes within the cooking process. The answer is before you start the cooking phase.
Some might jump in and comment that you should cook it first because removing that layer would be much easier when the piece of meat is now firmer. That is not wrong if you're a beginner.
But we don't recommend this at all. Once cooked, the string will become harder, making it a hassle to cut it off. And also, it will still block the smoking and the seasoning rub.
How To Remove Membrane On Ribs?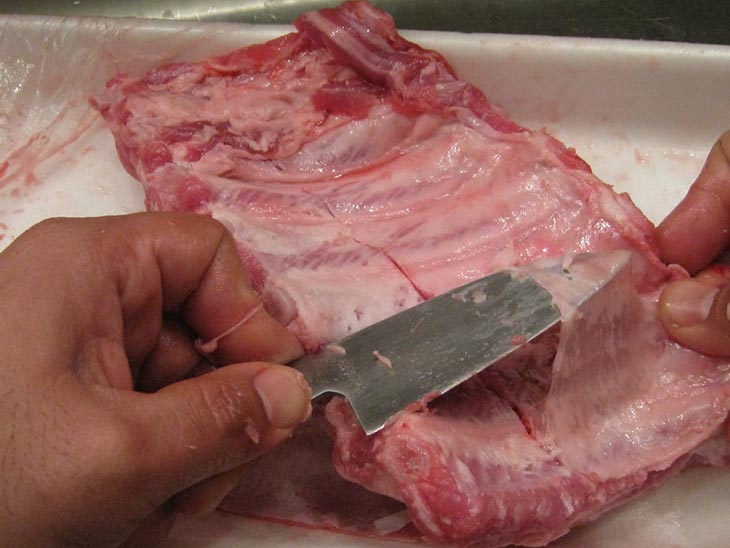 Method 1: Use A Knife
This method will be the most suitable to remove the membrane on spare ribs or St Louis ribs membrane. The knife will help you deal with the thin silverskin of these cuts easily.
To start with, you'd better use a pat of butter or a boning knife for this task. Why is that? Because we're not separating the caul fat and the meat by cutting through them, but by prying that fat away from our meat.
Before all of that, prepare your meat:
We will start with the center. Slightly slide the knife under the caul fat over the bones with the blade's flat part lying against the bone.
Try to pull the silverskin up while sliding the knife along that bone by moving the knife sideways.
You should only stop when your knife's tip has cleared the furthest side of your caul fat, and all this fat has been loosened out. Until then, keep prying and pushing.
While your knife is still resting under the layer, twist it 90° with the spine touching the layer, making it look like a "tent" from the outside. Then, just pull your knife up, and the silverskin will separate.
Turn your knife flat and move its spine against the next part. Twist it and pry the silverskin from that part.
Continue until you're done.
Method 2: Use Your Fingers
Sounds fun, right? How to peel skin off ribs with fingers might be the method that many home cooks are after since it seems so simple. But be careful and wash your hands before doing this. It works fine with thicker silverskin on baby or beef back variants.
The procedure of how to take off membrane on ribs with fingers should go as follows:
Use your knife to open up one of the silverskin's edges on one of its ends. Make sure it is loosened enough for you to grip it tightly. You can skip this step if your silverskin is thick, and you can pry that edge up with your hands.
From that edge, gently pull the layer from your meat. Get some paper nearby to help in case your hand slips.
If it does slip, try on another edge.
Method 3: Use Both A Knife And Fingers
This method works best in case your rib membrane won t come off that easily. Also, you can do this to any ribs.
Let's see how we will do it:
Slide your boning knife under the caul fat from the center as you do in method 1.
Twist your knife 90°, making the same "tent" above with the spine touching the layer, not the blade.
Pry the layer up using the spine to make room for your fingers.
Let your knife take a break. Tightly grip the layer with one hand locking around it. The other hand should be fixing the meat into the cutting board.
Pull the caul fat out.
Can You Remove The Membrane After Cooking The Ribs?
As explained in the previous section, you can. But you simply shouldn't. If you intend to get rid of it in the first place, do it before the cooking process.
However, it's reasonable that you forget and have already done cooking, and you can't stand eating the meat with the caul fat attached. In this case, feel free to get that layer off afterward.
Just remember that, by doing so, you're removing all the smoky flavor (even though it's just subtle), the seasoning rubs, and sauce, leaving you a bland dish.
There's only one case when removing it after the preparation process makes sense. That's during the cooking process if you're boiling or braising it before putting it on grills or smokers.
The action should now be executed after the braising phase. The only downside is that it will be super hot, so be careful. This method will earn you a flavorful and tender dish, which is worth trying!
Conclusion
Cooking is not just about adding flavor to ingredients but making the ingredients shine on their own. Learning more about your meat can help you understand it and breathe more flavor into your dishes.
Not only how to tell if membrane is on ribs, but you should also definitely know how to get rid of that annoying silverskin. The butcher is not always your best supporter. Sometimes you just have to do it yourself!